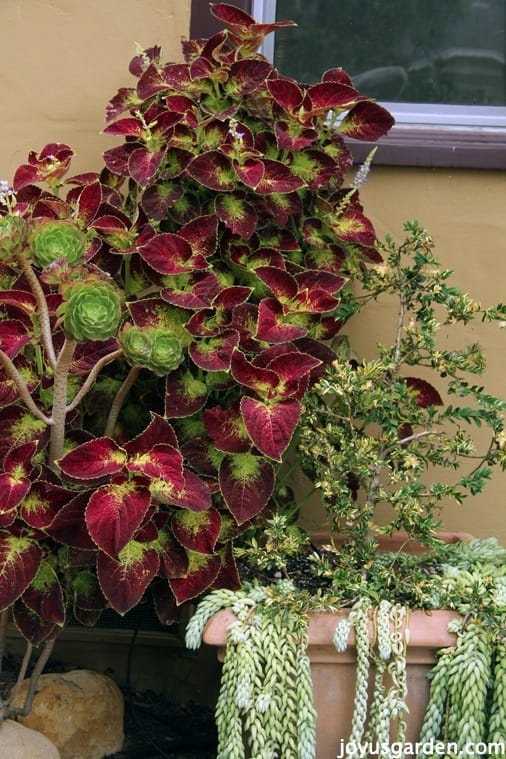 Holy moly it's early August and my Coleus "Dipped In Wine" is humongous – it stands 43″ inches tall by 46″ wide.  We still have about 4 more months of active growing to be done here in Santa Barbara so who knows how big it will be by the end of November.   You may have read my post Propagating My Coleus  (the link is at the end along with a video) back in February – this is a quick follow up as to how it's doing now.   As you can see, my beautiful coleus happily cohabits with the Variegated Japanese Weeping Boxwood, Aeoinum "Autropurpureum and Burro's Tail Sedum.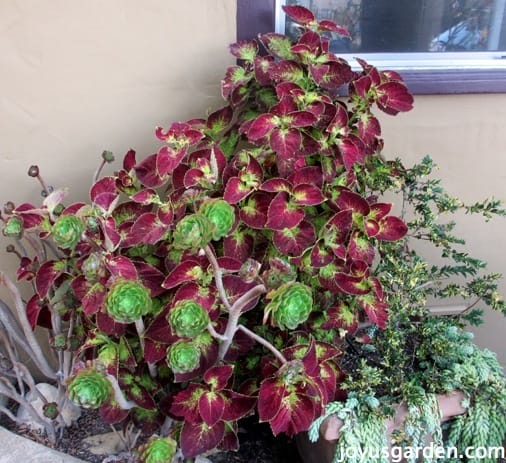 Coleus are great in containers and combine beautifully with other plants as you can see here from my melange.  They run the exposure gamut from shade to sun.  This Coleus "Dipped In Wine" is more sun and heat tolerant than others.  It gets quite a bit of sun which seems to bring out more of the burgundy color and less of the lime green.  They can be cut back, brought indoors and over wintered in the house but beware, they are subject to spider mites and all their leaves may drop off.
Did you know that coleus, even though they are sold as annuals, are actually classified as perennials?  This particular one lived on from last year as it has happily been growing in a pot that butts up against the house – protection with a nice amount of sun.  It was planted last year as a cutting I'd taken from the mother plant 3 years before.  So technically I guess it is now 5 years old.  We had a 4 days straight of rain back in early December followed by a cold spell in early January but it lives on nonetheless.  The large, older leaves fell off, new growth appeared and now it's the size of a small shrub.  I do pinch off the flowers because they take energy away from the plant.  Besides, they're totally insignificant so why not.
How do I keep my Coleus healthy and going strong?   Glad you asked.  I use a good organic potting soil or planting mix with a sprinkling of worm compost thrown in the planting hole.  I covered the top with an 1″ of organic compost and water once or twice a week depending on how warm we get.  Every other month I water them with a generous douse of Haven's Brand Moo Poo Tea mixed with liquid seaweed extract.  That's it – easy as can be.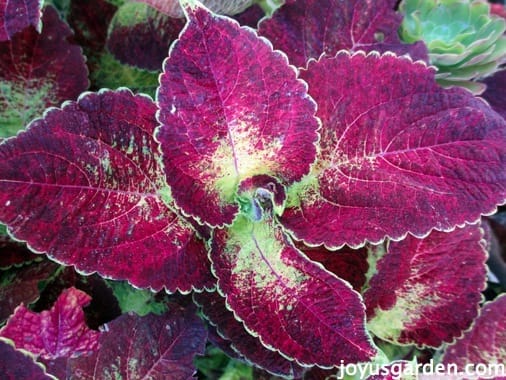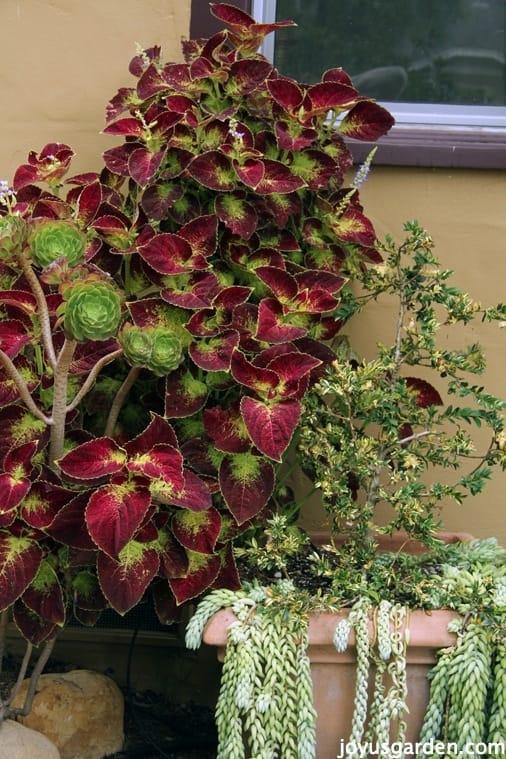 I'm mad for plants with interesting and colorful foliage and this coleus is a keeper in my book.  I'll cut it back this December or January and take a few cuttings at that time.  The plant that keeps on going!
LINK
Propagating My Coleus February 2013