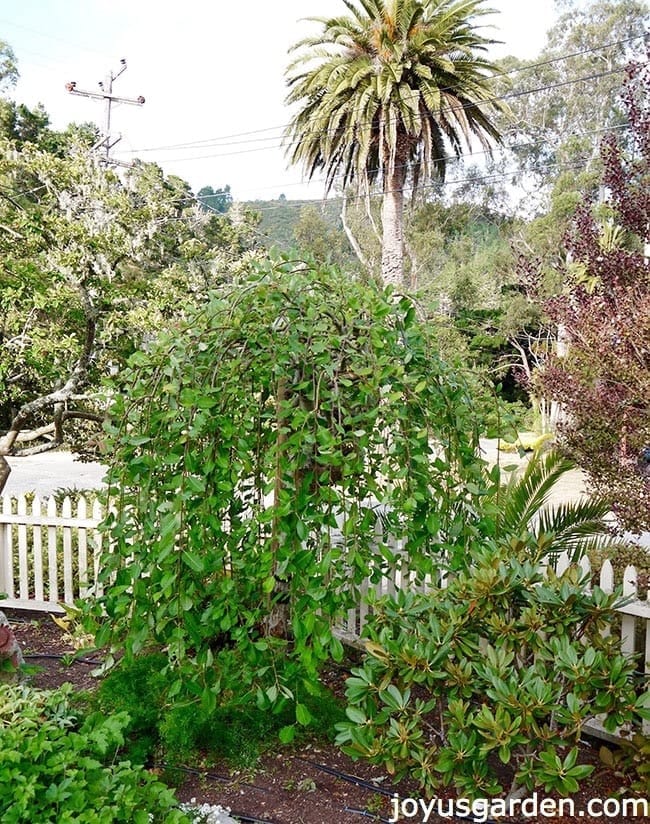 I had zero experience with growing and maintaining this plant because it's not often seen in California. Although there were quite a few Pussy Willows growing around the pond on my childhood farm in New England, I didn't even know there was a weeping variety.
My client, who lives just south of San Francisco, had been her eye on this weeping beauty in the Wayside Gardens catalogue and finally ordered her coveted specimen. I've had quite a few questions about how to get a Weeping Pussy Willow to grow taller. After 13 or 14 years of pruning and training this 1, I want to share with you what I've done.
The Weeping Pussy Willow before its pruning. It was starting to eat up the rhododendron!
How would this Weeping Pussy Willow do? Who knows but because gardening can be 1 big experiment, I thought it was worth a try. Her plant arrived in a 2 gallon grow pot wrapped in paper and stood about 4′ tall – it was a puny sight to say the least. This small tree, Salix caprea "pendula", has been relatively growing slowly (California gets no rain for many months and they like a fair amount of water) but has really taken off in the past 5 years. I'm no longer her full time gardener as I moved south to Santa Barbara and recently to Arizona but I still make it there a couple of times a year for a have at it with the Felcos.
Training this plant to grow tall takes a bit of effort but it's well worth it.
Lots of new shoots always always appear on the trunk and at the base of this plant too. These need to be removed. I always remove the shoots and smaller branches coming off the main weeping branches and a portion of the ones heading straight upward. For my eye, they spoil the beautiful weeping form (and isn't that the reason why you buy a plant like this?) as it'll looks better when it's thinned out a bit. These plants are grafted and will never get significantly taller than the height you bought it at. This is exactly why the Weeping Pussy Willow never gets as tall as the upright Pussy Willow.
Important to know: The Weeping Pussy Willow part is grafted on top of of a Pussy Willow trunk. Never saw off below the graft because the plant will revert to that bush form.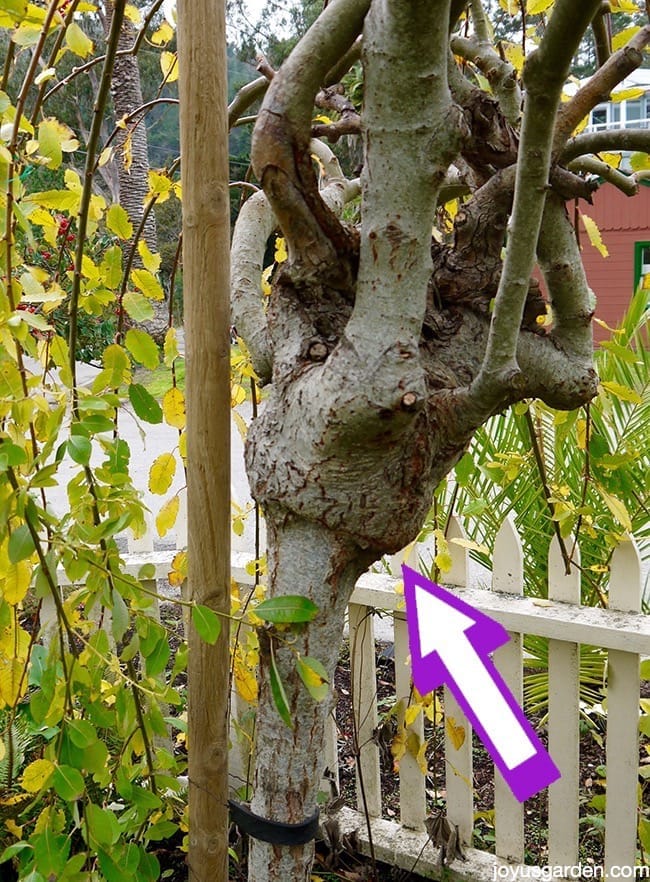 That big swollen part is the graft.
This Weeping Pussy willow has grown more in width more than in height. It turns into a massively foliated blob if not pruned a 2-3 times a year in the temperate coastal California climate. Pussy Willows are tough and are actually pretty easy to maintain. We've lovingly nicknamed this plant "Cousin Itt". And yes, when now left unpruned this specimen turns into the leafy version of the amusing character from the Addams Family. It received a really bad haircut about 2 years back but with a hefty dose of restorative pruning has returned to it's healthy, weeping fullness with a vengeance.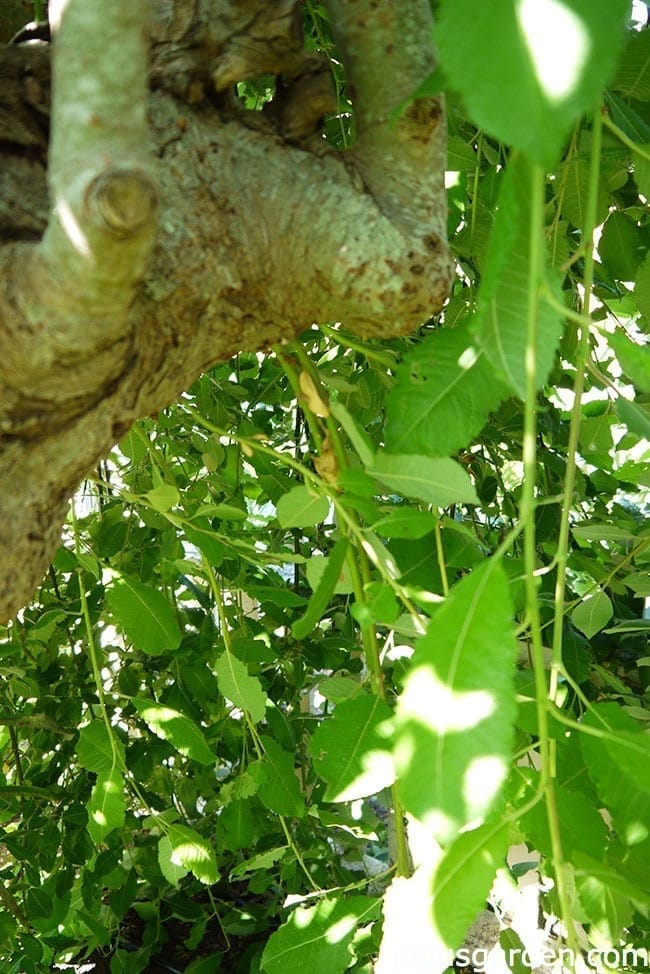 Here you can see those shoots coming off the trunk.
This is always a challenge, but I must admit, I do enjoy it. Once I start and get into it, I'm immersed into pruning nirvana.
Here's what I do:
– Starting at the front, I take out a few of the older branches so I can see to work my way in. I take them all the way back to a main branch or the trunk otherwise an excessive amount of those side shoots will appear again.
-I work my way in & out of the plant, concentrating in 1 area, so it can be thinned out. Some of the smaller side branches which remain on those main branches get removed also.
-Along the way I prune the branches up off the ground & away from other plants. I also remove those shoots which come off of the base & the trunk & those which shoot straight up.
-I continue around the plant until it's thinned to my liking.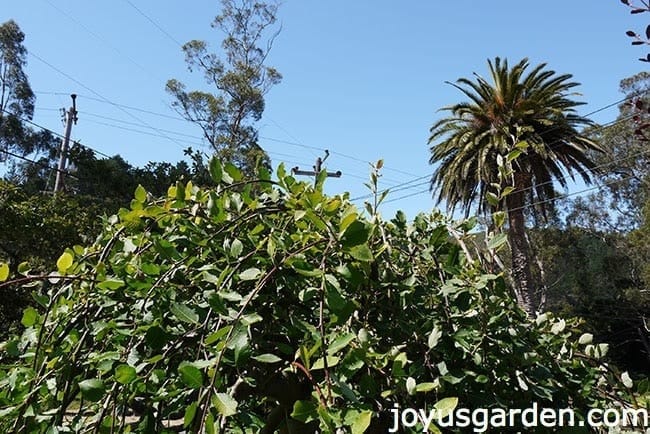 I remove those shoots growing up.
To get this plant to grow taller, I've selectively left some of the branches which arch up and out. I'll then tip prune them to insure upward growth.
This big pruning now takes me about 2 hours to do, not including clean up. If you're in a cold climate you probably only need to do the pruning and training once a year, which should be right after flowering. Weeping Pussy Willows supposedly max out at about 8′ tall. This 1 has already hit 7′ and I'm not going to let it get too much taller.
Cousin Itt has been a learning experience for me. But when you get right down to it, isn't that what gardening's all about?!
Happy gardening,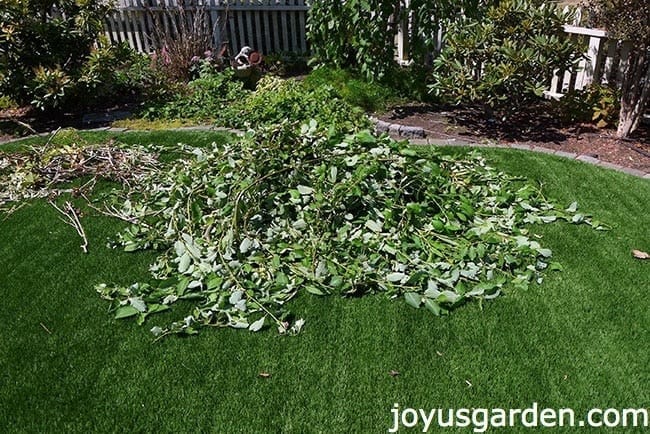 Oh the pile left to clean up!
YOU MAY ALSO ENJOY:
This post may contain affiliate links. You can read our policies here. Your cost for the products will be no higher but Joy Us garden receives a small commission. Thank you for helping us spread the word & make the world a more beautiful place!
About the Author
Latest Posts
Nell, the founder of Joy Us garden, was born into a gardening family and grew up in Connecticut's countryside. After living in Boston, New York, San Francisco, & Santa Barbara, she now calls the Arizona desert home. She studied horticulture & garden design, working in the field all her life. Nell is a gardener, designer, blogger, Youtube creator, & author. She's been gardening for a very long time & wants to share what she's learned with you.