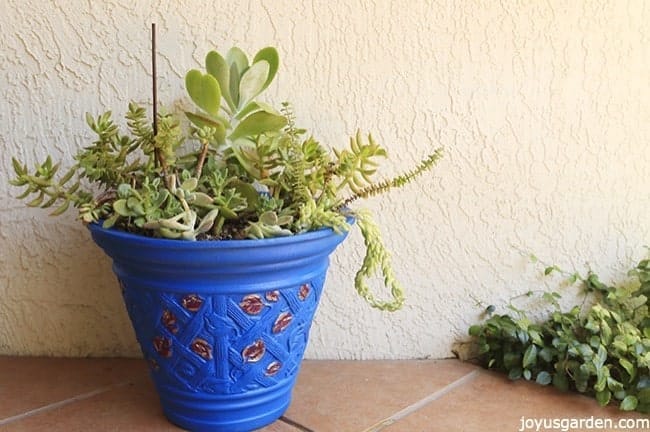 I must say, I'm totally smitten with lightweight pots. For years I bought gorgeous ceramics planters but after you got the plants and dirt in, a front end loader was needed to move them. Plastics have come a long way so now when searching for larger pots, I look for polyresin, fiberglass, and durable plastic. This is all about jazzing up a plain plastic flower pot with something unexpected if you don't have any paints.
I'm all about switching up things in the garden every now and then and lightweight pots give me the flexibility to do that.
This pot is a nice size but way too dark & dull for my taste.
Whenever the mood strikes, I drop into any of the off price stores to see if they have any discounted gems I need (or is that want?!). I found the poly resin flower pot that you see above at TJ Maxx and just had to make the purchase because it was on sale. Who can say no to a double mark down? I liked the size of the pot and the design but knew a bit of jazzing up was in order.
See what I used to pop out the detailing on the pot when I didn't have any paints:
Spray paints can really transform almost anything. My favorite to use is Rust-oleum 2X Ultra Cover because it goes on like a dream without having to (usually) apply more than 2 coats. It's available in gloss and matt finishes and you can choose from a wide array of appealing colors. By the way, it bonds to plastic, wood, metal & more.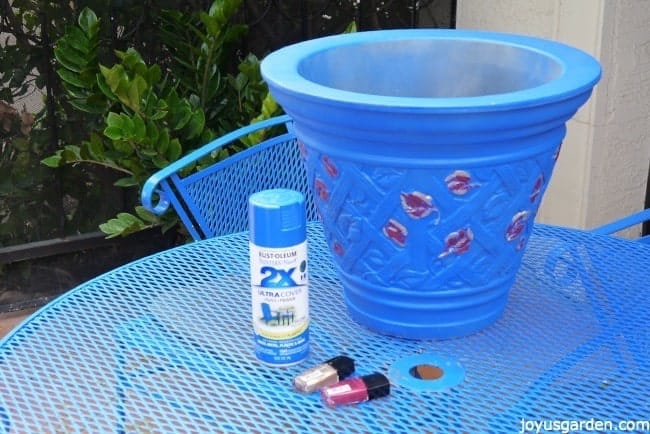 You can tell I like this blue because my patio set is sprayed with this same color. The paint on both the table & chairs is starting to chip & peel but redoing it's a fall/winter project.
I wanted to pop out the leaf detailing on the pot. Because I recently moved from California to Arizona, I gave away my craft paints rather than haul what was left in the bottles and cans. The nearest craft store is a few miles away and I wanted to get this project wrapped up pronto. I tried sponging the detailing with dark red spray paint but it just looked like a blotchy mess. So, I hit it with another coat of the blue spray paint and started over again.
Enter nail polish to the rescue!
I've used this before and it works just fine if you aren't covering a large area. You don't need to fork over the big bucks because cheapie polish works just fine. If you want your pot to have a little sparkle, that's no problem because you can not only find nail polish in a rainbow of groovy colors but also with glitter in it. I used a little gold metallic to pop out the edges of leaf detailing and it glimmers beautifully when the morning sun hits it.
Tips for painting & decorating your plastic flower pots:
Before spray painting your pots, make sure they are clean & dry. The paint will adhere much better & go on smoother.
Do 2 or 3 thin coats rather 1 thick coat, which causes the paint to glob & drip off.
Let the paint thoroughly dry before applying the next coat.
When freehand detailing, I dab what I want emphasized with a bit of nail polish or paint & then go back & fill it in. This allows me to get an idea of what the overall pattern will look like.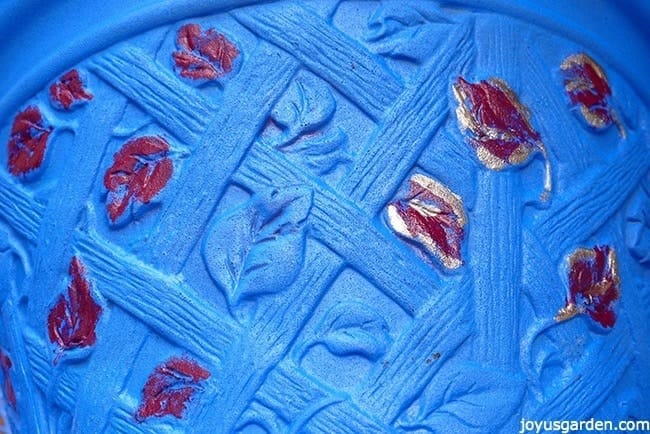 You'll see in the video how I do the detailing.
I apply a thin coat to all the parts to be detailed & then go back & pop it out as desired. The sun is strong here in the desert so I wanted the colors to be strong also.
You want to protect all your lovely handiwork with a couple of coats of with this sealant. This protects the paint from fading & yellowing.
This pot now sits by my front door and is planted with a happy medley of succulents. The $13.00 pot now looks like a million bucks and I had lots of fun doing it. So many flower pots to paint and decorate, so little time!
Happy creating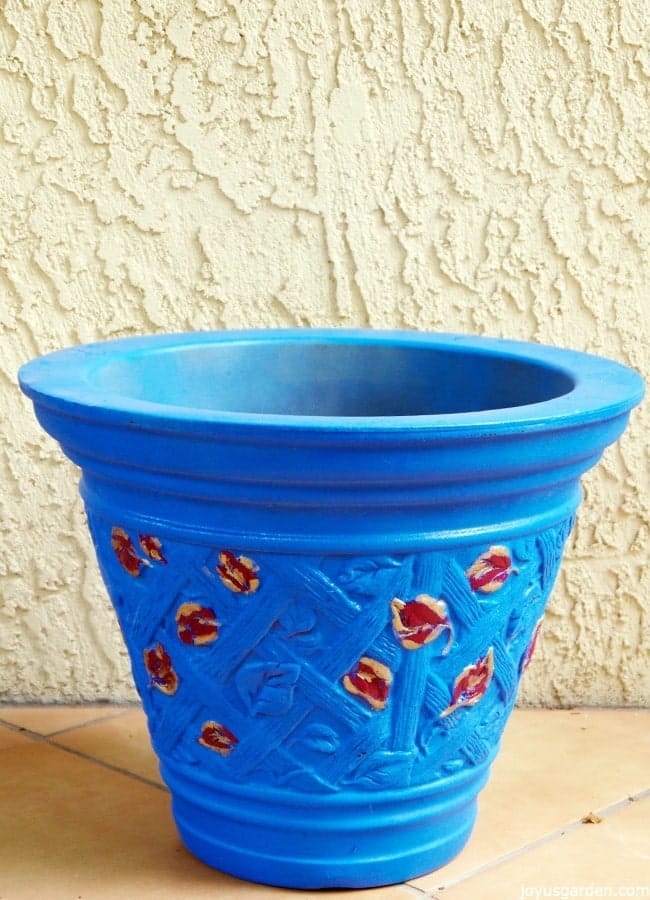 All painted, decorated & sealed. Ready for planting!
YOU MAY ALSO ENJOY:
10 Ideas For What To Do With Broken Plant Pots
Updating A Decorative Plant Pot With Painting
One Easy Way To Jazz Up A Plain Plastic Flower Pot
A Summer Centerpiece, Beachy Style

This post may contain Amazon affiliate links. You can read our policies here. Your cost for the products will be no higher but Joy Us garden receives a small commission. Thank you for helping us spread the word & make the world a more beautiful place!