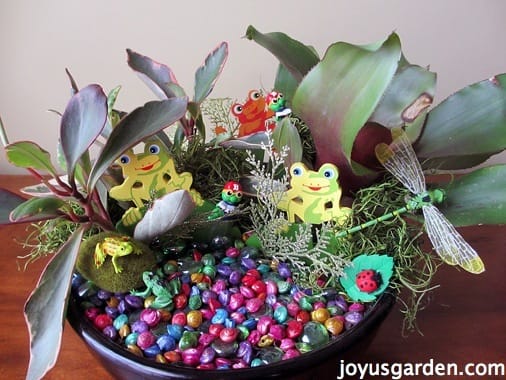 I grew up on a small farm in Litchfield County, Connecticut with lots of acres, a greenhouse and both flower and vegetable gardens.  My dad started most of our crops by seed and I was soon helping out in the garden at age 3.  For me, gardening was and still is a way of life but many kids don't grow up this way.   It's such a great activity because it teaches them how to respect the earth, imparts a love for nature, gets them outdoors and active, gives a glimpse of how everything works together in our ecosystem and most of all, shows that food does not grow in freezers of supermarkets.
Miniature gardening is a great way to introduce kids to this activity, especially if you don't have any land for them to dig in.  I'm going to show you two mini gardens I made along with the steps to their creation.  Be sure to watch the video, "Miniature Gardening For Kids", which was shot at my craft table so you can see them in more detail.  You'll also find a few tips at the very end too.
Kid's gardening projects have to be fast and fun to hold their attention.  With miniature gardening, we're talking instant gratification.  They can choose a theme for their mini masterpiece to be (or no theme is fine too) and then shop around or scavenge through the garage to find the accessories and accents.  After it is made, they can maintain it and the project lives on.   Not only to they get to dig a bit in the dirt but they learn how to keep it going and growing.
I call this garden "Insects & Amphibians in Jurassic Park"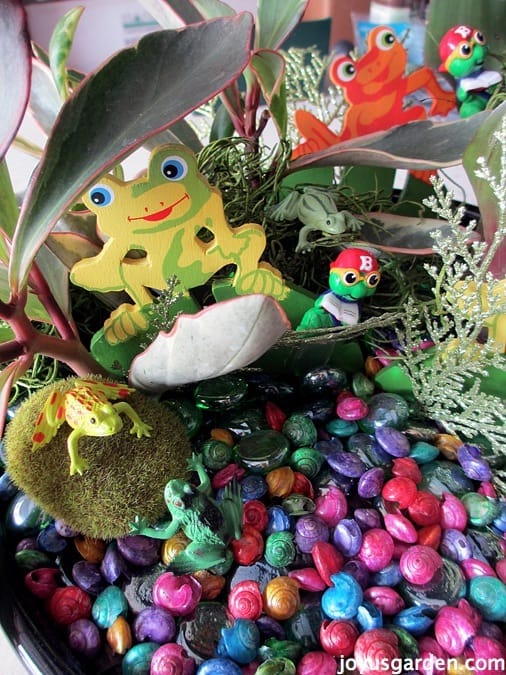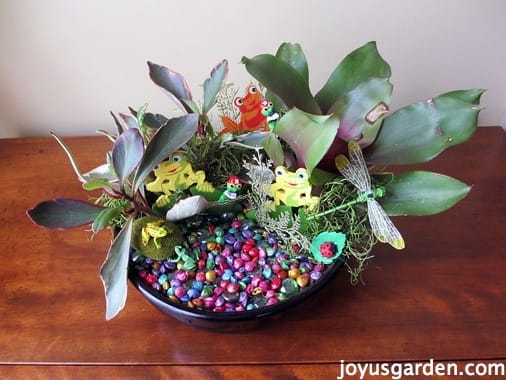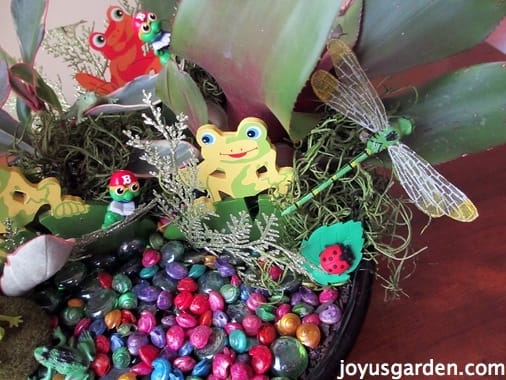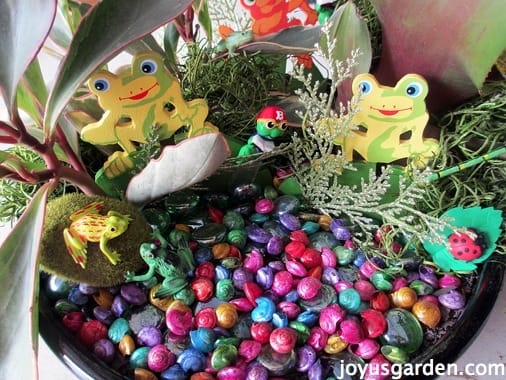 The beautiful black glossy bowl actually held orchids during one of the Macy's Spring Flower shows in San Francisco.  It has no drainage hole so I filled the bowl halfway with 1/2″ gravel and then added a light, organic potting soil to 1″ below the rim.  The pepperomia (on the left) was planted in and the bromeliad cutting (on the right which came from my garden) was stuck in.  I topped it with the potting soil and lightly pressed it down.  The adornments – frogs, dragonfly, ladybug and moss rock – took their place.  I then covered the soil with glass disks and miniature colored seashells.  For the final touches, a bit of glitter fern and preserved moss were added in.
Next up is "Cabo San Lucas in a Truck"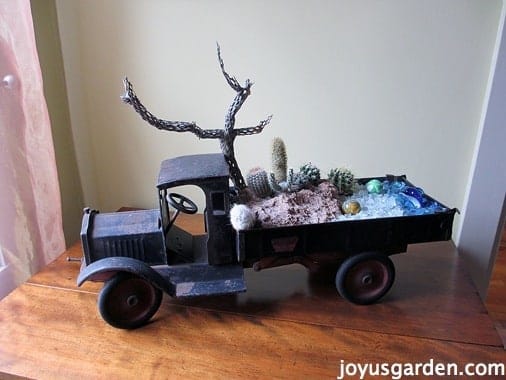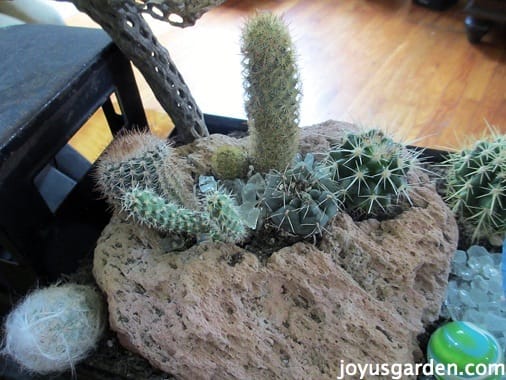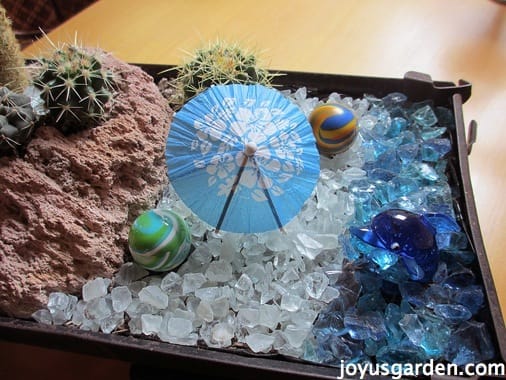 Beach balls and umbrella out, tillandsias in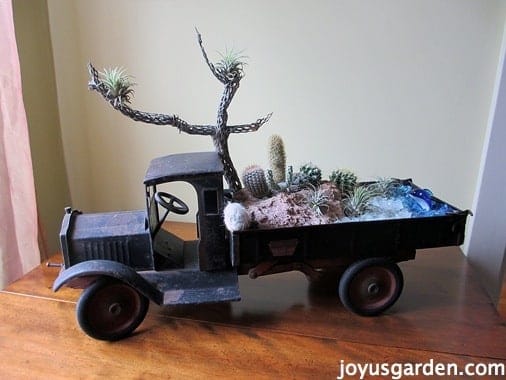 I was thinking about the container for the desert beach garden and viola, the light bulb came on.  How fun would it be to use my dad's old Keystone dump truck he played with as a young boy!  I lined it with a black garbage bag and then placed in the cacti garden in the pumice rock I had done for an eHow.com video (you can find the video showing how I made that one at the end also).  Gravel in the bottom was not a concern for this garden because it will only get light watering four times a year.  I then filled the rest of the truck bed with cactus mix and planted the other two plants.  Clear glass chips became the beach and blue chips the ocean.  A glass dolphins frolics in the water and two bouncy balls act as beach balls.  Viola, a cocktail umbrella and a piece of teddy bear cholla wood are placed in and it's all done.  Or, if your child prefers, tillandsias mimic spiny desert plants for a more subdued color palette.
Here are the tips I promised:
*  Use your imagination on the container – an old drawer, your kid's toy, a basket, a low tin, an old baking dish, etc.
*  Use plants with the same  requirements ( light exposure, temperature and water needs) and growth habits.
* Use 2″, 3″ and  4″ plants because are easy to work with.
* Second hand and reuse stores are a great place to find the accessories.  I got the wooden frogs, the bookworm book markers, ladybug eraser and cocktail umbrella at Art From Scrap, our local recycle and reuse store.  The total for all:  a whooping $1.60!   The high bouncing balls that act as beach balls were $.50 at the Goodwill.  You don't have to break the bank for the project – as I said above, your garage is probably a great resource too.
*  If you don't have the above stores to search through, then hit up the toy department or a toy store.  You can also google "miniature garden accessories for kid" and find lots there.
*  Don't let your kid overwater their masterpiece – these gardens can rot out fast.
*  Pictured below are some of my "pretties" I use for gardening and flower arranging.   These are great for covering up the dirt (if you care too) and adding a bit of pizazz.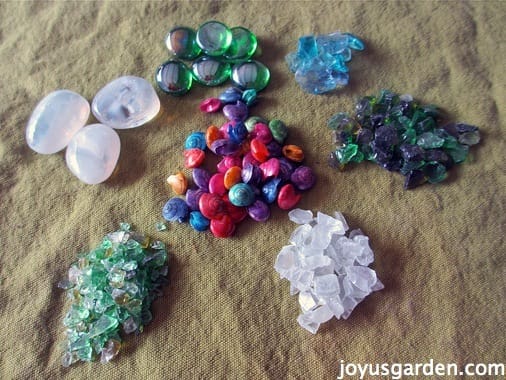 This is also a fun project for junior to do with grandma and grandpa – no heavy bags of soil to cart around or heavy plants to lift.  We live in a world dominated by television, computers and technology.  Time to unplug  for a bit and get kids digging in the dirt!
Our video showing more of these 2 gardens
The video I did for eHow.com showing how I made the Cacti garden in pumice rock
Our local resuse store – great for crafting! Art From Scrap
This post may contain affiliate links. You can read our policies here. Your cost for the products will be no higher but Joy Us garden receives a small commission. Thank you for helping us spread the word & make the world a more beautiful place!