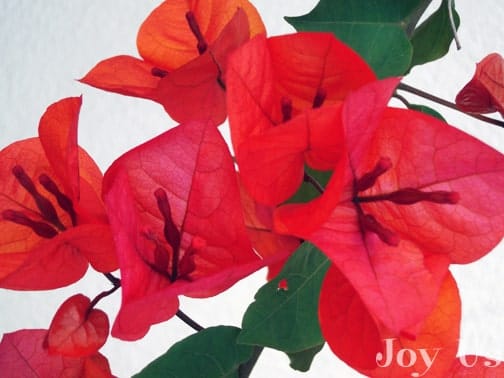 Here's a bit of interesting trivia about this alluring woody vine/shrub.  It was named for the French explorer Louis Antoine de Bougainville during his voyage of circumnavigation when the exploration team docked in South America in 1768.  Since then, these splendid (but thorny!) flowering plants have become ornamental favorites (with more than 300 varieties now available) in frost-free climates around the globe.  I have even seen the for sale at a nursery in Fairfield, Connecticut – definitely a conservatory plant there!  They are not only used as vines but also as ground covers, in containers, on pergolas, on fences and walls and as hedges (which puzzles me because they will loose their color if pruned too severely).
Like the Poinsettia, the bracts (a leaf-like part of the plant) and not the flower (which is an inconspicuous white or yellow little bloom at the center of the more showy bract) are actually what give them their gorgeous hue.  You can choose between red, purple, yellow, orange, pink or white blossoms.  Most varieties have single bracts, but a few have doubles.  There are also several varieties with variegated foliage.  One of our favorites, the "Torch Glow" is like no other – the bracts are all at the end of the stems, and when they bloom, they glow like tiki torches.
The Bougainvilleas that adorn the Joy-Us Headquarters are in full flower at the moment. Here are some of my tips (things I've learned along the way as a nursery person and as a professional gardener) for caring for them:
When you bring one home from the nursery, don't take it out of its grow pot before planting.  Bougainvilleas do not like having their roots disturbed (but who does?).  Instead, make large cuts in the sides and bottom of the plastic pot so the roots can escape and grow out.
Plant in a sunny, sunny spot (you do want that explosion of color after all!).
They like loamy, sandy, dry soil so plant in a spot that has good drainage.
Do not over-water them:  not only might this cause them to rot, but it will promote green growth over blossoming.
Remember,  they are not clinging vines, so they need support and attachment.  One of ours is growing across the broad doorway of one of our buildings thanks to a well placed metal trellis.  You can use hooks, ties – you name it.  Just keep helping them along or they'll surprise you and run wild!
The blossoms may be delicate (the bracts, not the flower, are actually the source of the color) but the thorns are fierce, so exercise care (wear gloves) when you are pruning.  I look like I've just stepped out of the lion's cage after an Edward Scissorhands session with ours – best not done in a bikini!
Many manuals will tell you to fertilize them but I don't and ours grow like beanstalks and burst with many, many blossoms.
I have a bit of a love/hate relationship with this plant but that's what keeps me interested.  When the bracts are spent, they drop off en masse and tend to blow into our offices (hey, at least they aren't cobwebs) and so we're constantly sweeping up magenta piles of paper-thin leaves.  They can also overtake an area unless you stay on top of the pruning.
Hummingbirds and butterflies love them.  And so do we!
Enjoy!
Nell
Check out our previous post on Bougainvillea glabra here.
Click here for more Bougainvilleas pictures I took while wondering around Santa Barbara.
As Ground Cover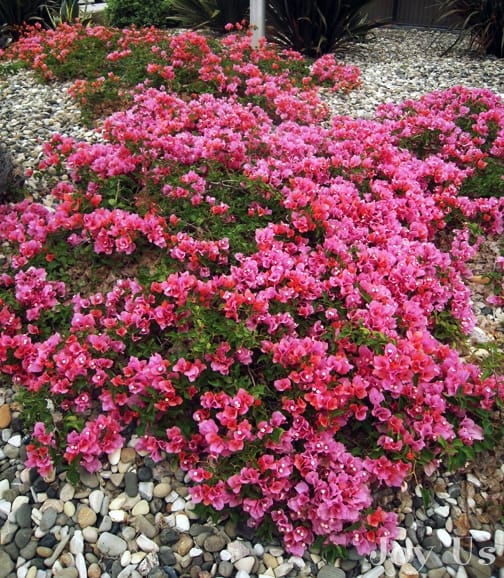 As  A  Hedge
 Along  A Wall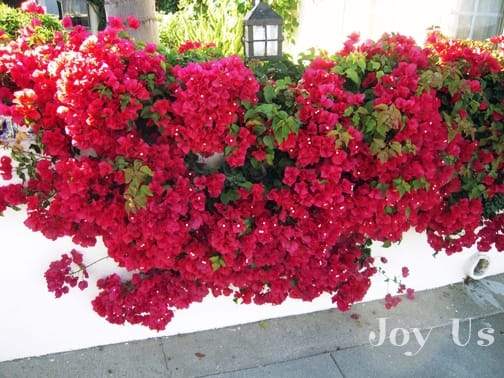 Over A Pergola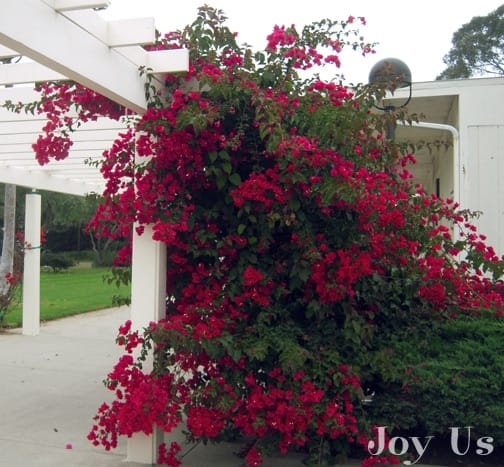 Along A Chain Link Fence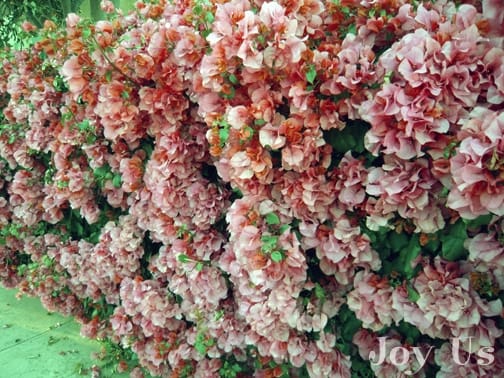 A video about how I prune the Joy-Us Bougainvilleas
Let Us Inspire You. Just Sign Up For Our Free Newsletter And You'll Get:
*  Tips you can use in the garden
*   Ideas for crafting and DIY
*   Promotions on our merchandise
This post may contain Amazon affiliate links. You can read our policies here. Your cost for the products will be no higher but Joy Us garden receives a small commission. Thank you for helping us spread the word & make the world a more beautiful place!