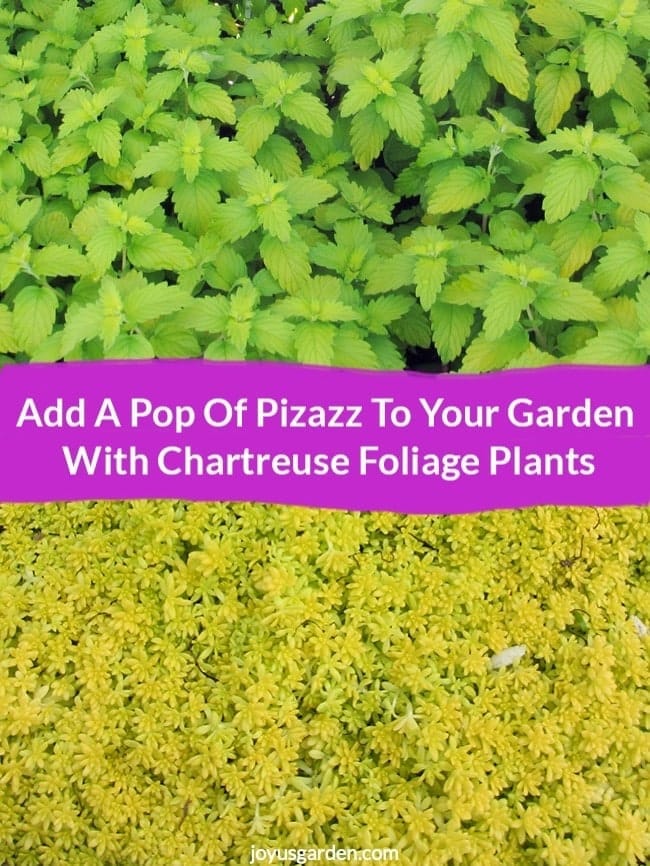 We love chartreuse foliage plants and flowers because they combine oh so well with all other colors and really get our eyeballs open wide. Chartreuse falls in between yellow and green on the color wheel so you'll see different variations of it.
Many do well in the shade or partial shade so you can really brighten up a darker spot with chartreuse foliage plants. Who needs flowers when you have something so dazzling and bright!
Chartreuse is a very versatile color but pairs strikingly well with blue, black and purple. It's that light/dark contrast that many of us love in the garden. This by no means shows you all the chartreuse foliage plants out there but will give you a sampling of shrubs, perennials, annuals, and vines to mull over. These pictures, and the video clips were taken mainly in California along the coast.
Chartreuse foliage plants to make your garden shine:
Here are some more plants with fabulous foliage to add interest to your garden without using flowers. Chartreuse foliage plants steal the show when paired with other colors so you can use them sparingly for a subtle "look at me" or en masse for a big "wowza". Either way, they're the cat's meow in our book.
Sweet Potato Vine. Perennial; Sold As Annual.
These vines can usually be found spilling out of containers. They won't grow sweet potatoes but are sure to add brightness to your garden. Combine this with dark purple variety and they won't go unnoticed.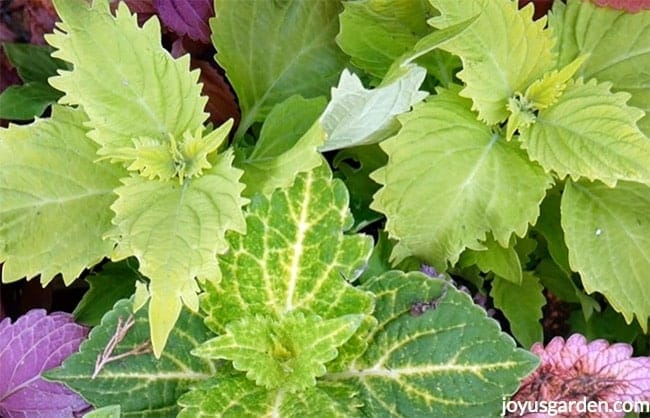 Coleus. Perennials; Sold As Annuals.
Coleus went out of favor for a bit but now they are back with a bang. They're sold for their showy foliage rather than the flowers. And boy, some wildly patterned ones have appeared on the market lately. Coleus are great in containers and combine beautifully with other plants. They run the exposure gamut from shade to sun. They're also very easy to propagate which Nell can show you on her post: Propagating My Coleus.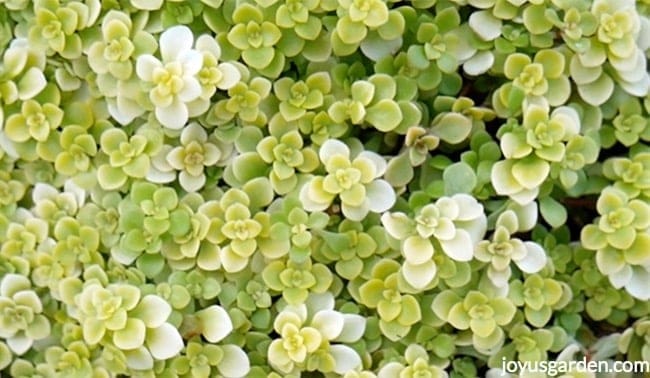 Sedum Ogon. Succulent Ground Cover.
What's good about ground covers is that they'll take up a big part of the garden. If healthy and well established, this 1 will look like a dreamy chartreuse mat. It's a low growing, mellow chartreuse ground cover. It works well in dry to medium moisture; but not desert dry.

Sedum Angelina. Succulent, Ground Cover.
This is another succulent ground cover we love that's a bit wilder looking than Sedum Ogon. It grows taller and has a somewhat rampant growth habit and also forms a mat. It'll add a cheerful fun look to your garden but be warned: it does spread.

Bird's Nest Fern. Perennial.
Personally, this has to be one of the most attractive ferns. Those big bold leaves send me to the moon and back. If you're far from a tropical place (that's where they like to grow outdoors) don't you worry because they can also be taken indoors.
They grow pretty big as far as ferns go – the one pictured here was a bit bigger than 4′ tall!

Lysimachia Aurea. Perennial.
This is a low growing, creeping ground cover that can also spill quite nicely over walls. Nell's client had 1 growing in a container and was planted in the ground as it got too big. It's now covered over half of the front porch bed. Friendly warning: this one really travels!

Foxtail Agave Kara's Stripes. Succulent.
Spine free and oh so good looking, Foxtail Agave Kara's Stripes is meant to start conversations. They can eventually get pretty big, but do grow slowly. If you want it to reach it's full beauty potential, be sure to give it bright light and plenty of water. This succulent looks best with moderate water.

Bougainvillea Golden Jackpot. Vine/Shrub.
At Joy Us garden, we crush on bougainvilleas. These thorny plants happen to be one of our favorite and one of the most popular topic with our readers.
What we love about Golden Jackpot, in particular, is the Chartreuse leaves combined with the vivid magenta flowers. This vine/shrub will cheer you up and make you forget the thorns while pruning it.
If you need some basic care tips check out: Care & Growing Tips For Bougainvillea: A Flowering Machine.
To get more blooms: How I Prune & Trim My Bougainvillea For Maximum Bloom.
And if you are just getting started and need to plant it: How To Plant Bougainvillea To Grow Successfully: The Most Important Thing To Know.

Golden Jade. Succulent.
Oh Jade Plants, some people love you and some don't. Simply put, you're just one of those plants that everyone seems to have an opinion on. Regardless of how the masses feel, this is 1 of the easiest care plants, in the garden or in the house, out there. Check out this post for care instructions.
How about you? Are you a big fan of chartreuse foliage plants too?
Happy gardening,
Nell & Lucy
You may also enjoy:
This post may contain affiliate links. You can read our policies here. Your cost for the products will be no higher but Joy Us garden receives a small commission. Thank you for helping us spread the word & make the world a more beautiful place!