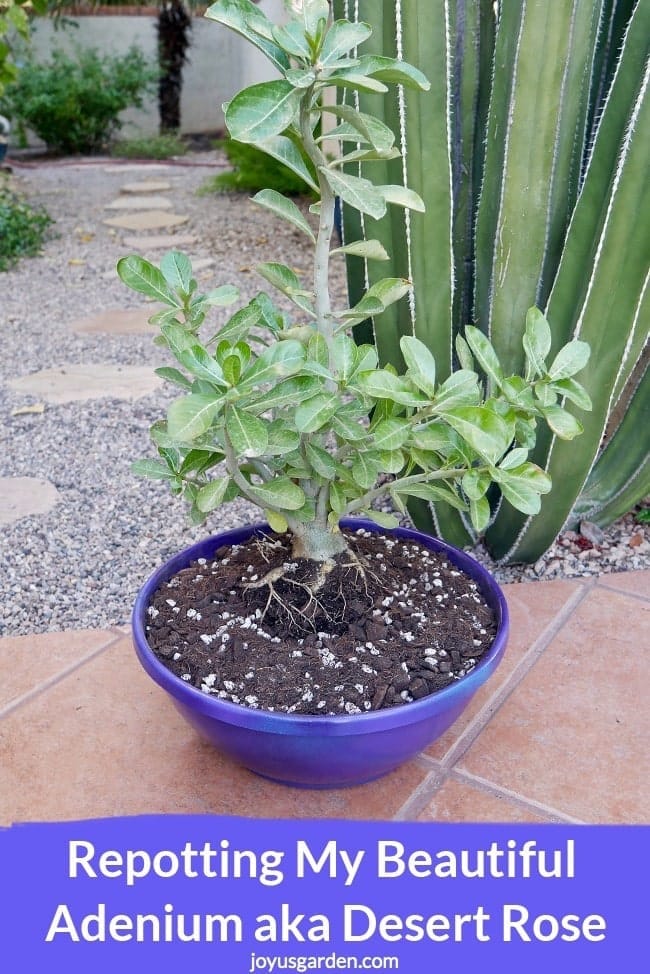 It was true love when the Adenium my dad grew in the greenhouse attached to our home in Connecticut bloomed for the 1st time. What was this gorgeous plant with the twisting branches and the trumpet-shaped flowers? So exotic! Many moons later, after 1 year in Boston, 7 years in New York City and 30 years in California, I now have 1 of my own at my (relatively) new home in Tucson. I want to walk you through the simple steps to and tell you why I'm repotting my Adenium, aka Desert Rose.
These tropical, subtropical beauties are in the same family as oleanders and that's why their flowers look so similar. They're perennial succulents which store water in their stems, leaves, and roots during dry spells. For this reason, Adeniums are susceptible to root rot, especially in cool weather.
Some Of Our General Houseplant Guides For Your Reference:
Repotting My Adenium:
Materials Used:
2 Gallon Adenium Obesum.
Low Plastic Bowl; 14″ w x 6″ deep.
This is a "cheapy" thin plastic terra cotta colored planter which I bought at a reuse & recycle store when I lived in Santa Barbara for 50 cents. It has been sprayed blue, then gold was added in & I just recently sprayed it gloss grape. It has 2 coats of a gloss sealer on to protect it from the strong desert sun. I like it because I can easily move it around if I have to bring it indoors or move it out of the summer sun. Never pass up a bargain I say!
Coffee Filter.
I covered the 4 drain holes with it so the light succulent mix wouldn't run out of the pot with the 1st few waterings. Newspaper works fine too.
Succulent & Cactus Mix.
Remember, Adeniums are subject to root rot. You want a mix which drains really well. I use 1 which is produced locally – this one is good too. If you're using a heavier s & c mix or potting soil, you want to add pumice or clean, small gravel to amend the drainage.
Here's the mix I use which is nice & chunky. It consists of prococo coconut coir chips, pumice & compost – adeniums love it!
Compost.
I use Tank's local compost. Give Dr. Earth's a try if you can't find anywhere you live. Both enrich the soil naturally so the roots are healthy & the plants grow stronger. I added a couple of small handfuls of compost in because the Tucson growing season chugs along all year. If your Adenium is a houseplant, then skip it.
Steps Taken:
Remove the adenium from the grow pot. I did this by turning the plant on its side & gently stepping on the grow pot. I came right out like a dream!
Put the coffee filter over the drain holes & add in the mix to the desired depth.
Place the adenium in the pot.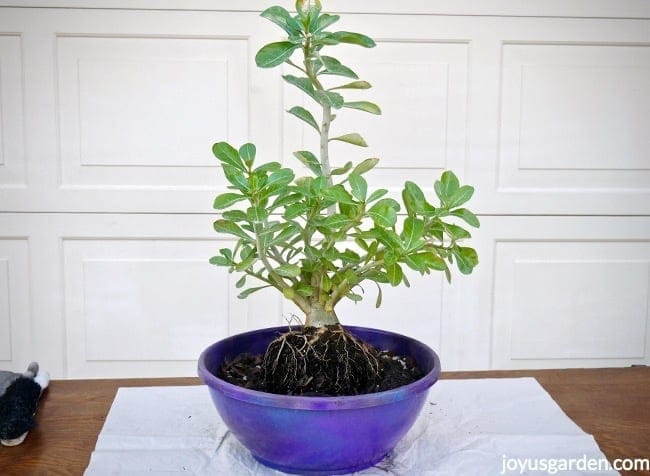 I left the caudex ( the thickened base) & upper roots exposed because I like the look. Plus, the plant has some weight so it'll sink down into the light mix over time.
Fill in with the rest of the mix & a couple of small handfuls of compost.
Let the plant settle in for a couple of days before watering.
Good to know:
Adeniums can be grown with the caudex above or below the soil line. Above the line is the look for me because I like plants with character – you know, wacky plants!
Adenium obesum (the 1 most commonly sold) emits a sap just like oleander. All parts are poisonous so if any break, be sure not to get that sap in your mouth, near your face or on your skin.
They can tolerate being tight in their pots.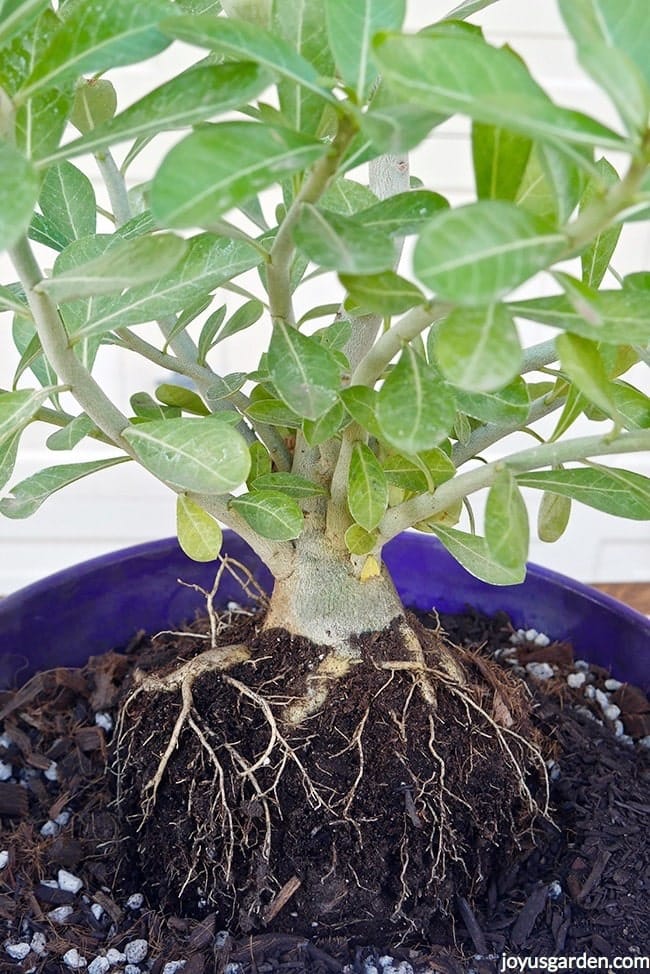 The caudex will swell as the plant grows, & because it's now exposed, will be a point of interest. The uppermost roots can be a bit exposed too.
Adeniums do well in containers which are wider than they are tall. For this reason, they make excellent bonsai specimens.
Repotting is best done during the growing season, not while it's dormant.
I love my Adenium and can't wait to see it grow and develop into a fascinating form. In the video, I said that I would show an Adenium which retails for $1400 but I was mistaken. Oops – it's selling for $4000. Isn't that baby fabulous?!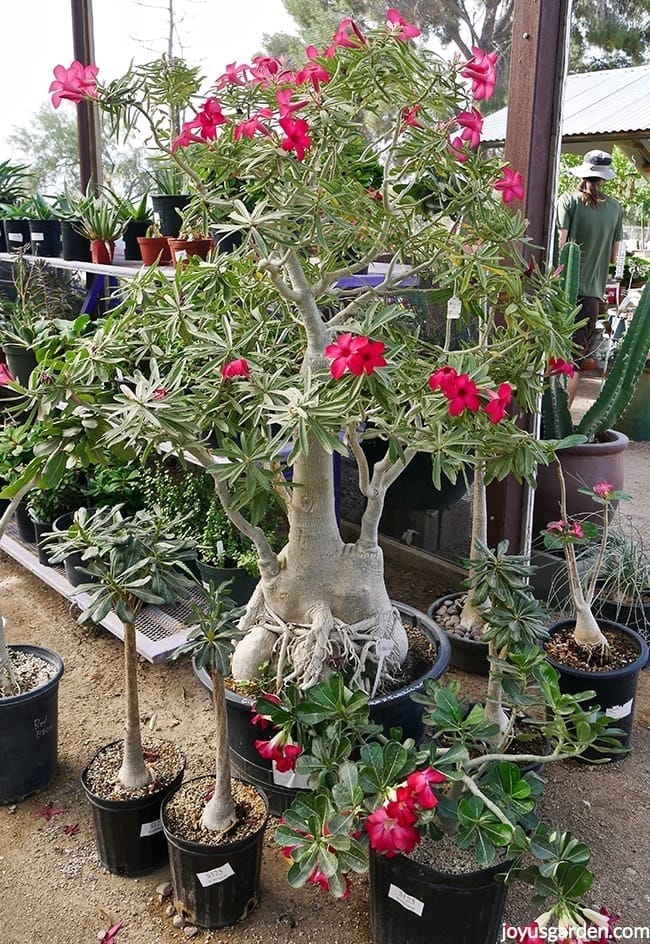 I was off by $2600 in the video but I would just love to have this specimen of horticultural goodness on my patio!
Happy gardening,

You may also enjoy:
How To Plant Perennials Successfully
7 Ways To Increase Curb Appeal and Home Sales
The Best Tips for Growing Your Own Balcony Garden
This post may contain affiliate links. You can read our policies here. Your cost for the products will be no higher but Joy Us garden receives a small commission. Thank you for helping us spread the word & make the world a more beautiful place!