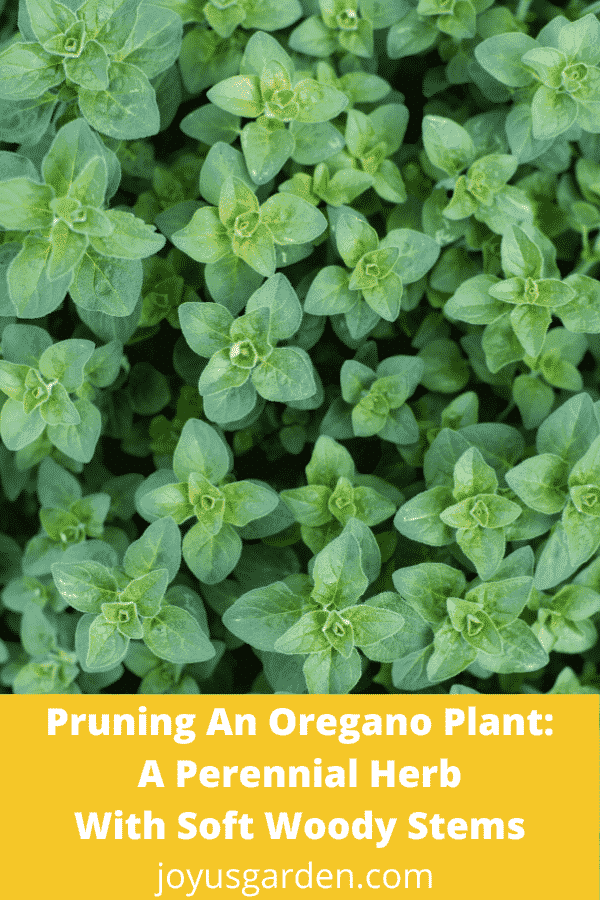 When my neighbor asked me to prune her oregano cascading out of a large terra cotta pot, I said "heck yeah". Not only do I love pruning (my nickname was "Prunella" years ago!) but I was also lending Mary a hand. She hadn't pruned this herb since it was planted over 2 years ago – oh my. Time for the overdue pruning of an oregano plant so all that tender new growth can appear as the weather warms.
Herbs like lavender or thyme have harder woody stems. Oregano is like mint in that it has softer woody stems. Those old stems will eventually get woody over time and the plant becomes quite dense making it harder for the new growth to appear in spring and summer. I prune my mojito mint in the same way – out with the old and in with the new.
Pruning an Overgrown Oregano Plant:
When To Prune
Oregano is a perennial herb in USDA zones 5 and higher. In lower zones, it's grown as an annual.
I live in Tucson, AZ & did this pruning towards the end of January. In colder climates it's best to wait until spring when the danger of a freeze has passed. You don't want to force out all that new growth & then have it hit.
I grew up in Connecticut where we left the oregano be in fall & threw some hay over it for protection. We removed the hay in spring & did the big pruning.
Oregano grows fast & benefits from a mid-season pruning right after flowering. That'll stimulate even more of that tasty new growth.
This is how the oregano looked before pruning – dense as can be with straggly stems way underneath.
How To Prune
This isn't 1 of those finesse pruning jobs. You're basically chopping off all the old growth to make way for the new.
Make sure your pruners are clean & sharp. It'll make the job so much easier. I used 2 pruners – Felcos for the big pruning & my Fiskar Floral Snips for the "finesse" work at the end.
I made my way around the plant cutting it all the way back to 2-3″. That's when you can really start to see the new growth that's hiding underneath if your oregano is as dense as this 1. Yes, it's what you call a hard pruning but this is what your oregano really needs.
The 2nd much lighter pruning was to remove some of those dead woody stems & leggy softer stems. I like to do this because it makes the plant look a little better. You can skip this step if you'd like but I prefer to clean things up as much as possible. Let's be real, your oregano isn't pretty at this point & will look like it's been scalped for a month or so!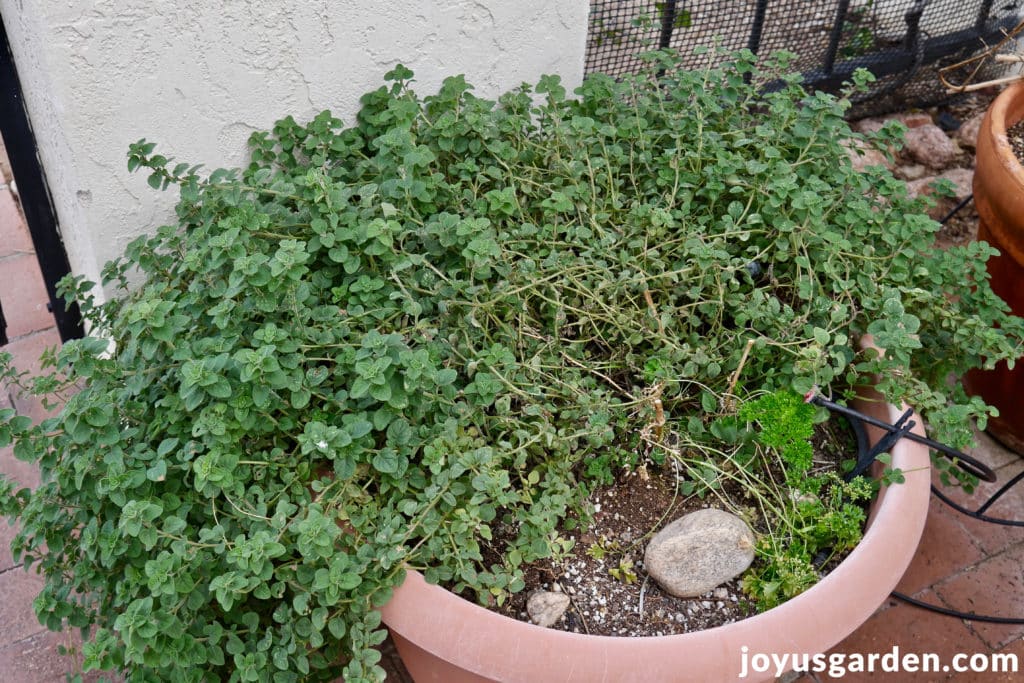 The poor parsley was trying to come back but is having a hard time!
Good To Know
You prune oregano in this same manner whether it's in a pot or in the ground.
Oregano loves the heat & will come back fast once the weather starts to warm.
You want to do this pruning (especially if your oregano is overgrown like this 1) to encourage all that new growth. The newer leaves have a better flavor than the older, tougher ones.
Don't be timid about this. You want to expose the new growth to sunlight & air. The oregano you see here was so thick that the new growth would have had a very hard time growing through it.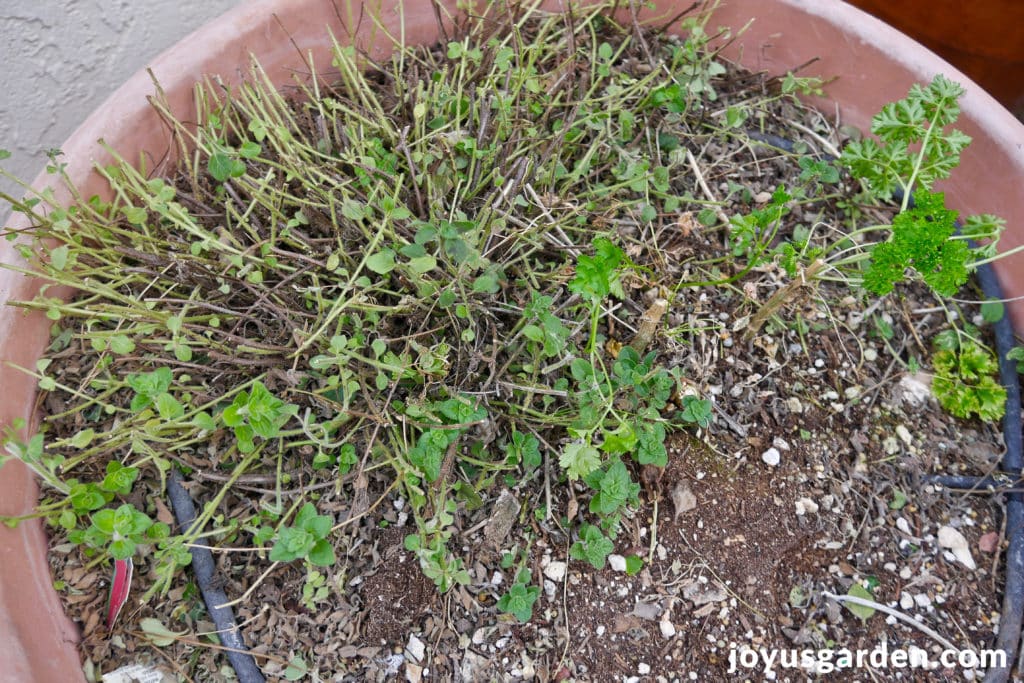 This is how it looks post-pruning. Not a sight to behold but just you wait – that new growth will spring forth in no time.
Like my mint, I'll apply about 1″ of worm compost (this is my favorite amendment, which I use sparingly because it's rich) & 2-3″ of compost on the very top in a month or so. This will be the feeding of these herbs for the entire season.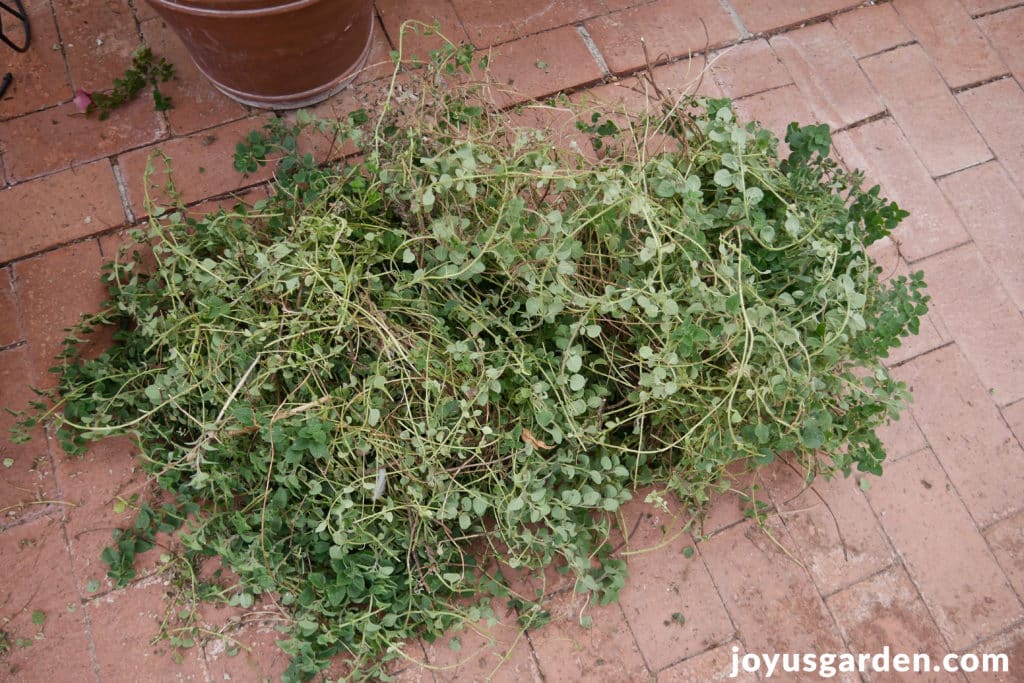 The pile of twisted stems. Oregano anyone??
I must admit, I'll reap the benefits of this pruning as much as Mary. She lets me harvest stems of her oregano and basil whenever I like. With all that oregano I pruned off, I see lots of batches of marinara sauce coming right up!
Happy gardening,

You may also enjoy:
Pruning 2 Different Types Of Lantana In Spring 
How To Plant Perennials Successfully
This post may contain affiliate links. You can read our policies here. Your cost for the products will be no higher but Joy Us garden receives a small commission. Thank you for helping us spread the word & make the world a more beautiful place!