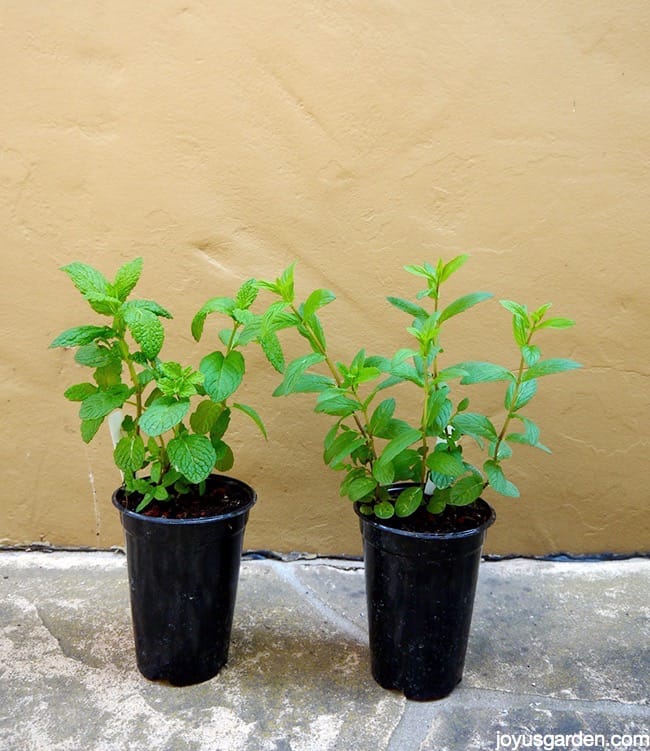 I love pretty much any herb. I do a lot of cooking and have a raised bed of herbs in the back yard that I can pick from all year long whenever my little heart desires. Of all the herbs, mint is my very favorite. I use it almost every day to add to a pitcher of water with sliced lemons for that added pop of flavor.
My mint doesn't share growing grounds with the other herbs. It's planted in a terra cotta container otherwise it would take over raised bed as well as part of the garden. That's how mint grows – vigorously without regards for any of the space around it. If you're new to the world of planting mint and don't want a total takeover, here are 2 words: contain it.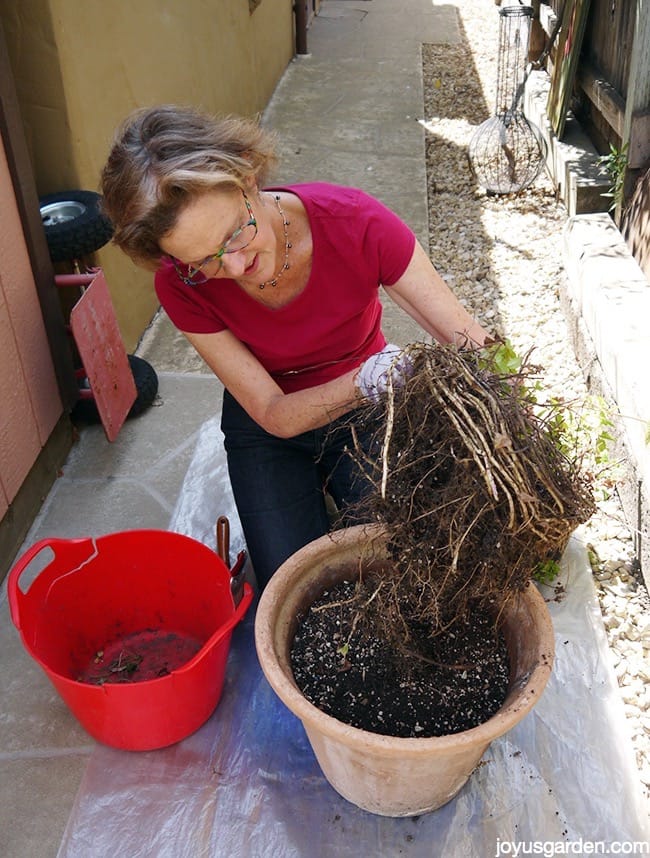 Here I am removing the old mint from the pot. You can see how those underground stems have wrapped themselves around in a circle. In my experience, it grows fast but not very deep.
My mints, thai basil and some type of spearmint, had been planted in that pot for 4 or 5 years. I had rejuvenated them twice by cutting them back and replanting a small portion but I decided enough was enough. The unknown spearmint had completely crowded out the thai basil mint. The planting was in the beginning stages of mint rust so time to take action.
I hoped to salvage some of the leaves but ended up throwing away both the foliage and roots (I'm an avid composter but always avoid anything with a disease or pests).
All about mint & how I planted my new Cuban & Syrian Mints:
Here's what mint likes:
Light:
Sun to part sun.
Water:
Average. Mint is not drought tolerant.
Fertilizer:
A 2″ application of organic compost or worm castings in the spring is all it needs.
Soil:
Well drained with amendments (see above) added in.
USDA Zone:
3-11 depending on the variety of mint. Some mints are more cold tolerant, some are more heat tolerant.
Propagation:
Mint easily roots in water or can be grown from seed.
Diseases & Pests:
Mint doesn't like these (duh, obviously) but yours may or may not get: rust, wilt or anthracnose. Also spider mites, aphids or cutworms.
There are SO many varieties of mint it makes my head spin. How in the world is a girl supposed to choose just 1 spearmint?! Regardless of all the choices, this is a plant with purpose. It's found in the culinary, medicinal, cosmetic and fragrance industries as well as in homes everywhere. I know 1 thing for sure: I'll always have it in my garden. In a pot that is!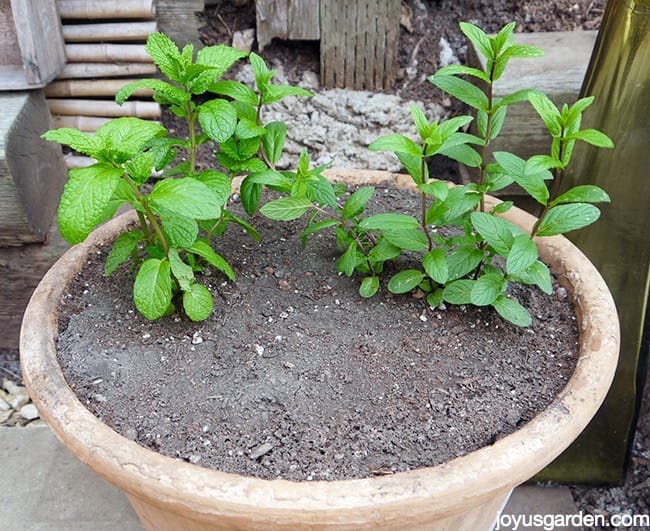 It looks a little bare right now, but just you wait. That pot will be full of mint in no time!
This post may contain Amazon affiliate links. You can read our policies here. Your cost for the products will be no higher but Joy Us garden receives a small commission. Thank you for helping us spread the word & make the world a more beautiful place!