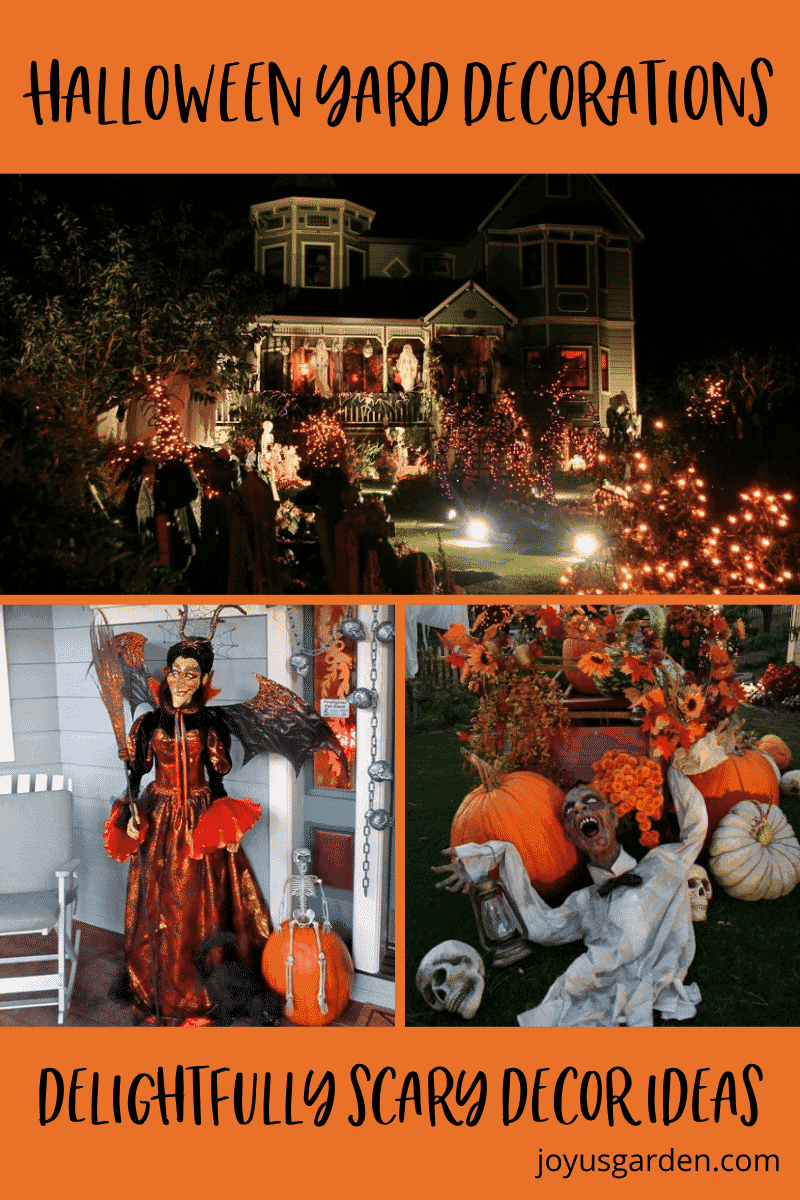 October 31st is just around the corner so I wanted to share with you a decorating job I've done in the San Francisco Bay area for 15 years. Now that I live in Tucson, I no longer work on this project, but it's fun to look back at all the delightfully scary Halloween yard decorations!
"HALLOWEEN WAS CONFUSING. ALL MY LIFE MY PARENTS SAID, 'NEVER TAKE CANDY FROM STRANGERS.' AND THEN THEY DRESSED ME UP AND SAID, 'GO BEG FOR IT.'" – RITA RUDNER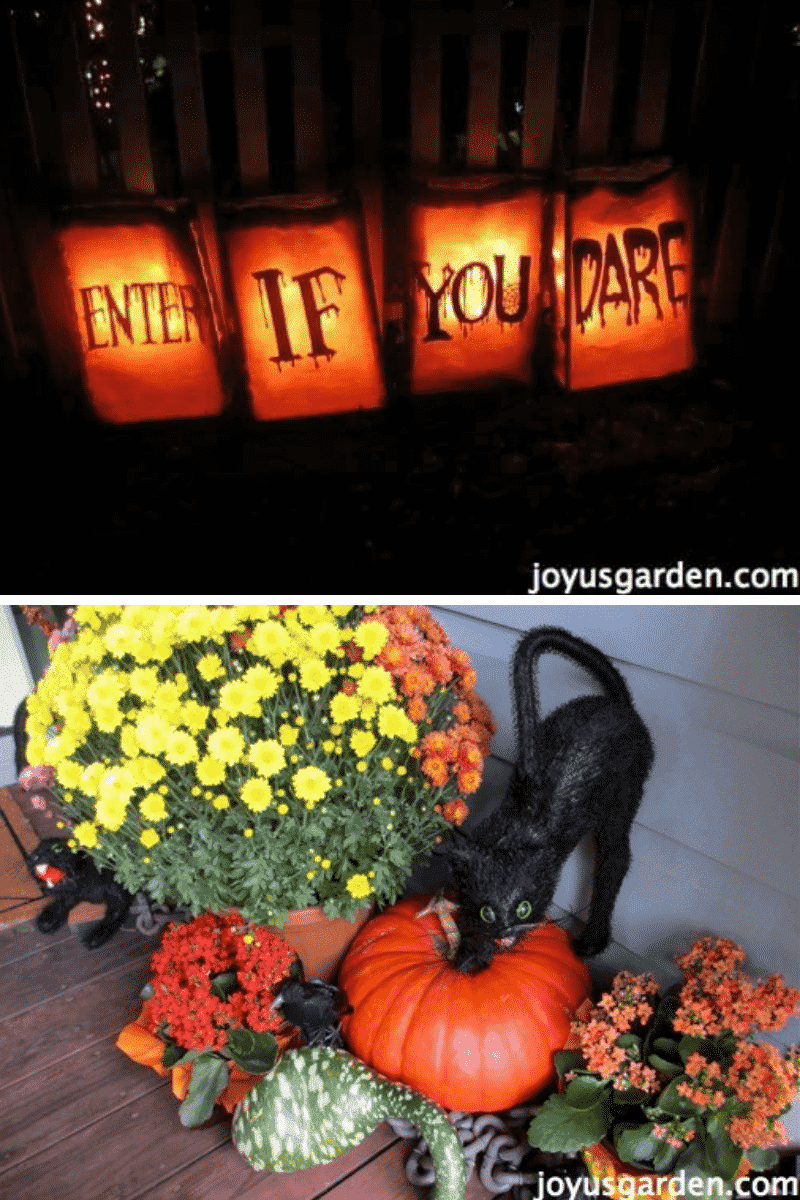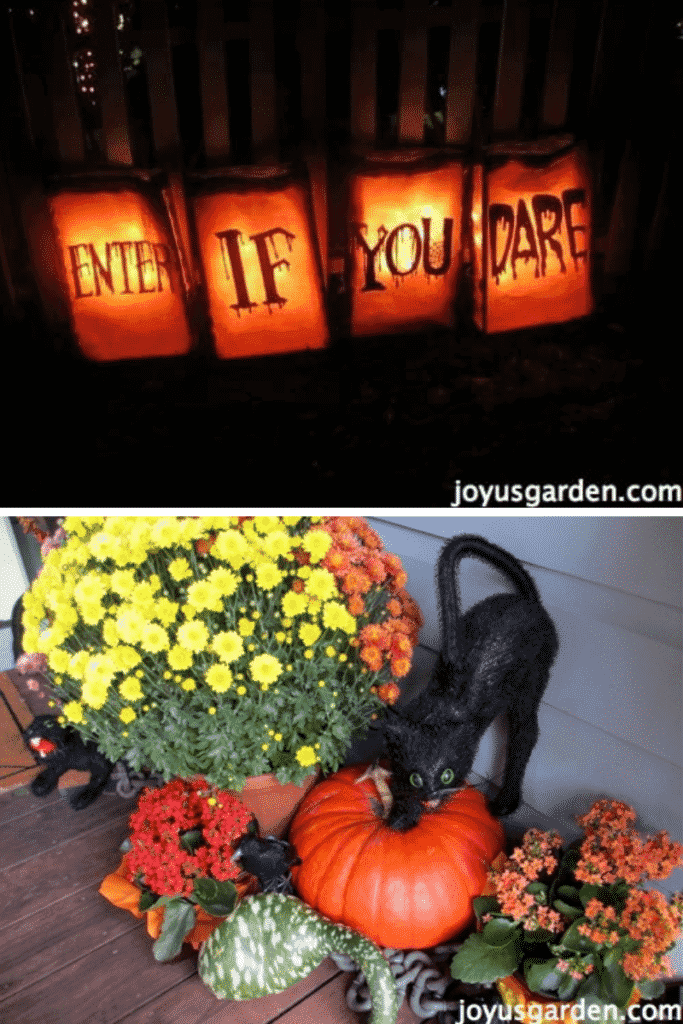 The Lady of the House is crazy for Halloween and the displays in her front yard have slowly expanded over time. Ghosts, zombies, skeletons, black cats, purple trees with limbs that move, rats, spiders, pumpkins, mums, butlers, maids and skeletons that scream out frightening cries in the night – you name it – it's all here.
These decorations that you see here were collected and used for years. They have come from wholesale display houses, retail catalogues, the San Francisco Flower Market, the Los Angeles Mart and even K-Mart, Sears and Orchard Supply Hardware. Some were expensive but many were not. You don't need to break the bank to have a welcoming and delightful front porch display.
A few years ago some of the decor took flight over the Pacific Ocean when a fierce storm rolled in the day before Halloween. Those which remained look all the more authentic tattered and dirt stained!
Here are some Halloween decorating ideas which I hope inspire you for your own yard. Find your witches' hat and broom and get ready to take off!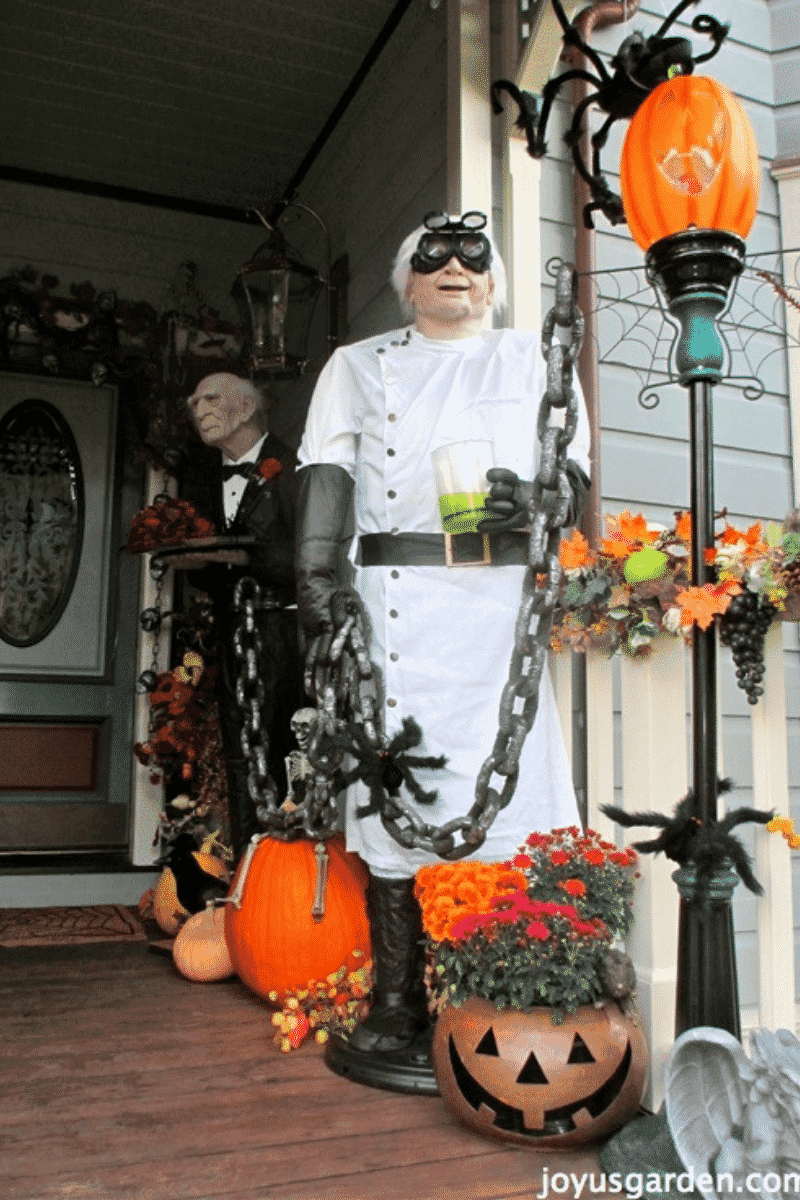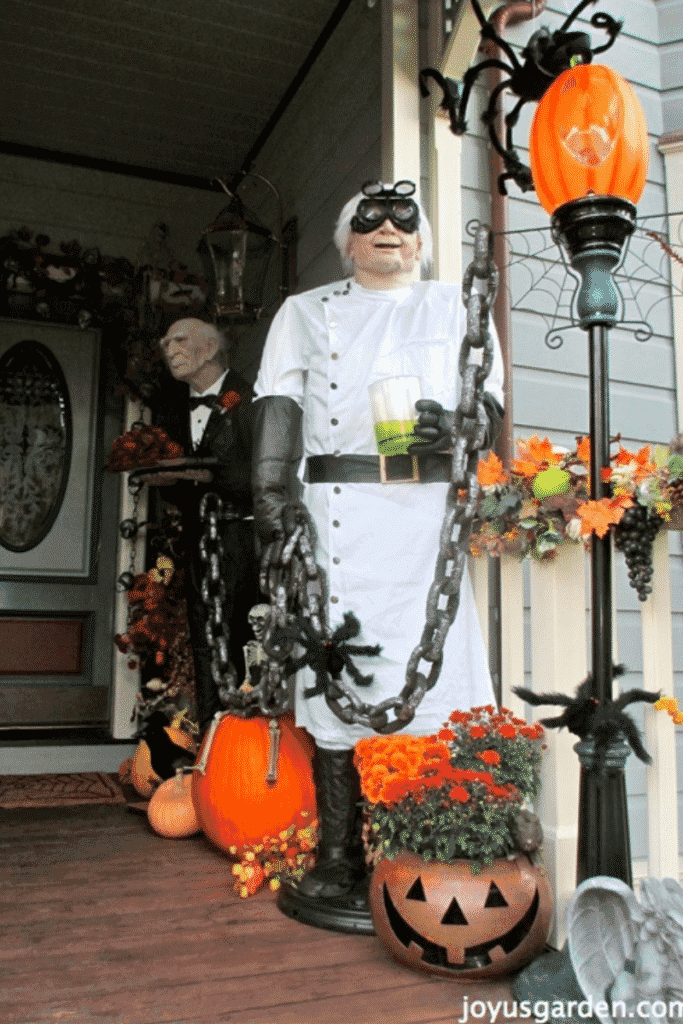 "WHEN WITCHES GO RIDING AND BLACK CATS ARE SEEN, THE MOON LAUGHS AND WHISPERS, TIS NEAR HALLOWEEN." – UNKNOWN
Front Porch Decor
Kids and adults love this decorated front porch. There's so much to see and hear as many of the figures move and talk. A mixture of fall garlands adorn the porch railings and pumpkins and squashes line each step staying up right through Thanksgiving.
I've done a post on How To Reuse Halloween Front Porch Decor to make it look like new.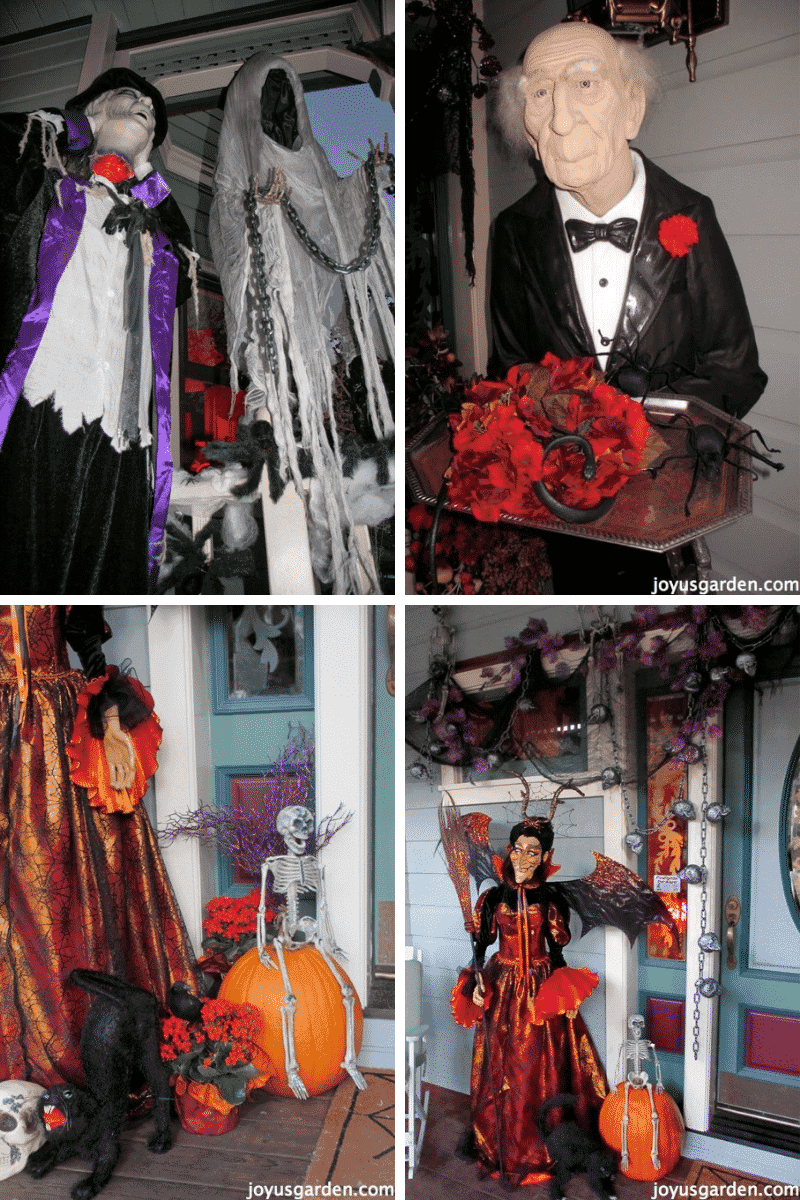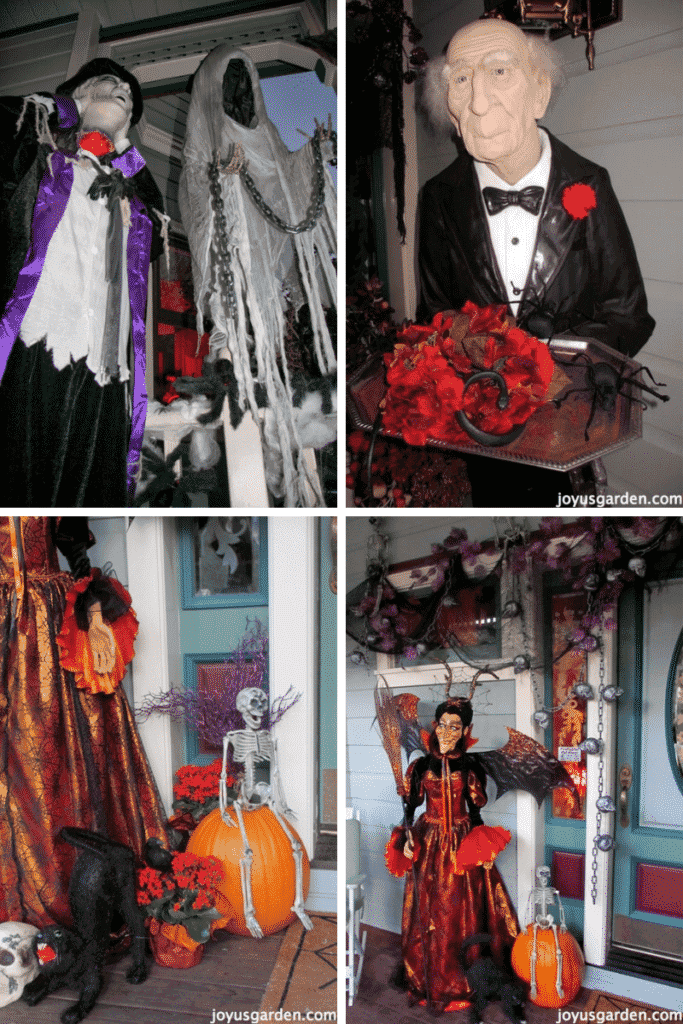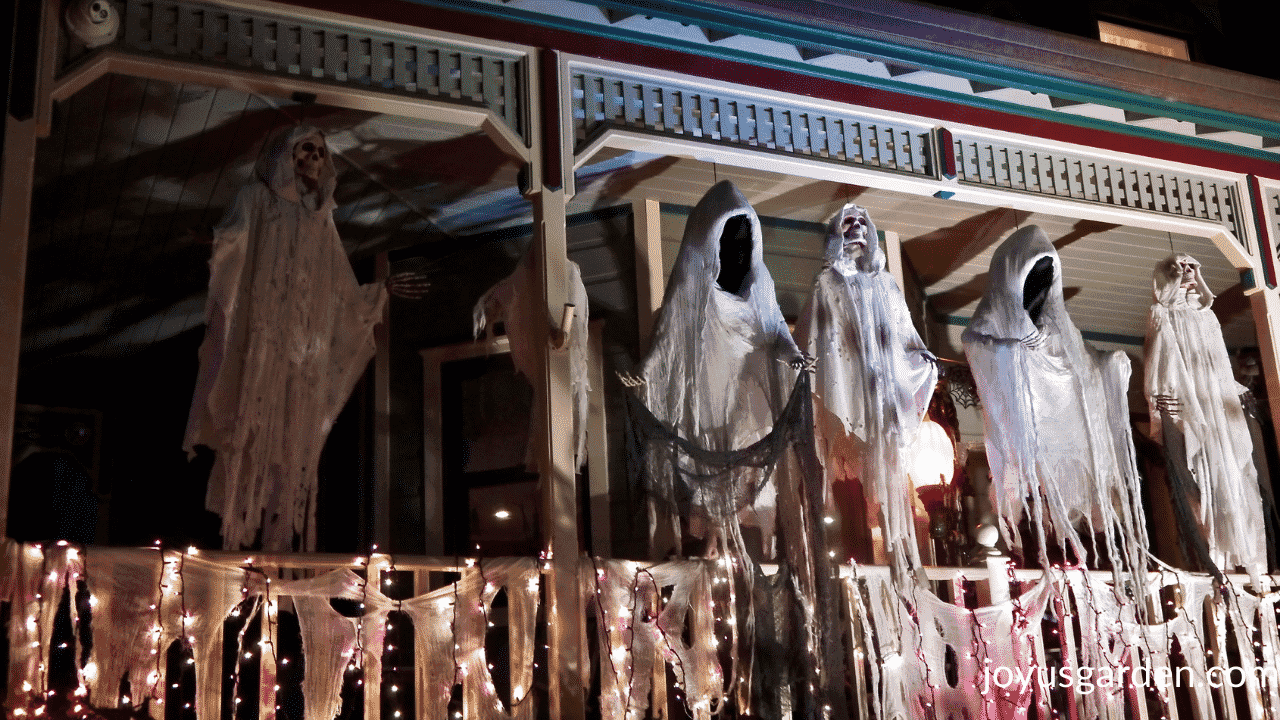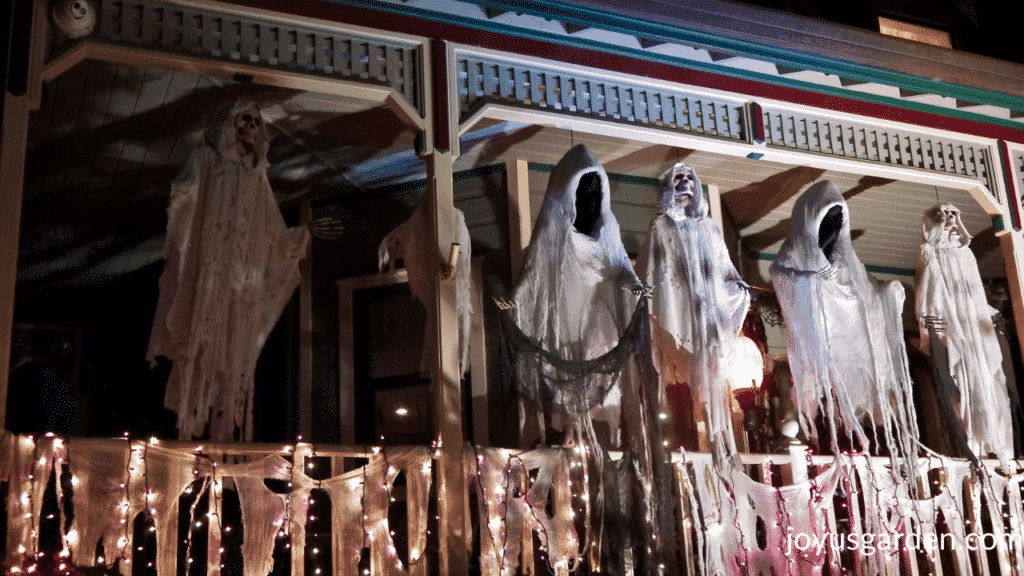 Tip: The ghoulish figures spanning the front porch are tied together with fishing line so they have movement but stay facing the street and walkway. Otherwise, they spin like crazy.
Tip: This house just got a new paint job a couple of months ago. We protected the railing from wire marks by first covering it with saran wrap with soft rubber open-cell material to line drawers over that. It also helped the garland to grip on and stay in place.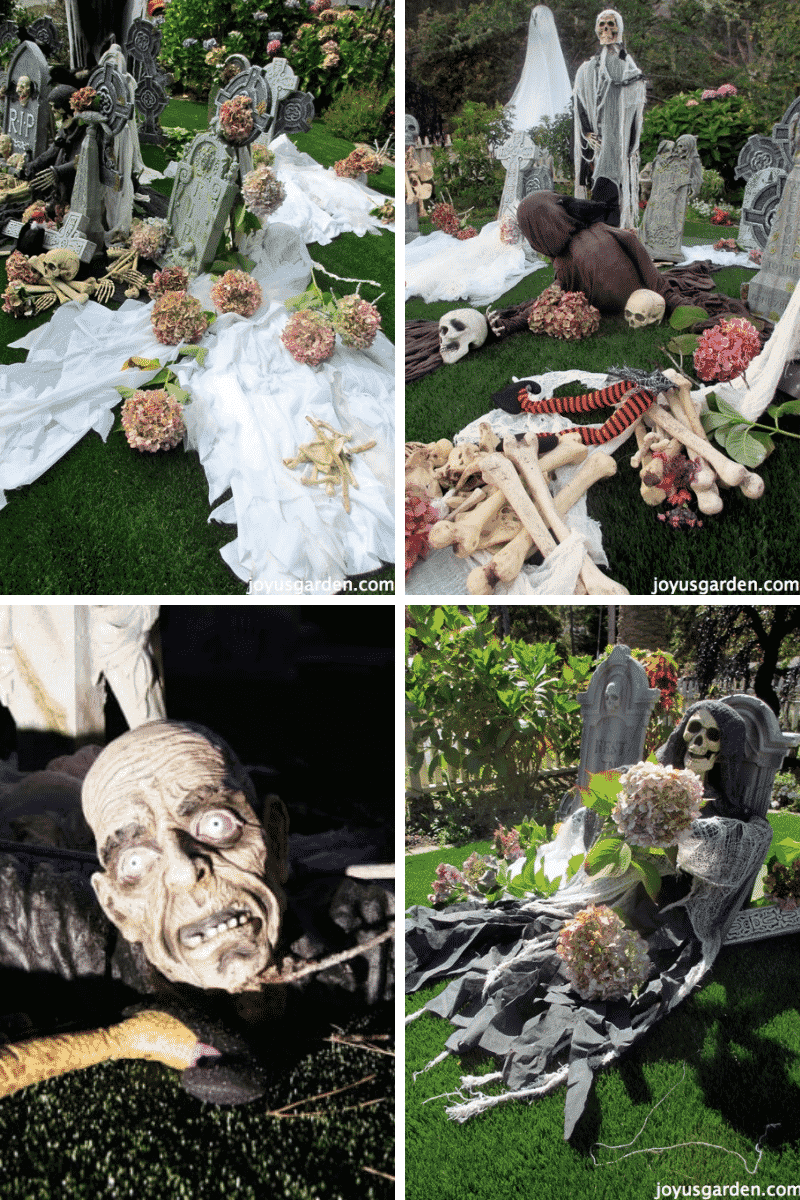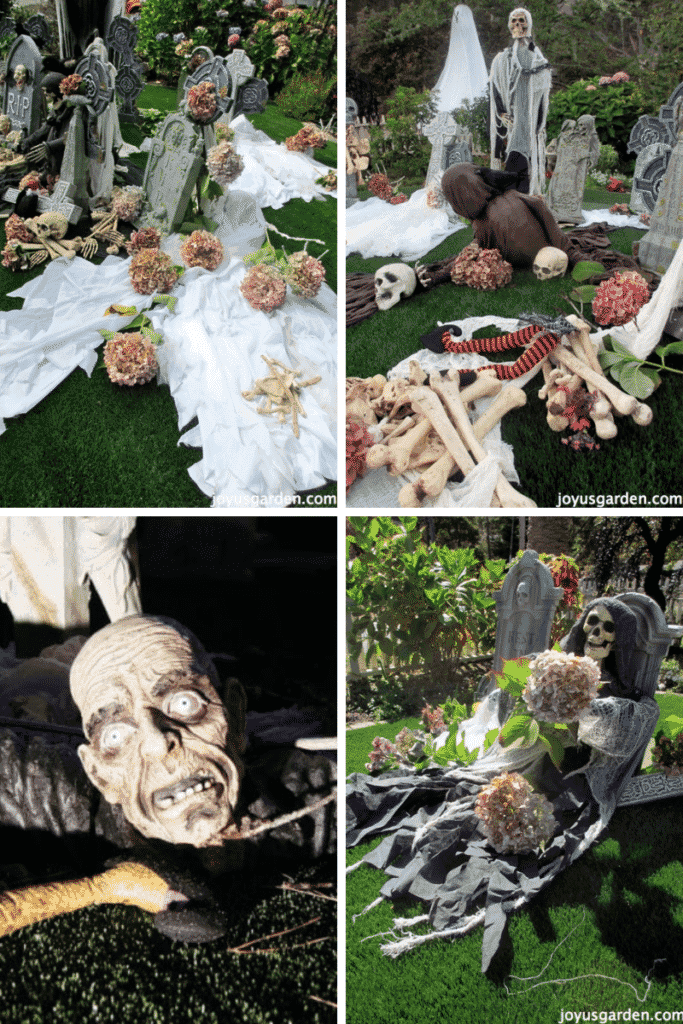 "WHEN BLACK CATS PROWL AND PUMPKINS GLEAM, MAY LUCK BE YOURS ON HALLOWEEN." – UNKNOWN
Frightening Graveyard Decor
Because the lawn is artificial, everything is attached with fishing line and wire to posts on painted plywood platforms. The headstones are made out of a variety of materials including styrofoam, fiberglass, resin and plastic.
Some of the figures are ones which did not weather that storm too well so on the ground they lie. I throw in some faded hydrangea flowers for that "Morticia Addams" touch.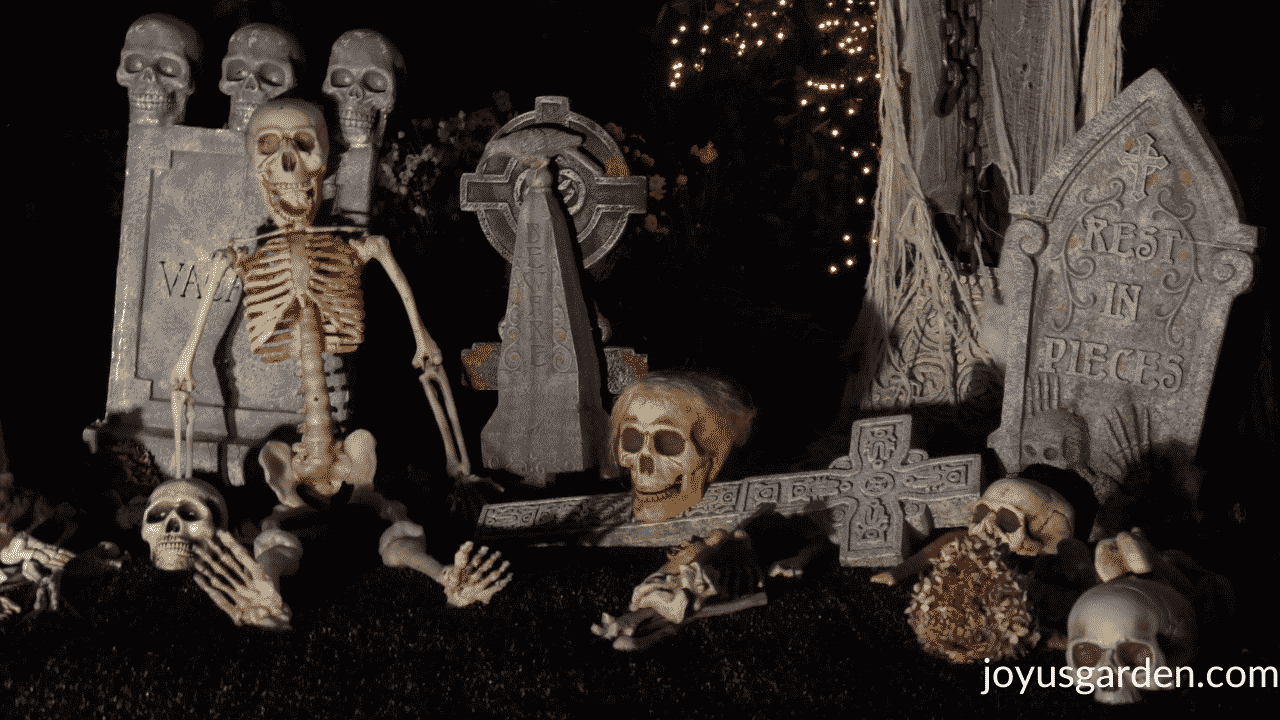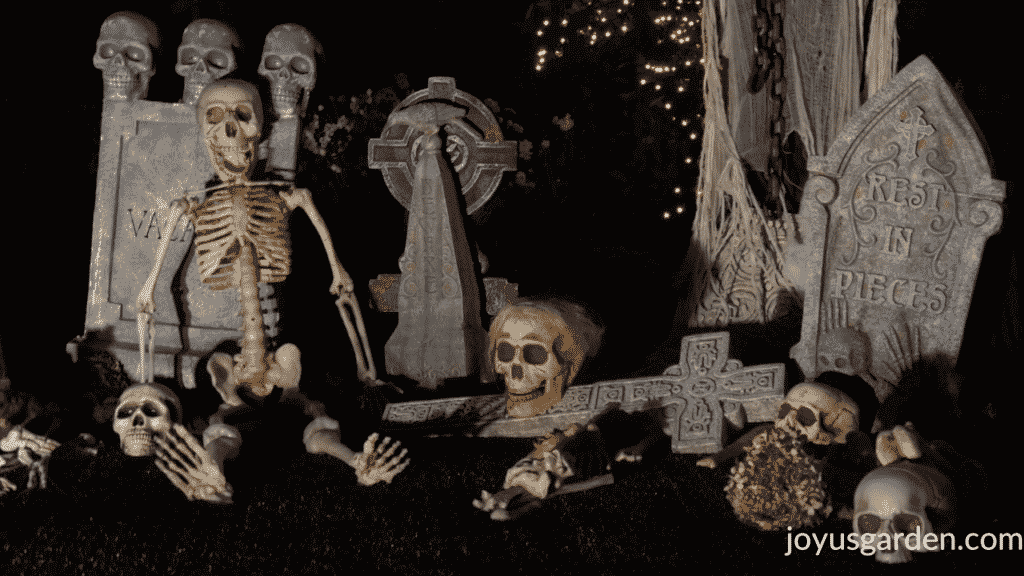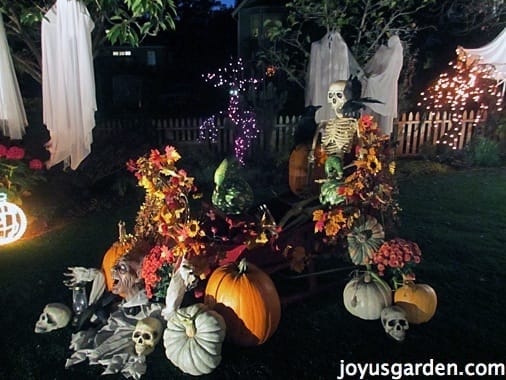 I have a more in-depth blog post about how to Create A Spooky Graveyard here!
Tip: Position some of your gravestones at an angle – it makes the graveyard look older!
Tip: Tatter and slit your ghosts and ghouls even more than they already are. That way they'll really flutter in the wind!
"THE TIME HAS COME FOR THE WITCHES DANCE
AND THE SPOOKS FROM FAR AND NEAR
WILL GATHER AND MAKE MERRY
FOR HALLOWEEN IS HERE" – UNKNOWN
Spooky Sleigh Decor
Now I know not everyone has a sleigh in their front yard but because it's there – we decorate it. At Christmas time, Santa sits in the sleigh pulled by 3 large reindeer to the delight of the young children in the neighborhood.
For Halloween and Thanksgiving, it's decked with artificial fall garlands and Bittersweet branches which have been around for years (reuse at its finest!) and pumpkins and mums bought in nearby Half Moon Bay.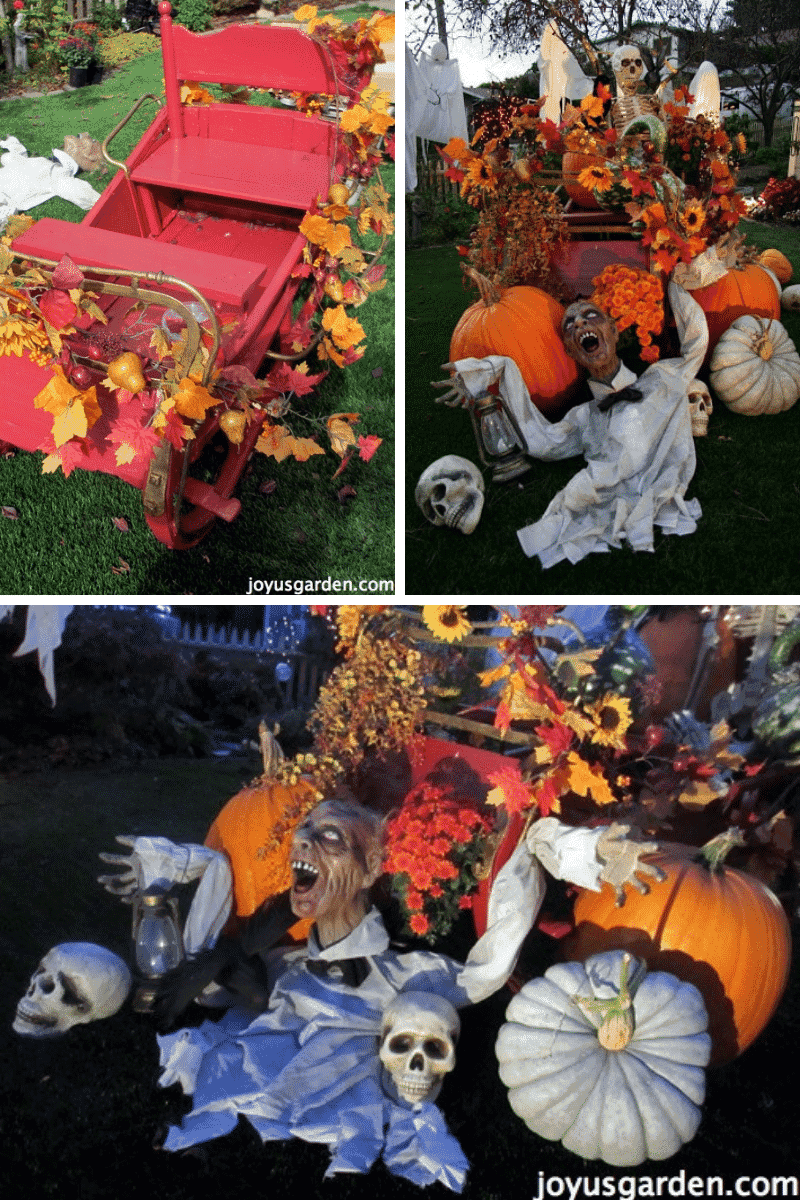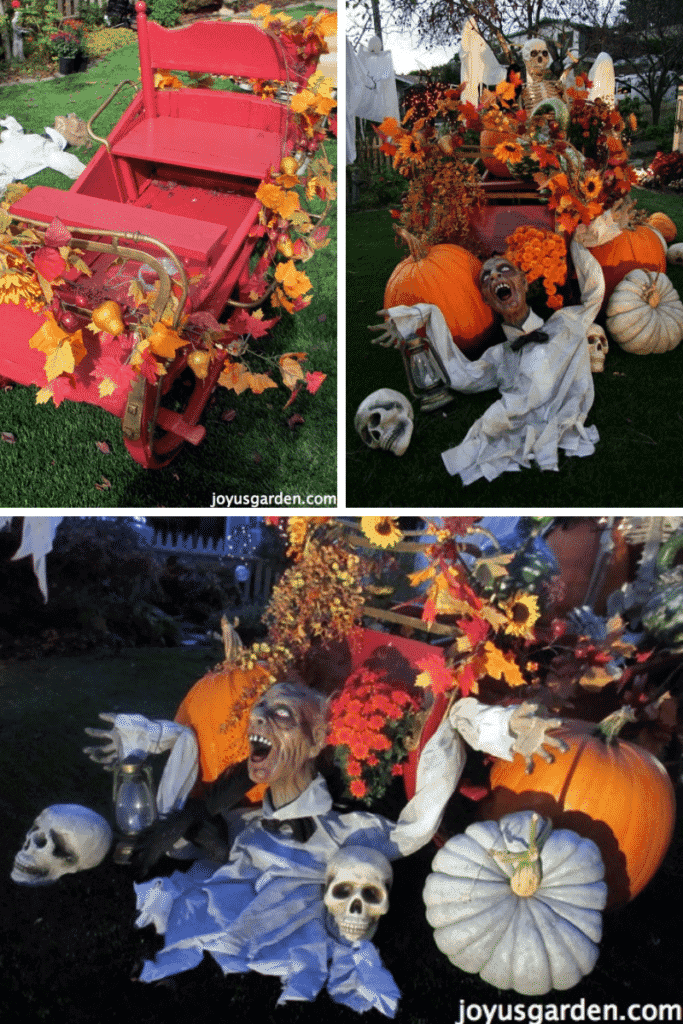 Tip: Covered florist wire and fishing line (see in "Basic Supplies" below) are indispensable when decorating.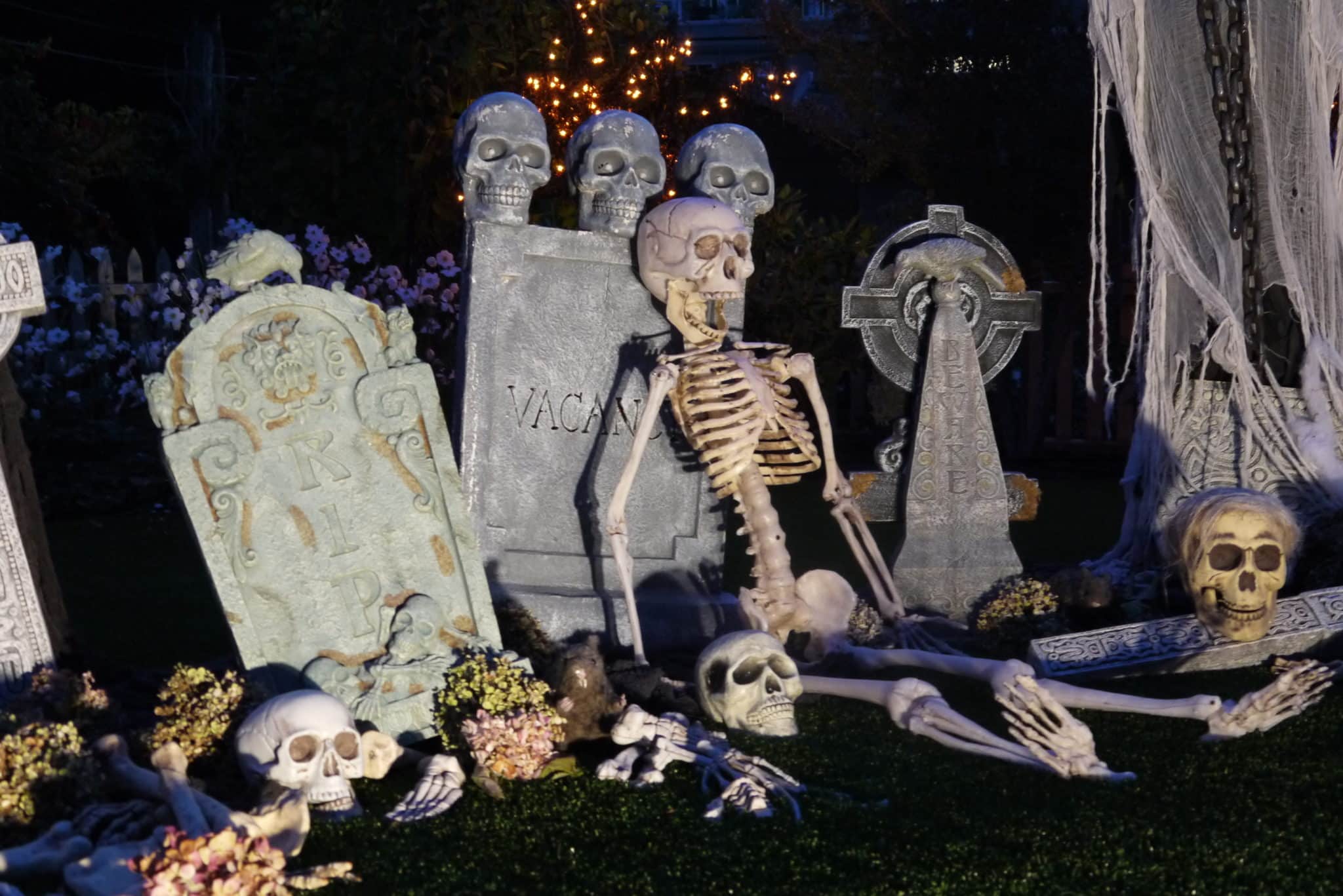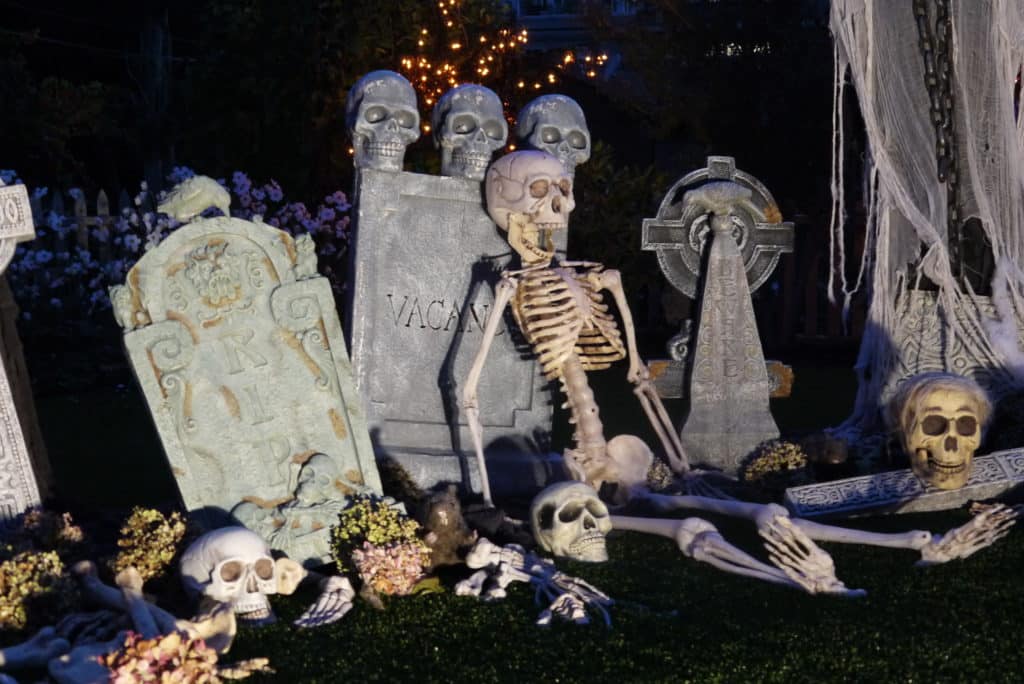 "THERE ARE THREE THINGS I'VE LEARNED NEVER TO DISCUSS WITH PEOPLE: RELIGION, POLITICS, AND THE GREAT PUMPKIN." – LINUS, IT'S THE GREAT PUMPKIN CHARLIE BROWN
Basic Supplies: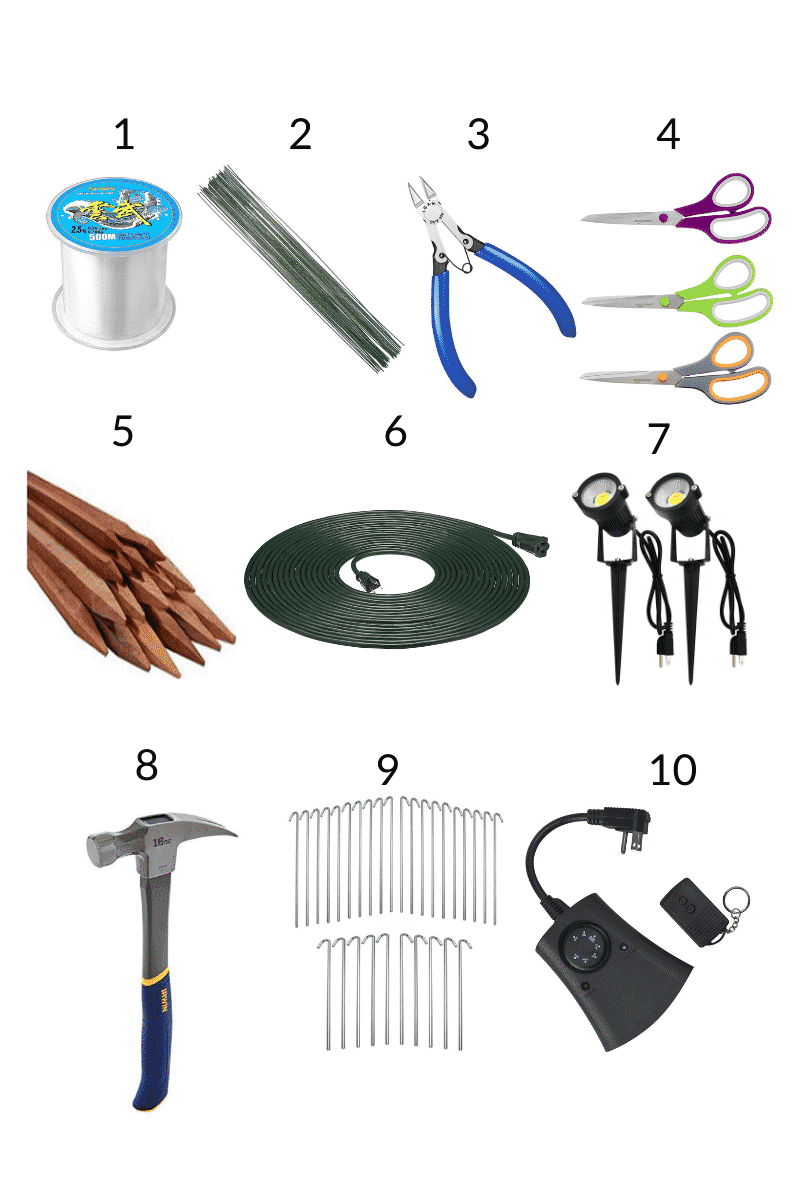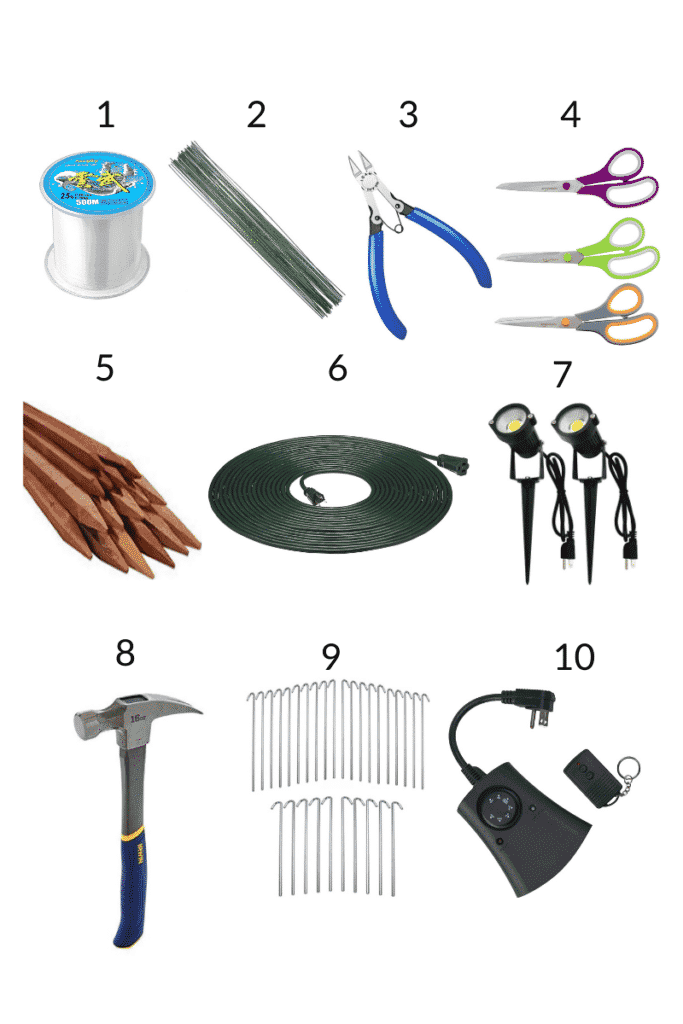 1- FISHING LINE / 2- WIRE / 3- WIRE CUTTERS / 4- SCISSORS / 5- STAKES / 6- EXTERIOR EXTENSION CORD / 7- SPOTLIGHTS / 8- HAMMER / 9- STEEL PEGS / 10- TIMER
More Tips:
Here are a few tips which should make your decorating endeavors a lot easier:
1. Fishing line is essential to a job like this – we usually go through 3 rolls of it!
2. Have plenty of covered wire and green wire on hand too.
3. Map the electrical before you start connecting. This job has a lot plugged in which needs to be figured out in advance – there is only so much which can be plugged into an outlet.
4. Put all your things electric on exterior timers – it saves you having to plug and unplug them every evening. Plus, it saves energy.
5. Pack all your ghouls, goblins, headstones, foliages, rats, bats, and other Halloween decorating accouterment away as carefully as possible. Make sure they are completely dry before doing so. You've made an investment and want them to look just as good next year!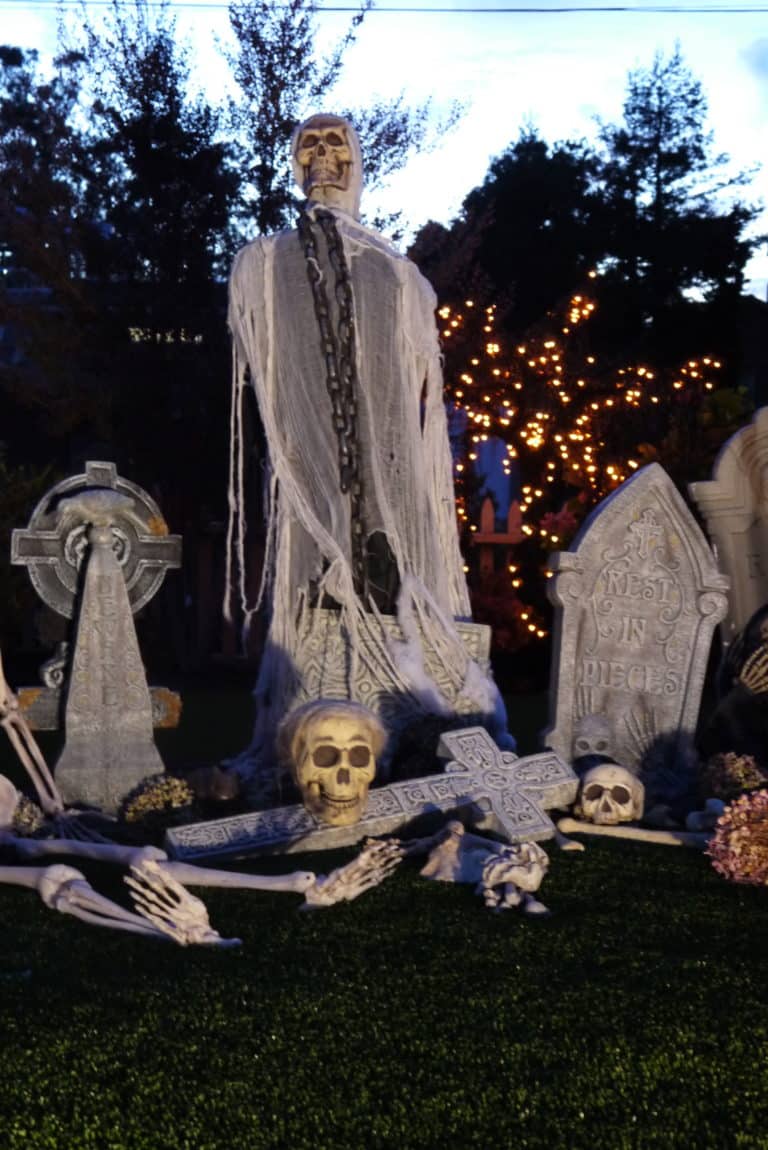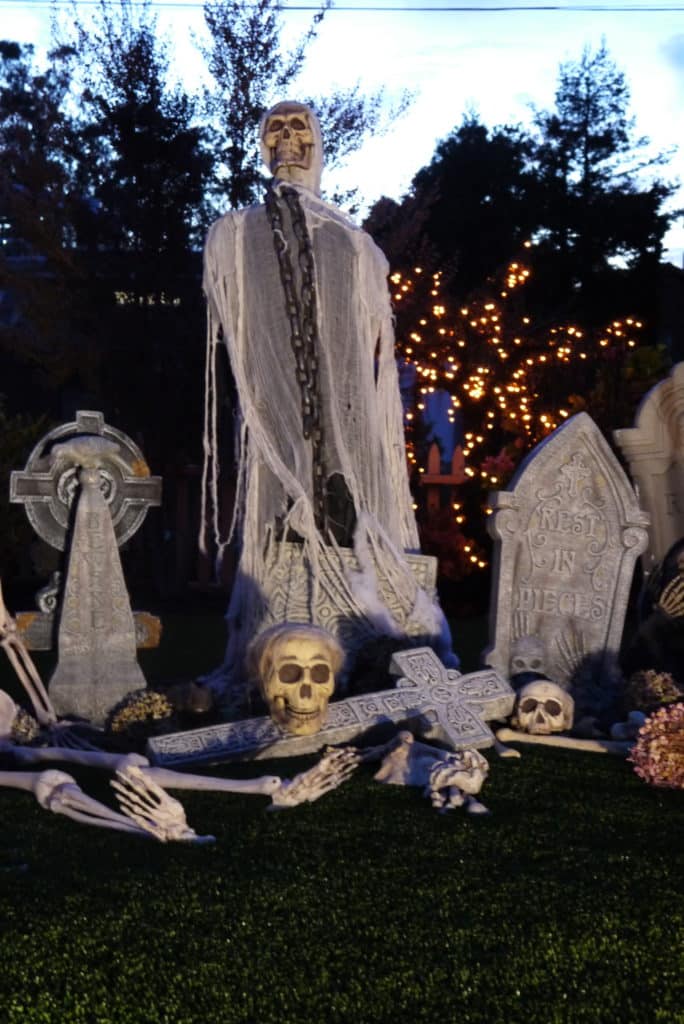 I'll leave you with one last quote:
"I'LL BET LIVING IN A NUDIST COLONY TAKES ALL THE FUN OUT OF HALLOWEEN. " – CHARLES SWARTZ
Note: This post was originally published in 10/2016 & was updated in 9/2020.
Wishing you a festive fall season. We hope these Halloween yard decorations are inspiring and have given you a few delightfully scary ideas!

Want More Fall Decorating Tips? Check These Out!
This post may contain affiliate links. You can read our policies here. Your cost for the products will be no higher but Joy Us garden receives a small commission. Thank you for helping us spread the word & make the world a more beautiful place!