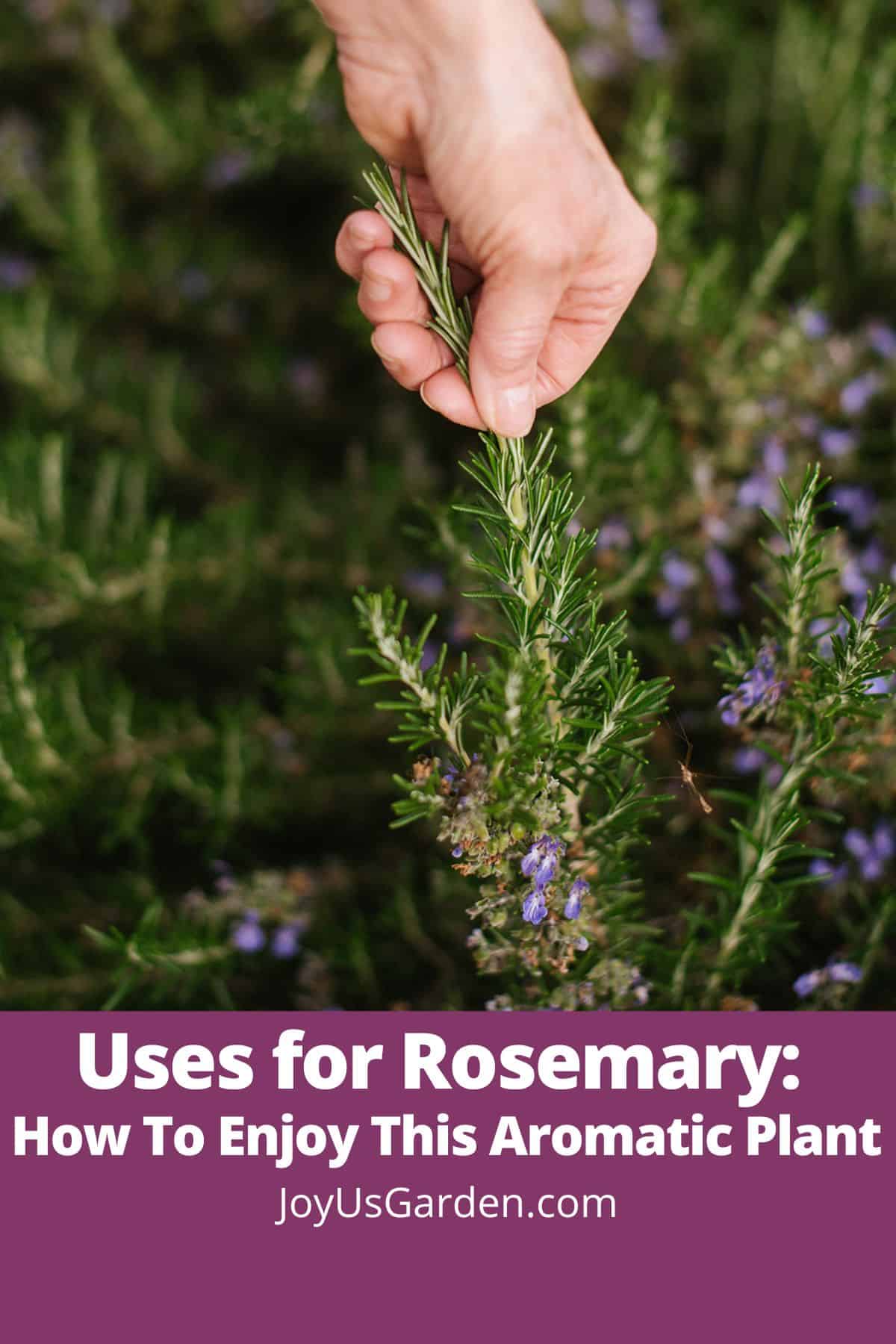 The captivating Rosmarinus officinalis, or Rosemary as it is commonly known, is a unique evergreen shrub with aromatic needle-like leaves and is most commonly found with charming blue flowers. It originated in the Mediterranean region but has since been cultivated worldwide to be enjoyed by all. Here you'll find uses for rosemary along with how to harvest, store, and dry it.
Rosemary has a distinctive, slightly bitter flavor and is commonly used as a seasoning in Mediterranean cuisine, particularly in dishes that feature meat, poultry, or fish. It is also a popular herb for flavoring olive oil and vinegar and is used in herbal teas and remedies.
In addition to its culinary uses, rosemary is also valued for its medicinal properties.
Rosemary essential oil is also used in aromatherapy and massage for its refreshing, uplifting scent. There are many other ways to use this aromatic plant.
The Best Uses for Rosemary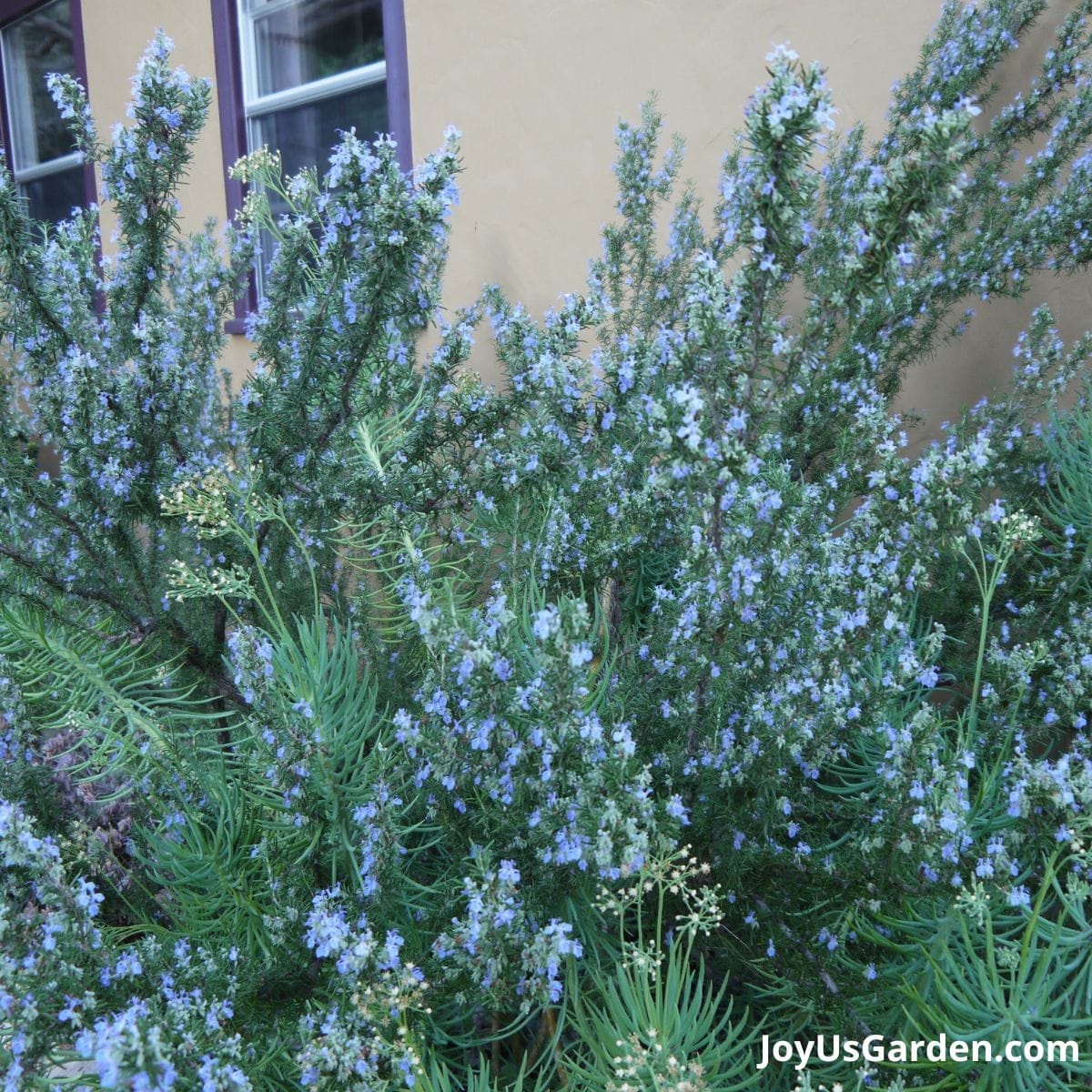 Here are some of the most popular uses for rosemary:
Culinary Use
Fresh herbs can take food to the next level. Rosemary is often used as a seasoning in cooking, particularly in Mediterranean cuisine. It pairs well with meat, poultry, fish, potatoes, and vegetables.
Rosemary is a flavorful seasoning for chicken noodle soup, rosemary chicken, and roasted potatoes, especially! You can also use it to make salad dressings, rosemary butter, and as a flavoring for bread. I like infusing olive oil with rosemary and garlic to use as a finishing oil.
If you're new to using rosemary, you might want to go easy the first time as it has a pungent and slightly bitter taste.
Rosemary is wonderful when used fresh, but it's often hard to find decent sprigs in grocery stores. Like all herbs, dried leaves are a fine alternative. Get tips on drying your own rosemary down below.
Looking for other grow herbs in full sun? Here are the top 13 herbs that can take full sun.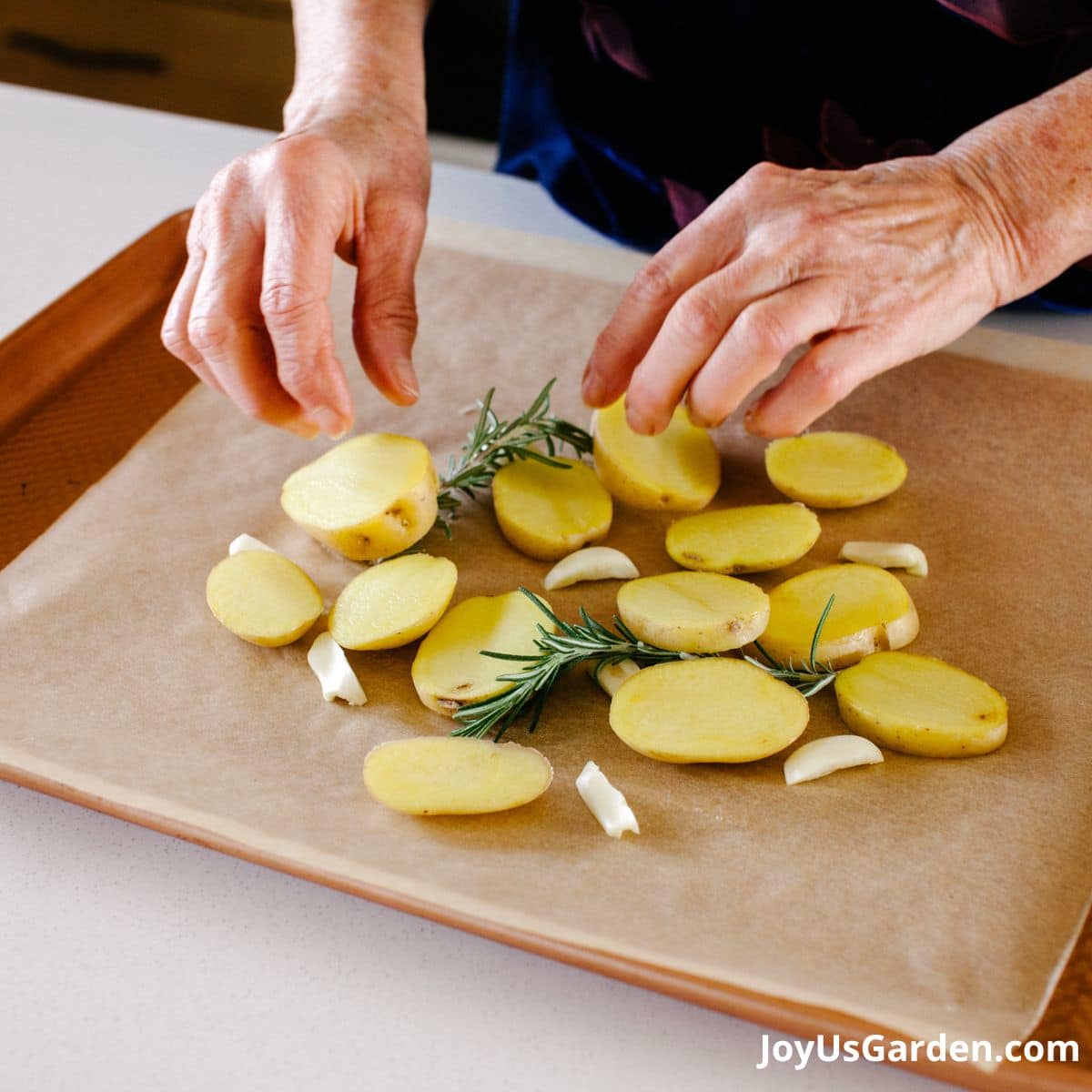 Herbal Tea
Fresh or dried rosemary leaves can be steeped in hot water alone, or combined with other herbs such as mint, lemon balm, and lavender, to make a refreshing herbal tea.
Rosemary tea is said to have many health benefits, including improving digestion and boosting the immune system.
We've chosen the best herbs to grow for enjoying your own herbal teas— check out our list of 26 Herbs to Grow in Your Tea Garden.
Aromatherapy
Oh, the wonderful smell of rosemary. The essential oil of rosemary has a refreshing, uplifting scent that can help improve mood and reduce stress. It is often used in aromatherapy and massage.
Many moons ago I lived in NYC. My friend kept a plant in her studio and whenever she had a hangover, would put a sprig of rosemary in each nostril. She said it helped to clear her head and gave her a little zing. Hopefully, you won't need to use it this way, but it's another aromatic effect of rosemary!
Medicinal Uses
Rosemary has been used for medicinal purposes for centuries.
It is believed to have anti-inflammatory and antioxidant properties and may help improve digestion, boost the immune system, and relieve pain (source).
Haircare
Rosemary is often used in hair care products because it stimulates hair growth, improves scalp health, and prevents dandruff. It can also help to reduce hair loss.
Here's a homemade hair rinse I often use. Put rosemary stems (how many you use depends on how strong you want it) and a few cups of water in a pan to slightly simmer for 1-3 hours. Strain the mixture and add a few spoons of apple cider vinegar if you'd like. I use it as a final rinse and don't wash it out.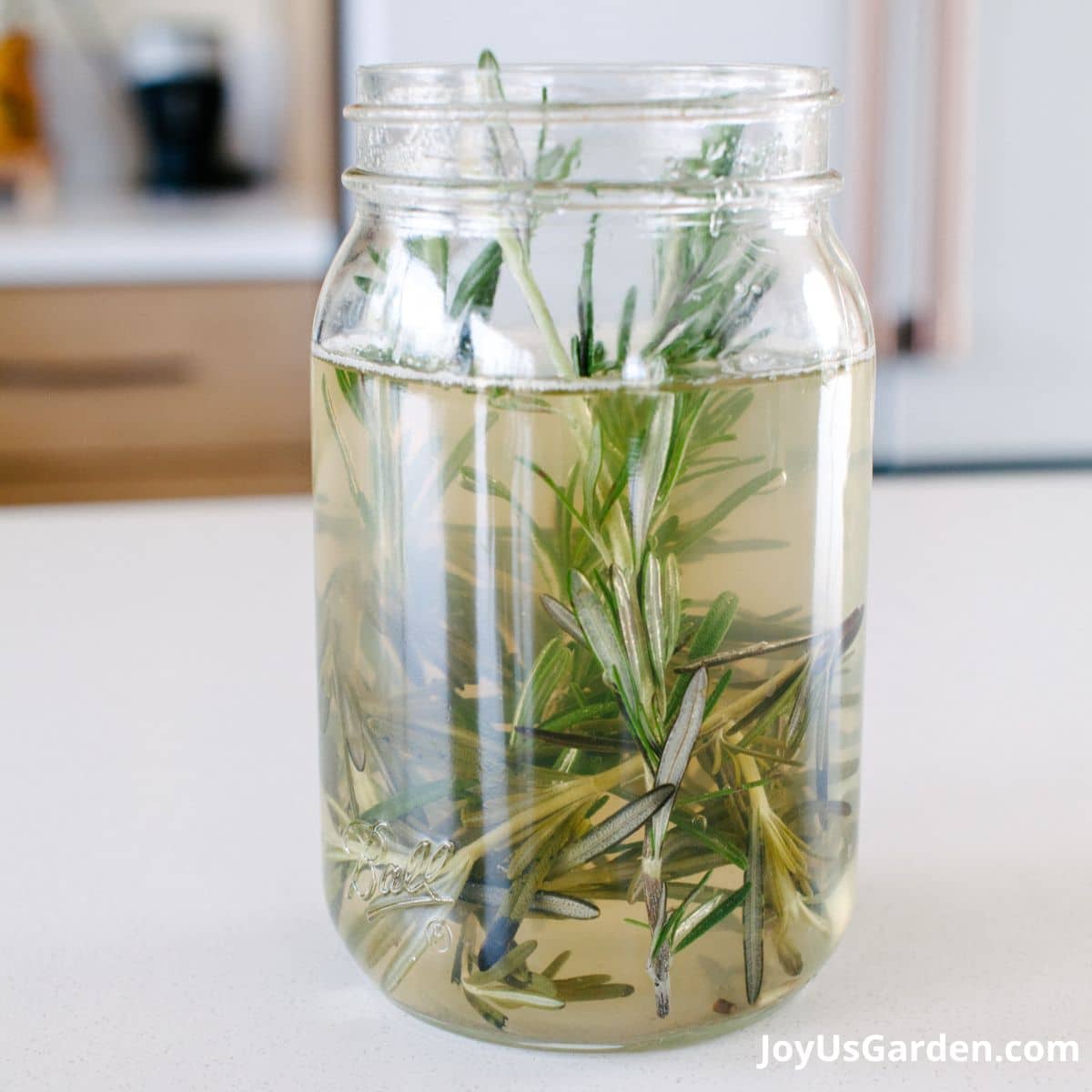 Skincare
Rosemary contains antioxidants that can help protect the skin from damage caused by free radicals. It is also believed to have antimicrobial properties, which can help prevent acne and other skin infections (source).
Pest Control
A few drops of rosemary oil can be used as a natural insect repellent to deter pests such as mosquitoes, flies, and fleas. It can also be used to deter animals such as cats and rabbits from entering your garden.
For bite-free good times, explore these 16 Plants and Herbs that Repel Mosquitoes from outdoor areas.
Home Fragrance/Potpourri
Dried rosemary can be used as a natural air freshener. Simply place a few rosemary sprigs in a bowl or sachet and place it in a room to add a fresh, herbal scent.
The aroma of rosemary makes it fitting to use in potpourris. Sprigs of rosemary or whole leaves can be used dried in sachets or to simmer in a pot of water to scent your home.
Other aromatics you can mix in with rosemary include lavender flowers, whole cloves, lemon peel, orange peel, cinnamon sticks, and sage leaves.
We get asked about lavender care regularly. We've compiled those most frequently asked Questions about Lavender with Answers here.
DIY Cleaner
Are you into making homemade natural cleaners? I put water and white vinegar (ratio 1:1) into a spray bottle and add a few drops of rosemary essential oil and a few drops of lemon essential oil. In case you're interested, this is the rosemary oil I use.
Rosemary Wreath
Another use of rosemary is to make a beautiful and aromatic rosemary wreath. Gather fresh rosemary sprigs, tie them together with twine or wire, and hang it on your door or wall. If you'd like to make a larger wreath, use a wire wreath form or vine wreath form.
It'll stay fresh for a couple of weeks and bring an inviting aroma into your home. Then, your wreath will dry and the leaves can be harvested and used dried.
Rosemary wreaths are especially popular around the holiday season.
Another versatile plant is Aloe Vera. Here are 7 Ways to Use Aloe Vera Leaves.
Napkin Rings
Rosemary napkin rings are easy to make. Simply twist and tie a few of the sprigs into a circle and there you have it. A sprig or two of rosemary on top of a napkin tied with ribbon also makes another lovey and easy presentation.
Floral Arrangements
If you have a large rosemary shrub or have a farmers market where you can buy long stems, it's lovely to use in arrangments. I left some stems in a pewter bud vase for a couple of months, and they started to root!
Barbecue Skewers
This is most likely not one of the most common uses for rosemary! I would end up with many thick stems of rosemary after pruning m 6′ x 6′ shrub in Santa Barbara.
I'd strip off the leaves, soak the stems, and skewer on vegetables. Not only would the vegetables be lightly flavored, but the smell was quite enticing. I don't eat meat, but I imagine it would be great to use it this way with chicken.
Can you use rosemary straight from the plant?
Yes, using rosemary straight from the plant is great. To harvest fresh rosemary leaves, snip off the leaves from the stem with a sharp pair of scissors or pruning shears. You can use the leaves immediately, or store them in a plastic bag in the refrigerator for up to a week. More details are below.
Are you interested in rosemary plant care? It's an attractive & easy plant to grow in the landscape. Be sure to check out this Guide to Rosemary Care.
How to Harvest Rosemary/Store Rosemary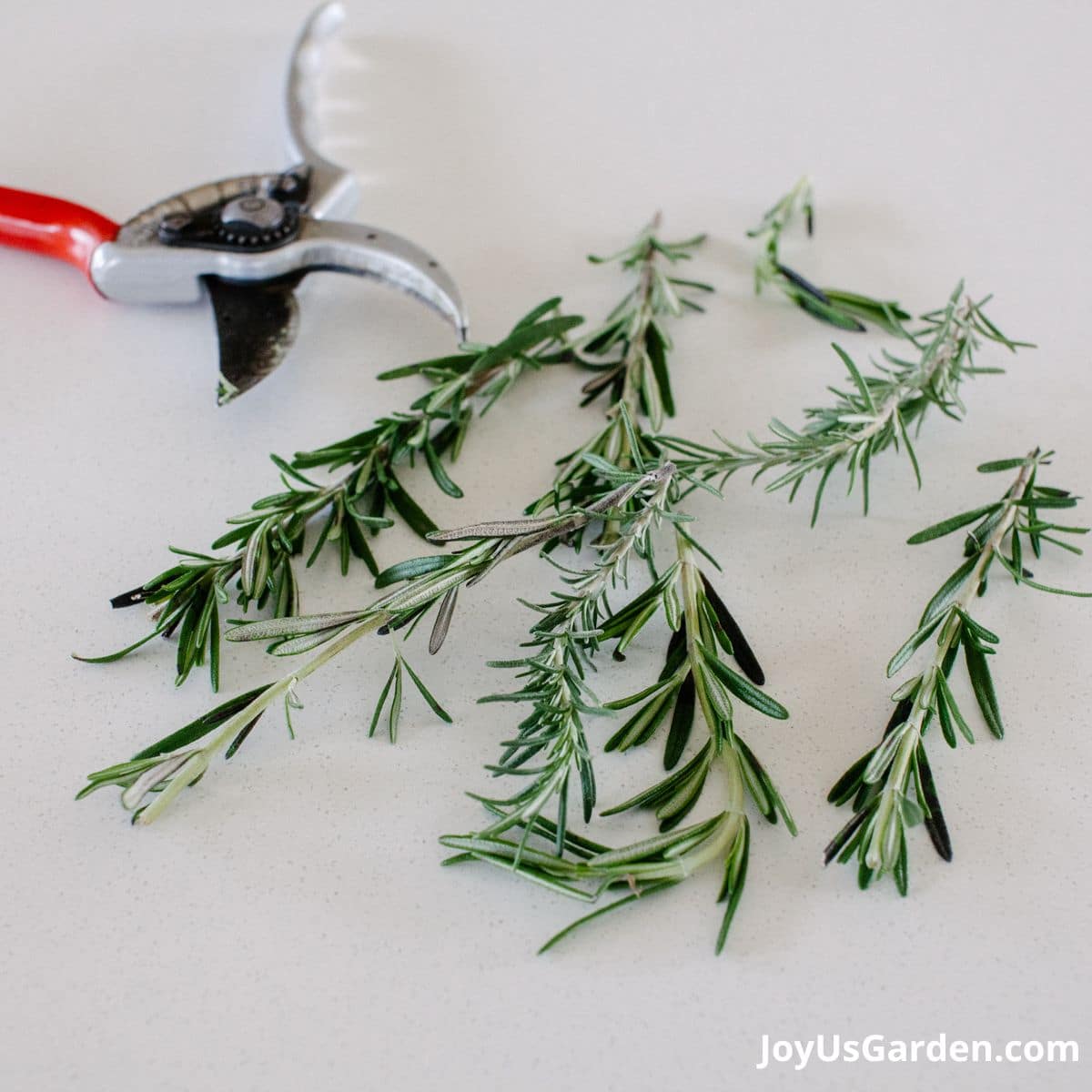 Cut off the stems to want to use fresh or dry. I've harvested rosemary many times. Sometimes I cut the tender tip growth, and sometimes a 12″ stem. For you, it depends on how big your plant is, how you're using it, and how much rosemary you need.
When you use rosemary from the plant, it is important to wash the leaves. This will remove any dirt or debris. You should also only harvest the rosemary from a plant that has not been treated with pesticides or other chemicals.
If you use it within a few weeks, you can put it in a glass or jar with water covering the bottom few inches of the stems. Be sure to keep the foliage above the water line. Place it on your counter out of direct sunlight.
It can also be kept in an airtight container or bag and put in the refrigerator. Make sure the leaves are thoroughly dry before storing them this way.
How to Dry Rosemary
Drying rosemary is easy to do. Form a bunch, loosely tie the stems together at the base, and hang them in a well-aerated spot out of the direct sun to dry.
I've dried smaller stems on a baking rack and larger stems on a clothes dry rack. Just like the above method, keep them out of any direct sun.
How long the drying will take depends on how warm and humid your environment is. A week or two usually does it for mine.
Conclusion
Overall, rosemary is a versatile herb that can be used in many different ways. Whether you're using it for cooking, aromatherapy, or skincare, it can provide many benefits and make your home smell amazing!
These are just a few of the many uses for rosemary. There are many more ways to incorporate this unique herb into your cooking, skincare routine, and home. With its distinctive flavor and multiple benefits, it's easy to see why rosemary is among the most popular herbs.
Happy Gardening,
Nell & Miranda
This post may contain affiliate links. You can read our policies here. Your cost for the products will be no higher but Joy Us garden receives a small commission. Thank you for helping us spread the word & make the world a more beautiful place!
About the Author
Latest Posts
Nell, the founder of Joy Us garden, was born into a gardening family and grew up in Connecticut's countryside. After living in Boston, New York, San Francisco, & Santa Barbara, she now calls the Arizona desert home. She studied horticulture & garden design, working in the field all her life. Nell is a gardener, designer, blogger, Youtube creator, & author. She's been gardening for a very long time & wants to share what she's learned with you.