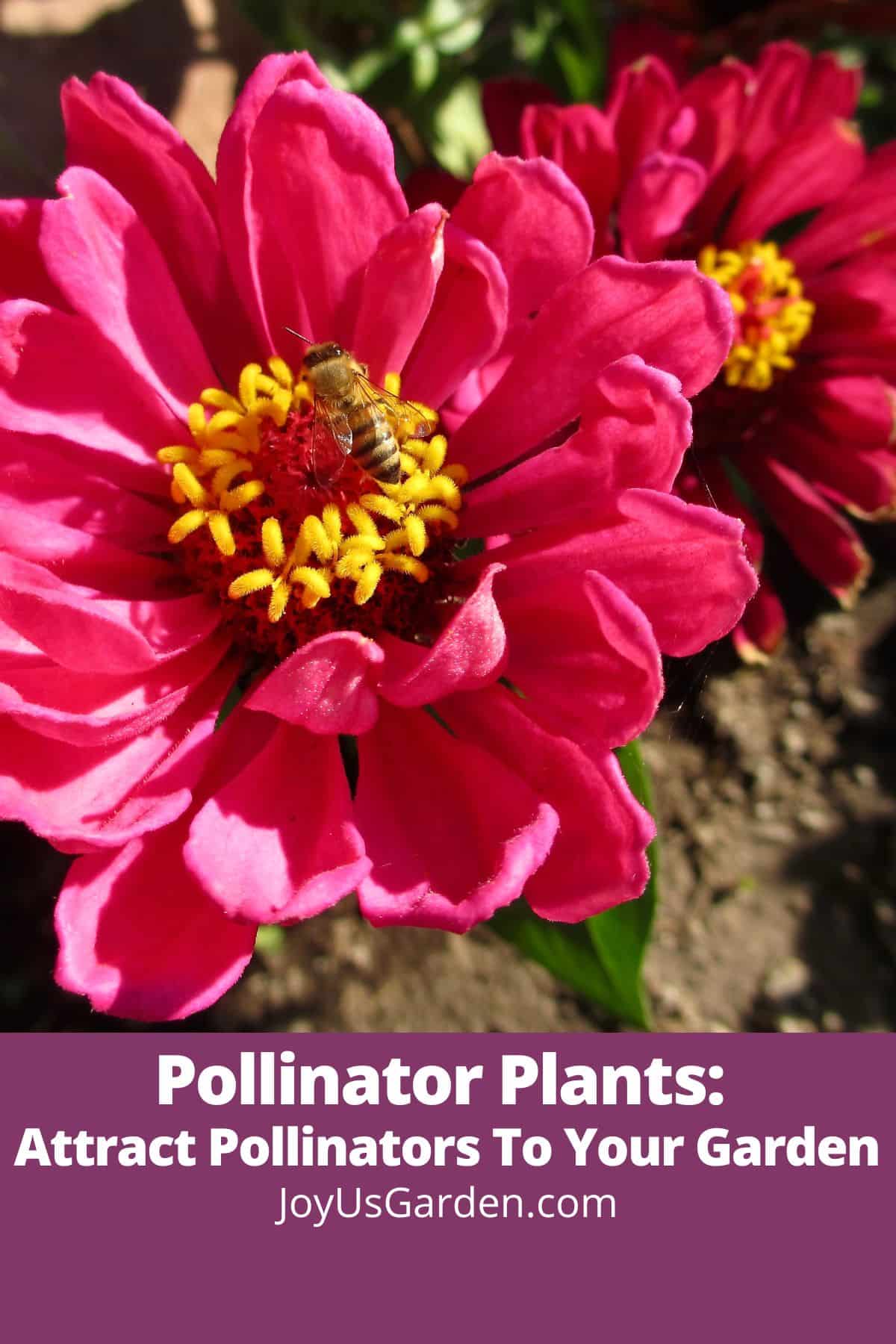 Below, we'll introduce you to some of the top pollinator plants that will support native species of bees, butterflies, hummingbirds, and other pollinators.
When most people think about pollinator gardening, they think about creating a habitat for honeybees. But while honeybees are incredibly useful and efficient pollinators, they are actually not native to North America, and they aren't endangered.
Native pollinators like bumble bees and monarch butterflies are becoming increasingly scarce due to habitat loss, pesticide use, and other factors. That's why, to grow a pollinator habitat, it's important to keep native bees and other pollinators in mind.
A good pollinator garden should have several key features, including a water source and shelter for pollinators. But the number one thing all pollinator habitats should have are pollinator plants.
What Are Pollinator Plants?
Pollinator plants are rich in pollen and nectar, providing an important food source for pollinators and other beneficial insects. Many of the best pollinator plants are native plants, but other flowering plants, vegetables, and herbs can also benefit pollinators.
If you have a small space garden, you can create a pollinator habitat by growing just a single plant for pollinators in a window box or container garden.
But, if you have the space for it, try growing a variety of plants, including native plants that flower at different times of the year and plants with various flower shapes. This will provide more resources for pollinators and ensure that any pollinators that visit your garden will always find something good to eat.
While there are other beautiful flowers, herbs, and veggies that can benefit wildlife, if you're looking for the best plants to grow for pollinators, the species listed below are hard to beat. These plants provide shelter and food for bees; some also serve as host plants for caterpillars and other insects.
Try growing a few of these plants in your garden beds and planters and see how many native pollinators you can attract this growing season!
Check out this complete guide to Creating a Pollinator Garden with these easy steps.
Annuals For Butterflies and Bees
Annuals are short-lived plants, but they pack a punch in pollinator gardens. They're also ideal for container planting!
Marigolds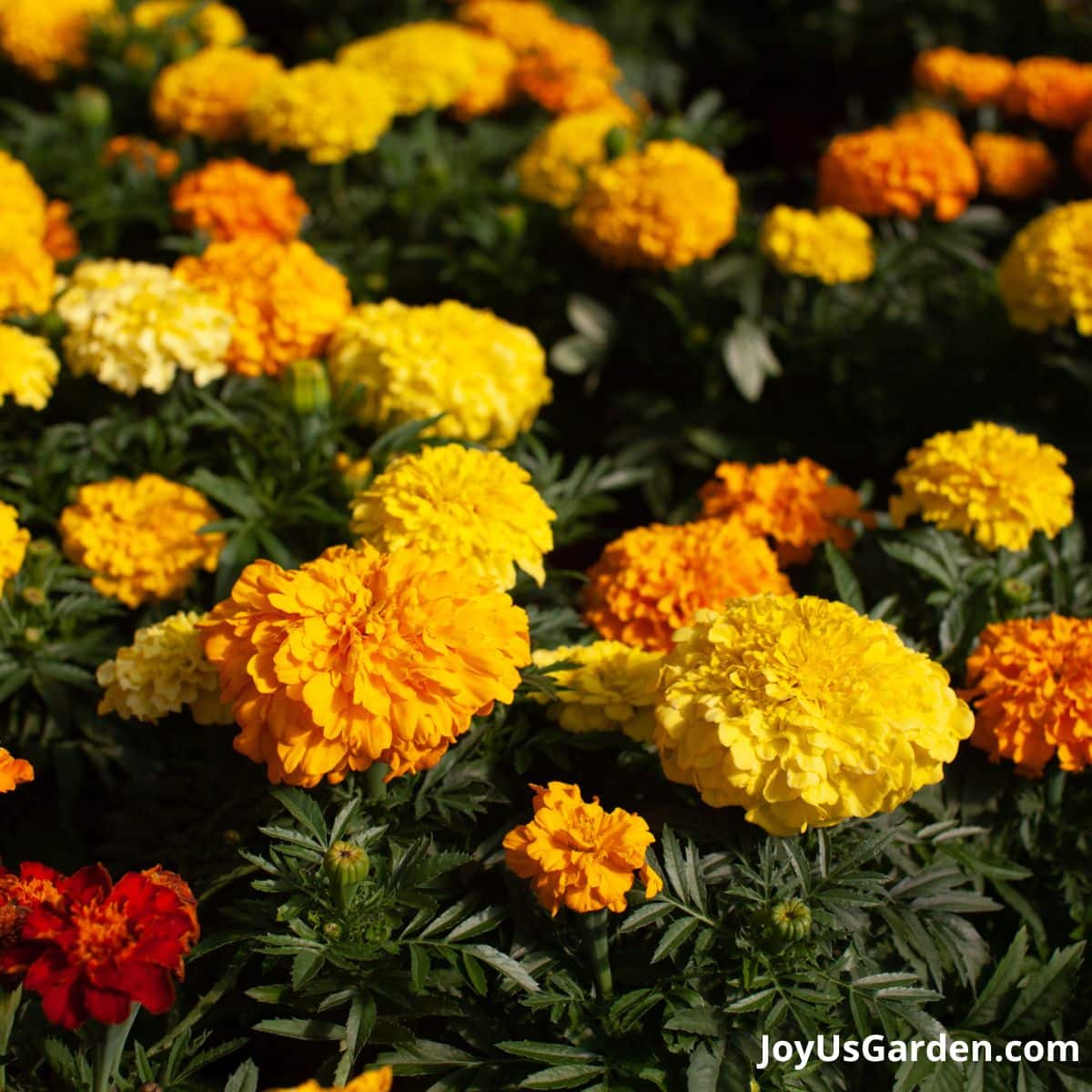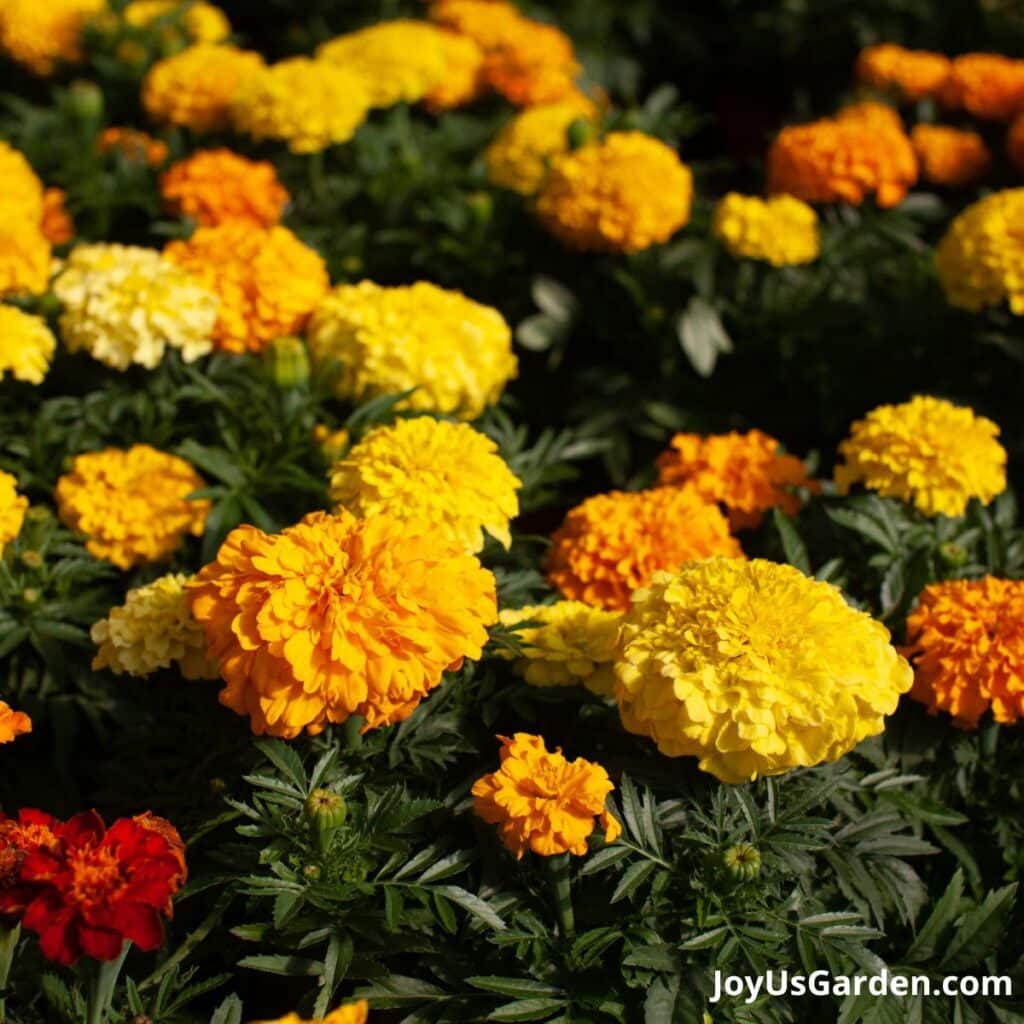 (Tagetes spp.) Marigolds are often planted in vegetable gardens to attract pollinators, but their orange to yellow flowers can also hold their own in ornamental beds. Blooming from early summer to fall, marigolds can draw ladybugs, bees, and other beneficial insects to your garden.
Zinnias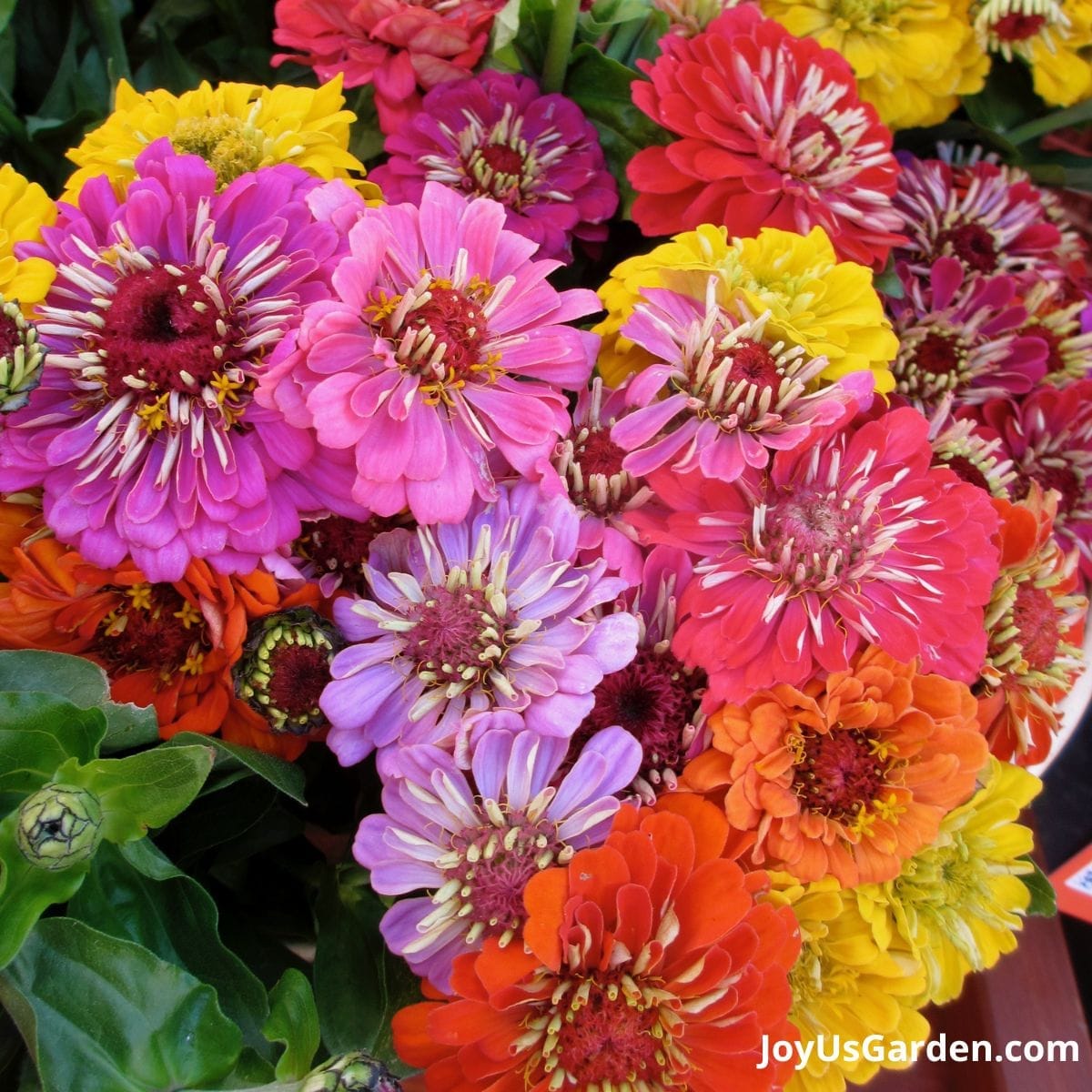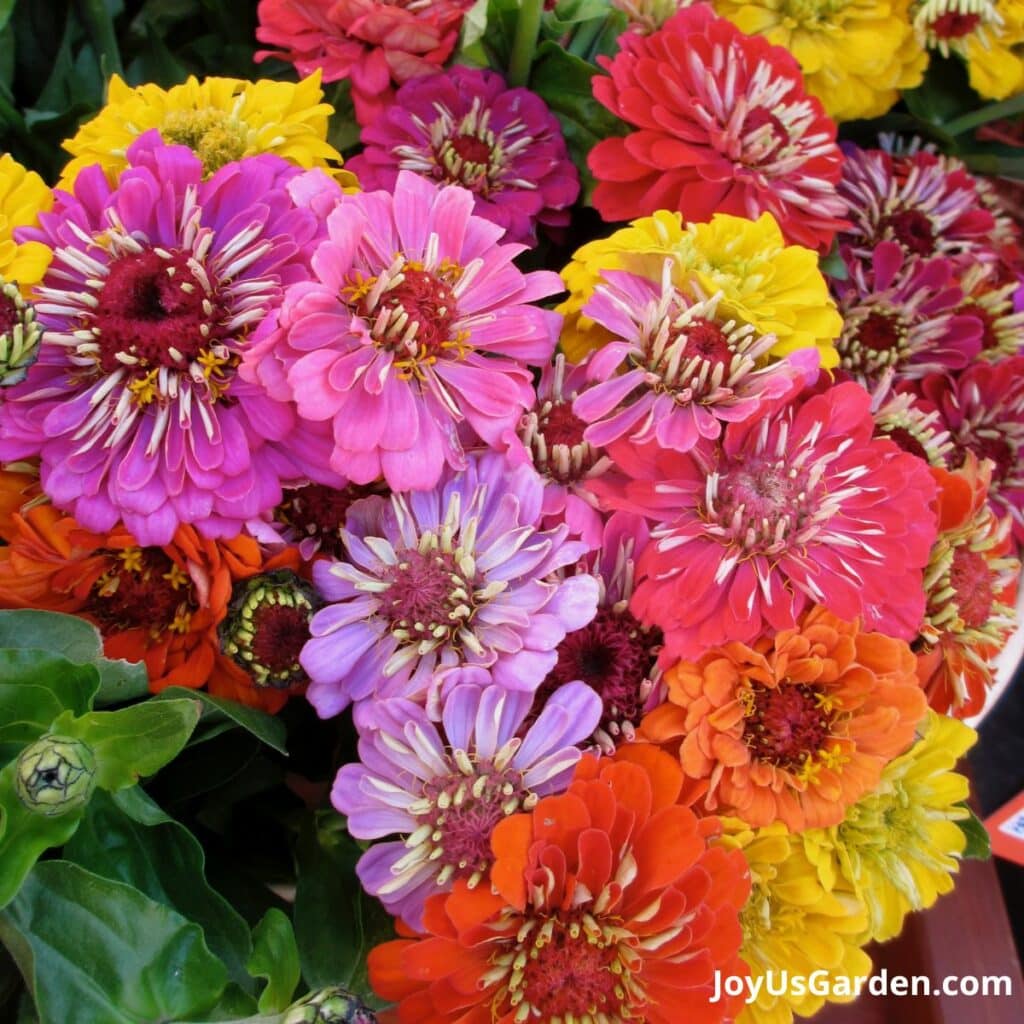 (Zinnia spp.) Like marigolds, Zinnias are also grown as companion plants in vegetable gardens, but they are showy enough for porch planters or ornamental beds. These colorful plants come in nearly any shade you could want, and they are easy to grow from seed.

Sunflower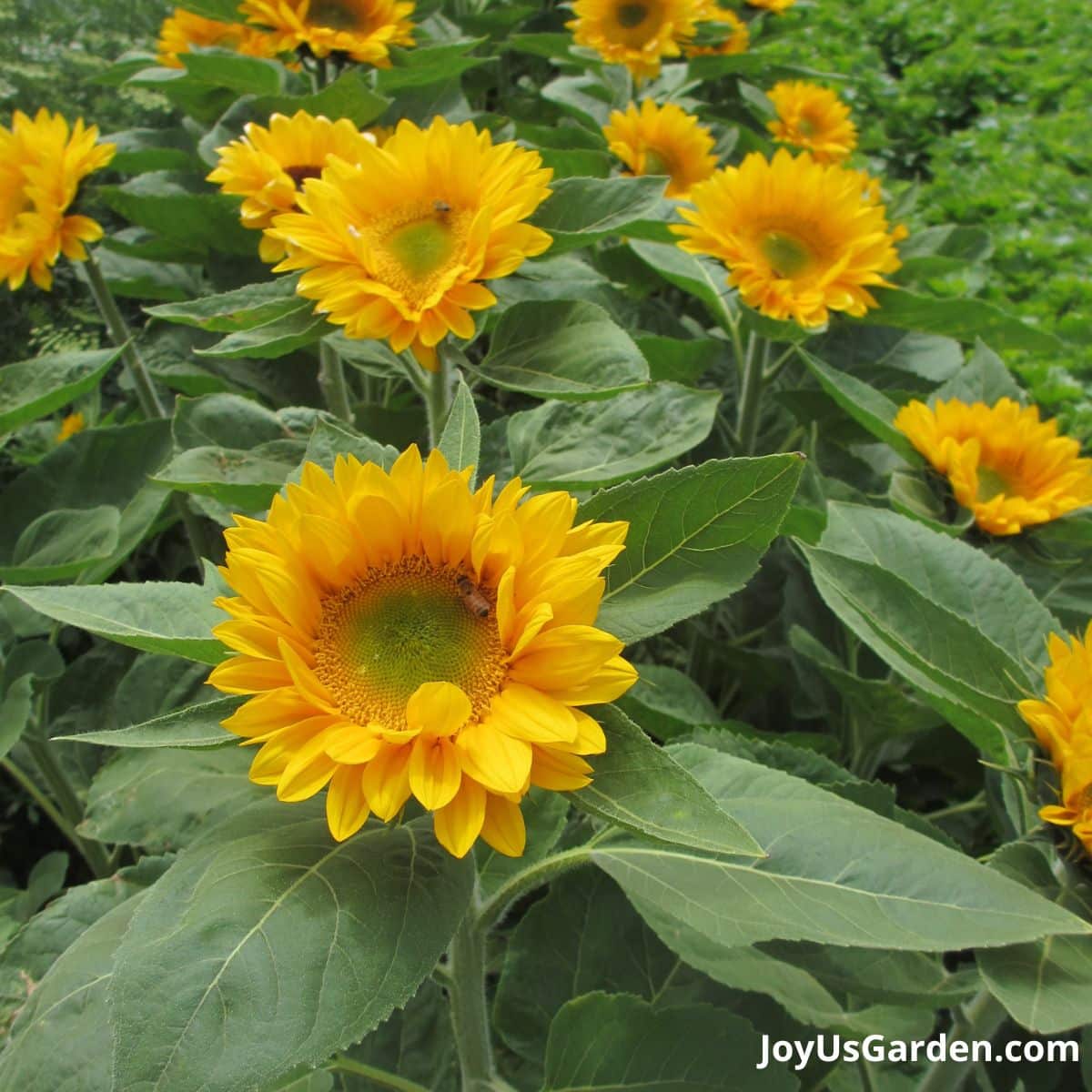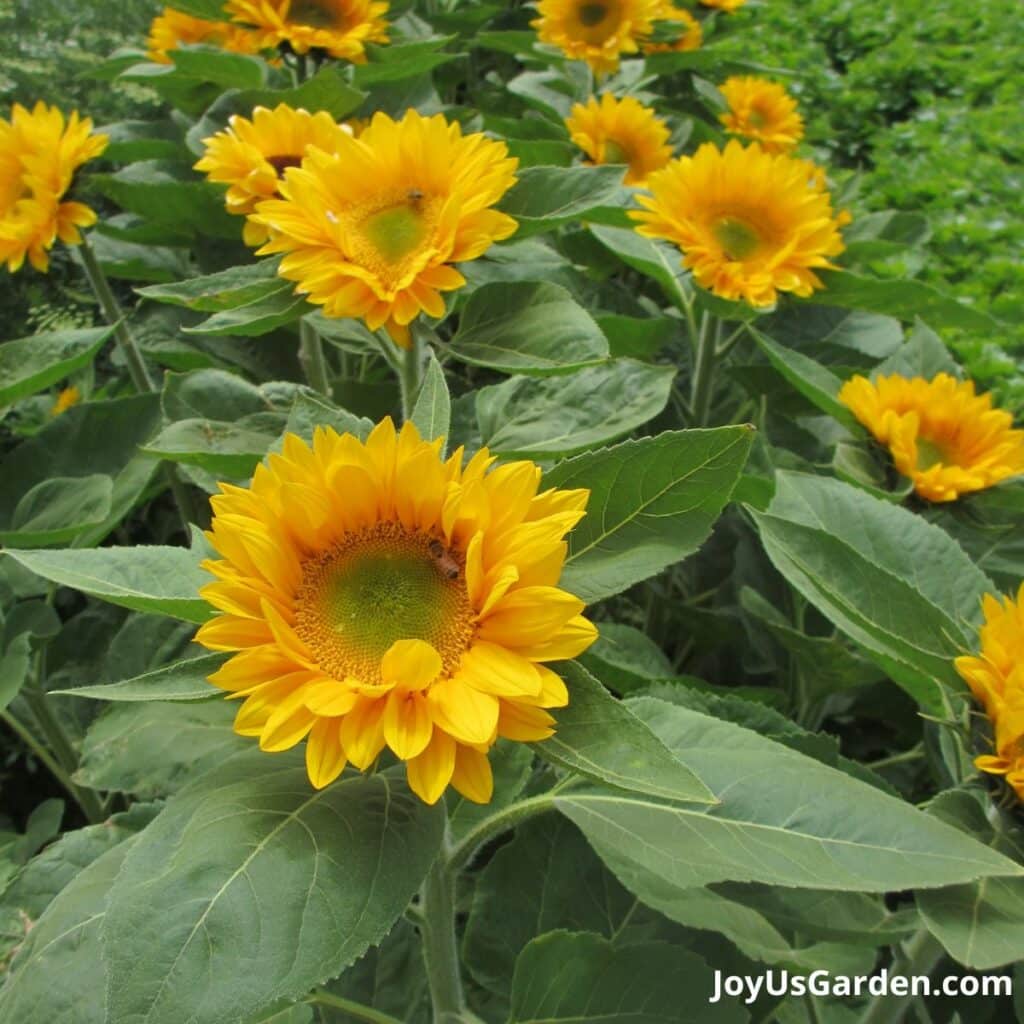 (Helianthus spp.) Sunflowers are among the best pollinator plants you can grow due to their large, flat flower heads. Sunflower blooms are easy for pollinators to access and are packed with pollen and nectar. In autumn, sunflowers also produce lots of seeds for wild birds.
Mexican Sunflower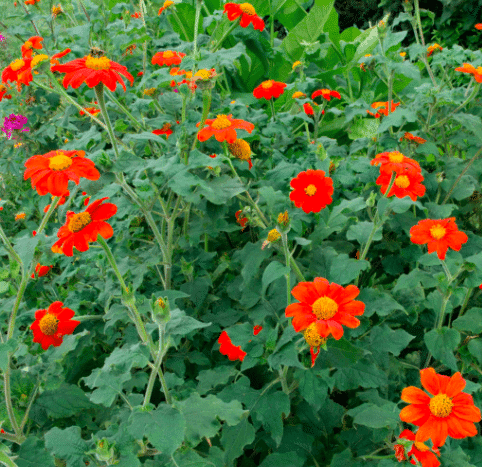 (Tithonia rotundifolia) Mexican Sunflowers look a lot like standard sunflowers and their flowers are also rich with nectar, which bees can't resist. These plants bloom from mid-summer to the frost of fall and they'll spice up your garden with brilliant flowers in orange, yellow, and red.
Cosmos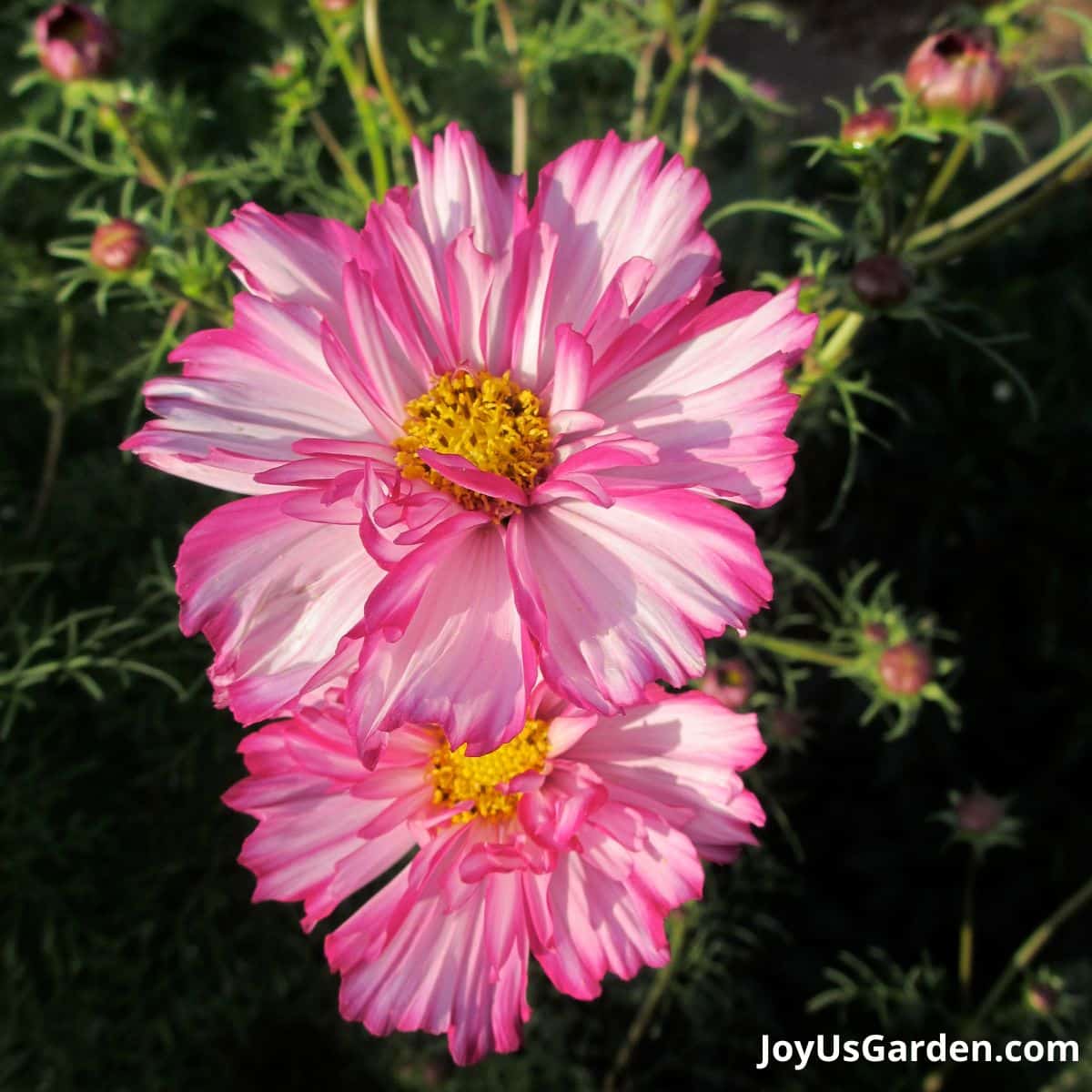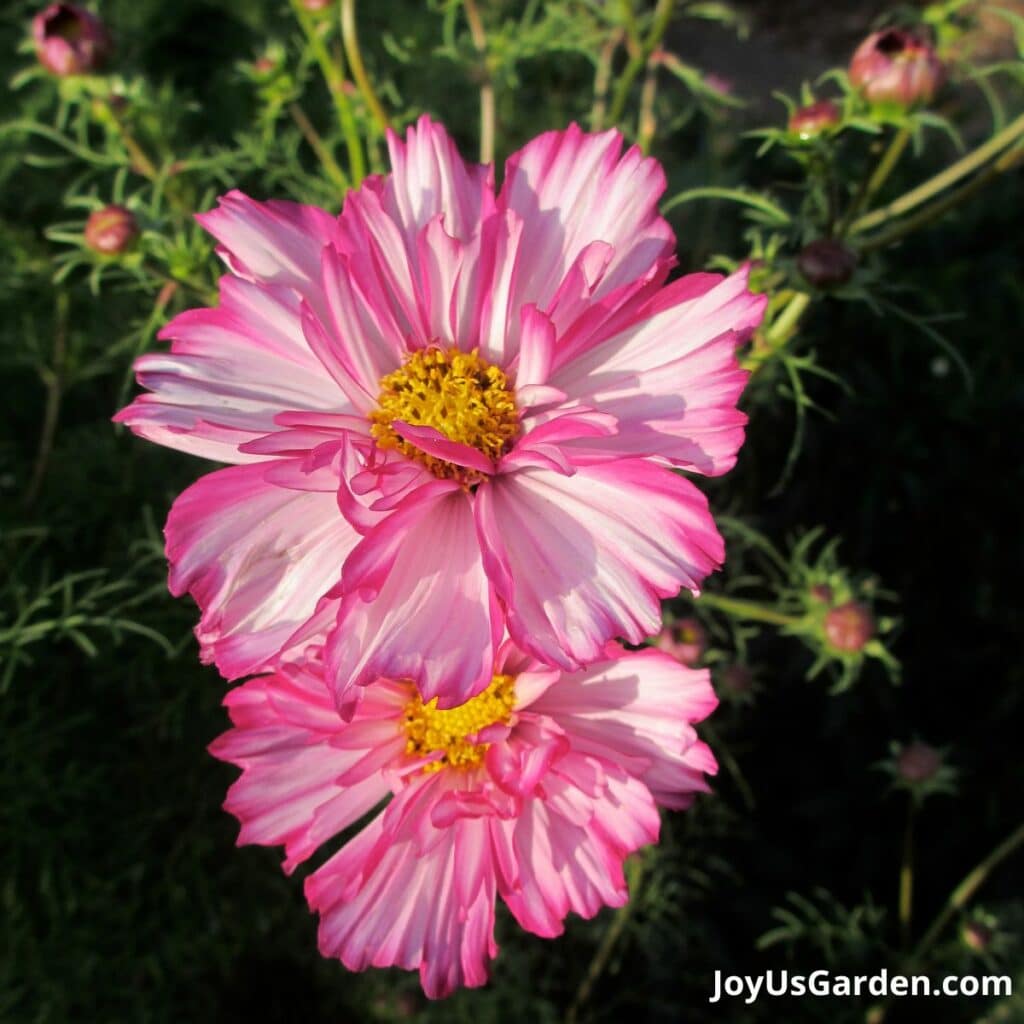 (Cosmos spp.) Cosmos are hardy plants that love full sun and well-drained soil. A top plant to grow if you love gathering cut flowers from your garden, cosmos are often included in pollinator seed mixes. They are famous for their delicate, feathery leaves and white, pink, lavender, yellow, orange, and red flowers.
Sweet Alyssum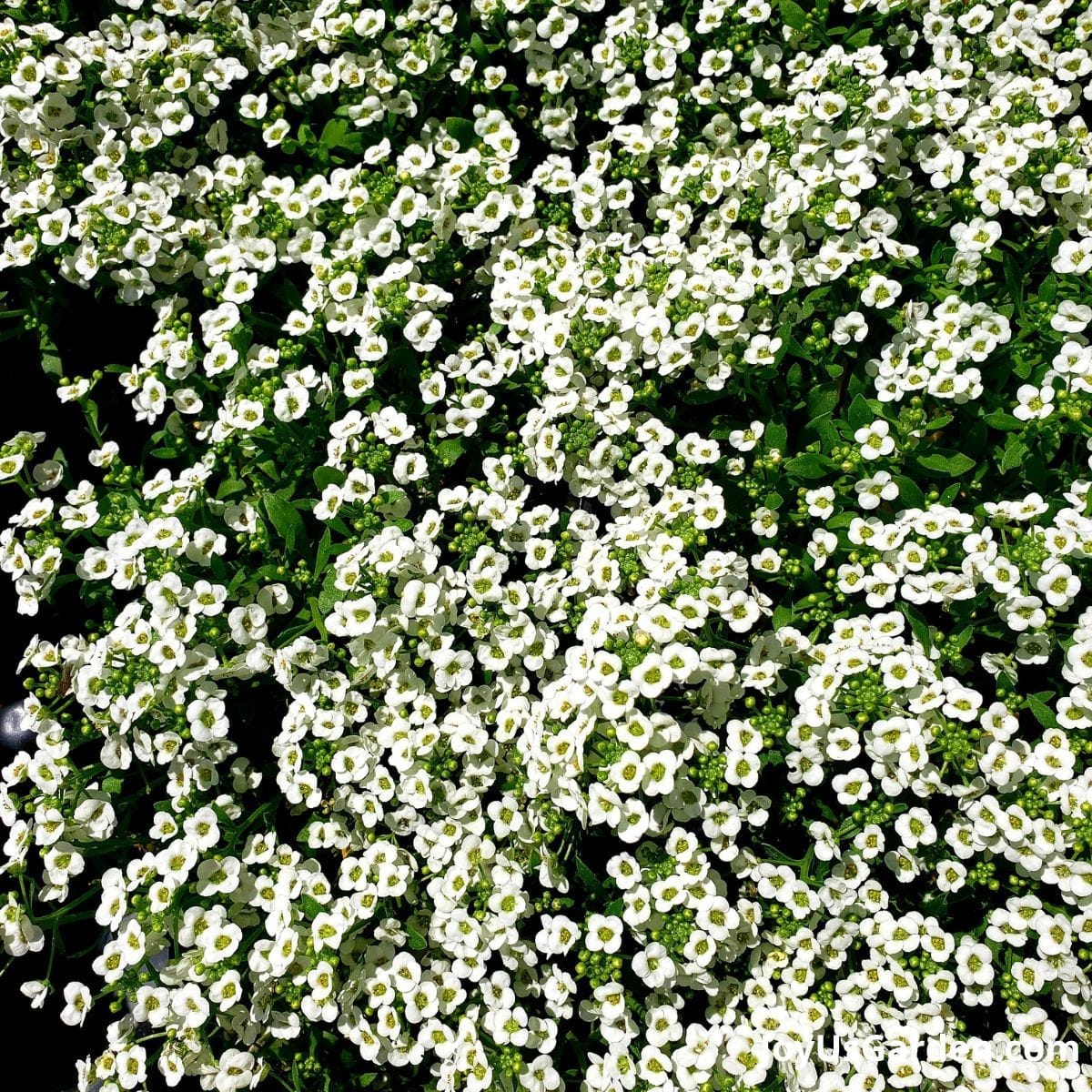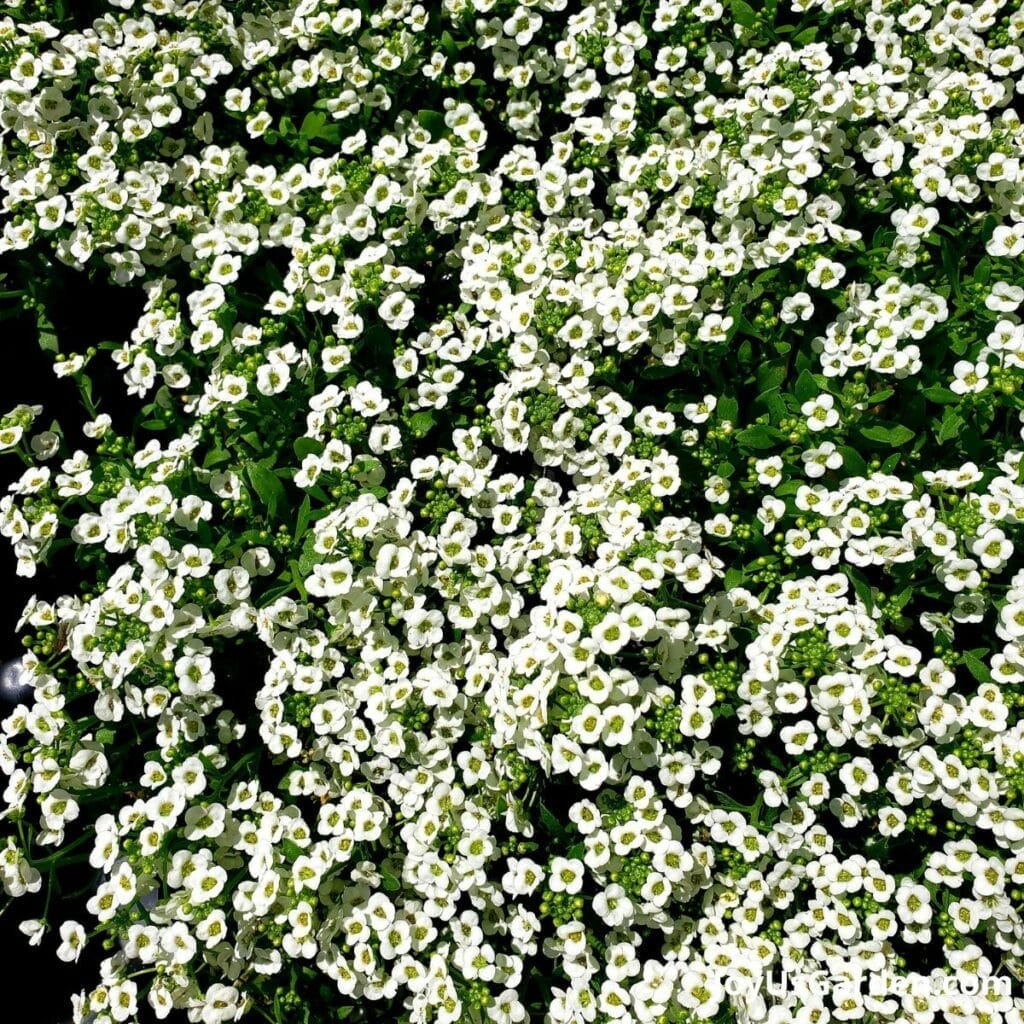 (Lobularia maritima) Sweet Alyssum can be cultivated from seeds or nursery starts that are set out in your garden in early spring. These flowering annuals have purple and white flowers that emit a mild fragrance, and their sprawling growth habit makes them ideal for planting in container gardens and towards the front of flower beds.
Hoary Aster
(Dieteria canescens) Many aster varieties are exceptional pollinator plants, but one popular choice for pollinator habitats is the Hoary Aster. Depending on your growing zone, this plant can be kept as a short-lived perennial or an annual, and its sturdy, purple flowers may continue to bloom through late fall.
Perennials For Butterflies and Bees
Many native wildflowers grow perennially in flower gardens, and since they come back year after year, they can be even easier to care for than annuals.
Milkweed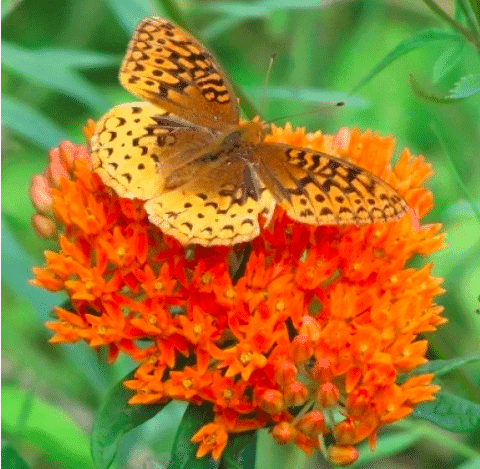 (Asclepias spp.) Milkweed is a larval host plant for monarch butterflies, and its fragrant flowers will also attract bees and other insects. Even better, many milkweed varieties grow in poor soil and will easily self-seed too.
Resource: Check out our list of 29 Plants That Attract Butterflies, all with photos
Joe Pye Weed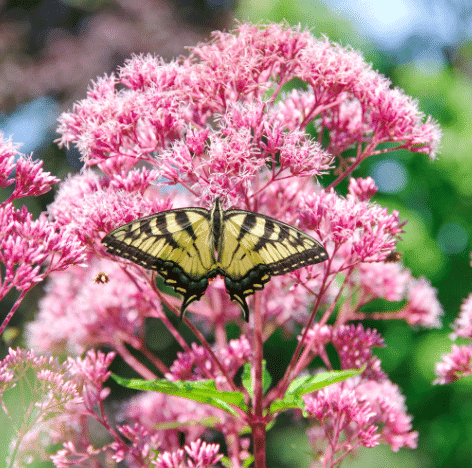 (Eutrochium purpureum) Joe Pye weed has big, bold blooms that look like milkweed flowers, but this plant gets even bigger. Naturally found in moist areas, Joe Pye weed can be a good choice for rain gardens, and it can bloom from mid-summer to early fall.
Bee Balm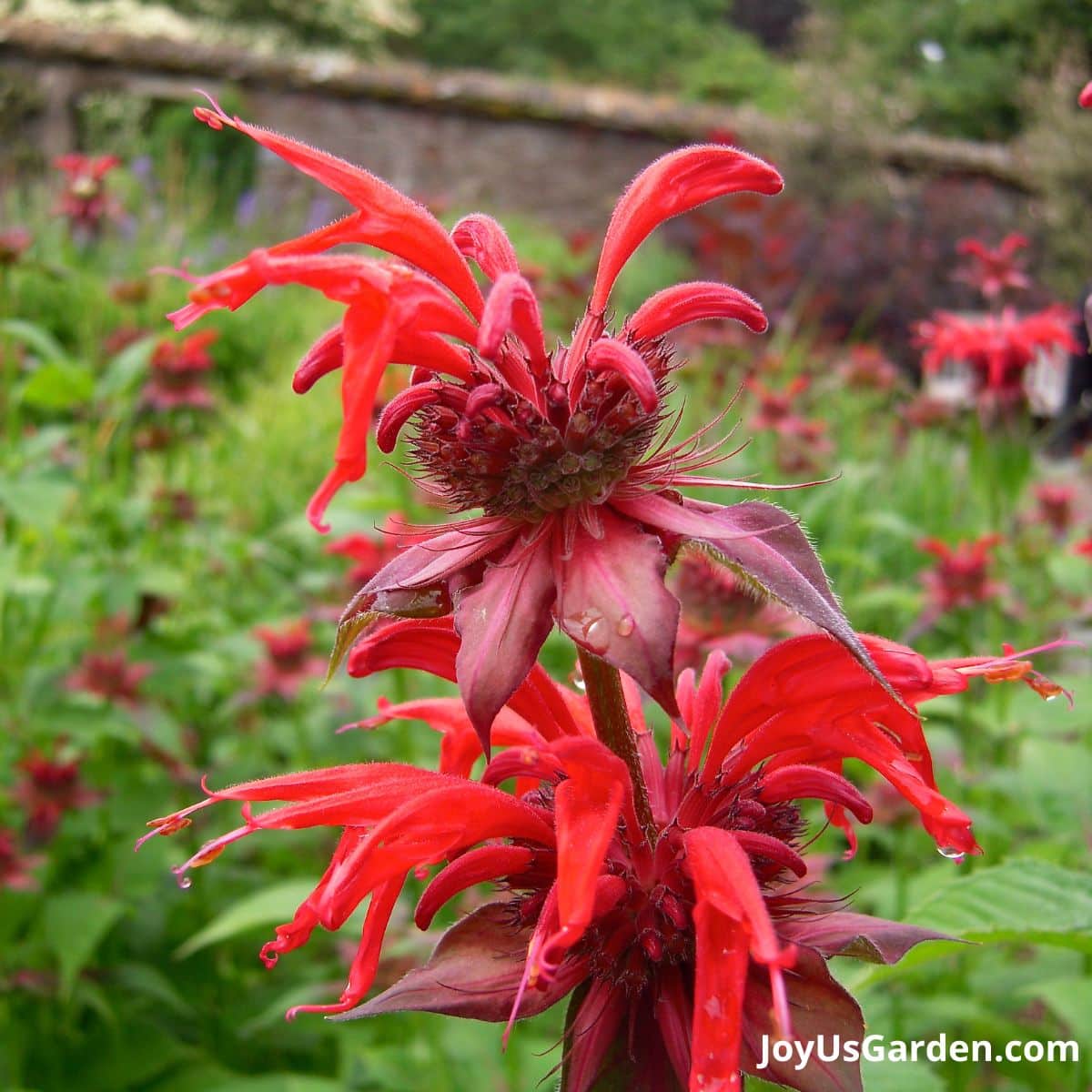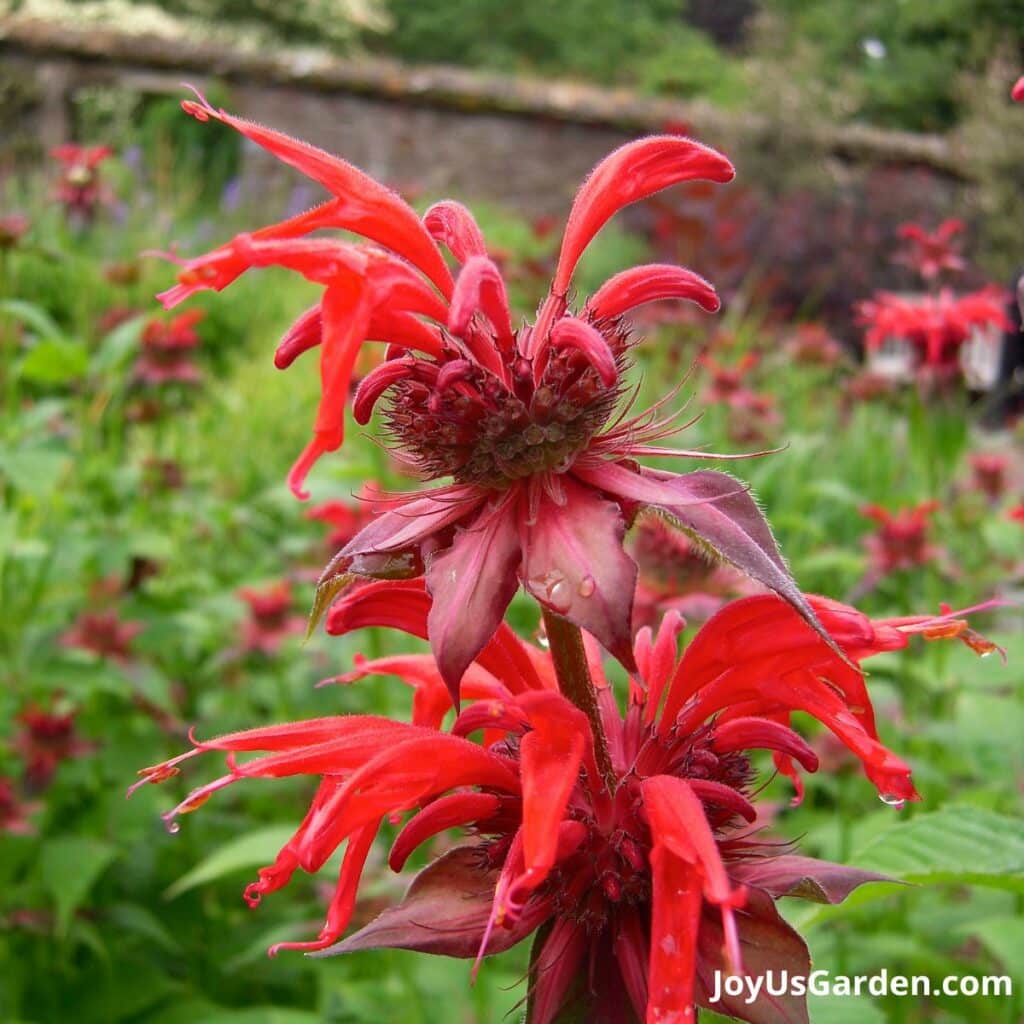 (Monarda fistulosa) Showy bee balm has spiky flower heads in pinks, reds, and purples and it's often coated with bees in summer. This plant can bloom throughout summer, especially when regularly deadheaded, but it will spread vigorously.
Black-Eyed Susan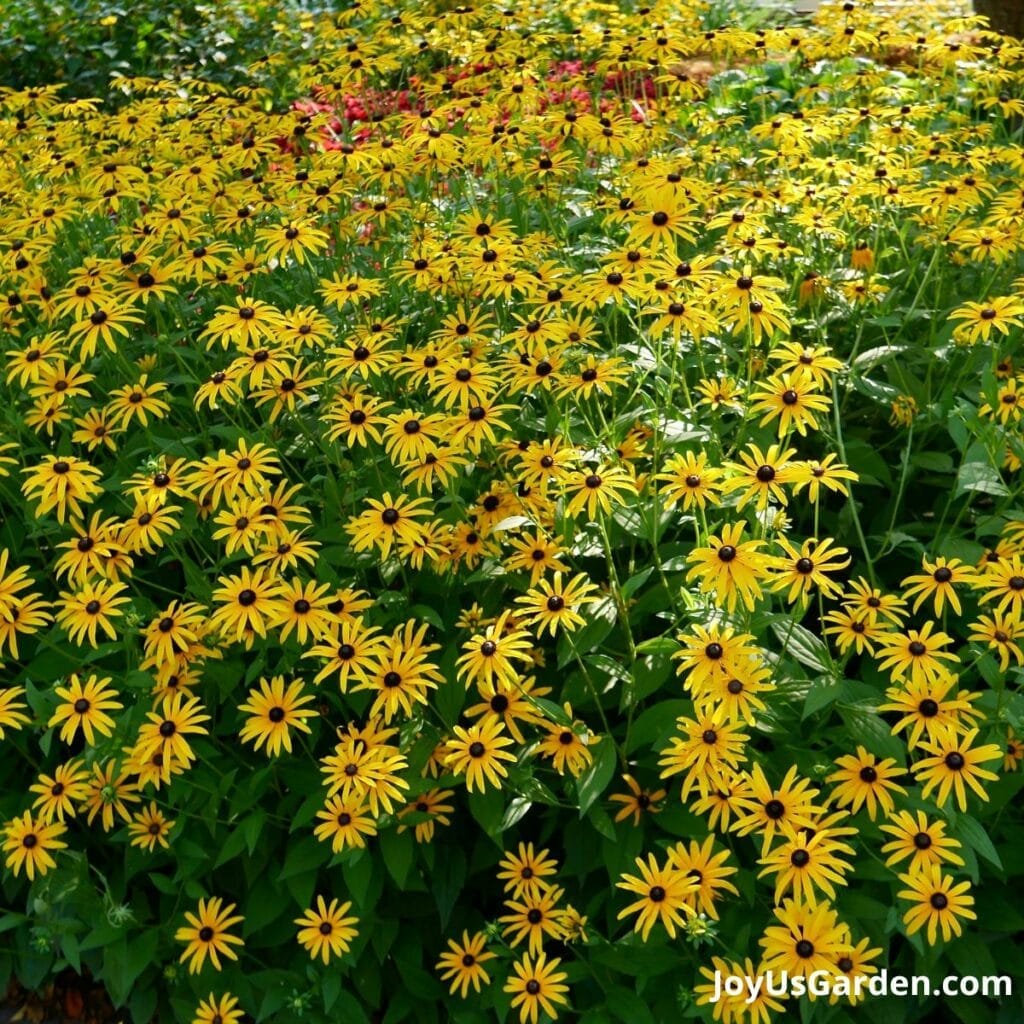 (Rudbeckia hirta) Another good option for pollinator gardens, Black-Eyed Susans have warm, golden-orange petals and deep dark flower centers. These plants are spread readily by seeds unless birds get to those seeds first!
Lantana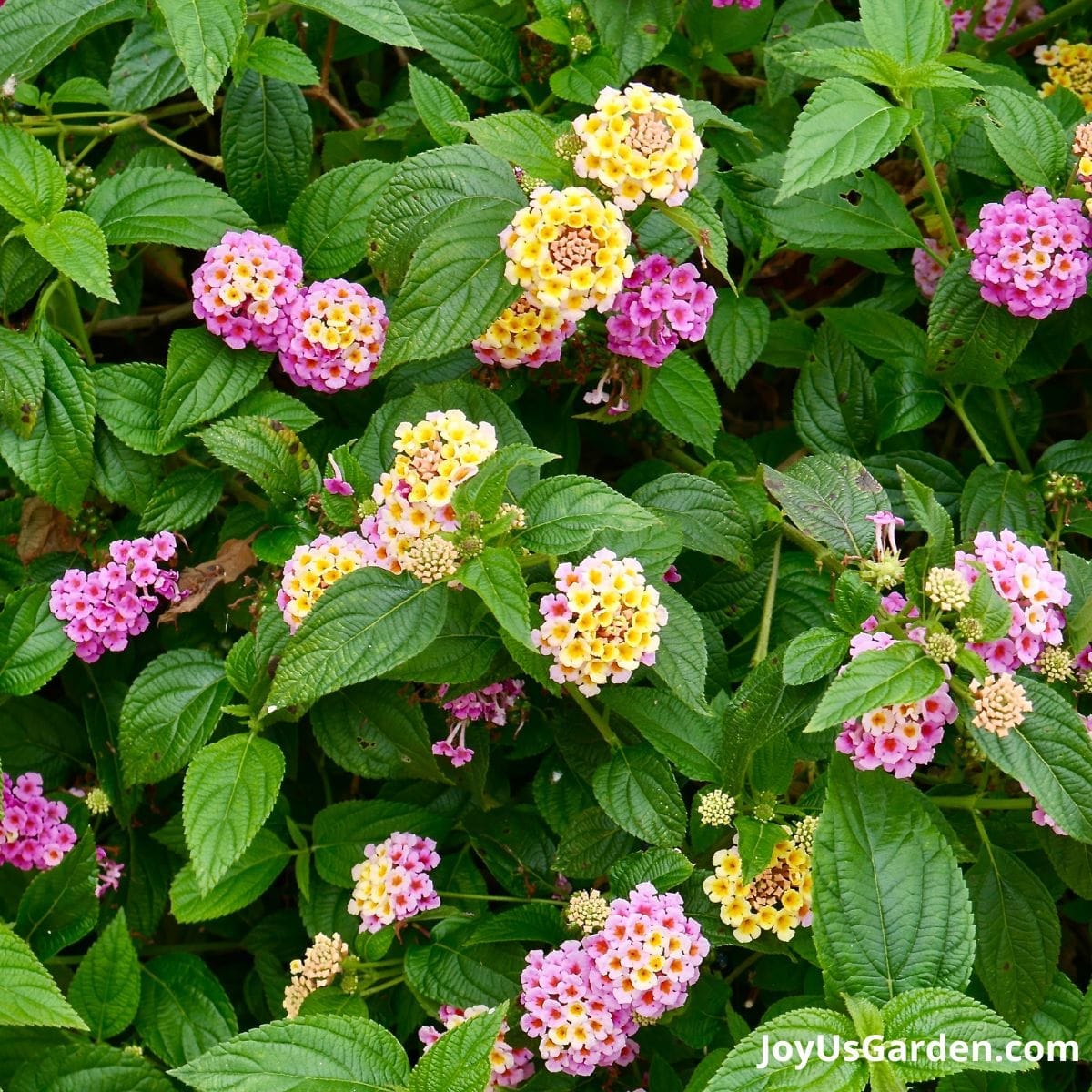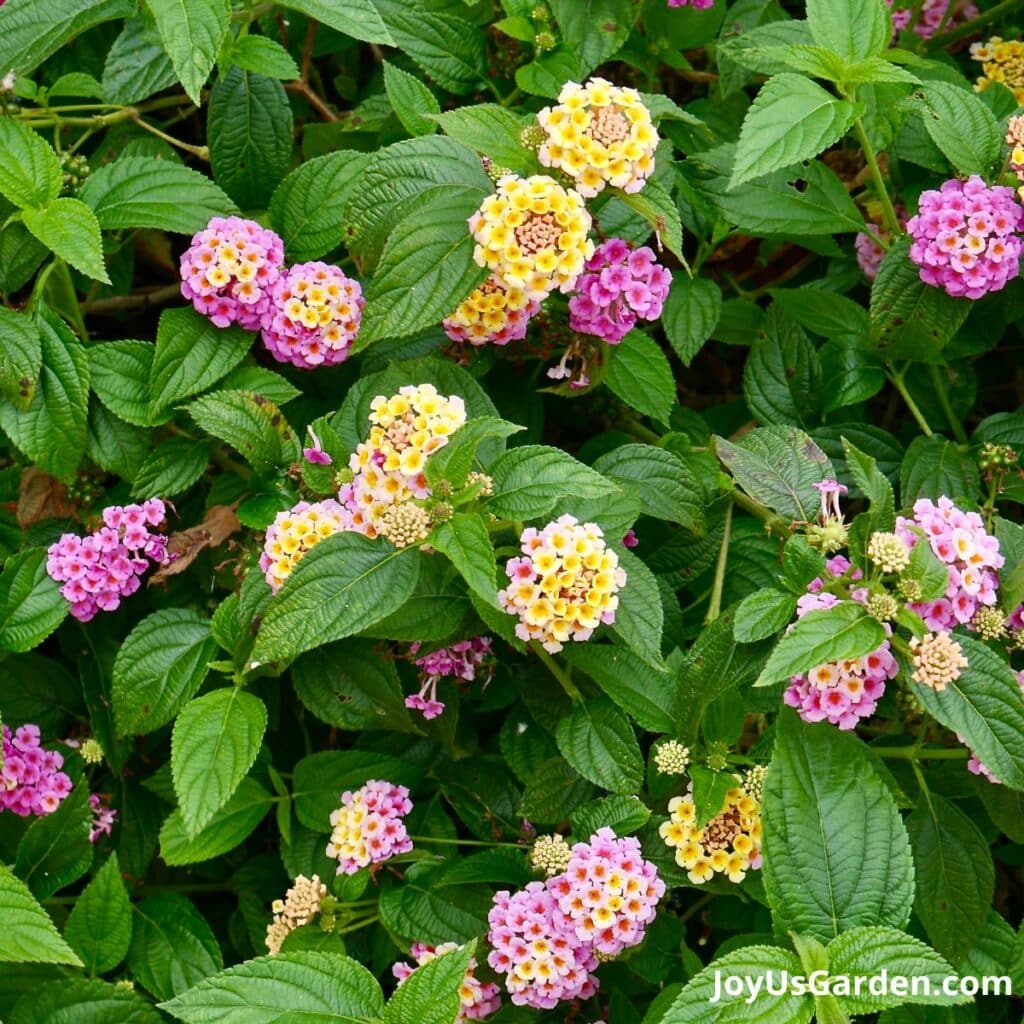 (Lantana spp.) If you want a colorful garden, you need to grow lantana. These plants feature white, yellow, pink, orange, red, or lavender flowers that are irresistible to hummingbirds. Lantanas are considered perennial plants in zones 7 and up but can grow as annuals in cooler climates.
Interested in butterfly gardening? Check out: How To Attract Butterflies: How To Create A Butterfly Garden.
Yarrow
(Achillea millefolium) Yarrow's broad, flat flower heads come in white, pink, orange, red, and yellow, and they're easy for pollinators to feed from. These plants make lovely dried flowers too.
Goldenrod
(Solidago spp.) Adaptable to both partial shade and sun, Goldenrod is prized for its buttery-yellow flower heads that are a magnet for bees. Grow this plant with asters for autumn color that just won't quit.
Great Blue Lobelia
(Lobelia siphilitica) Great Blue Lobelia has brilliant blue to purple flower spikes that grow up to 4' tall. Blooming from late summer to early fall, this perennial plant spreads readily and tolerates moist soil. If you like the look of this plant, try out the closely related Cardinal Flower, which has vivid red blooms.
Salvia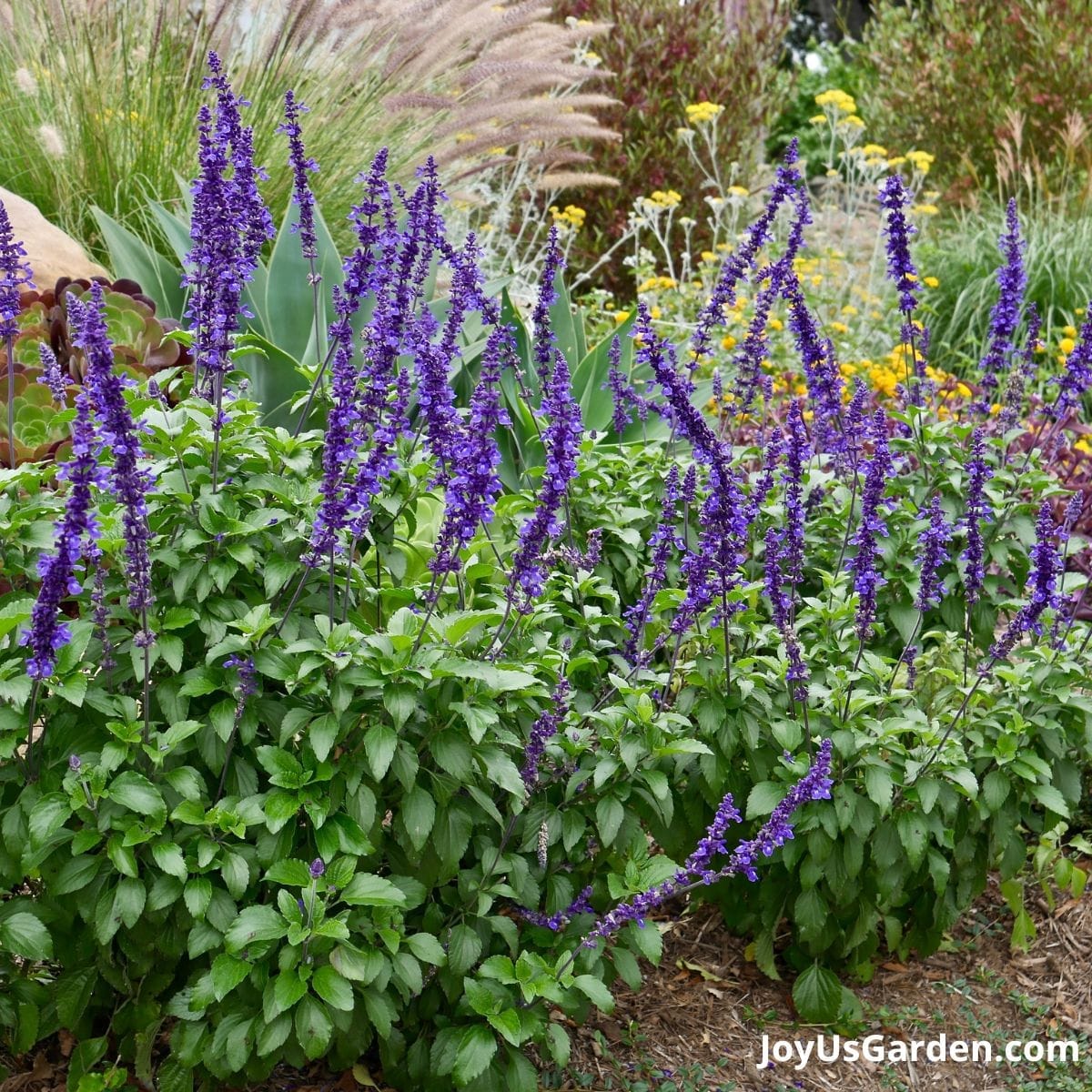 (Salvia spp.) With over 1000 types of salvia to choose from, you can find a salvia to suit any garden. These easy-going plants come in many different colors, shades, and sizes. There are both perennial and annual varieties too.
Coreopsis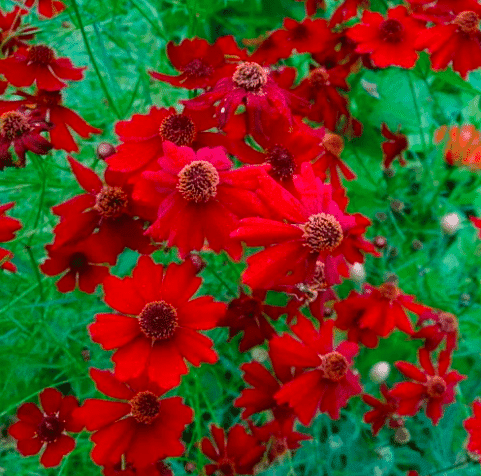 (Coreopsis) Like salvia, there are also perennial and annual types of Coreopsis. These plants have daisy-like flowers that bloom from late spring to fall, and their flowers come in yellows, reds, and other hues. You can even find bi-colored coreopsis!
Purple Coneflower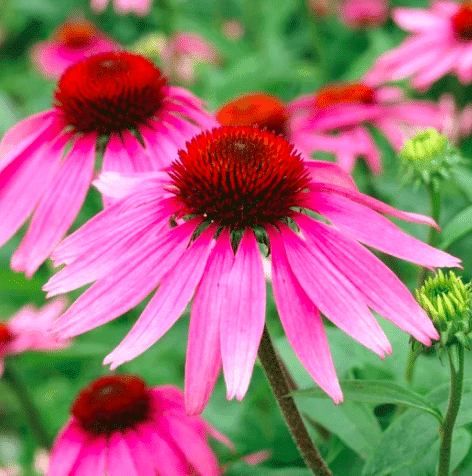 (Echinacea purpurea) Purple coneflower is a great plant to try in drier soil since it has lower-than-average watering needs. These plants are famous for their lavender petals, and they look spectacular with Yarrow and Black-Eyed Susan.
Check out this complete guide to Creating a Pollinator Garden with these easy steps.
Butterfly Weed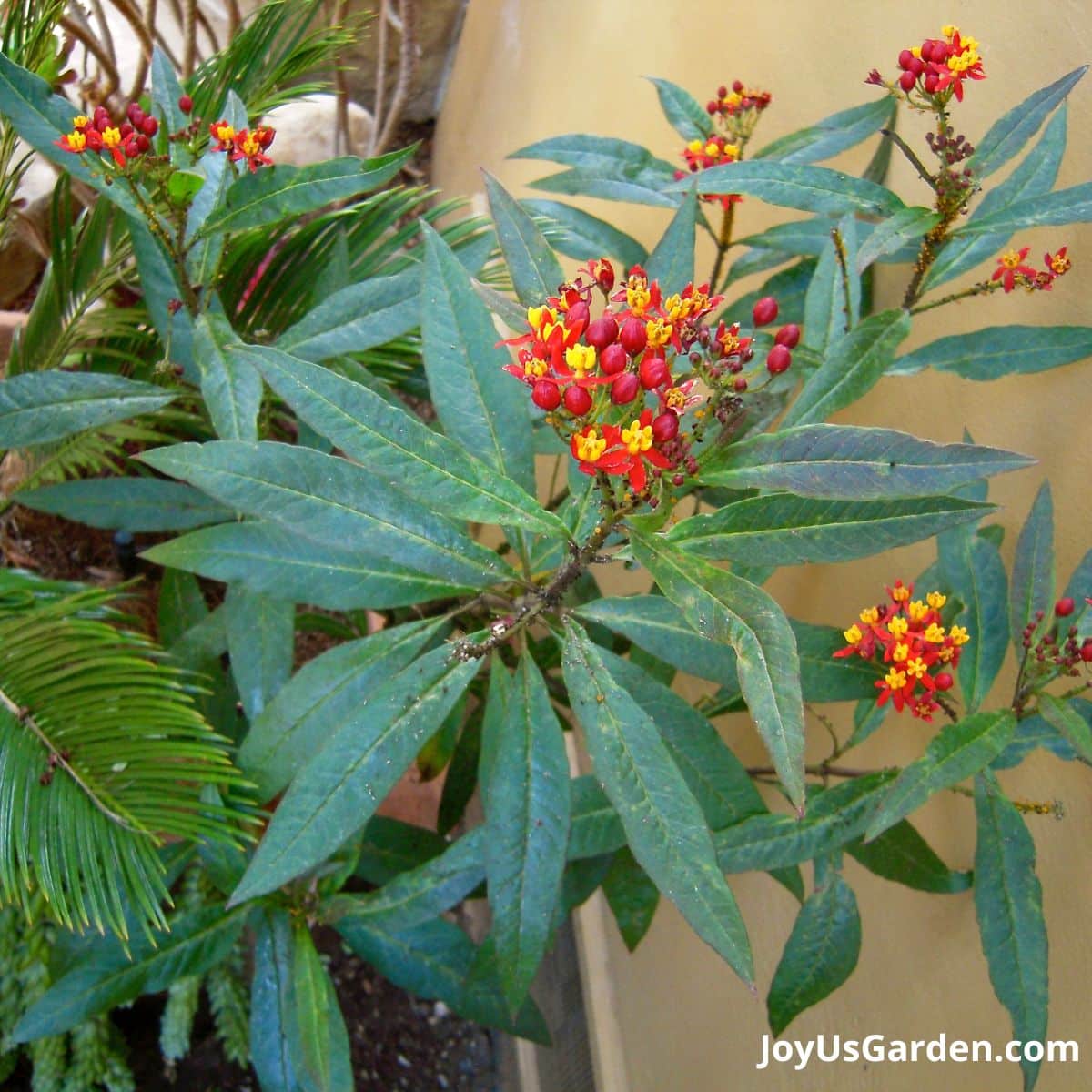 (Asclepias tuberosa) If you love milkweed, you may also want to try the closely related Butterfly Weed. This plant is also a host for monarch caterpillars, but it has eye-catching orange flowers that are sure to stand out in any garden.
Herbs For Butterflies and Bees
What's the best thing about growing herbs for pollinators? You can eat these tasty plants too.
Oregano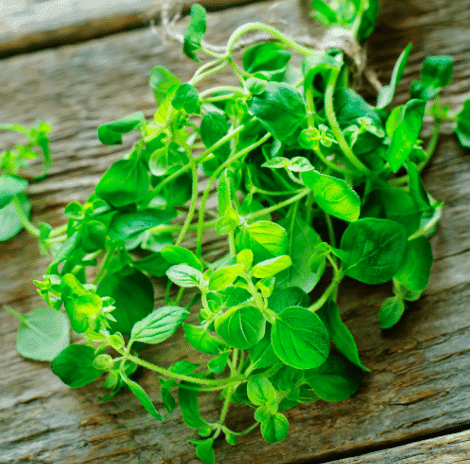 (Origanum vulgare) While oregano is mostly known for its aromatic and flavorful leaves, its pinkish-purple summertime flowers are also top food sources for pollinators.
Chives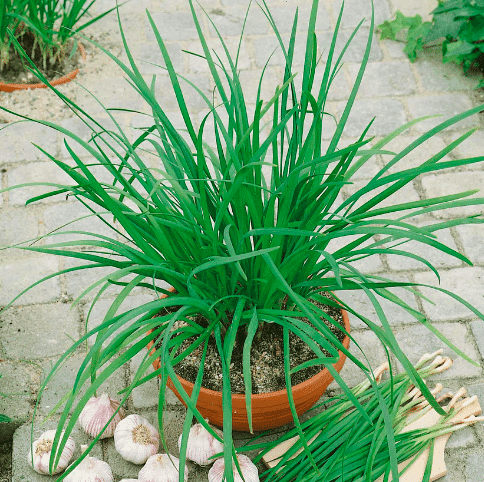 (Allium schoenoprasum) From early spring to summer, chives bloom orb-shaped pink to purple flowers that are a hit with pollinators. These aromatic plants are also ideal for repelling unwanted pests from your vegetable garden.
Mountain Mint
(Pycnanthemum muticum) Most mint plants will attract pollinators when they're allowed to flower, but mints can become invasive in many areas. While Mountain Mint is a vigorous grower, it's native to North America and won't grow invasively.
Here are the Top 13 Herbs To Grow In Full Sun.
Sage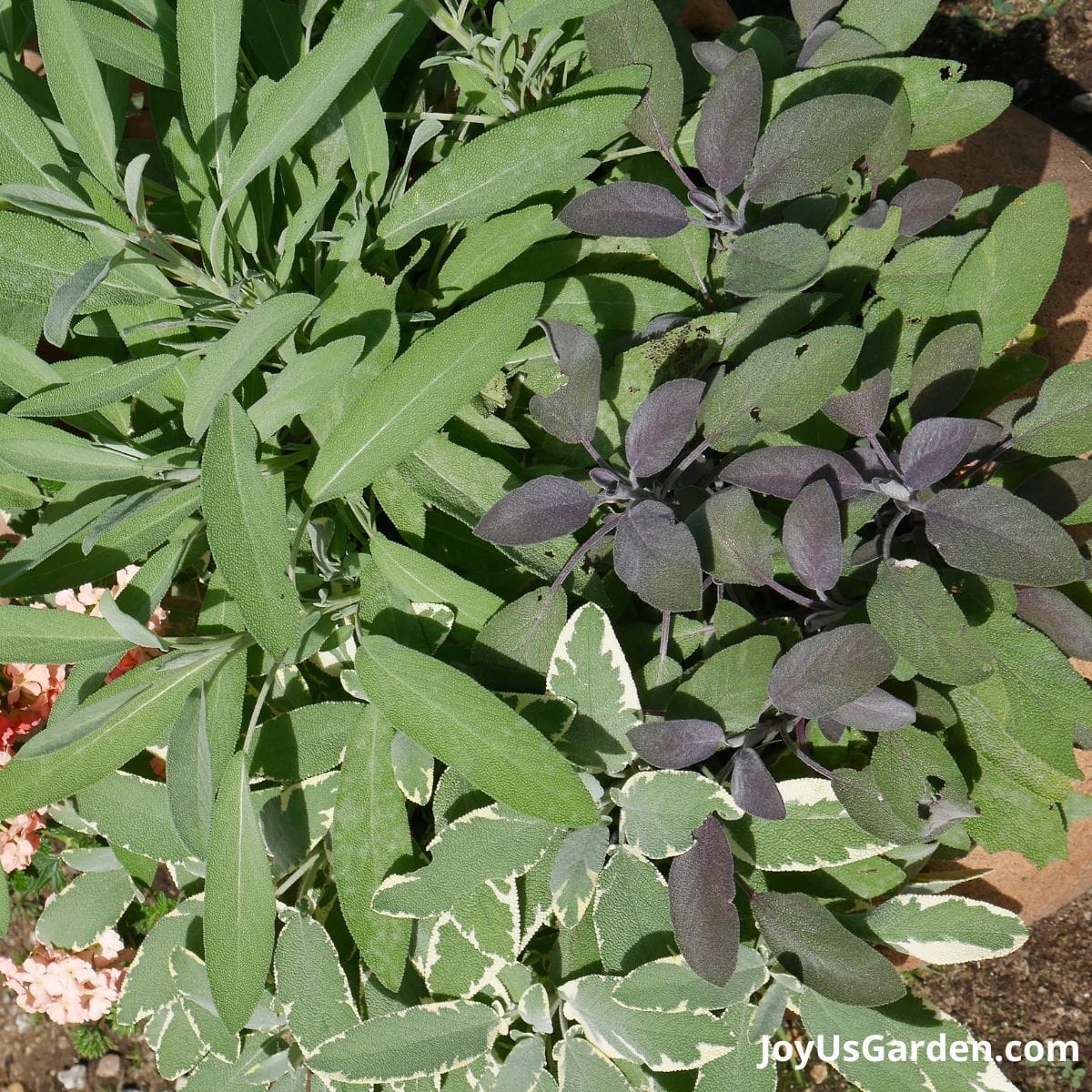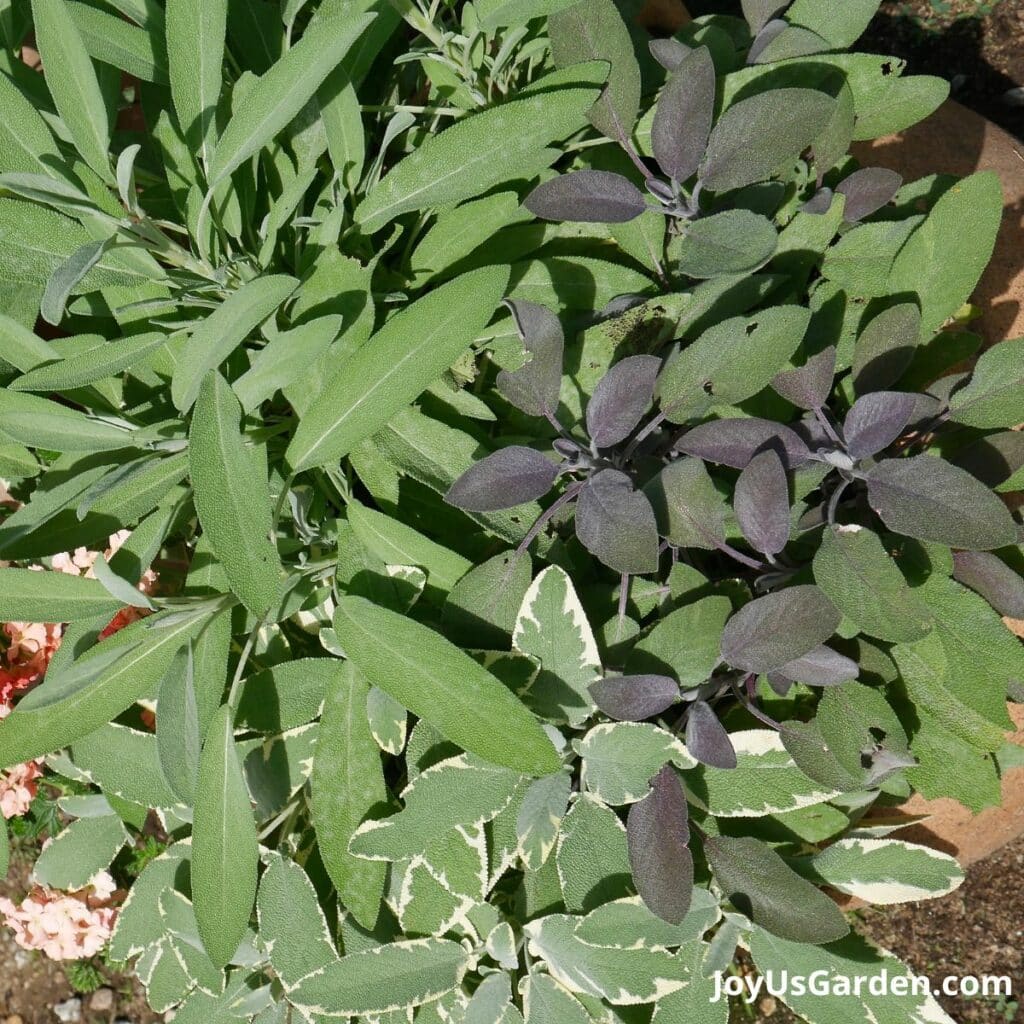 (Salvia officinalis) Like other salvias, culinary sage's purple flowers are good food sources for pollinators. Plus, you can enjoy sage leaves in roasted dishes, soups, and other fare.
Dill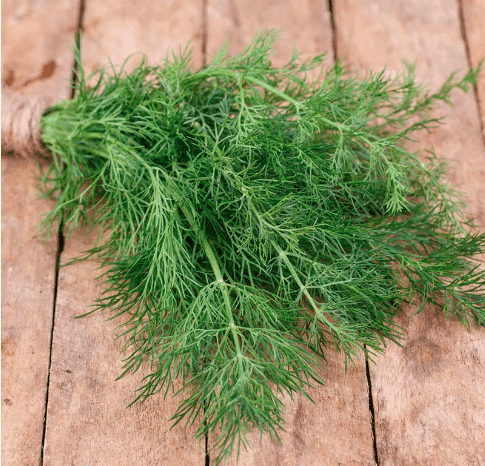 (Anethum graveolens) Dill is a host plant for swallowtail butterflies, and when it's allowed to bloom, it will also draw many other pollinators to your garden.
Lavender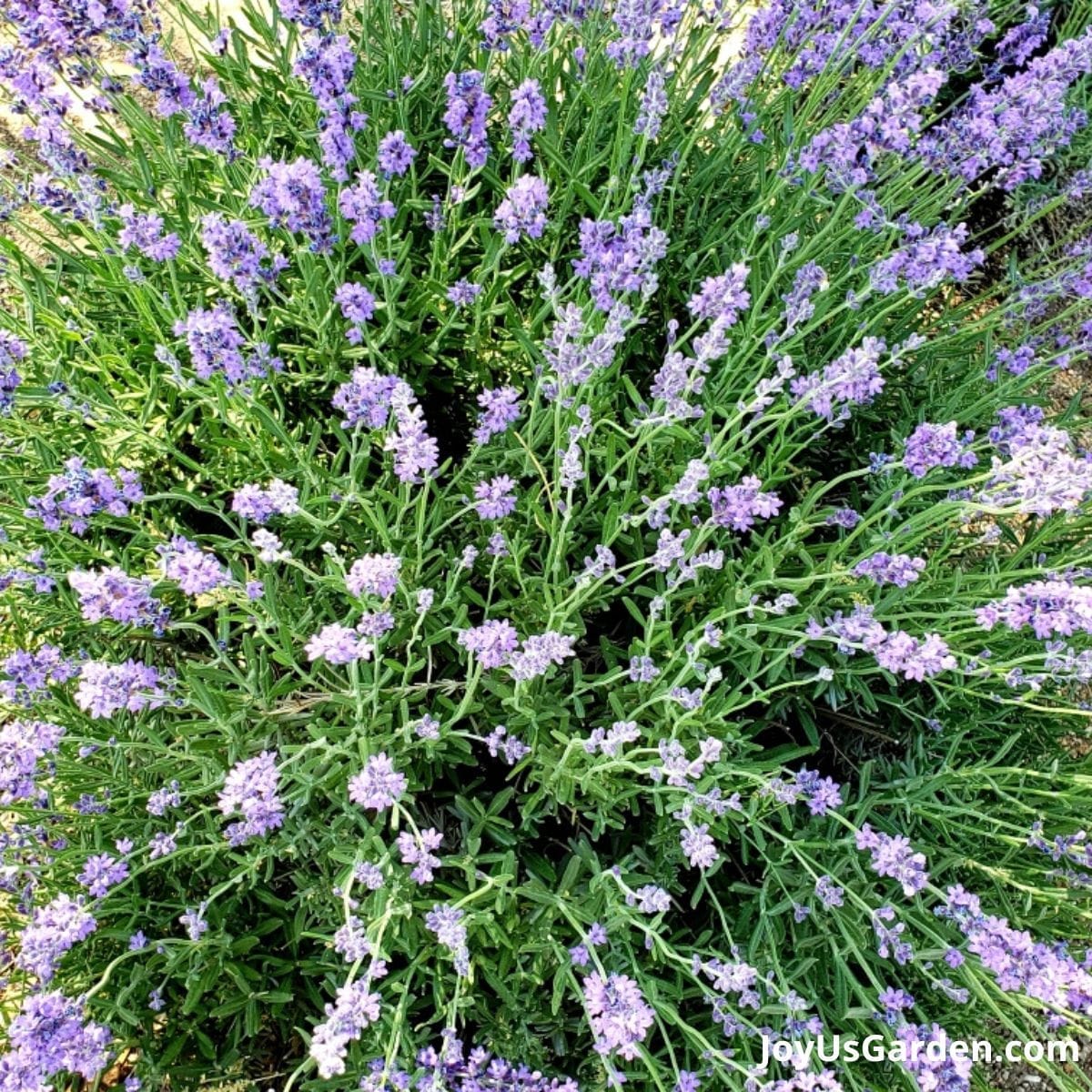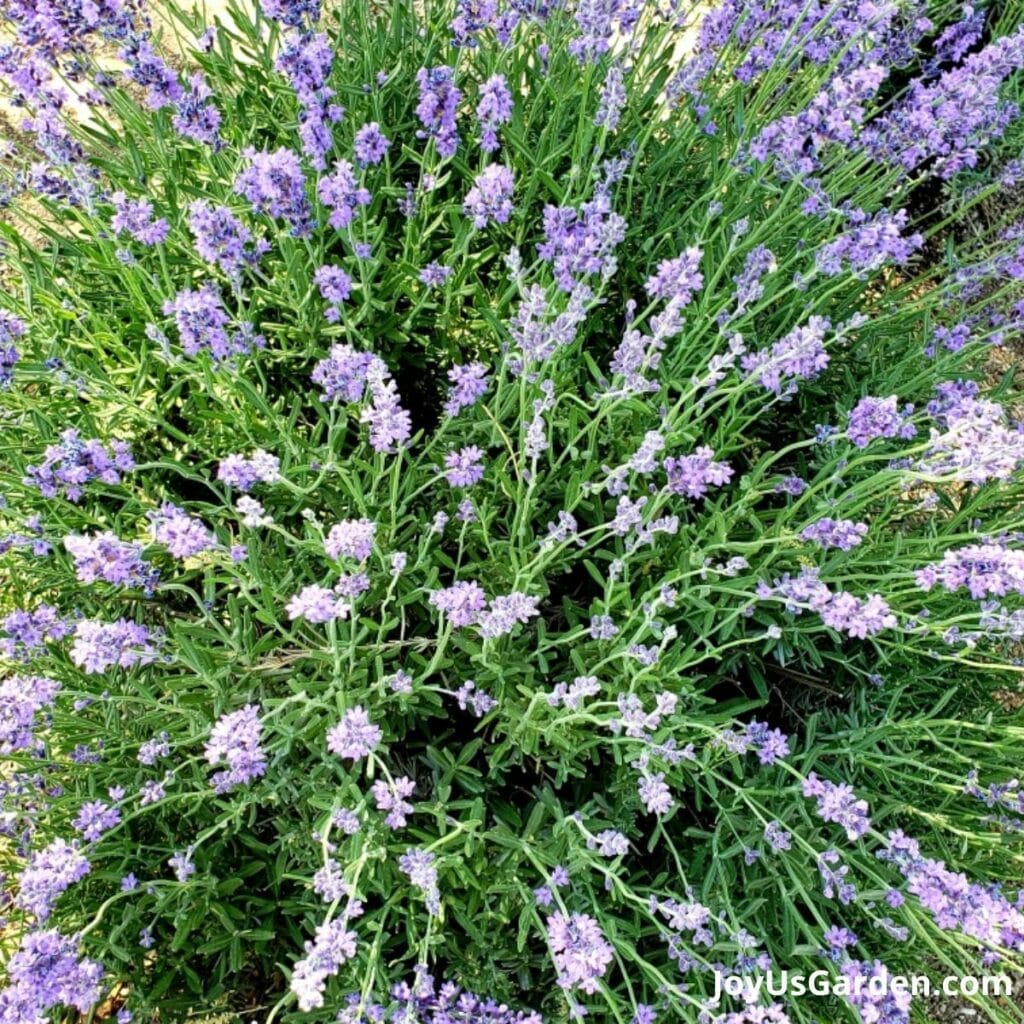 (Lavandula spp.) Lavender prefers drier soil than many other plants, but it's a good choice for gardens with sandy soil. Allow lavender to produce its purple blooms to get the most pollinator benefits.
This Planting Lavender In Pots Guide will help you with all the basics.
Shrubs For Butterflies and Bees
For a bigger garden impact, try out these flowering shrubs for pollinators.
Buttonbush
(Cephalanthus occidentalis) Buttonbush is a top plant for butterflies, a spreading shrub with globe-shaped, white flowers that bloom from summer to fall. Grow this plant in full sun to part shade for best results.
Butterfly Bush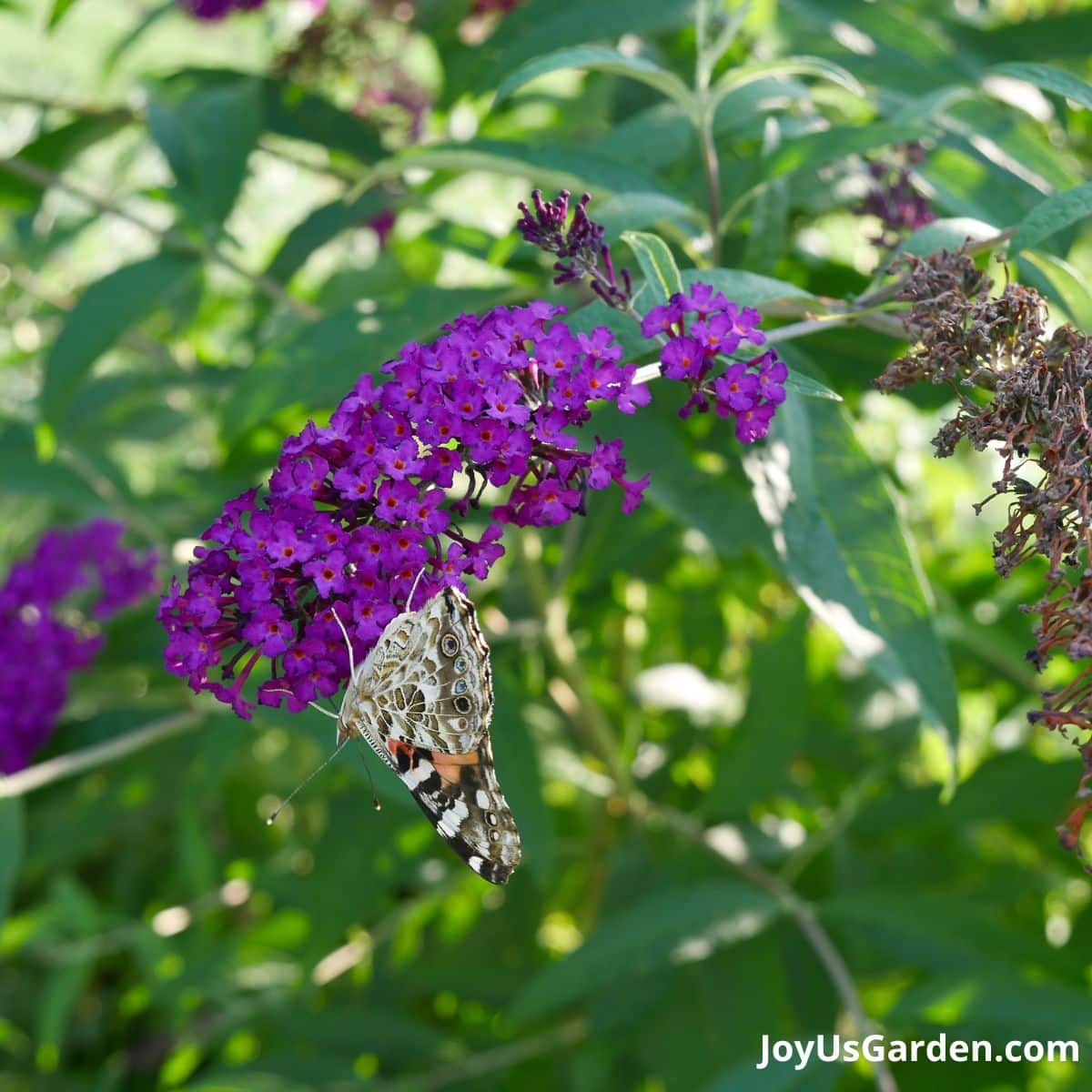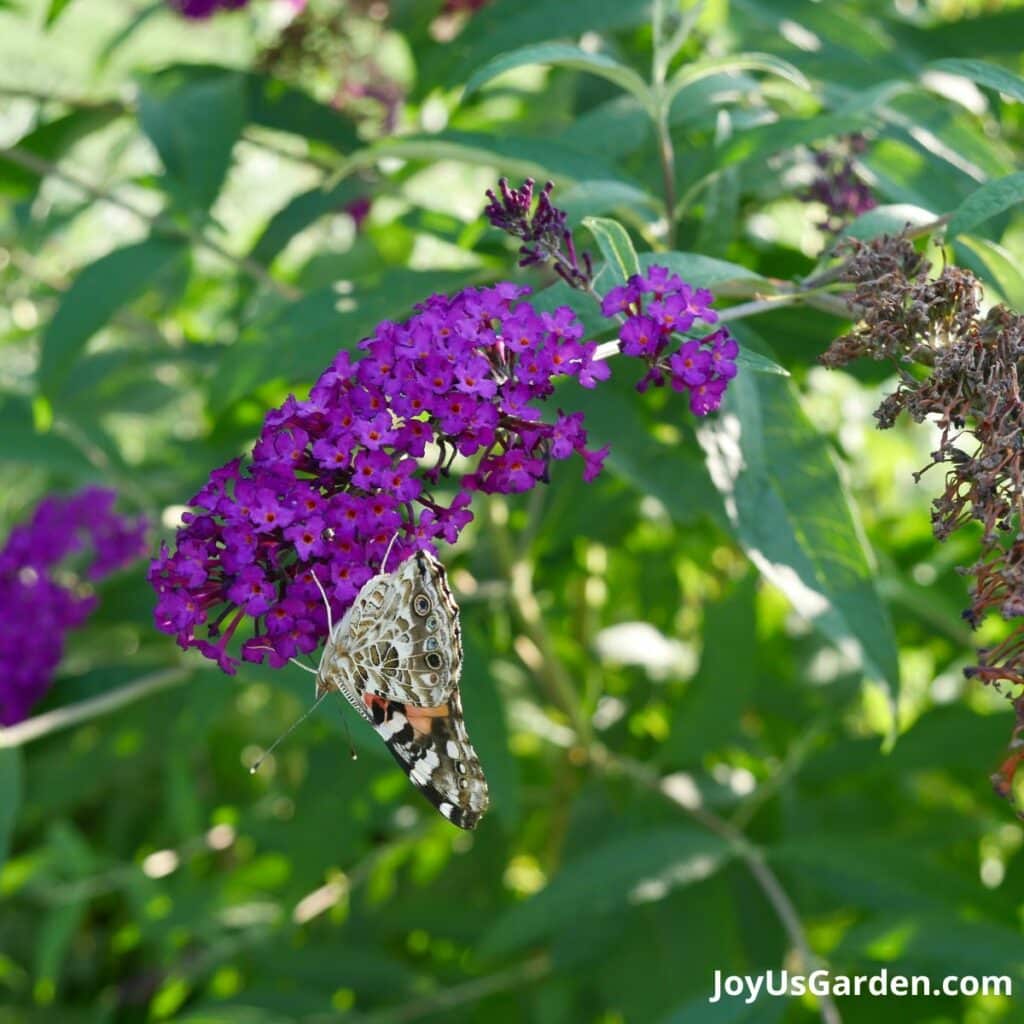 (Buddleja spp.) When butterfly bushes blooms in summer, hummingbirds are sure to be nearby. Butterfly bushes can be invasive in some areas, but when properly maintained, their pink, purple, or white flowers are staples in pollinator habitats.
Pussy Willow
(Salix discolor) Pussy Willow is famed for its fuzzy, silvery buds that provide pollen for insects before many other spring-blooming flowers emerge. These plants are also hosts for a number of different butterflies and moths.
Vines For Butterflies and Bees
Train vines to grow on trellises and porch railings for vertical interest and showstopping color you and pollinators will love!
Coral Honeysuckle
(Lonicera sempervirens) Some honeysuckle vines are invasive, but not Coral Honeysuckle. This North American native boasts tubular, pink flowers that are perfectly shaped for the bills of hummingbirds!
Trumpet Vine
(Campsis radicans) Another top plant for hummingbirds, Trumpet Vines, have large yellow, red, or orange flowers which can last from spring until fall.
Moon Flower
(Ipomoea alba) Moon Flowers begin to bloom in the evening, and planting them in your garden is a great way to attract nocturnal pollinators like moths.
FAQ's About Pollinator Plants
What are the top 5 pollinator plants? 
Native plants, including Milkweed, Joe Pye Weed, Cardinal Flowers, Goldenrod, and Asters, are some of the best plants to grow for pollinators.
Why do plants need pollinators? 
Many plants need pollinators to produce seeds and fruit, and their reproductive cycle is dependent upon the work of pollinators. Without pollinators, many food crops would not exist.

What are good pollinator plants for the vegetable garden?
When allowed to flower, herbs like dill and chives are ideal pollinator plants for the vegetable garden. Zinnias and marigolds are also small enough for veggie patches, and they can attract beneficial insects that will control destructive garden pests.
Check out this complete guide on Creating a Pollinator Garden with easy steps.
Conclusion
If you want to help pollinator populations make a comeback, one of the best things you can do is to grow your own pollinator garden.
When planted with different pollinator plants, these gardens can be an oasis for bees, butterflies, and other wildlife, and they can help combat habitat loss and fragmentation. Not to mention, when planted with spring, summer and fall-blooming flowers, pollinator gardens can be a wonderful place for you to connect with nature and relax after a hard day's work!
Happy Gardening,
-Lauren
This post may contain affiliate links. You can read our policies here. Your cost for the products will be no higher but Joy Us garden receives a small commission. Thank you for helping us spread the word & make the world a more beautiful place!