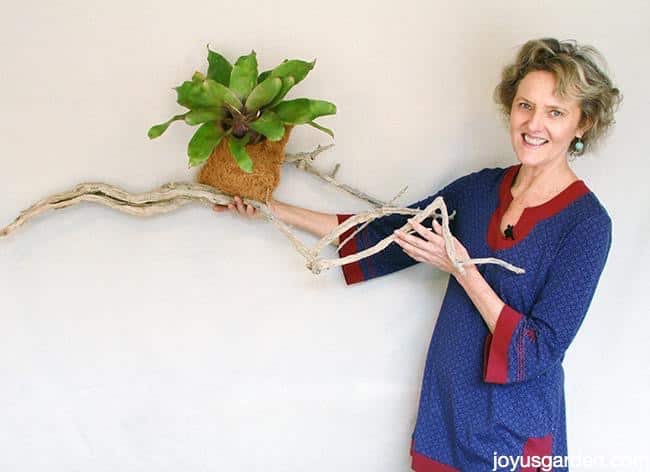 I live in Santa Barbara just 7 blocks from the ocean and love to go for walks on the beach. Sometimes I just stroll and zone out enjoying all the beauty, or perhaps chat with a friend and then there are those times when I have a mission: a major search for "beachy treasures". I'm a big fan of driftwood and was the envy of every dog on the beach as I carried this 4′ long stick on the hour-long march back to my car. Bromeliads and wood go hand in hand (they're epiphytic and most of them grow on trees in their natural environments) so here's an easy way to get them to grow on and attach to driftwood, a branch, a log or any form of wood.
Here you see the driftwood, coco fiber rolled up, a Neoregelia & a Vriesea.
This piece of driftwood may look familiar to you because I used it a year or 2 ago to create a living piece of art with succulents and air plants. That piece was taken apart a while ago and so I thought it was time to use the branch again for another project. I've seen "bromeliad trees" at various shows and also online so this is a mini version of that. I only attached 1 bromeliad, my Neoregelia, but easily could have used more. A piece of driftwood as thin as this one would look spiffy with 5 or 6 smaller bromeliads (the 4″ pot size) growing in its nooks.
Some Of Our General Houseplant Guides For Your Reference:
The video, shot in my garage, shows you how to do it:
The ingredients you'll need for this project are few:
*A piece of driftwood, a branch or a log.
*A bromeliad (or bromeliads) of choice.
*Coco fiber. I bought mine by the yard at our local Ace Hardware but you can buy it online here.
*A growing medium.
*Fishing line (or wire).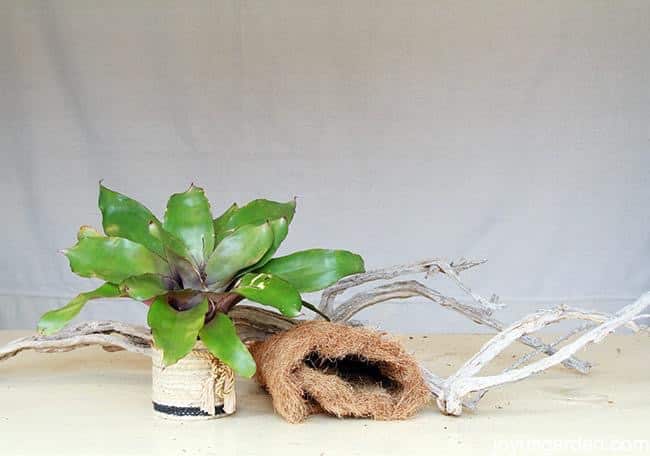 The steps I took:
1- Cut a rectangle shape out of the coco fiber (what I used is 1″ thick so the pocket is a bit bulky) & fold it into a pocket shape. I left the back side a little higher than the front.
2- Wire it shut on the sides at the top & bottom.
3- Place the bromeliad in the pocket & fill in around the roots with the mix. The mix I used is potting soil, succulent & cactus mix, a bit of orchid bark & worm castings. Bromeliads love coco coir (the shredded kind) so you could use some of that if you have it. That's why the coco fiber is a great vessel for them to grow into. If the look of the coco fiber bothers you, than you can cover it with moss.
4- Attach the bromeliad to the driftwood with fishing line. I only tied it with 1 piece but you may need 2 or 3 to fully secure it depending on the size of the bromeliad & the branch.
Bromeliads are tough, oh so interesting and don't need to be fussed over which makes them very popular houseplants. The piece that I made here can sit on a table or be hung on a wall. If your bromeliads have something to grow into, they'll be good to go for a long time. Another piece of living art!
Happy creating,

You may also enjoy:
This post may contain affiliate links. You can read our policies here. Your cost for the products will be no higher but Joy Us garden receives a small commission. Thank you for helping us spread the word & make the world a more beautiful place!
About the Author
Latest Posts
Nell, the founder of Joy Us garden, was born into a gardening family and grew up in Connecticut's countryside. After living in Boston, New York, San Francisco, & Santa Barbara, she now calls the Arizona desert home. She studied horticulture & garden design, working in the field all her life. Nell is a gardener, designer, blogger, Youtube creator, & author. She's been gardening for a very long time & wants to share what she's learned with you.