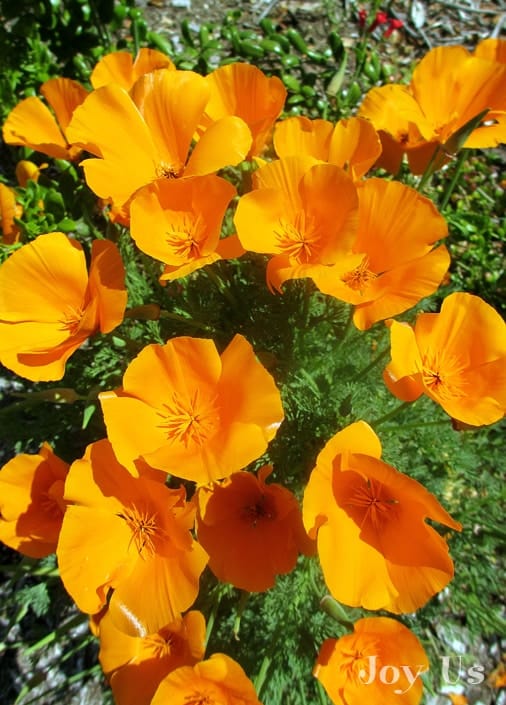 I love going to our Santa Barbara Botanic Garden so when California Native Plant Week came around, a visit was in order. April 15-22 marked the 2nd annual CNPW sponsored by the California Native Plant Society . Local chapters offered their own events and activities aimed at encouraging communites to conserve, restore and appreciate California's native plants.
I spent a couple of sun-filled hours running around the Garden last thursday visually drawn by the wildflowers in bloom. The California Poppies stole the show with their bright explosions of orange – they had seeded everywhere! Another flowering treat – the Pacific Coast Hybrid Iris' were putting on a show of their own.
As mentioned in a post back in January (What's in Bloom at the Santa Barbara Botanic Garden), the mission of The SBBG is to: "foster conservation of California's native plants through our gardens, research and education, and serves as a role model of sustainable practices". The Garden's canyon setting is magnificent and provides gorgeous views of the Santa Ynez Mountains and even out to The Channel Islands – and that is why I had to throw in a few vista pictures too!
The Views
The Wildflower Meadow
California Native Plants
Datura stramonium
Escholzia californica "buttermilk"
Iris douglasiana "Canyon Snow"
Carpenteria californica" Elizabeth"
Fremontodendron
Fremontodendron
Flower head of Phacelia tanacelifolia
Bumblee Bee enjoying Phacelia tanacetifolia
Cencis occidentalis
Mimulus bifidus
California Poppy and Layia platyglossa (Tidy Tips)
Heucera "Canyon Belle" and California Poppies
California Poppies orange and white
Here's a little preview of what you'll see next time around – the Pacific Coast Iris putting on their spring spectacle!
The PCH Iris (I. Douglasiana) were all in bloom – come back next time and check out photos of these beautiful flowers!
This post may contain affiliate links. You can read our policies here. Your cost for the products will be no higher but Joy Us garden receives a small commission. Thank you for helping us spread the word & make the world a more beautiful place!