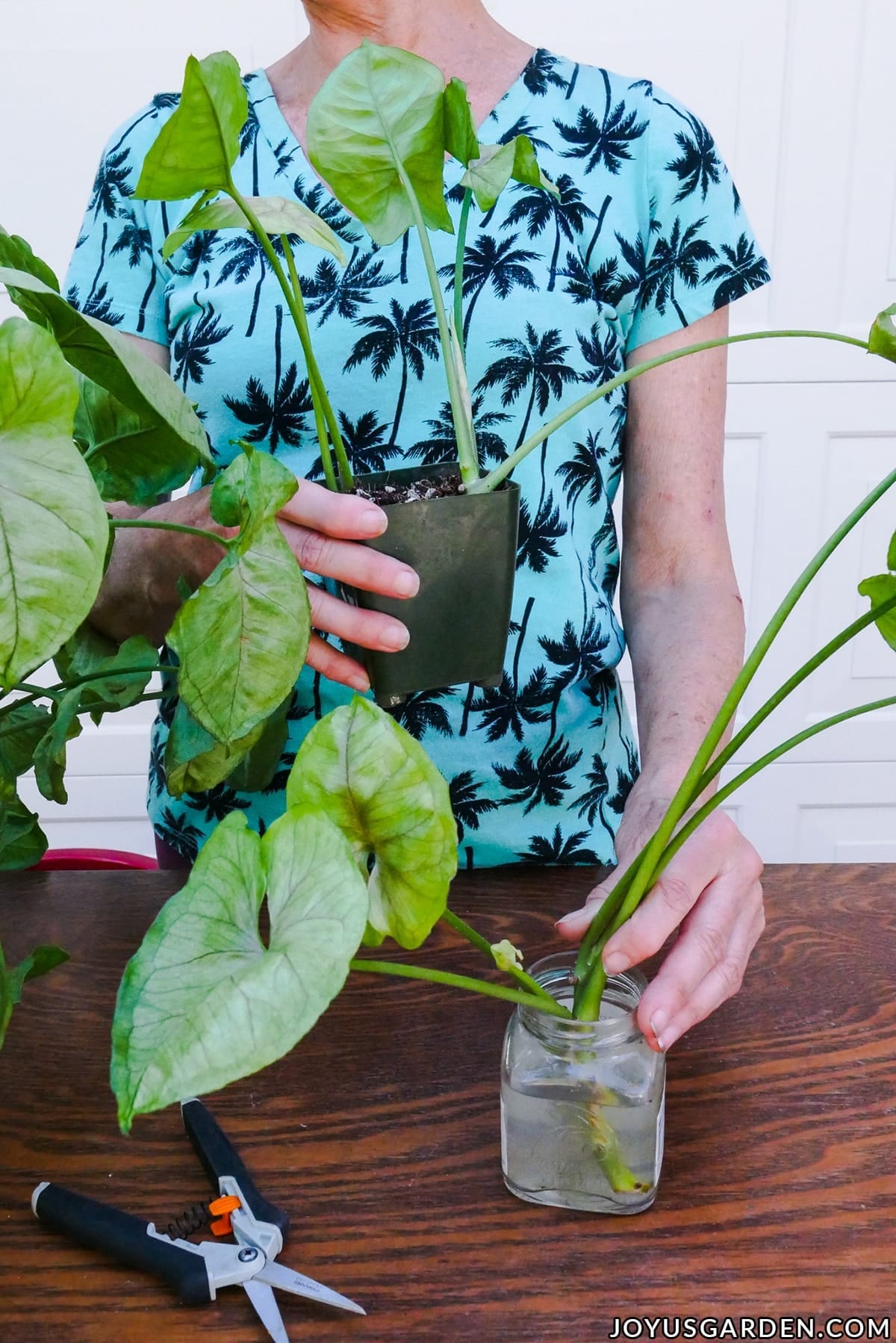 Syngoniums grow fast and at some point will need a bit of pruning. Arrowhead Plant propagation by stem cuttings is easy. Here are 2 simple ways to do it!
Arrowhead Plants grow fast, get dense, and at some point will need pruning. They have thick, soft stems that tend to get heavy with foliage at the ends as they age. I like to periodically trim the ends to keep them in shape and prevent too much flopping. Arrowhead Plant propagation is easy and there are 2 simple ways to do it by taking stem cuttings.
Arrowhead Plants are vines by nature so if you want them to stay more compact, you'll need to some pruning 2 or 3 times a year. As long as you're pruning, why not propagate a few of the cuttings?
When is a good time to propagate an Arrowhead Plant?
I did this at the end of April. Spring, summer & fall are good times to propagate because the roots grow faster in the warmer weather. I've propagated in winter by stem cuttings but it takes longer.
Some Of Our General Houseplant Guides For Your Reference:
See me propagating my Arrowhead Plant:
How to Propagate an Arrowhead Plant
Take the cuttings at the desired length just below a node. You want to make sure the stems are long enough so at least 2 or 3 nodes can go in the water or mix.
And, make sure your pruners are clean & sharp before taking the cuttings. You don't want to make jagged cuts.
Remove some bottom leaves from each stem. They'll most likely die anyway & you'll see new growth emerging throughout the rooting process.
Place the cuttings in water or mix. Make sure 2-3 nodes are covered by water or the mix.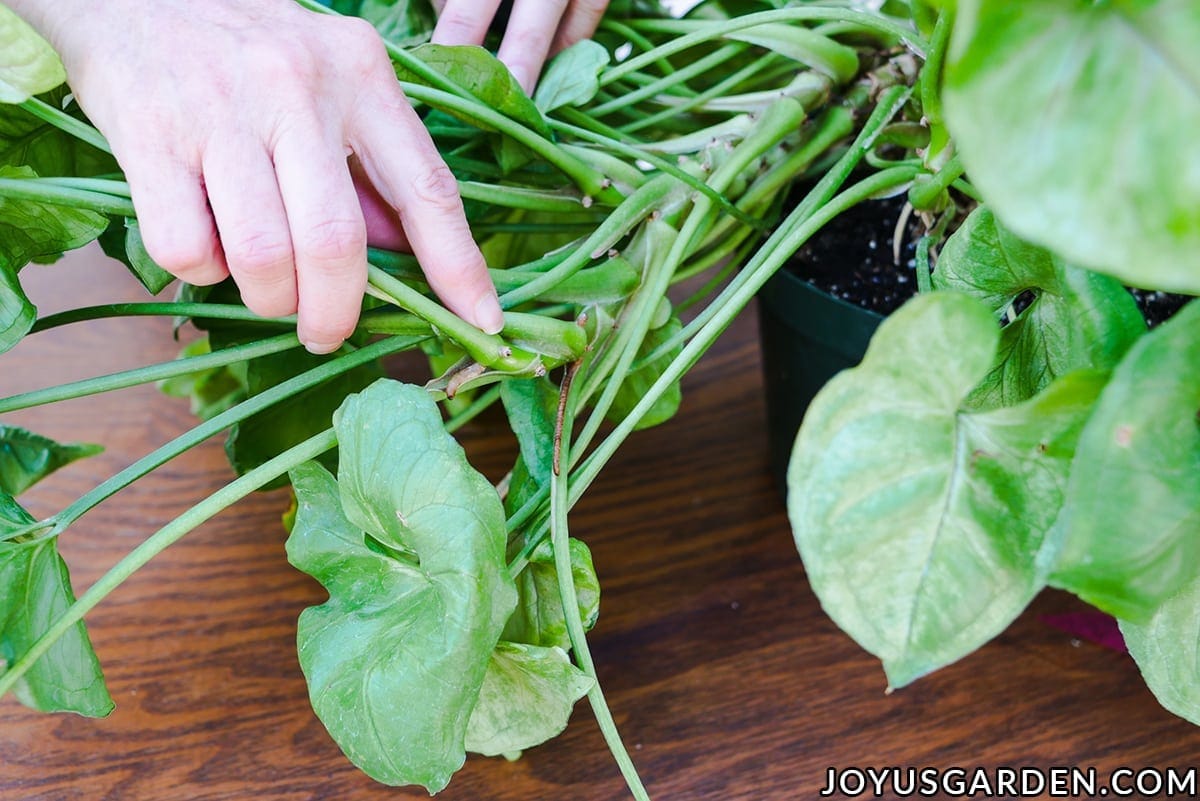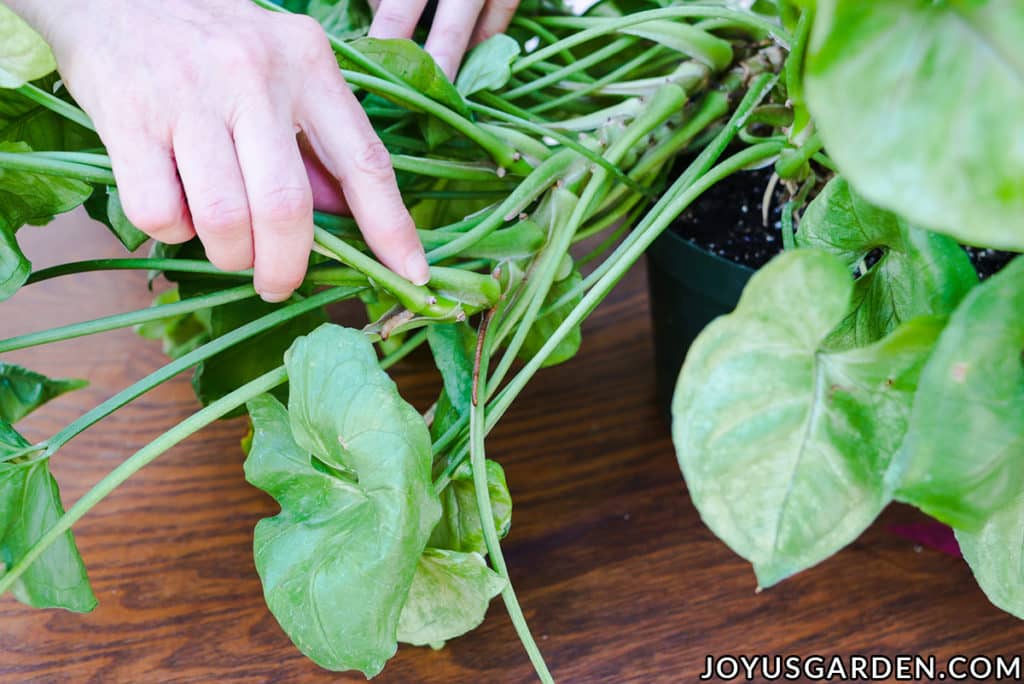 Things to know about Arrowhead Plant propagation
Arrowhead Plants (Syngonium podophyllums) come in an array of leaf variegations, colors & shapes. This propagation method applies to all varieties of them.
Arrowhead Plants grow along the ground & up other plants in their natural environments. Their roots are very strong & extensive.
How fast does an Arrowhead Plant propagate? Because of the above, the rooting process happens very quickly. The 1st roots started appearing after a week. It's now been about 2 weeks since the cuttings were put in water & roots have formed on both of the stems. When I gently pull on the cuttings in the succulent mix, I feel some resistance so they're rooting too.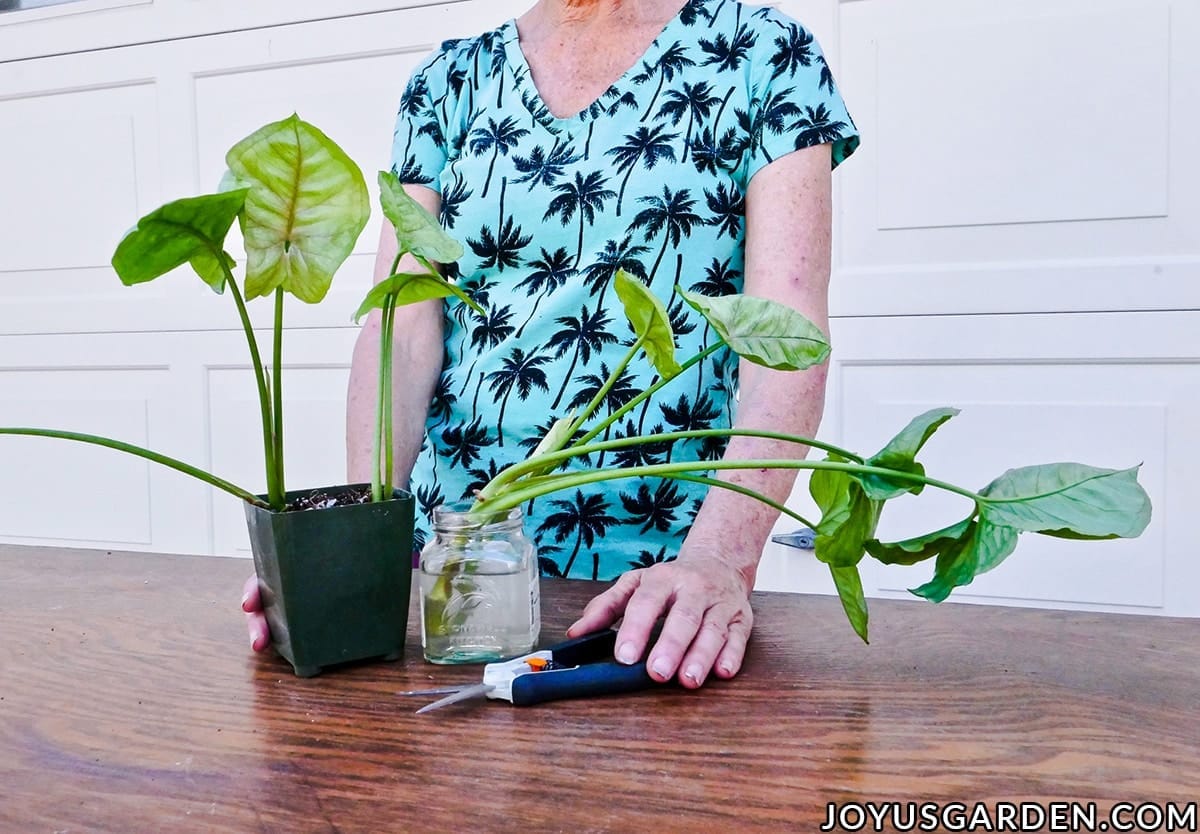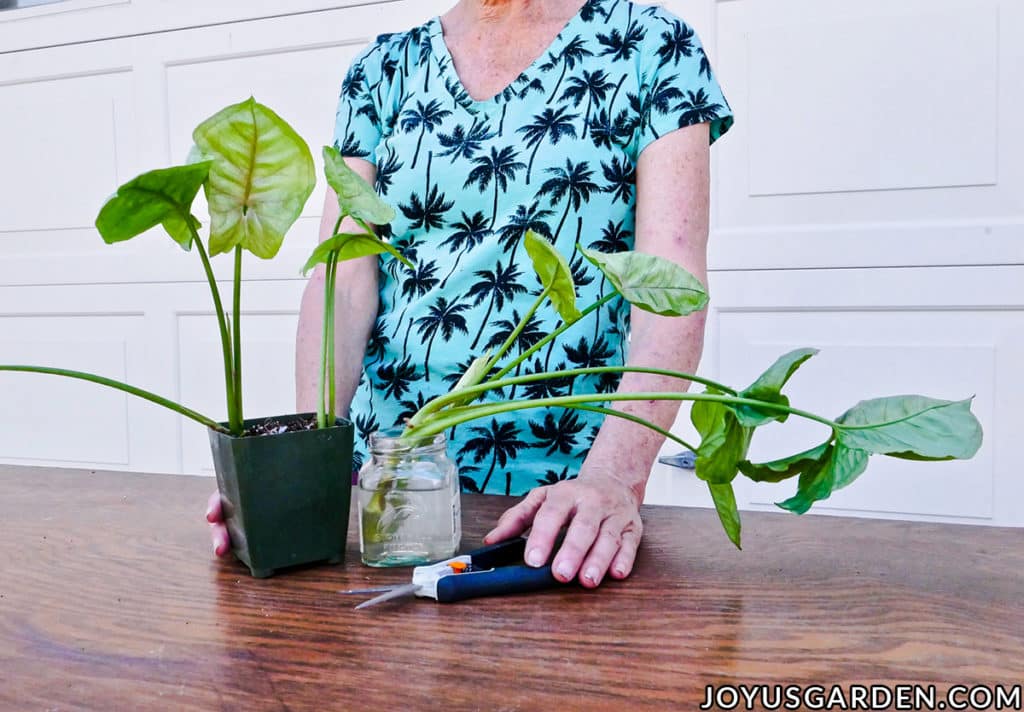 How long: the cuttings I took were 8 – 18″ from the bottom of the stems to the top of the tallest leaf. You can make them shorter or longer – whatever your preference is!
The mix: I'm rooting 2 of the cuttings in a grow pot in succulent & cactus mix. As I mentioned, the roots of an Arrowhead Plant are very strong so you could use potting soil with a bit of added pumice or perlite added in (if you have it).
You can also propagate an Arrowhead Plant by division. Just know that as the plant ages they get thick & a bit twisted so dividing 1 can be tricky.
When the cuttings are ready for planting: You don't have to wait too long. I could plant these cuttings at this point (pictured in the last photo) because the roots are so strong. I'm going to hang on for another week to plant them.
I like to propagate the cuttings in water not only because it's a snap, but mainly because I can see the progress (using a glass container helps too!).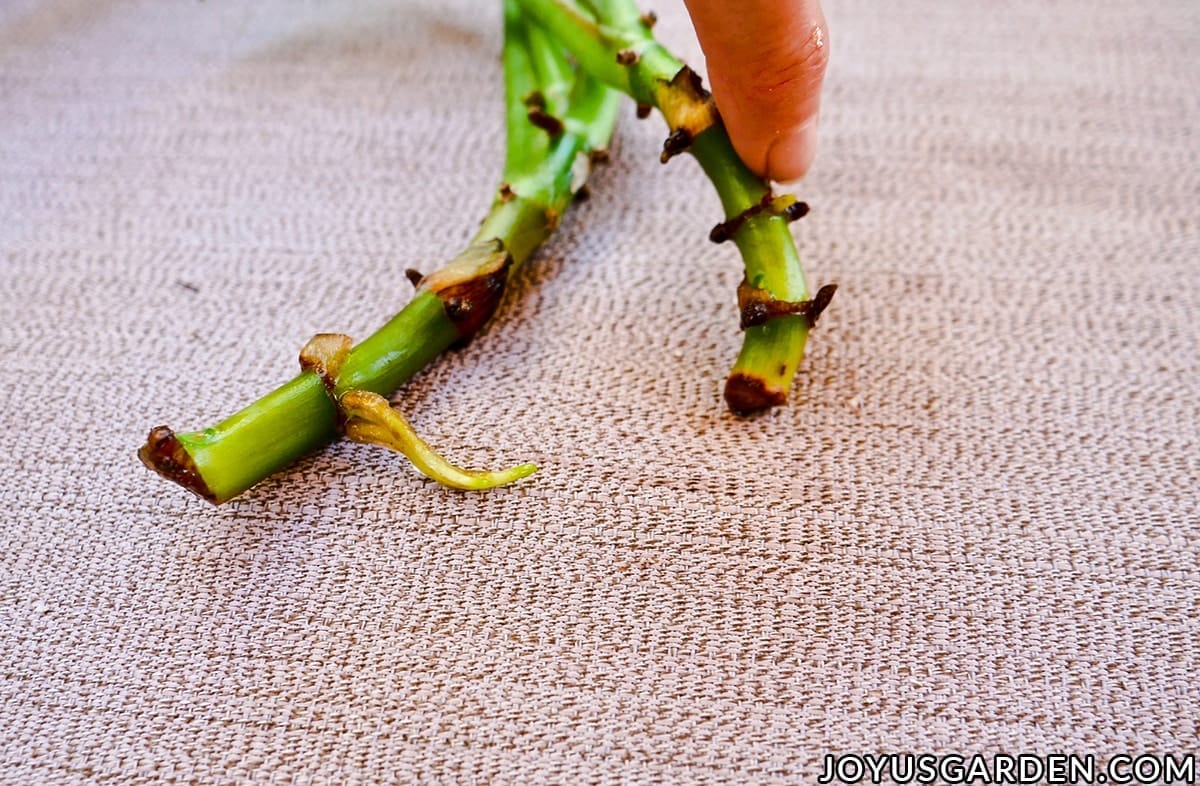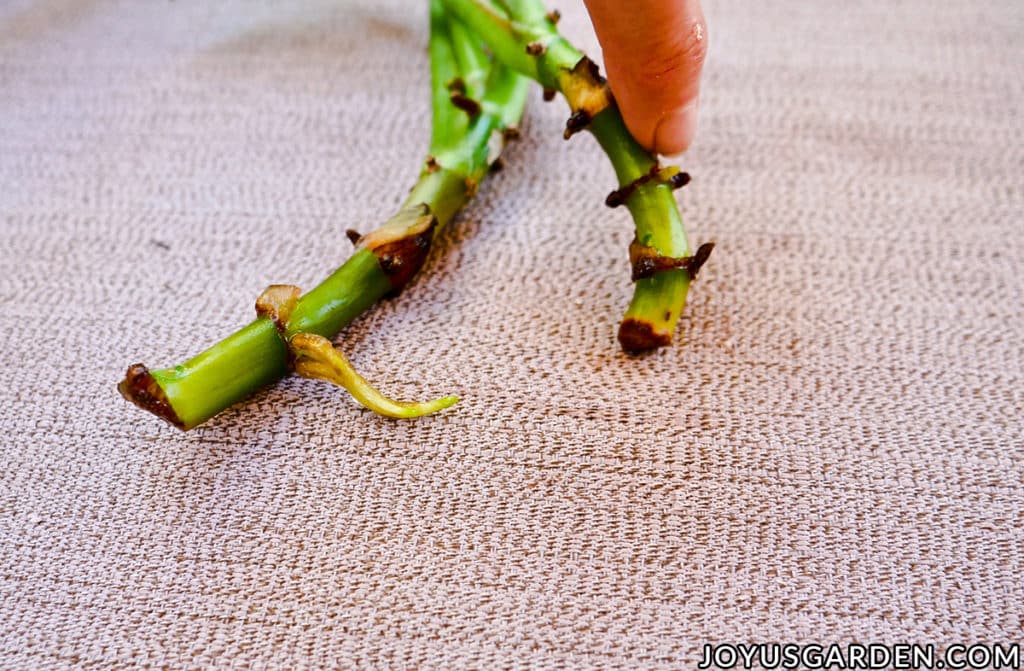 Where to put the cuttings
The best place for your cuttings is a bright location without any direct sun. I put mine on the window sill in the guest bedroom which is a north exposure. Lots of light comes in but no sun hits them.
How to maintain the cuttings
I change the water in the jar every 5-7 days to freshen & maintain the level. The cuttings in the succulent & cactus mix get watered every 4-5 days. You don't want the mix to dry out.
Once they're rooted to your satisfaction, you can put them in potting soil.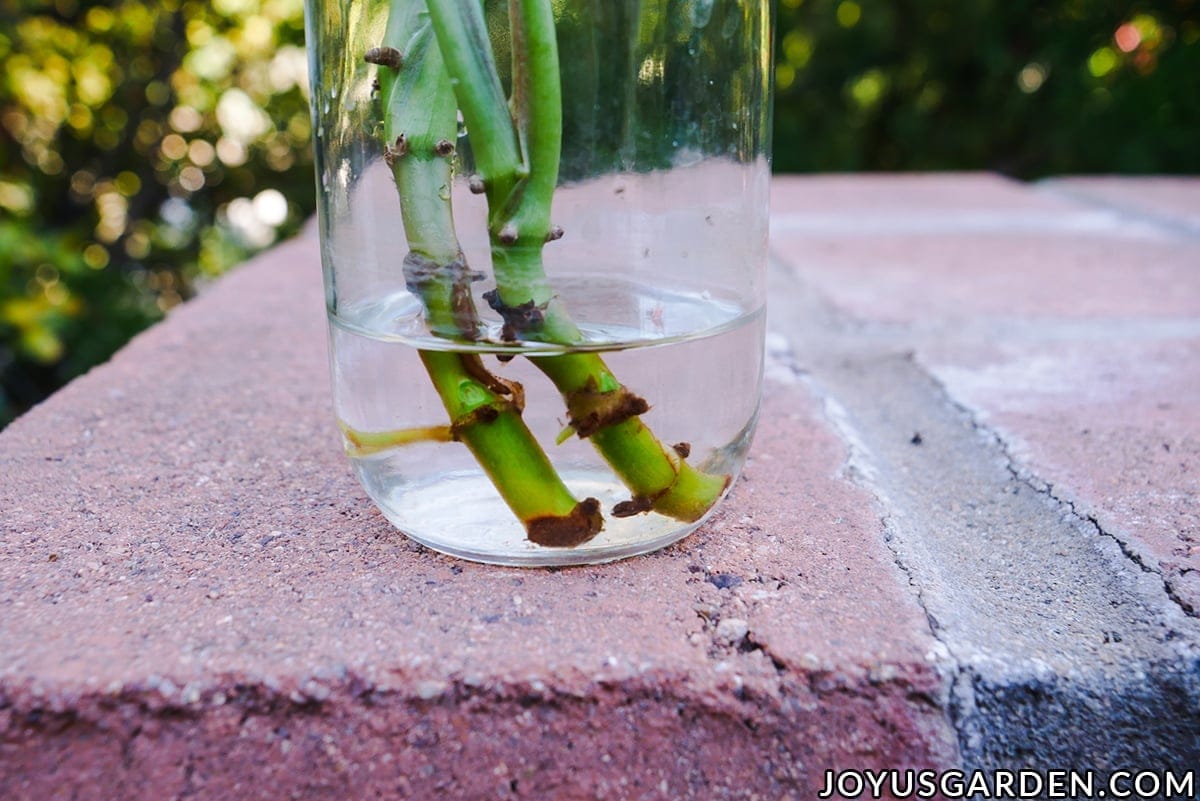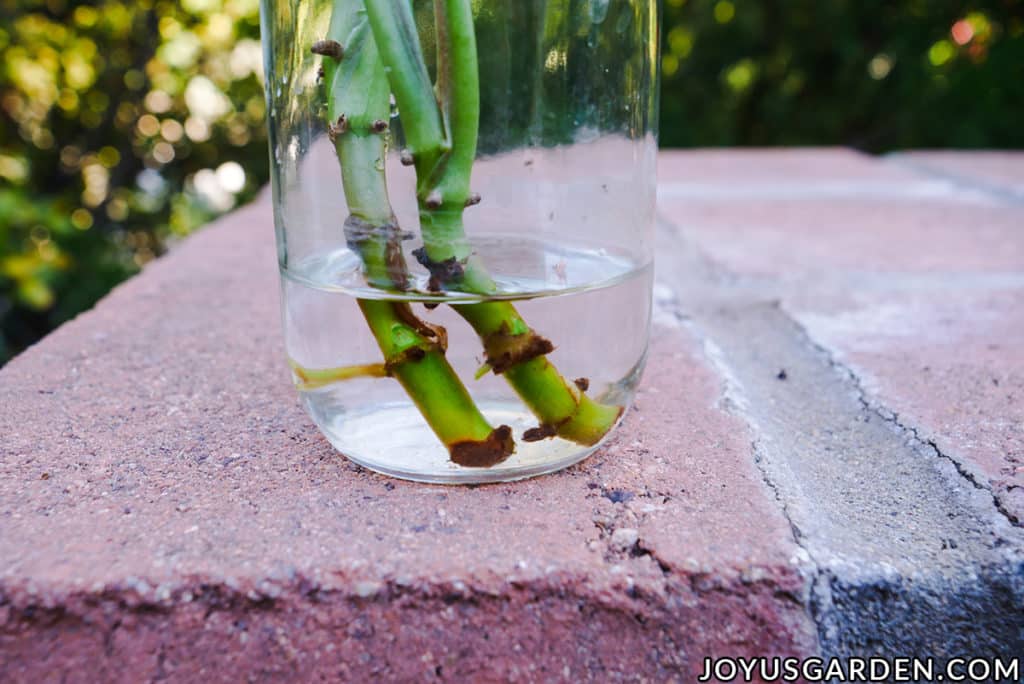 Planting the cuttings once they're rooted
Once the cuttings are rooted, you can plant them into a proportionately sized pot. My cuttings are on the smaller side so I'll put them all into a 4″ grow pot because a 6″ pot would be out of scale at this point.
I've done a post and video for you on repotting Arrowhead Plants which you'll find helpful when it comes time to plant your cuttings. It includes the soil mix I like to use for these beautiful plants.
You see how fast and easy propagating this plant is. You'll be giving away Arrowhead Plants in no time!
Happy gardening,

This post may contain affiliate links. You can read our policies here. Your cost for the products will be no higher but Joy Us garden receives a small commission. Thank you for helping us spread the word & make the world a more beautiful place!
About the Author
Latest Posts
Nell, the founder of Joy Us garden, was born into a gardening family and grew up in Connecticut's countryside. After living in Boston, New York, San Francisco, & Santa Barbara, she now calls the Arizona desert home. She studied horticulture & garden design, working in the field all her life. Nell is a gardener, designer, blogger, Youtube creator, & author. She's been gardening for a very long time & wants to share what she's learned with you.