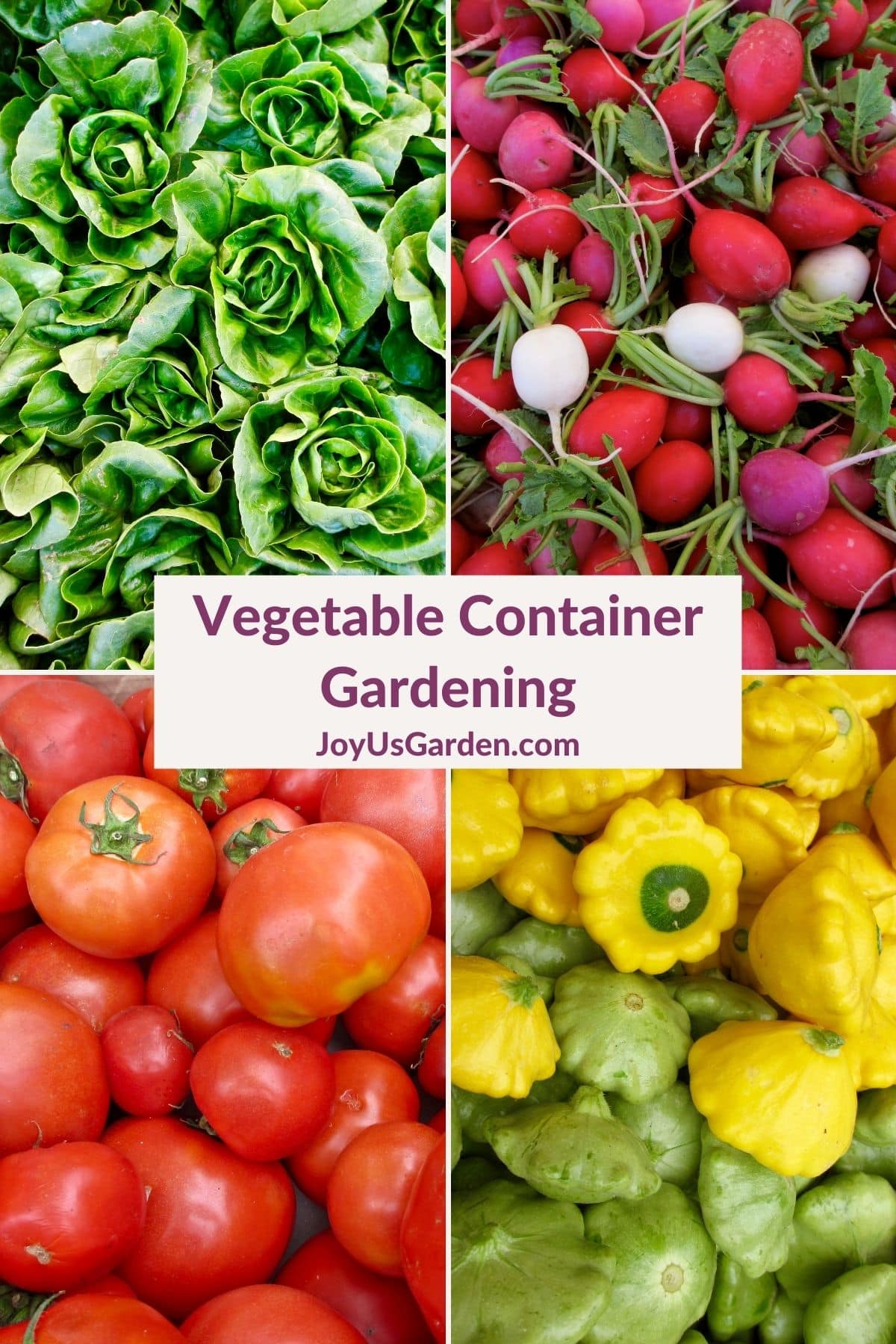 Container gardening is a great way to grow your own plants at home, even without a yard to do so. This is an informative beginner's guide to vegetable container gardening so you can get started this spring.
We have partnered with Renee's Garden to provide quality seeds, supplies, and resources.
Many of you live in apartments, condos, and other urban spaces without yards. But that doesn't mean you can't grow your own edible garden! A patio, a balcony, a deck, or even a rooftop will work well for gardening in pots.
Containers are a great option for small spaces. Other advantages are that you can move them around easily, and because they're raised off the ground, there isn't much bending over on your part.
So many wonderful vegetable varieties are on the market now that stay compact yet yield high quantities. Vegetable gardening in containers is fun and easy to do. If you grow yours from seed, it's cost-effective and rewarding.
Experience is your best gardening companion. Your first year of vegetable container gardening may be an experiment, and you may be a bit confused and unsure, but come the second or third year, you'll be a lot more comfortable with the whole process.
Vegetable Gardening in Containers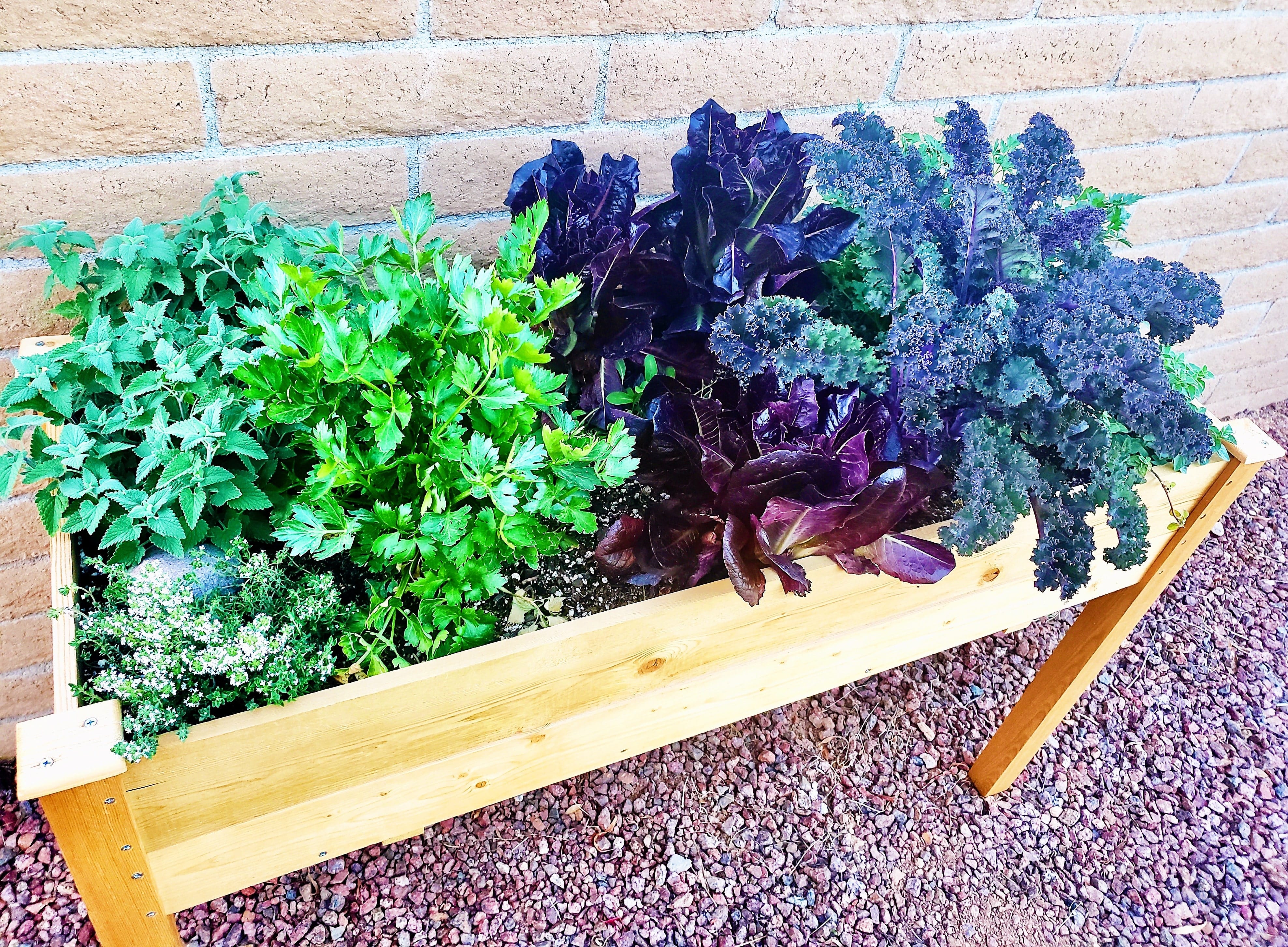 Vegetable container gardening is easy once you create an organic foundation for your plants. We are big proponents of organic gardening here at Joy Us garden, and we hope you are too.
Since your vegetables are growing in containers and not in the earth, they may require extra care and attention when it comes to maintenance.
Containers can only provide water and soil if the gardener is there to do it. The things to consider when creating a vegetable container garden are simple:
The right amount of sunlight
Containers that are large enough & allow adequate drainage
A good quality soil mix
Fertilizer
Adequate water
Regarding maintenance, the good news is that there tend to be fewer weeds to pull in containers than in the ground. However, the vegetable plants grown in pots will most likely need watering more often.
Here are a few other posts you'll find useful: How To Sharpen Garden Shears: Cleaning & Sharpening Pruning Tools, Organic Gardening At Home, Herbs For Full Sun, & Organic Flower Gardening.
1.) Direct Sun (Location is Key!)
This is important for vegetable container gardening. Most vegetables require full sun, meaning they should see about 6 hours of sunlight daily. Check your preferred location first and make sure it's getting direct sunlight—no shade.
In other words, monitor the location every 30 minutes on a sunny day. Make sure there is a 6-hour window where the sun shines directly on the area where you want to grow your garden.
Depending on your location, reflected heat can be a problem regarding sunburn. Nell lives in the Sonoran Desert, so she's experienced this firsthand!
We recommend starting select seeds inside first in a bright location. This gives them a good start; you can move them outside once they've grown. You can easily start some types of vegetables directly in the container.
Starting your plants indoors first gives you a head start once the weather warms up. Renee's Garden has plenty of information on its website to help you with when to plant them outside, the exposure, days to germination, and days to harvest. Seed packets are a wealth of information!
We want to share a DIY Seed Starting Mix Recipe with you.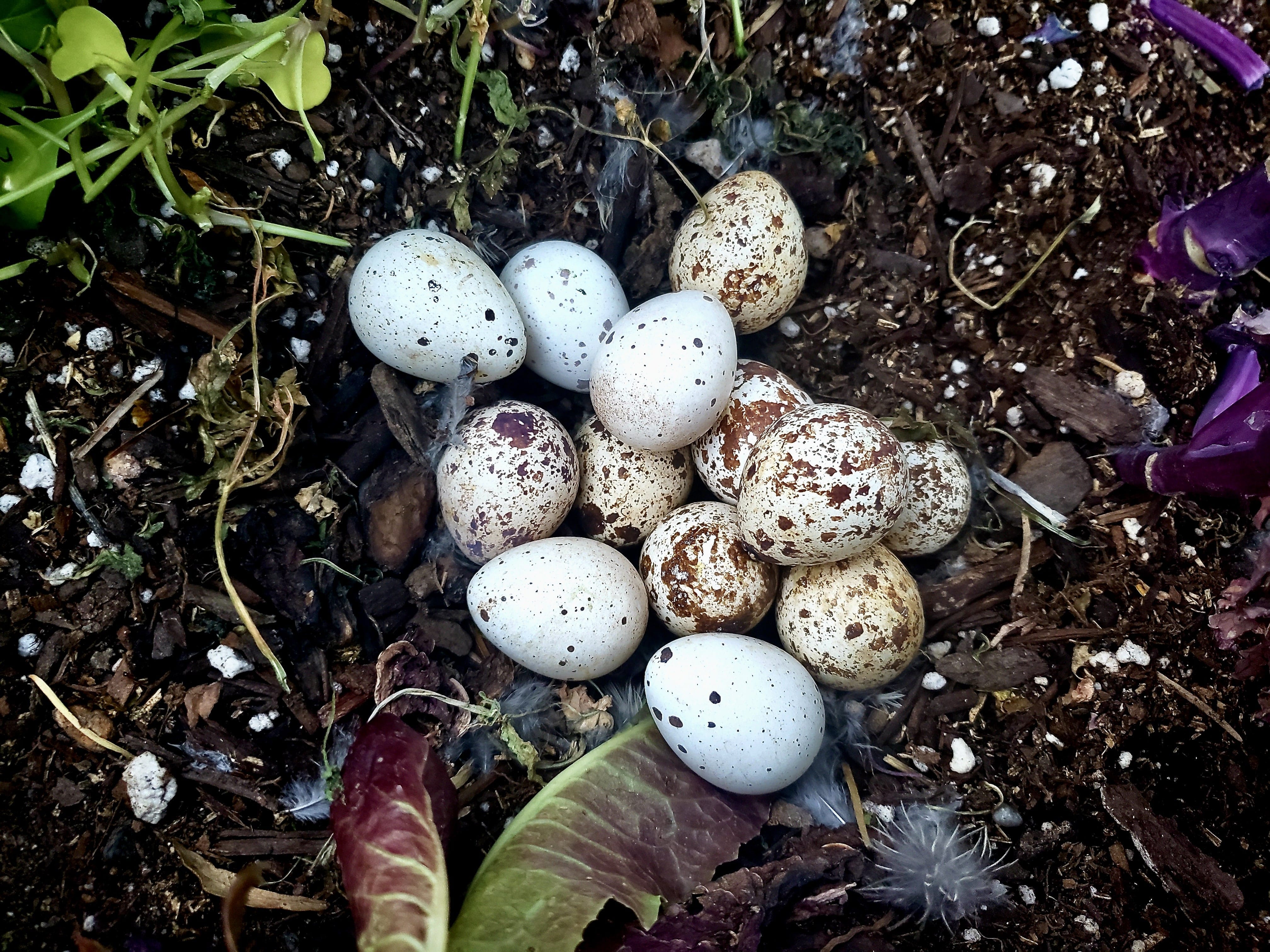 2.) Container Selection
Choosing the right container is an important factor. We recommend using ceramic, terra cotta, wood, or plastic pots. Here are the key elements to look for: a large enough container made with the right material and one with drainage holes on the bottom of the container that yield good drainage.
What size pots you choose depends on the number and types of plants going in the pots.
The bigger, the better is usually the case. Large containers are better for growing your food as they hold more soil, give you more options for growing things, and require less frequent watering. If you grow smaller plants like lettuce, spinach, or arugula, smaller pots that are low and wide are fine, like bowls and window boxes.
Avoid metal and dark colors because they can get very hot under direct sunlight, which would heat-stress your vegetables. This is true for climates with long, hot summers.
Make sure the pots you choose are big enough because the roots need room to grow as the plant grows. Nell has seen potatoes grown in trash cans and tomatoes in half-wine barrels and 15-gallon plastic nursery pots.
Using pot feet and saucers are good if your vegetable garden is on a patio, deck, or balcony.
If a plant needs support (like a small trellis or grow cage), put it when planting. Otherwise, it will be harder to do so when the plant is larger.
Looking for more on gardening? Here are some posts you may find helpful: How to Garden on a Budget, Tips For Growing Mojito Mint.
3) Soil Mix and Fertilizer/Feeding
Use good quality, organic potting mix suited for containers and vegetables. Don't use garden soil because it's way too heavy. And grabbing soil from the ground can increase the chances of weeds showing up in your containers.
The mix needs good drainage, and the container needs at least one drain hole to drain the excess water. Otherwise, the roots may be subject to rot.
Vegetables have a short and very productive growing season. The plants need a lot of energy to grow and yield their bounty. Most are heavy feeders and are best for regular fertilizing and feeding. How much and how often depends on the fertilizer you use.
Many great organic vegetable fertilizers, like the one above, are on the market, as well as slow-release or water-soluble fertilizers.
A layer of compost and worm compost on the top nourish. It also helps hold the moisture in. How much you use depends on the pot size. Nell generally uses a 1/4-1/2″ layer of worm compost and a 2-3″ layer of compost on top of that.
A good quality soil mix is the foundation for your garden, and this, along with amendments, ensures your vegetable and herb plants will grow successfully.
4) Watering
Checking your vegetable container garden should be part of your everyday routine. This will be especially true in warmer summer months and when your plants are just starting. Daily watering may be necessary.
Depending on the container size and type and your temps, you might not need to water them daily, but you should at least monitor the soil. You want to keep the soil evenly moist because vegetables don't like to dry out.
Once your vegetables are established, and their roots have grown and developed, it's best to water them deeply and less often. As mentioned in "soil mix," a good layer of rich compost will help to retain moisture.
You need the right tool for the job. Here are our Essential Gardening Tools
5 Good Things to Know Before Getting Started
1) Gardening is all about experimentation and growing what you love. If something doesn't work for you one year, try something else next year.
Nell has been gardening for over fifty years and is still learning. So, have fun with the whole vegetable container gardening process and enjoy the bounty!
2) It may help you to keep a simple record (like a diary) of what you grow, including what does well and what you like. This way, you know what you want to grow again next season.
Many varieties of vegetables and herbs are being introduced every year, so be sure to leave space or make space for something new!
3) Do a little research about what does well in your area. If you have a reputable nursery nearby, see what they recommend. It's best to avoid the big box stores if you're starting.
Your local agricultural extension office will be another source of info. Common vegetables and their planting dates are on the Almanac's planting calendar.
4) If you love herbs and have larger containers, combining an herb plant or 2 with your veggies is fine. Herbs are great companion plants for vegetables.
5) If you have an area with part shade, the leafy vegetables, such as lettuce, arugula, etc., are more tolerant of lower light conditions and don't need as much sun as plants like tomatoes and green beans. Herbs like mint and cilantro will work, too, if you have partial shade.
Seed Selection For Vegetable Container Gardening
If you're new to vegetable gardening and want to try growing from seed, choose any of the below. These vegetables stay smaller and are easy to grow in containers and maintain.
Your seed packet will come with instructions and provide the days to germination (the number of days it'll take for seedlings to appear) and days to harvest (the number of days before ripening).
These snap peas were created just for container gardening. Peas grown fresh from the vine make the best snacks and additions to salads and can complement many recipes like vegetable soup!
These fast-growing little powerhouses are soon covered with multiple cascading sprays of bite-size fruits that can only be described as truly delicious little sweet morsels of goodness. We all need a tomato plant or two in our garden!
Think of the last time you ordered a salad at a restaurant. It probably contained a variety of salad greens in different shapes, colors, and textures. You can easily have this at home. These seeds will grow quickly, so you can expect to gather second or even third cuttings.
Look at these beautiful leafy greens. Spinach is a great addition to a vegetable garden.
Astia is a French bush zucchini variety developed for container growing and planting in small space gardens. This green zucchini has excellent flavor and are delicious whether roasted, sautéed, steamed, or baked.
Bush Slicer offers juicy slicing cucumbers in record time on compact plants, perfect for your container gardens. Enjoy this space-saving cucumber in delicious salads from your patio this season.
These cute, perfectly formed little butterhead rosettes have softly folded leaves, a lovely buttery texture, and an outstanding sweet taste. These are ideal for growing in containers.
The kaleidoscope colors of roots, stems, and leaves make a visually stunning mix. They all have a fine sweet flavor. Enjoy as baby beets, and then let the rest size up.
These bush beans are both ornamental and easy to harvest over a long period for garden-to-table eating. They are perfect for patio pots and small space gardens where you don't have room for pole beans.
Can't make up your mind because you're confused by all the choices?
This seed collection is perfect, considering the purpose of this post. The packet includes five individual seed packets, including; tomatoes, carrots, lettuce, chard, and basil. Perfect for container vegetable gardening in small spaces.
Herbs go great with vegetables. Here are a few we love: French Thyme / Basil Trio / Sweet Curly Parsley / French Rosemary / Italian Oregano / Garlic Chives
If you're a beginning gardener, we hope this container vegetable gardening post will help you.
Experience is a gardener's best friend. Your first year of vegetable container gardening may be an experiment, but come the second or third year, you'll be an old pro and a lot more comfortable with the whole process. Growing your vegetables is so rewarding!
Note: This post was originally published on 3/20/2021. It was updated on 4/23/2022 with more info & new images & then again on 4/25/2023.
Happy Gardening,
Nell, Miranda, & Cassie
This post may contain affiliate links. You can read our policies here. Your cost for the products will be no higher but Joy Us garden receives a small commission. Thank you for helping us spread the word & make the world a more beautiful place!