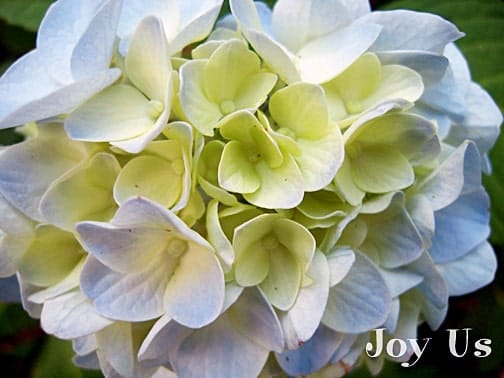 For the first post of 2012 I'm going to share with you something I've done many times & how I do it – pruning Hydrangeas. And because a freshly pruned Hydrangea is not that visually appealing I'm including many pictures of Hydrangeas in bloom. I will share the names of the ones I know but quite honestly I'm not sure about a few of them because they were already at clients' houses when I started taking care of them. From my experience, due to their acidic/alkaline sensitivity, Hydrangeas can change color over the years. First the pruning pictures in steps and then the pretties.
The two Hydrangeas before pruning – their leaves are looking sad because it is the end of the season & they are about to go deciduous.
The initial pruning with some cut away to evaluate how much to take out. In general, the more stems you take out, the bigger the flowers will be. Many stems cut down & not thinned out will produce more flowers but they will be smaller.
I remove the "fresher" looking stems (you'll see they are variegated) because they have not flowered.
Those non-blooming stems close up.
Here's the end result of the pruning. Because they are side by side, I want a little height difference between them. One I pruned to 3′ and the other to 2′. As you can see, quite a bit has been thinned out.
A pile of trimmings ready to head to green waste.
The Hydrangeas shown above which are in the Bay Area were pruned in early December. One of my clients in San Francisco, whose garden I took on one winter, had a whole row of them along her side fence. I pruned those in late February and they subsequently bloomed later but were beautiful nonetheless.
Enough pictures of sticks – on to the pretties!
Blue Mophead – Westbrook, CT
Two colors on the same Mophead – Westbrook, CT
Blue Mophead – Woodbury, CT
Oakleaf Hydrangea – Westbrook, CT
Oakleaf Hydrangea – Litchfield, CT
Blue Lacecap – Litchfield, CT
Glowing Embers – Pacifica, CA
Pink Mophead – Pacifica, CA
Endless Summer – Pacifica, CA Click here to see our previous blog post on "Endless Summer Blushing Bride"
Shooting Star – Half Moon Bay, CA
Buttons & Bows – Pacifica, CA
Buttons & Bows – Pacifica, CA
I love this color – They are sold in the floral trade – Half Moon Bay, CA
Pink Mophead – Pacifica, CA
A pile of Hydrangea flowers after a pruning – Menlo Park, CA
Hydrangeas … a most lovely way to start 2012. Don't tell Madonna!
Let Us Inspire You. Just Sign Up For Our Free Newsletter And You'll Get: