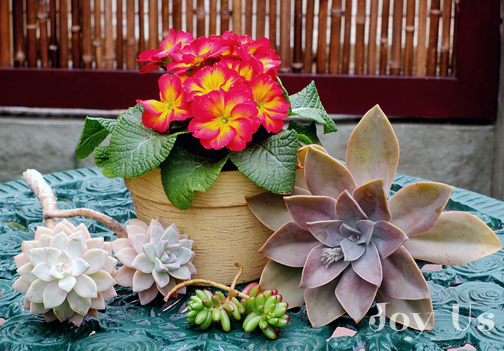 Here at Garden Gluttony, we believe that reuse and recycle are a way of life – even in the garden.  I have a multitude of Succulents which I move around at whim.  They are the ultimate in recycling!  I've taken numerous cuttings which I've given away or have found a home for in another part of the garden. See here how containers as well as plants have been shuffled around in the garden.  Even the Terra Cotta pot you see below is being reused – it came with the house and now sits right outside the door of the Joy Us office.  It was time for a makeover so last sunday the Garden Glutton got busy!
 The pot before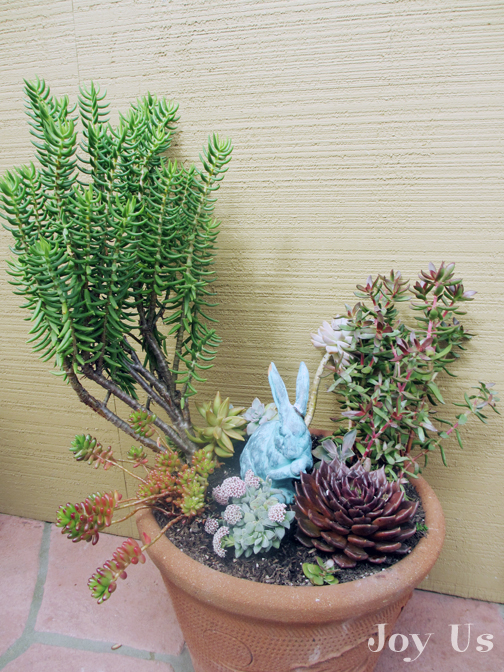 Looking down on it so you can see the cuttings in the back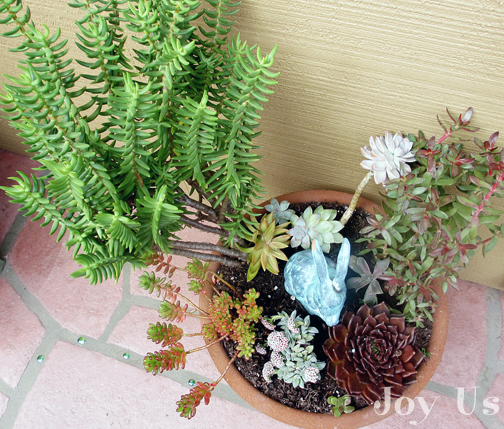 The Succulents in the pot include:  Echeveria "Black Prince", Crassula "Morgan's Beauty", Graptopetalum paraguayense, Sedum x rubrotinctum, Crassula plataphylla, Crassula tetragona, Crassula argentea compacta and Sedum nussbaumerianum … now try to say that 10 times fast!
Here's how it all went down:
All but 1 plant, the Crassula tetragona, was taken out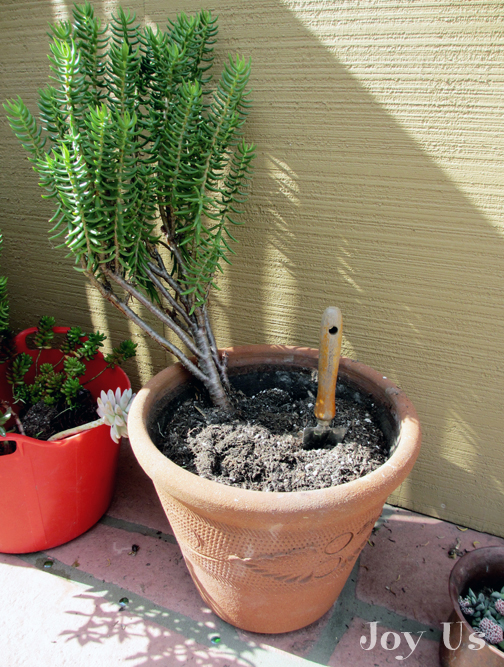 These are the plants which will be replanted or moved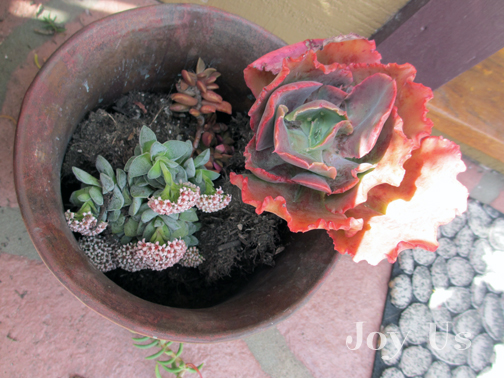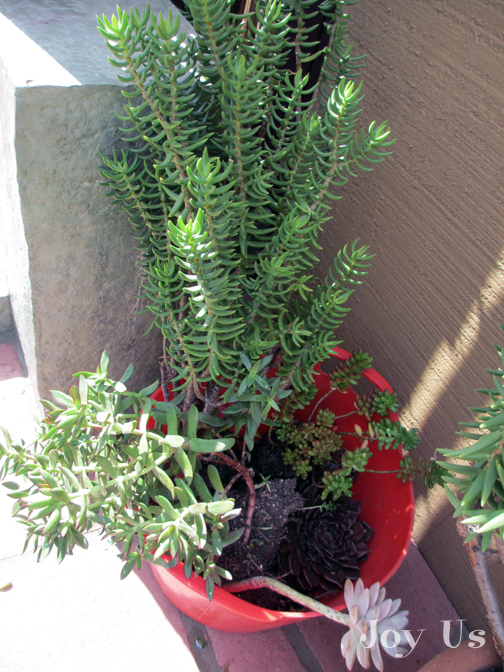 BunBun, sporting a broken & chipped ear, with the cuttings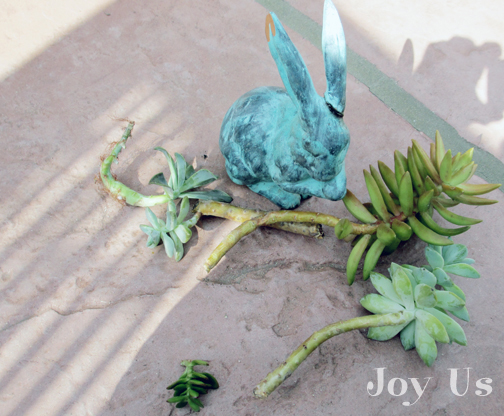 The soil is loosened & a thin layer of worm compost added in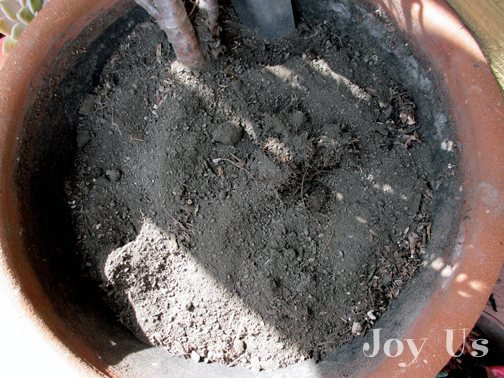 Here's where the cuttings came from:
Graptopetalum paraguayense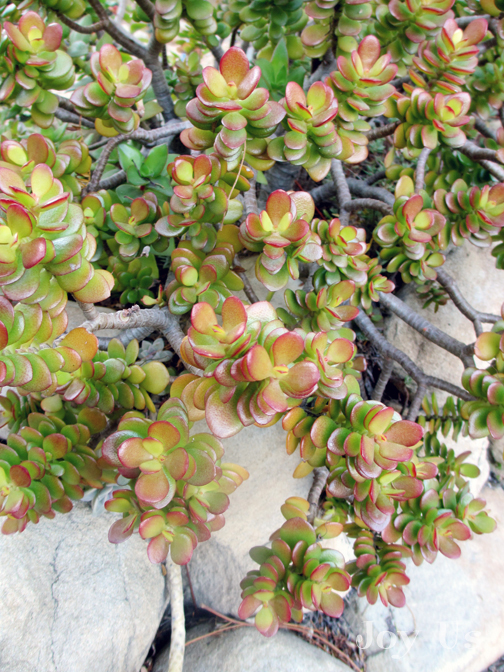 The other Crassula tetragona is now happily planted in the back yard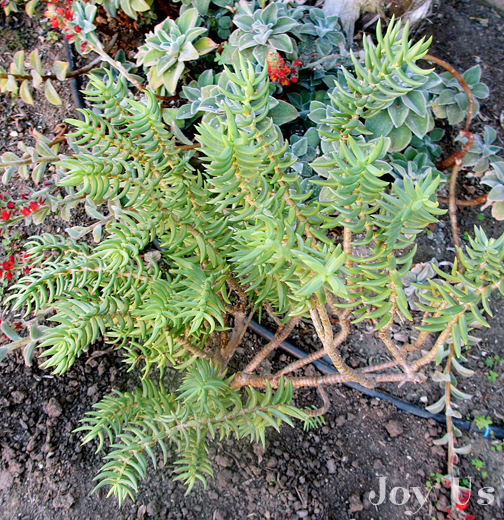 The Echeveria & Anacampseros awaiting to be planted where the Sanseveria rotted out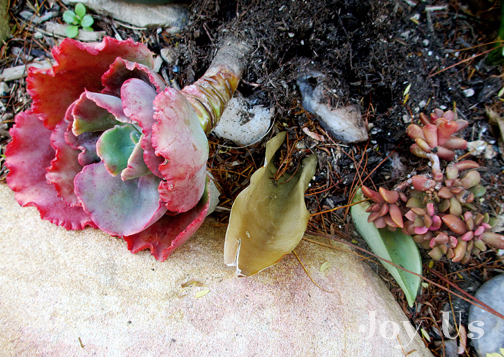 I let Succulents settle in dry for 5-7 days and then water them.  In a few weeks, I'll give them a drink of Moo Poo Tea  –  it's a great way to give your Succulents a gentle snd natural boost a few times a year.   And, we had the utmost pleasure last fall to meet the "Moo Poo Mogul" herself, Annie Haven, right on her very ranch.
 Moo Poo Tea "brewing" in the sunshine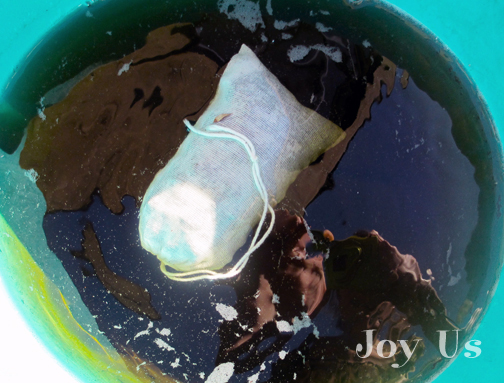 From our Joy Us garden to yours …. Have fun recycling!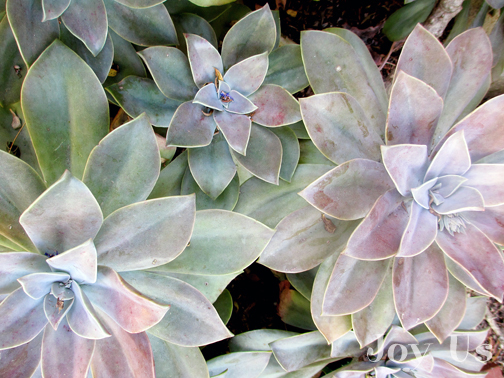 Let Us Inspire You. Just Sign Up For Our Free Newsletter And You'll Get:
*  Tips you can use in the garden
*   Ideas for crafting and DIY
*   Promotions on our merchandise