If you want houseplants that are as tough as can be, then Snake Plants are for you. They're virtually indestructible, unless you of course have a heavy hand with the watering or place them in a hot, sunny window. These plants seem to thrive on the dry air in our homes, as well as neglect. The more you ignore them, the better they do.
There are many different Sansevieria species on the market with more being introduced each year. Sansevieria trifasciata "laurentii", with the yellow leaf margins, is the one that I've seen the most often over the years. I have one growing in my garden which looks quite attractive in a terra cotta pot.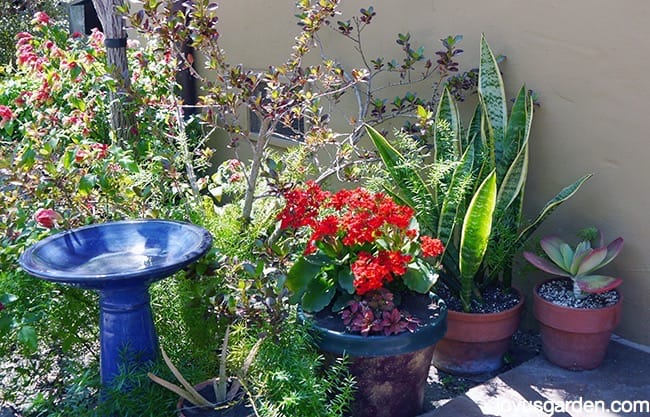 My "laurentii" enjoys this spot in the garden with filtered light & afternoon shade.
You'll see Snake Plants both in a greenhouse & in my garden:
My Snake Plants all live outdoors and I have them growing in various spots in the garden. I love their spiky leaves and modern, edgy feel. They are definitely not soft, "touchy feely" plants and may not be the look for everyone. However, if you travel a lot or just don't want to fuss over a houseplant, then you should definitely consider these.
Here are a few care tips for you:
Water: Easy does it. A thorough watering every 2-4 weeks (depending on how warm your home is) is enough.
Light: They prefer medium light but will also tolerate low light & high light. Be sure to keep them out of direct sun.
Pests: Snake Plants are most susceptible to mealybugs followed by spider mites.
This is one of the plants in our book Keep Your Houseplants Alive, so be sure to check it out for more info on Snake Plants as well as 26 other houseplants.
Because they don't mind dry air and low light, they are excellent office plants. Interestingly enough, Snake Plants do well in bathrooms where the humidity tends to be much higher. Versatile and easy care – a winning combo in my book.
Another thing which might interest you about Snake Plants, whose other common names are Mother-In-Law Tongue and Devil's Tongue, is that they are work horses when it comes to air purification. They filter out formaldehyde and nitrogen oxide around them. Now this is a plant on a mission!