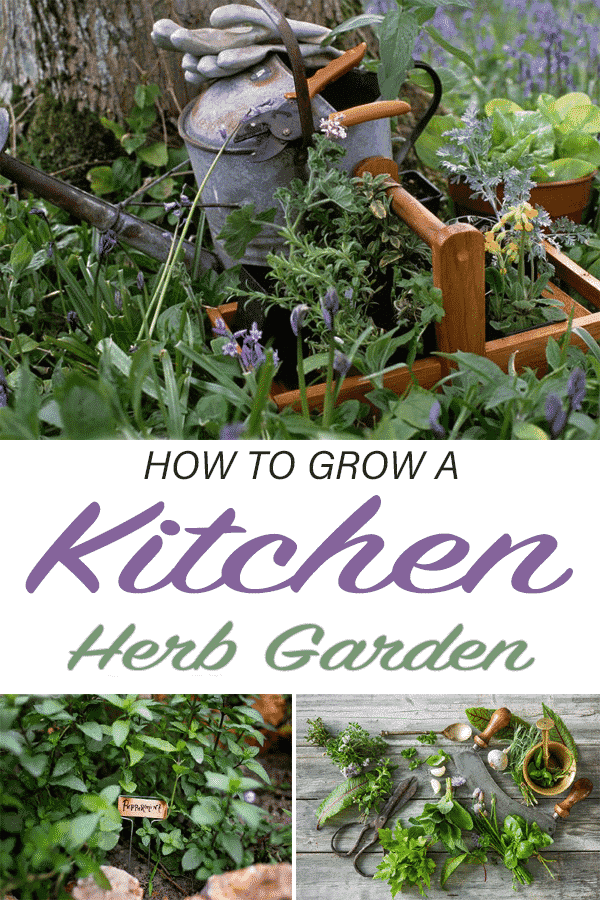 If you've got a balcony, terrace, patio, or porch in your urban home, you can grow food there, in containers. Moreover, even if you're living in one of the busiest cities and have a small flat or condo with access to a window that receives at least 4-5 hours of partial sunlight daily, you can grow something. Read this article to learn how to grow a kitchen herb garden and best herbs you can grow as a beginner.
What Should You Grow in a Kitchen Herb Garden?
You can grow small and leafy vegetables as well, but if you're a beginner and space is less, it's better to start with HERBS. Because herbs are easy to grow, and with just a few fresh sprigs, you can flavor your food.
What you should grow depends on how much sunlight your window receives. If it's shady or partially shady (less than 4-6 hours of sunlight), plant shade-loving herbs like mint, parsley, golden oregano, and chives. For part sun or full sun (more than 6 hours of sun), grow cilantro, thyme, basil, oregano, and rosemary.
Mint
From seeding to maturity, growing mint should take you roughly about 3 months or 90 days. Mint achieves full growth at the height of around 1 to 2 feet.
Parsley
Parsley is another herb that matures in about 70 to 90 days. It is a biennial, which means it lives for up to 2 years before flowering and producing seeds. However, for kitchen use, you can start harvesting after day 90.
Golden Oregano
Golden oregano is a perennial herb, which means it can recurringly regrow until it faces conditions adverse to its growth. It can be harvested after 90 days from germination and requires very little upkeep. It is pretty enough to be an ornamental herb too!
Chives
Chives are a perennial member of the onion family that reach maturity only 60 days from seeding. Although chives thrive in full sun, it can also grow in partial shade.
Cilantro
Cilantro leaves can be harvested any time after the plant is 6 to 8 inches tall, reaching maturity in 60 to 75 days after planting.
Thyme
Thyme germination is slow, requiring 14 to 28 days to germinate. The plant matures within 90-100 days. Though it requires very little upkeep and water, the designated area for thyme needs to be carefully weeded as it does not do well with competing plants.
Basil
Basil matures between 50-75 days of planting, after which it is harvest-ready. The plant will start developing six pairs of leaves per branch, which means the plant is matured.
Rosemary
Rosemary matures in 80-100 days after planting from stem tips. After slow germination (about 25 days), the growth picks up speed. Rosemary can grow up to 3 feet tall and requires nominal upkeep.
How to Grow a Kitchen Herb Garden
Pick a Location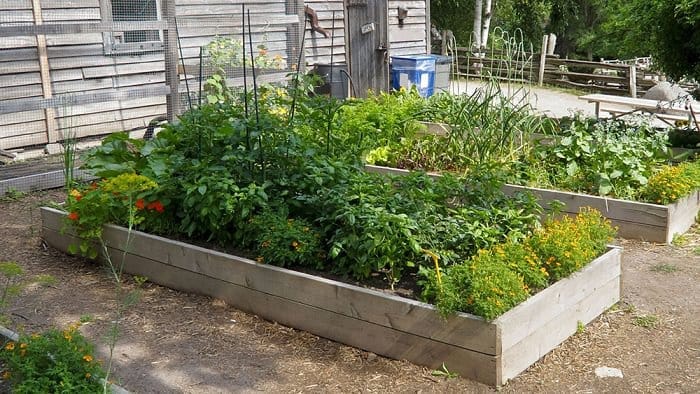 It's okay if your kitchen garden is more than a few steps away from your kitchen. What's more important is that it gets the required 6 hours of sunlight or more per day. If you have extra space near a kitchen window, you can consider planting the herbs in containers kept in front of the window in the maximum sun.
Preparation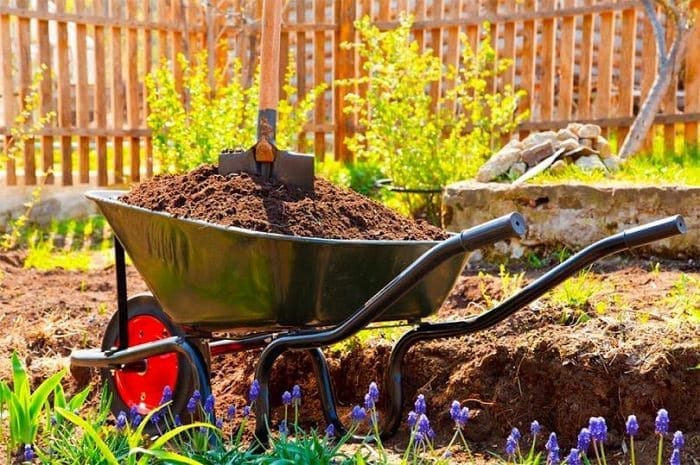 Make sure the soil in the designated area (or containers) is airy and loose enough. If the soil is clayey, consider adding some peat moss, coarse sand, and organic compost to give it the nutrients that your plants would need. Plant the herbs in the early morning or late afternoon to prevent them from wilting in the midday sun.
Choosing the Right Containers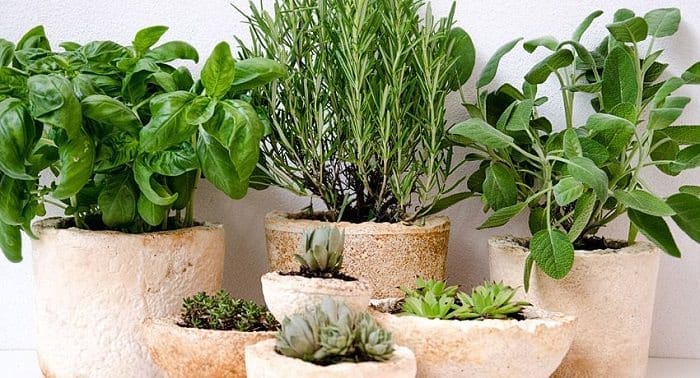 Containers can be stand-alone or designed to be put in groups together. Look for pots with well-spaced drainage holes, or your roots might start to rot. Herbs have small root systems, so you don't necessarily need a big container for them. A herb garden can do well with a few small containers assembled close together.
Start Small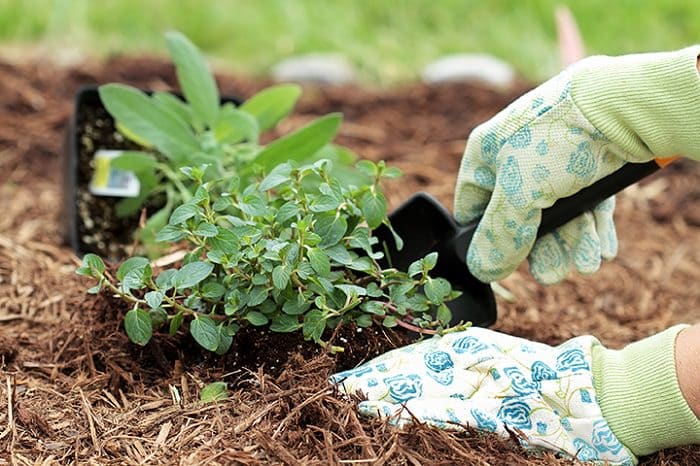 Don't plant a lot of plants in excitement. Start small, with any 3 herbs. Take care of them, experiment, and experience their requirements. As you get comfortable with your garden, start planting more and more, keeping in mind that the plants need to be spaced at least a foot and a half apart to allow them to spread out and grow optimally.
Label the Herbs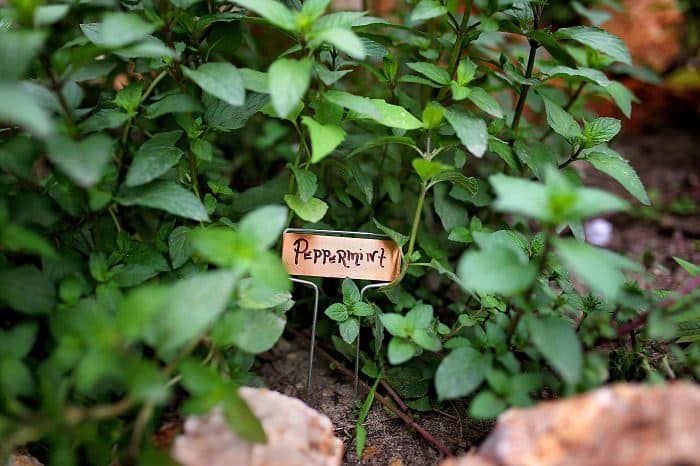 As you keep adding more and more herbs to your garden, label the plants along with the date of planting. This helps in planning out harvest schedules and staying on top of your gardening game. Further, it helps in easy identification when you need to use the herbs in cooking.
Consistency, Patience, and TLC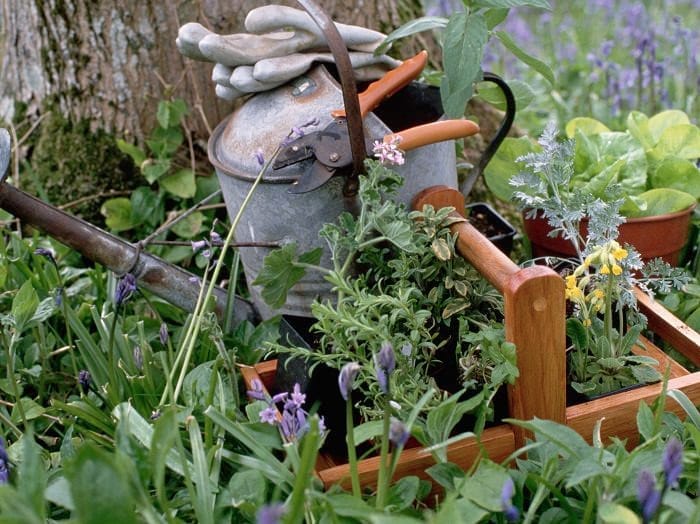 Your plants deserve some tender, loving care. You can add accents of color to your herb garden with flowering plants like zinnias and salvia. Water the new transplants religiously. Once they've taken root, make sure that the herbs in your garden get up to an inch of water every week throughout the growing season.
Harvest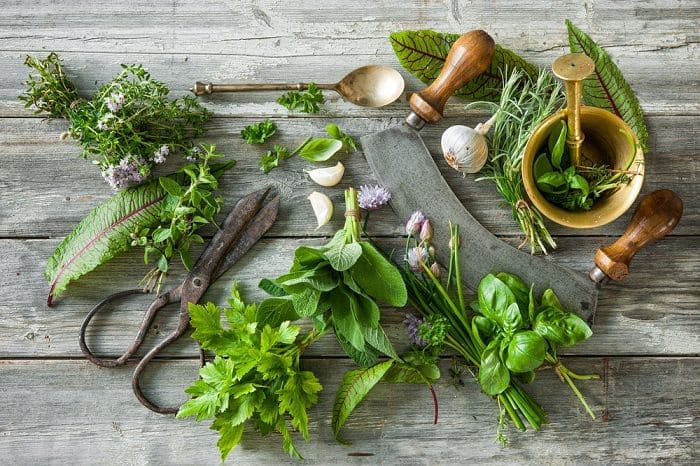 Pruning the herbs is the same as harvesting them. You can begin harvesting the herbs as soon as they reach maturity. Be careful not to snip more than a third of the plant, as it makes the herb take longer to regrow and replenish. Pinch off the tops of the plants in early summer to promote healthy branching. With judicious picking, you can harvest the herbs for several months. Herbs taste the best when picked just before they bloom and when picked in the morning.
Conclusion
If you're looking to grow a herb garden for your kitchen, all you need is to follow this guide and a little bit of time and effort. Gardening is a fruitful exercise that keeps you connected to your roots, quite literally.
---

Elly Rey is a content writer on BalconyGardenWeb. Their website serves millions of visitors with fresh and informative content every month.
About the Author
Latest Posts
Nell, the founder of Joy Us garden, was born into a gardening family and grew up in Connecticut's countryside. After living in Boston, New York, San Francisco, & Santa Barbara, she now calls the Arizona desert home. She studied horticulture & garden design, working in the field all her life. Nell is a gardener, designer, blogger, Youtube creator, & author. She's been gardening for a very long time & wants to share what she's learned with you.