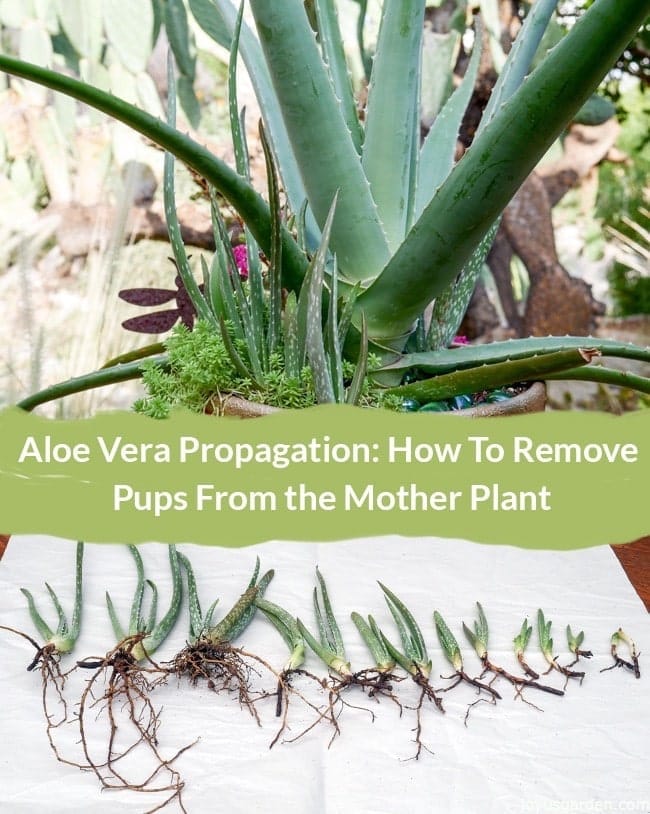 Aloe vera, besides being a plant with purpose, is a succulent which just keeps on giving. If your plant is healthy and happy, you'll see babies, or pups, growing off the base of the mother plant. I'll show you the easiest method of Aloe vera propagation, in my opinion anyway. This is all about removing those pups so you can have more plants and share the love.
You might want to check out this Aloe Vera 101. It contains a round up of my Aloe Vera care guides covering aspects of this useful plant.
My Aloes have always produced lots of pups and I've given many away to friends and even my friendly UPS guy. Aloe vera is a clumping plant and those babies just grow and spread as they mature. You don't have to remove them but if you have them growing in a pot, they'll eventually crowd each other out.
At my work table showing how I remove aloe vera pups:
Good to know:
You can remove the pups at any time of year but spring and summer are best. Plants rest in the colder months.
I like to wait until the Aloe vera pups are good-sized, at least 4-6″ tall. This is because the roots are much better formed and on their way. You'll see that I removed all of them in this video because I wanted to show you how less formed the roots are on smaller pups.
Those tiny ones with 1 or 2 roots on them will grow too, but if you're a beginning gardener, why not just hold tight until they're bigger and the roots are better formed. It's not that long a wait and you can be certain the babies will survive.
You can leave your Aloe in the pot to remove the pups (especially if you're only removing 1 or 2) but I find it easiest to take the plant out of the pot. That way, you can also freshen up the soil for the mother plant at the same time. I show you both ways in the video.
My pretty little Aloe vera took a nose dive onto the patio when the raccoons were on the prowl the other night. You can see what the plant used to look like, just a couple of days ago, here.
Steps:
Loosen the plants from the sides of the pot with a knife.
Scrape the soil away from the base of the pups with a knife, small trowel or spoon.
Pry the pups away with the knife, small trowel or spoon. Sometimes they're loose enough to do it with just your hands. Whatever you use, you'll need to hold firmly onto the mother while doing this.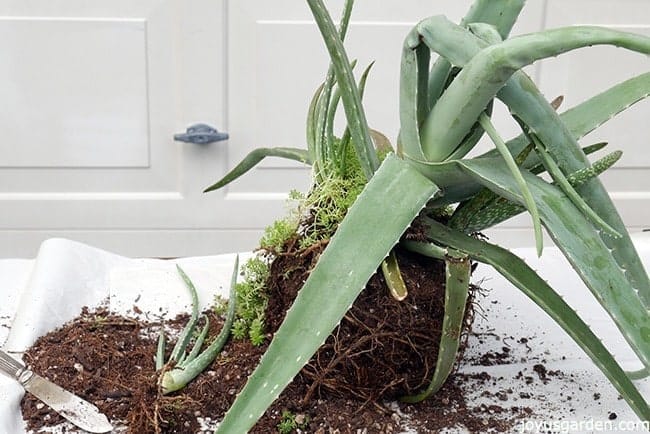 This is why I like taking the plant out of the pot – the pups come off with ease.
They've always pulled away easily for me, but if not, you may have to use the knife to cut them if they're being stubborn.
Now that you've removed your Aloe vera pups you'll need to plant them. Update: I've planted the Aloe Vera pups so you can see how I did that along with how I care for them too.
I've done posts and videos so I have you covered with Aloe vera care both indoors and in the garden.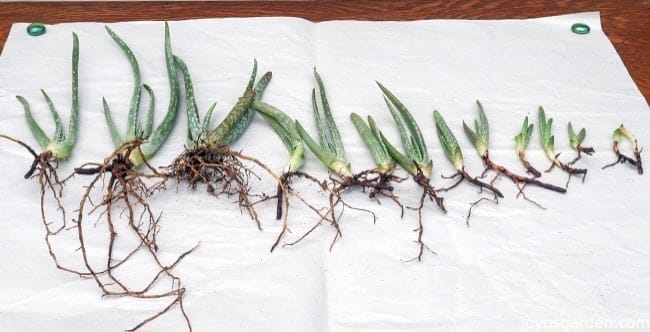 Here are all the pups I got off the mother plant. The ones on the right-hand side have roots which aren't well-formed yet. Don't worry – just plant them & they'll grow!
If you have 1 Aloe vera plant, aka Aloe barbedensis, Medicinal Aloe or Medicine Plant, having another isn't a bad thing at all. If you don't want it, I'm sure a friend will. Spread the goodness!
Happy gardening,

Want to learn more about Aloe Vera? Check these out:
7 Ways To Use Aloe Vera Leaves Plus How To Store Them 
2 Ways I Made My Aloe Vera A Whole Lot Happier
What To Know About Planting Aloe Vera In Containers
Answering Your Questions About Aloe Vera

This post may contain affiliate links. You can read our policies here. Your cost for the products will be no higher but Joy Us garden receives a small commission. Thank you for helping us spread the word & make the world a more beautiful place!