Cup  Of Gold Vine, or Solandra maxima, is indeed a plant with major attitude.  It grows big  has ginormous flowers, huge buds and large, glossy foliage. This twining vine is not one for small spaces or flimsy structures. It requires room to grow and something sturdy for it to grow on.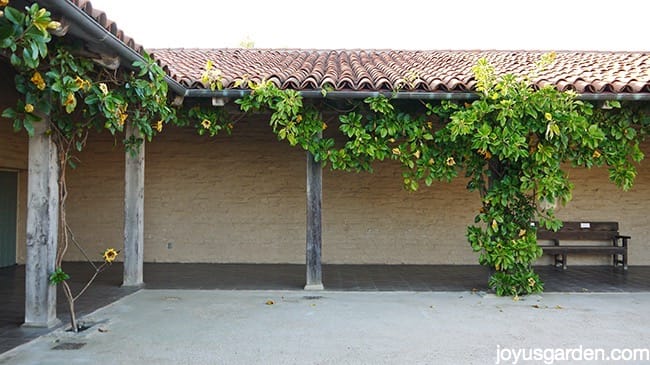 Here it's trained with wire to wrap all the way around this courtyard
Oh those 6-8″ flowers!  They deepen in color as they age, which make this plant so outrageous and appealing.  And, as their color deepens, they also get fragrant.  You can stick your nose right into the flower (watch out for any pollen!) and inhale away.
To me, their scent is similar to ripe bananas – sweet but not overpowering. They bloom heaviest in winter through spring and then off and on all year long.
Here I am in that courtyard, telling you all about the luscious Cup Of Gold Vine:
Here are a few things, mentioned in the video, that you need to know about this plant:
Size:  This vigorous vine can grow to 40 – 50′ tall.  Interestingly, I've also seen it pruned into a 5′ shrub.
Exposure: Full sun is best but it does okay in part shade too. It does great here in coastal southern California & tolerates fog & wind.
Water:  Cup Of Gold Vine is not drought tolerant. It needs regular water.
Soil: Well drained with a generous dose of rich, organic compost would make it very happy. It'll enrich the soil making the roots & the plant grow strong. A 2-4″ layer of compost will also help to hold the moisture in.
Pruning: Pruning those tall, crazy vertical shoots will make it branch laterally which in turn brings on more flowering.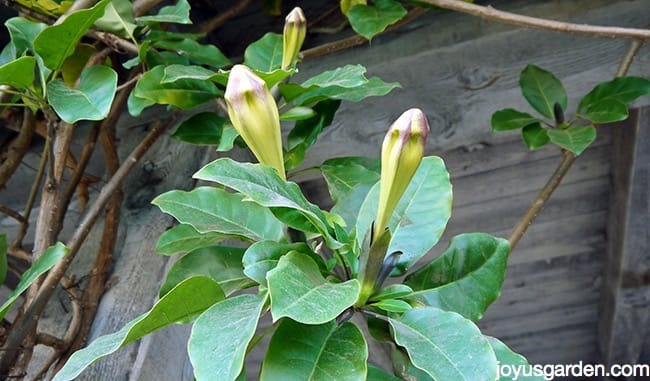 The buds are huge too!
This is such a lovely plant in every aspect.  Whenever I see one in bloom, I always have to stop and take a whiff. It sends my olfactory senses straight to a feeling of bliss!
The flowers are lovely but a bit too big for behind the ear!