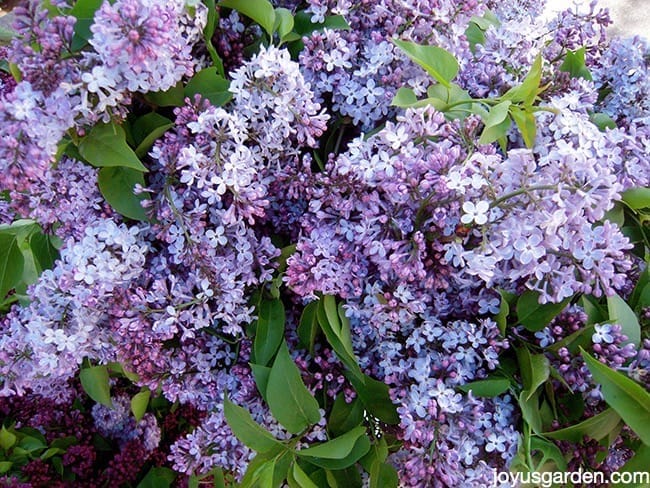 I grew up in northwestern Connecticut where May signaled the blooming of our lilac trees.  They only flowered for 2 weeks but my oh my, our house was full of vases with those sweetly scented, beautiful lavender-purple blooms.  I've never grown any of the new reblooming varieties but I can't imagine them being as impressive as our 15′ trees.
I recently bought a new home (it closes on May 13) & although I'm sad to leave my garden here in Santa Barbara, I'm excited about creating a new garden in my new home. The outdoor spaces are what sold me on the house.   I'm currently working on a draft for a Youtube video called "leaving a garden you love".  It's interesting when you put your love for a garden in words!
Here are some of my musings for this weekend:
Ever dreamed of staying in a treehouse in Hawaii?  Here are the top 20 places where you can roost high above the ground every night.
Talk about seduction, this dahlia had me at hello.  it's a floral work of art.
Here's another 1 for you.  This Merluza Dahlia would give Carmen Miranda a run for her money!
Along with mint, thyme & basil, Sweet Marjoram is on my list of very favorite herbs. It has a taste similar to oregano (it's the same genus after all) but has a sweeter flavor.  I use it a lot in sauces & soups.
Here's a really easy dish you can take to a party or picnic.  This
lemony herb-loaded chopped Greek salad is loaded with flavor & holds up fine for a few days.
Yup it's true.  Sometimes you just need a grilled cheese sandwich.  This one with pistachio parsley pesto & teleggio would stop any such craving dead in its tracks.
I've never tried the whole baking in a jar thing but this cheescake in a jar looks mighty good. Top with berries & it's all good to go.
If you're having a party & want simple yet unusual  decor, then be sure to check this out.  I love the balloons tied to the pineapples!
Have a great weekend,

YOU MAY ALSO ENJOY:
10 Ideas For What To Do With Broken Plant Pots
Updating A Decorative Plant Pot With Painting
One Easy Way To Jazz Up A Plain Plastic Flower Pot
A Summer Centerpiece, Beachy Style
This post may contain affiliate links. You can read our policies here. Your cost for the products will be no higher but Joy Us garden receives a small commission. Thank you for helping us spread the word & make the world a more beautiful place!