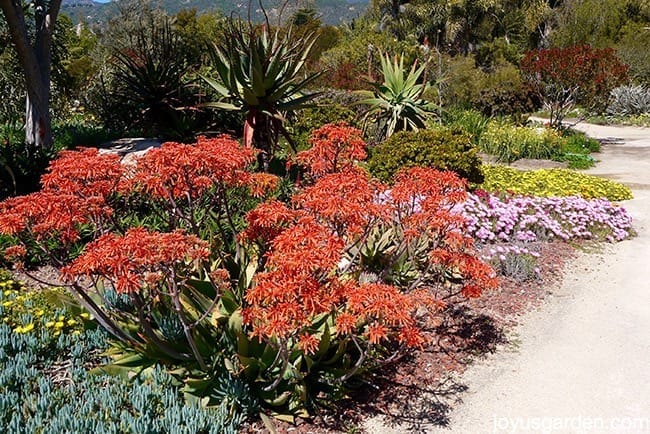 Greetings,
Life sure is busy these days.  I bought a house a couple of weeks ago and there's always lots of fun paperwork that goes along with that whole process.  It'll be mine on May 13 but I won't be moving until the end of the month.  So, I have just a few weeks remaining here in Santa Barbara and I will definitely miss the ocean.  I have lots of packing to do but will definitely make time for a few beach walks before  I leave.  Onward to a new life in a new state!
If you love plants and gardens like I do, then be sure to visit Seaside Gardens in neighboring Carpinteria.  That's where I took the above picture on the very last day of March.  They have quite a few demo gardens which you can stroll through to get design and planting ideas.  They sell plants and gifts so after you're done there, you can head across the street to have lunch on the beach.
Here are my musing for this weekend:
A brilliant & creative artist has left us.  I saw Prince perform at the Bill Graham Civic Auditorium in San Francisco back in the early 90's & what a show he put on.  Do you know why he changed his name to a symbol in 1993? "It's all about thinking in new ways," he said.  I never knew the reason Prince changed his name to something unpronounceable. It surprised me & may be the same for you.
Oops … apparently Kurt Russell never got the memo on this one.  A rare 150 year old guitar was on loan to The Hateful Eight & Kurt smashed it instead of the cheaper prop guitar.  Jennifer Jason Leigh's reaction is so genuine in the video. Needless to say, the folks at the Martin Guitar Museum were not happy with the news.
Oh my goodness, this pizza is beautiful & looks so good that I must try it.  Not only is the crust made from cauliflower but the chickpea topping is a pepperoni substitution.  And, it looks like it doesn't take too long to make – time to fire up the oven!
I live in avocado country & usually eat 1 of them a day.  If any of them get overripe, then I mash it up with honey & lemon juice & use it as a face mask.  If you're a fellow avo fan like me, then you'll appreciate these 20 must try recipes highlighting this versatile fruit.
I flippin' love butterscotch. These salted caramel butterscotch blondies look too good to be true.  They bring new meaning to moist & chewy.
Do you drink tea?  I do so these 4 rules to properly storing tea & keeping the flavor as fresh as possible I found helpful.
I love Kew Gardens & was thrilled to find this cocktail to celebrate spring named after 1 of the world's most iconic gardens.  It's billed as a "florally, savory Mojito variation" & sounds very refreshing indeed.
Speaking of Kew Gardens, the Treetop Walkway looks like the cat's meow.  I last visited Kew in 2007 &  the walkway was completed in 2008.  I say another trip to this botanic playground outside of London is in order very soon!
Enjoy your weekend!
Nell
In case you haven't seen 1 before, this is the flower stalk of a banana plant.
This post may contain Amazon affiliate links. You can read our policies here. Your cost for the products will be no higher but Joy Us garden receives a small commission. Thank you for helping us spread the word & make the world a more beautiful place!