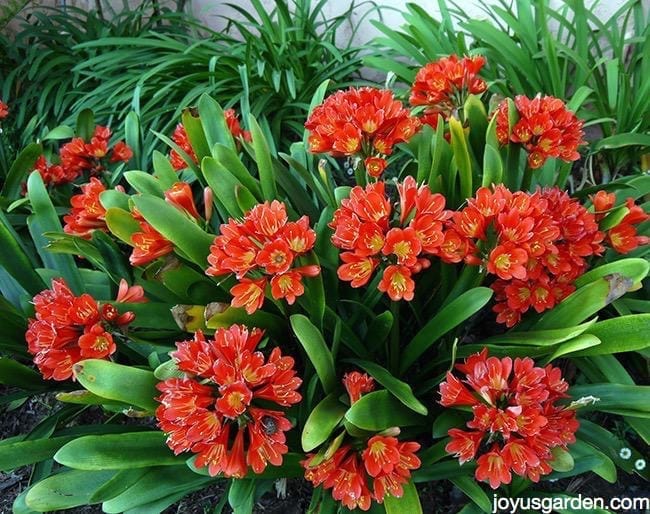 In preparation for my upcoming move, I've left the shed and am now working in the house.  The sun is streaming in the dining room window and my 16 year old tuxedo kitty Oscar is contently sound asleep on the desk soaking up some rays.  I don't mind working in the house nearly as much as I thought I would (alas, I'm now longer a "sheddie") but the amount of cat hair that collects on this desk is a little ridiculous.  Out in the shed it was dirt from the garden and in here it's cat hair – there's always something to clean, isn't there?!
We've had a couple of rains a few weeks ago so everything is greening up and blooming like crazy.  I can see my neighbor's vibrant orangely-red Clivias (they're the flowers you see in the pic above) when I glance sideways out of the window here.  It's a sight I certainly don't tire of.  Flowers bring me so much happiness and I always have a vase of 2 full of them in the house.  I don't think of them as a luxury, but as a necessity.  While we're on that subject, here's how to keep cut flowers fresher for longer.
Here are some of my musings for this weekend:
I love plants with colored foliage so this brand new variety for 2016, Coleus "Main Street Granville Street", is indeed a thriller.  It grows to 2 & runs the gamut in color from chartreuse to pink to burgundy.  Say what?
Are you a fan of basil like me?  Botanical Interests is now offering the Basil Viva La Dolce Vita Blend of organic seeds in a large packet.  The mix includes seeds of large leaf, Genovese, dark opal, Thai, lime, lemon & cinnamon basils – just right for those of us who want it all!
Grain bowls are a fabulous all in 1 way to make dinner on those busy evenings.  The secret to a yummy bowl is in the sauce so here are 5 easy sauces to make your grains pop.  They've included a recipe with each sauce so you're all good to go.
I'm a spuds freak so these baked garlic parmesan potato wedges send me into culinary heaven.  And then there's the garlic!
These peanut butter cup cheesecake bars sound totally decadent, but don't we all need a little sweet treat every now & then?
If you're craving a spring fling in the garden then Nymans in West Sussex, UK will have you skipping through the fields of daffodils & camellias with glee.
I went to the Santa Barbara International Orchid Show a few weeks ago & took about 500 pictures, including the 1 of the Vanda Orchid that you see below.  Isn't the color outrageous?!
Enjoy your weekend,