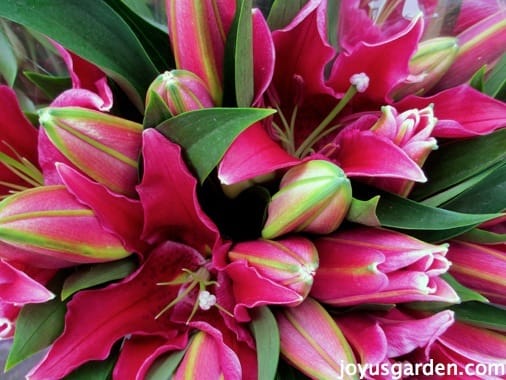 Greetings,
A bouquet of fragrant pink lilies and a Happy 2016 to you my friend!  I'm almost out of my holiday haze and must say that I'm excited and extremely optimistic that this year will be a great one, or at least a merry roller coaster ride.  Besides, there's absolutely no need to go head onto into a new year with a negative attitude.  None of that for me please.
We had almost 2 days of rain here in Southern California and all the plants were doing the happy dance.  As expected with heavy rains and bone dry earth there were mudslides and lots of flooding.  It makes sense because we haven't had any substantial rain in 3 years so where's all moisture supposed to go?  Mother Nature usually has the upper hand, that's for sure.  The sun is shining brightly and the sky is a brilliant blue so for now, all's well.
Here are some of my musings for this weekend:
Many cannot garden outside at this time year so indoor vegetation feeds our souls.  If you want an easy care trailing plant, then here are 5 things to love about Pothos.
If you need a groovy looking yet inexpensive  watering can which comes 3 colors, is light weight with a nice long neck & narrow spout then be sure to check this one out.
Yes indeed, the National Garden bureau has announced 2016 as the year of the carrot.  2015 was the year of the sweet pepper by the way.  Back to the carrot: here are 4 keys to growing carrots successfully from seed.
I love me some dahlias, yes I do.  Here's the Cafe au Lait dahlia, which is apparently coveted by floral designers & homeowners.  Robust, upright & gorgeeeeeous!
Oh my goodness, this is hysterical.  It's a 1977 guide how how to look punk, shown in black & white of course.  Get the spikes out!
Here's a coconut vinegar I love which I now use in place of apple cider vinegar in glass of water 1st thing in the morning.  It's nice to use in salad dressings too.
Yum, yum, yum, this vegetarian chili looks so good.  Just the thing you need to warm & fill you up on a cold day.
I love the combination of sweet & salty together so I could easily devour a bowl of this peanut butter pretzel caramel popcorn.  Oh yeah, that's what I'm talkin' about.
Here's an out of the box wintery cocktail for you using red wine,  apple cider, spices & bourbon.
Cheers to you & have a wonderful weekend,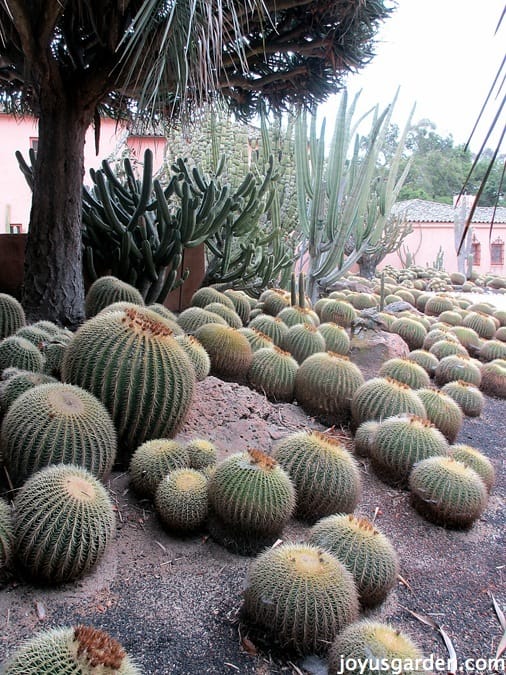 This is Lotusland in neighboring Montecito which I'm sharing because I love Golden Barrel Cactus!
This post may contain affiliate links. You can read our policies here. Your cost for the products will be no higher but Joy Us garden receives a small commission. Thank you for helping us spread the word & make the world a more beautiful place!