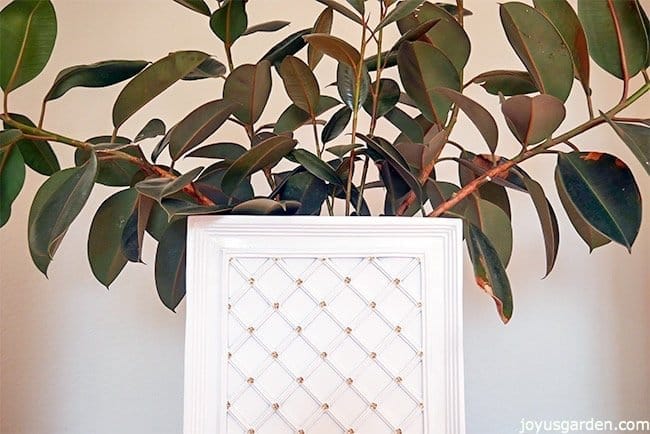 Change is always in the air and for me this has meant settling into a new home in a new state. My house is surrounded by foliage on the outside but I still want plants inside. I have a Ficus elastica "burgundy" which sits in my new dining in a very dull but beautiful fiberglass pot. New home, new look! This is all about updating a decorative plant pot with painting.
I wanted a fresher, more modern look for my new indoor/outdoor home in the desert. Nothing updates like a little spray painting.
Here's the decorative pot before painting.
The pot has great lines but was way too dull for my sun filled dining room. I went back and forth on colors and finally decided on gloss white. It's a nice, clean color and would accent the dark foliage of my Rubber Plant. I'm big on transforming with painting because in my opinion, you can't get a better value.
Tips for updating a decorative plant pot (or anything else for the garden) with painting:
1- Make sure whatever you're painting is clean. I brushed off the pot & then washed it with a 1:3 solution of vinegar & water.
2- Temperatures between 60-75 are best for spray painting. Be sure to avoid any hot, direct sun.
3- If you're spraying outdoors (which I like to do because the fumes indoors can be nasty), make sure to do it on a calm day. I created a "spray chamber" using a big box.  This helps to contain the paint a bit & you get less waste.
4- Be sure to shake the can 60-100 times before spraying. Just like paint in the can, you want all to be blended.
5- Raise the pot up off the ground for a nice, clean edge. Otherwise, the paint will stick.
6- It's much better to spray multiple light coats than 1 or 2 heavy coats. Use light strokes when going back & forth. You get much more even coverage & the paint won't drip off.
7- It's best to be about 12″ away from the pot when spraying. You don't want to be too close or too far.
8- Make sure that each coat thoroughly dries before applying the next.
9- If you're going from dark to light, you'll need to apply more coats. I ended up doing 5 on this pot.
10- Apply a sealer coat as the final step. You want to protect your masterpiece!
What I used:
Rust-Oleum 2X Ultra Cover (gloss white). This is my go to spray paint. It provides fabulous coverage & comes in a great range of colors.
Rust-Oleum 2X Clear (also gloss). This seals, protects & revitalizes as well as being UV resistant.
Deco Art Dazzling Metallics (champagne gold). It's a premium paint which yields quite the shimmer.  Plus, it's easy to clean the brush with water.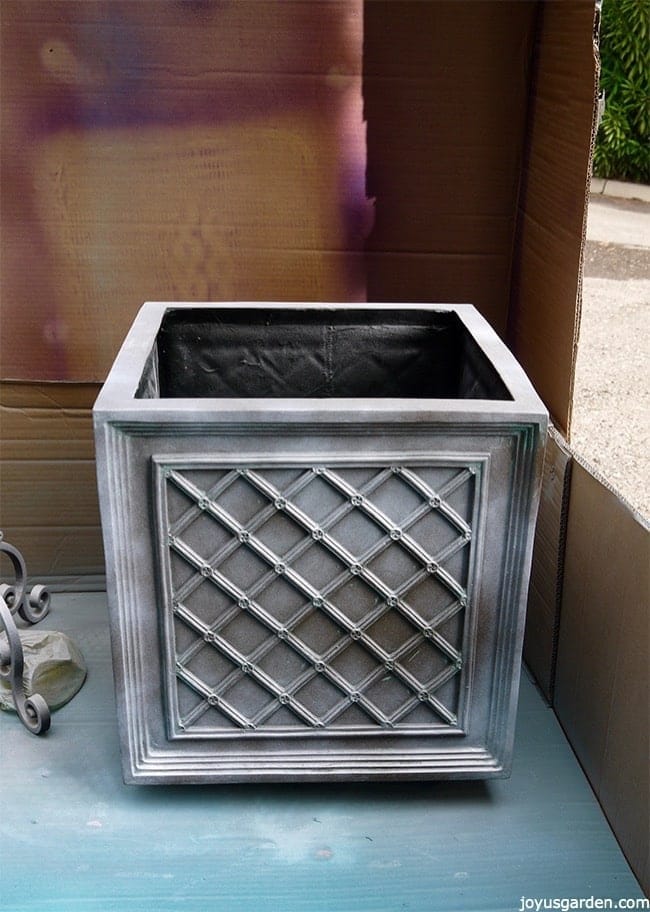 The pot after the 1st coat of paint.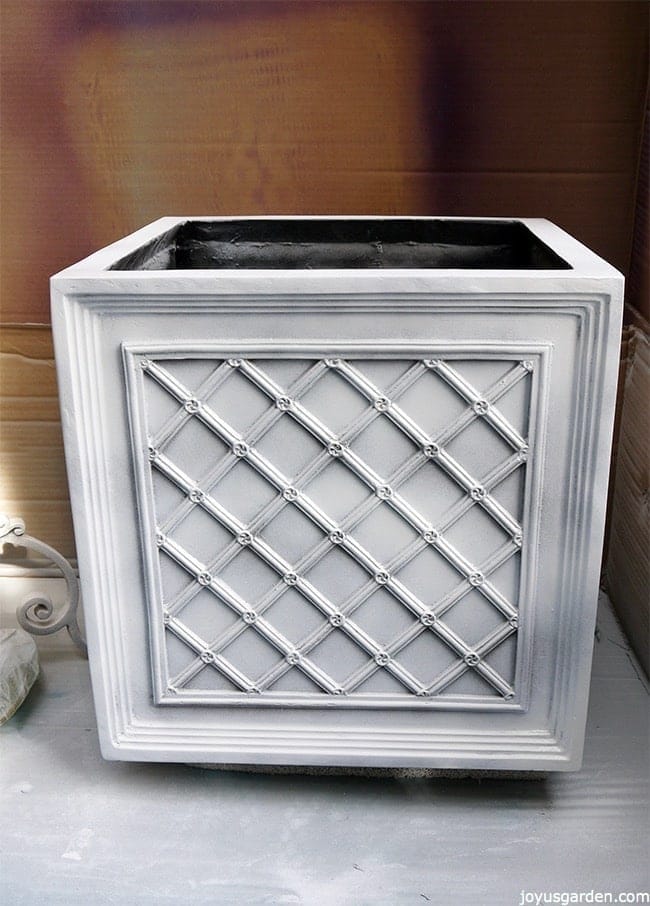 Here's how it looks after the 3rd coat.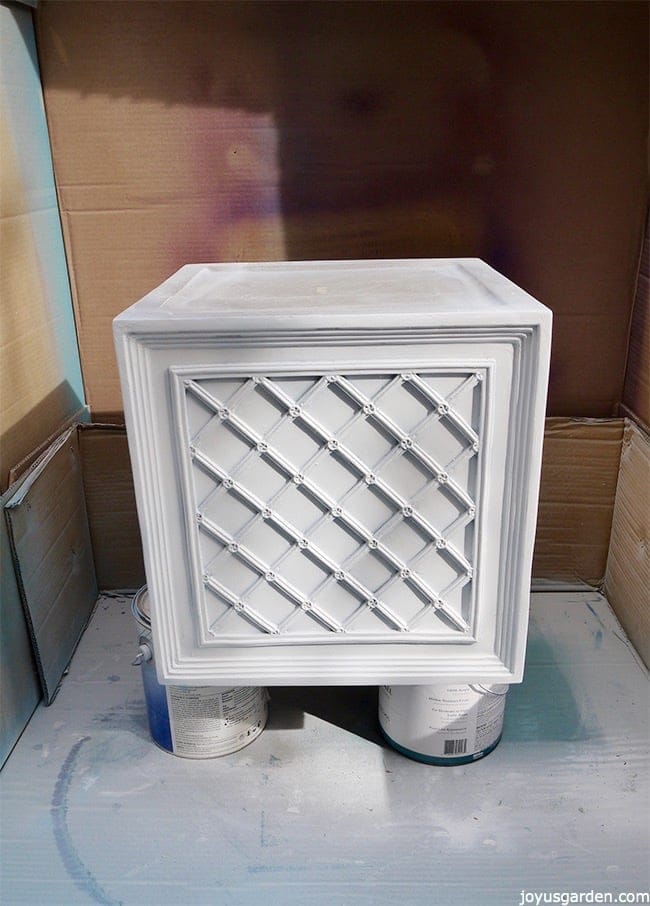 For the last coat of paint (which ended up being 5) I turned the pot upside down. I find you get much better coverage this way, when painting something as detailed as this pot.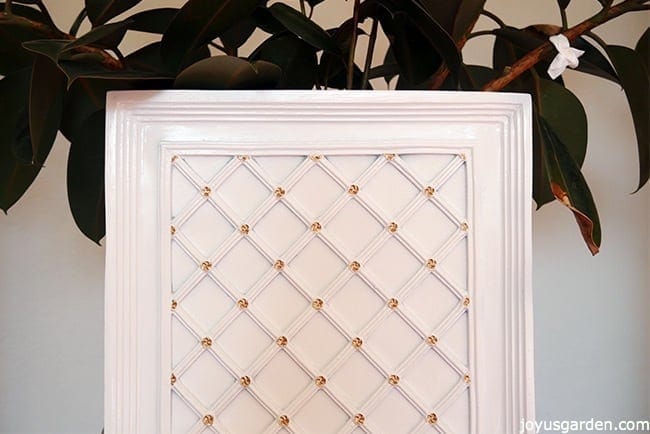 I detailed the center of the lattice work with gold. It really makes this pot pop!
I love the fresher, cleaner look that this decorative pot now has.  Are there any painting projects which have warmed the cockles of your heart?
Happy gardening & thanks for stopping by,

YOU MAY ALSO ENJOY:
10 Ideas For What To Do With Broken Plant Pots
Updating A Decorative Plant Pot With Painting
One Easy Way To Jazz Up A Plain Plastic Flower Pot
A Summer Centerpiece, Beachy Style

This post may contain affiliate links. You can read our policies here. Your cost for the products will be no higher but Joy Us garden receives a small commission. Thank you for helping us spread the word & make the world a more beautiful place!