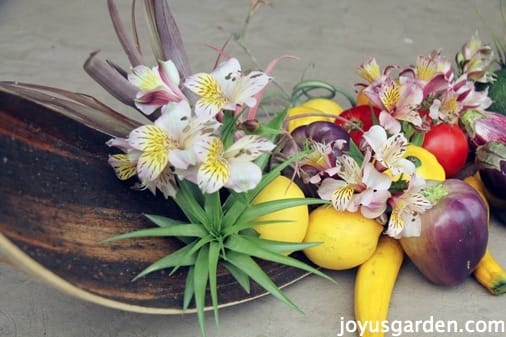 I love to make these crazy centerpieces, or tablescapes if you prefer. Not only are they lovely and interesting to look at but you can eat most of them after they're through being a conversation piece. I bought all the fruits and vegetables along with the alstroemeria at our Santa Barbara Farmers Market. Some of the tillandsias are mine and some were borrowed from a local greenhouse.
I'm always collecting up fallen "debris" that can be used for one of the gazillions of projects I've lined up to do. Question is: will all of them ever get done?!
What you see below is a dried flower sheath from a Queen Palm that I picked up 2 years ago.
I'm going to mount my Staghorn Fern on it (you know that's going to be another blog post and video) but first it's going to be the foundation to hold this lovely piece.

The vegetables I used are: purple peppers, globe and listada de gandia eggplants, early girl tomatoes, yellow zucchini, and yellow pattypan squash. The fruits were avocados and yellow plums.
The adornments or "pretties" were a variety of tillandsias and alstroemeria, which holds up well out of water for quite a few hours. You could put the stems in water tubes and nestle them in here and there if the piece is going to be up for a few days or so.
I started in the middle to establish a good base and then work my way to both ends. I actually placed the vegetables, fruits and larger tillandsias first throughout the whole piece and then tuck in the flowers and smaller tillandsias at the very end.
Here's a close up of the squared off end that lays flat. It was much easier to get everything to stay in place on this end.
Here are a couple of close-ups of the pointed end that swoops up a bit. This end was a bit of a juggling act to get everything to stay in place.
Here are two views of the finished piece. I actually made it at my work table in the garage and then moved it out to the driveway for these photos to be taken. It was actually easier to do that I thought – only a few adjustments had to be done.
Such a fun, easy and edible creation. This project can be done at any time of year depending on what fruits and veggies are seasonally available. You should be able to get flowers if you wish to add those in too.
As for the tillandsias, we have you covered! Visit our list of air plant essentials, and you'll find a fine assortment of them waiting for you on our website. And, we've even done a blog post along with a video on how to take care of them which are in the links below.
Happy creating!
You can buy Tillandsias here!
This post may contain affiliate links. You can read our policies here. Your cost for the products will be no higher but Joy Us garden receives a small commission. Thank you for helping us spread the word & make the world a more beautiful place!