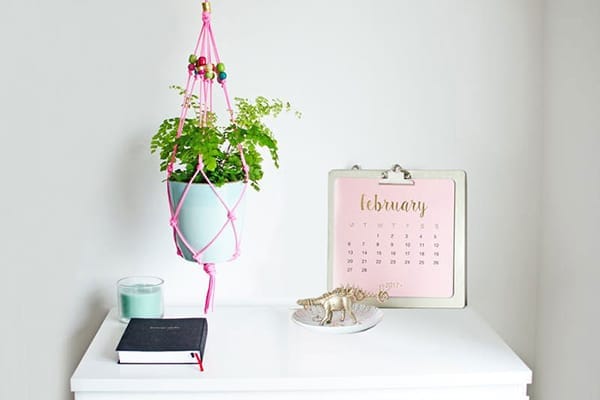 (Image Credit: Apartment Therapy)
Are you looking for a weekend project? Or you have already decided what you want to do and are looking for help and ideas on how to do it? If your idea was to make yourself hanging planters to hang around your home and garden, I have the perfect project for you. Here you will find a few very simple, interesting and useful ideas to DIY hanging planter or planters for your home and garden.
Hanging planters can help you improve your home exterior and interior. They are beautiful and you can use them to hang in your home instead of art, for example.
(Image Credit: Apartment Therapy)
If you are like me and love seeing hanging planters, you should find the time to do them on your own. It is not important to only have beautiful flowers in them, but they should also give you joy just to look at the planters themselves. It is inexpensive, some are very quick to make, and some will help repurpose things from your home, but all of them will be efficient and beautiful. So, here are some ways you can make yourself a hanging planter:
Look for items around your home
Most of the things you have in your home can be repurposed and turned into hanging planters, things like old bundt cake pans, old and unused fish bowls, jars, old plant pots – which you can just rejuvenate with some paint, and many more. Maybe the only thing you will need to buy is a ball of twine or glue. That's only if you do not already have them at home!
All of these things can be repurposed and re-made into beautiful hanging planters.
How to transform your household items into a DIY hanging planter
What you will need to do first is clean them up. If some needed enhancing, you can use paint to paint them in one or more colors. If you can draw, you can totally use that to write or paint something beautiful on them. Make holes in the container that you have chosen and use the twine to make it easier to hang the planter later.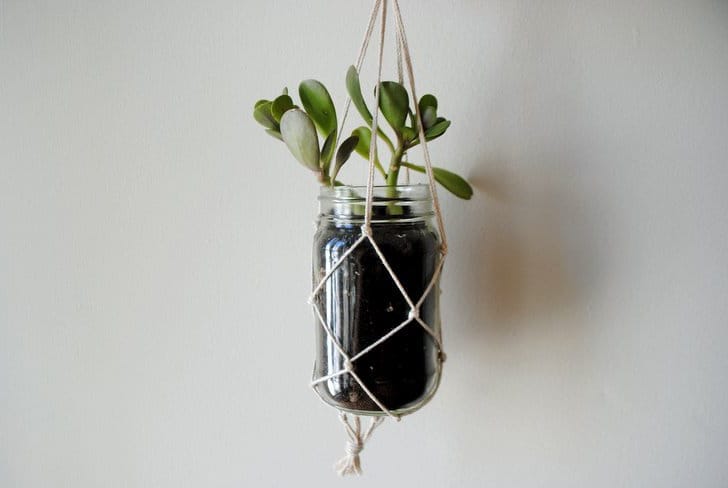 (Image Credit: The Spruce)
One item to use on the hanging planter that you never thought of before
What else you can use to hang them is yarn. Yes, yarn! If you are into knitting and have more free time, you can even knit caps and hangers for them to use. I am not good at knitting and rather just use twine – it's strong, cheap and efficient.
If you are good at working with wood, you can use a wooden plank and make holes in it big enough to fit your new flower pots. Then just hang the wooden plank in your garden or on your porch and you will have a beautiful hanging planter.
But if you want to make them uneven, all you will need is your separate flower pots and different sizes of twine strings, to hang them unevenly.
Here's another quick tip for your outdoors hanging planter.
If your hanging planter will be hung on a wall or fence, you should consider using wires. The twine can get damaged by sun and rain faster than wires can get rusty.
Now, go to your attic and get anything that will look good as a hanging planter and get to work.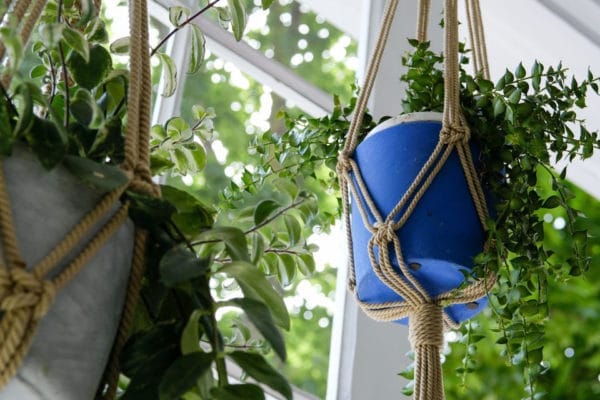 (Image Credit: Inhabit)
Be creative and make sure you use enough twine, so that your DIY hanging planter does not fall down.
If you are into frugal living and DIY projects, making hanging planters should be very entertaining for you. Plus the result will be very pleasing to the eyes!
About Sienna Griffin
Sienna is a manager of Gardeners Mates London. She is very passionate about gardening and is an author of several articles. In her free time, Sienna loves to travel.
CHECK OUT MORE DIYS HERE:
10 Ways To Hang Your Succulents
How Create Succulent Planters From Vintage Books
An Easy Home Decor DIY Using Air Plants
Dried Herbs And Plants That Will Spruce Up Your Homemade Candles

This post may contain affiliate links. You can read our policies here. Your cost for the products will be no higher but Joy Us garden receives a small commission. Thank you for helping us spread the word & make the world a more beautiful place!