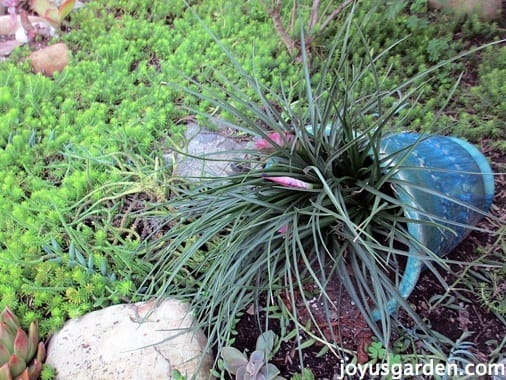 You might remember a post from a few months ago called "Terrific Tillandsias." Now I'm going to show you a Tillandsia which is so easy to care for that can actually grow in soil.
Tillandsia cyanea, or Pink Quill Plant, is an epiphyte like its now-trendy air plant cousins (which we sell on our website by the way) but this one can grow in a fast-draining mix. Their grass-like foliage is attractive yet tough as can be.
This is good because the purple flowers that form out of the pink quill do not appear on any kind of a regular basis. It takes a while for them to bloom so it's best to buy one with the quills and/or flowers already on it if that's what you want.

I purchased my new Tillandsia from Santa Ynez Nursery which sells at our Saturday farmers market to use for an eHow.com video I did on its care. This one already had 3 quills on it but the flowers have appeared very slowly due to the fact it lives outdoors and the days are shorter now and the evenings cooler.
They are native to warm jungles after all so I won't see many flowers making an appearance until it warms up. It already had quite a few pups on it (baby plants which grow off the mother plant) so I could have divided it had I wanted to.

Because the care of these plants is easy, I figured this would be a good replacement for the succulents that had started to go downhill in my upside-down, sideways cracked pot.
I spray the Tillandsia so the foliage gets moist but the soil does not get drenched. Because mine lives outdoors and gets nutrients from the air, I don't fertilize it. If yours is indoors and you need to feed it, use a liquid fertilizer that is high in Nitrogen and Potassium and has no trace minerals diluted down 3 or 4 times.
Then simply spray that mixture on the foliage. They are not crazy about dry air (remember, they grow in jungles, not deserts) so you might have to mist yours with water once or twice a week. Filtered water is what they prefer – they don't like chlorine.
Before
After
When planting time came around I used a combination of the mixture already in the ceramic pot that the succulents were growing in plus some of the planting mix the Tillandsia came in plus orchid bark.
This will work just fine because the water will drain right off the plant and that's what it wants. It should root in tighter than the succulents did and prevent the soil mix from spilling out. Morning sun is all it will get – they will burn in hot, sunny conditions.
This is the video where you see me planting the Tillandsia in its new home.
This is the video I did for eHow.com on Tillandsia cyanea care.
The Tillandsia cyanea is another easy-care plant to live amongst my many succulents. I'm sure they'll thrive side by side!
This post may contain Amazon affiliate links. You can read our policies here. Your cost for the products will be no higher but Joy Us garden receives a small commission. Thank you for helping us spread the word & make the world a more beautiful place!