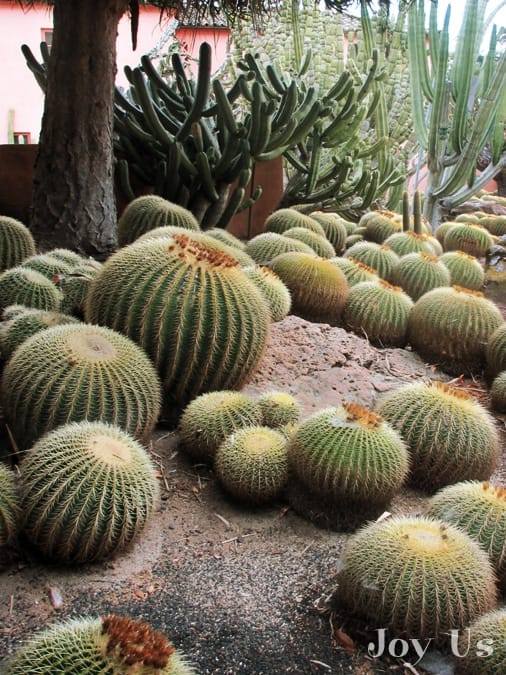 May 11 heralded National Public Gardens Day and when the Garden Lovers Tour in Santa Barbara was announced, I said "sign me up"!   We are fortunate to have many beautiful public gardens here and they all came together to celebrate the occasion.
The tour sold out quickly (within an hour and a half) as the gardens to be visited were Lotusland, Casa del Herrero, the Santa Barbara Botanic Garden and Old Mission's La Huerta Historic Garden.
The other spots to see not on the tour itself were Alice Keck Park Memorial Gardens, Chase Palm Park, the Santa Barbara Courthouse  and the Santa Barbara Zoological Gardens.  We met early at the Santa Barbara Mission, broke up into groups of 20 and were whisked off into the cloudy morning.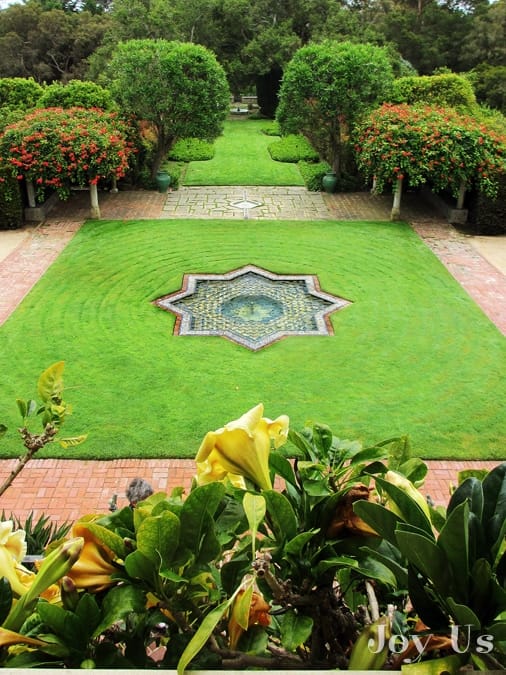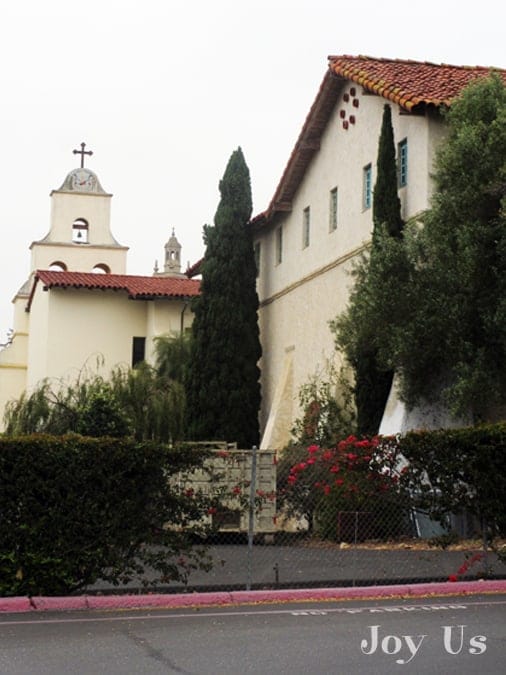 Lucky us – our first stop was the fabled Lotusland where Madame Ganna Walska satisfied her thirst for the weird, wacky and wonderful.  She had a proclivity for marrying extremely wealthy men and how fortunate that was because just the Cycad garden alone cost a fortune.  There are many stories about this colorful woman but the one that struck me the most was how she acquired her mature and impressive Drago Palm (Dracaena draco) forest.  These plants grow slowly so for instant effect her chauffeur drove Madame around town and when she spied a mature specimen in someone's yard, the driver would knock on the door with a hundred dollar bill in hand – quite a bit back in the day!  I am a lover of Succulents and Bromeliads so I will try to limit the photos to 15 and show you overviews of this varied garden and not just the plants themselves.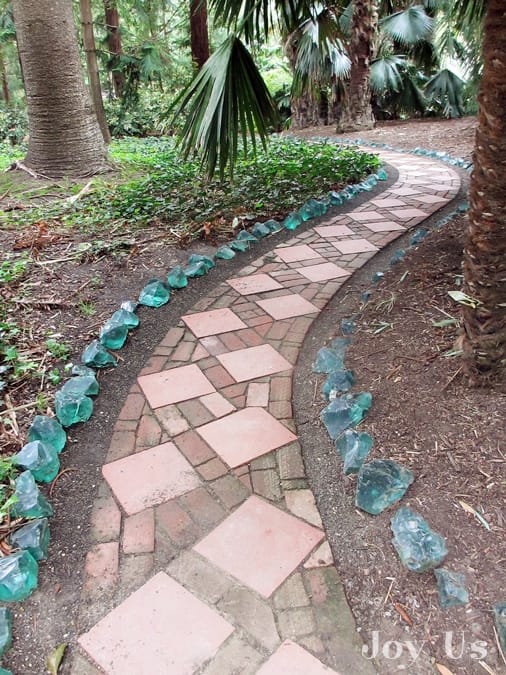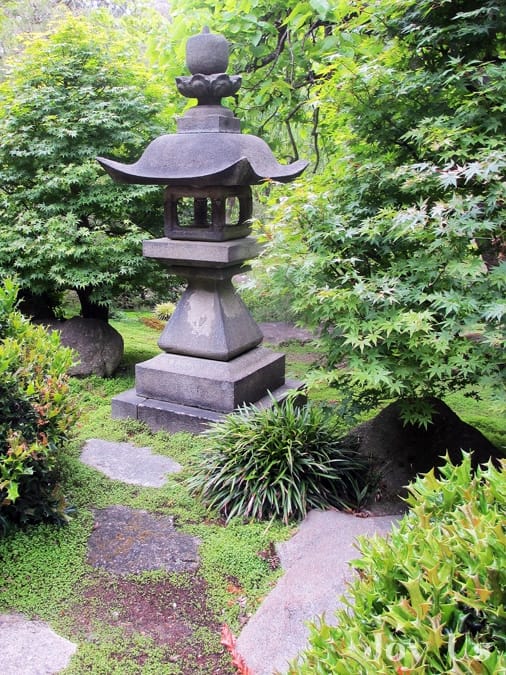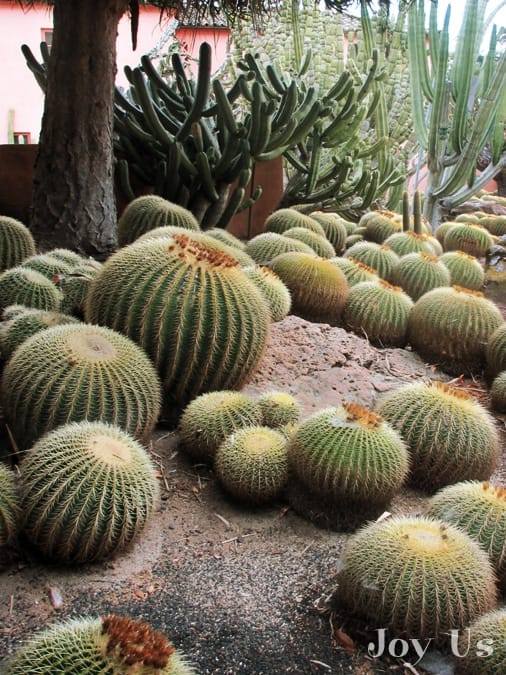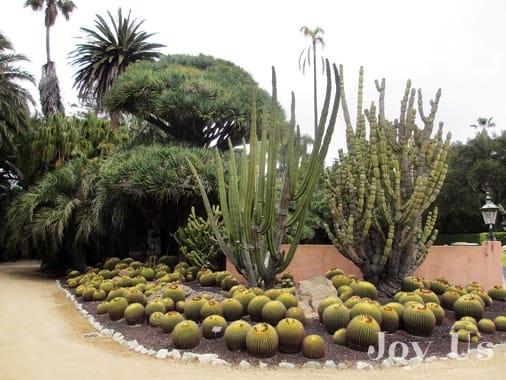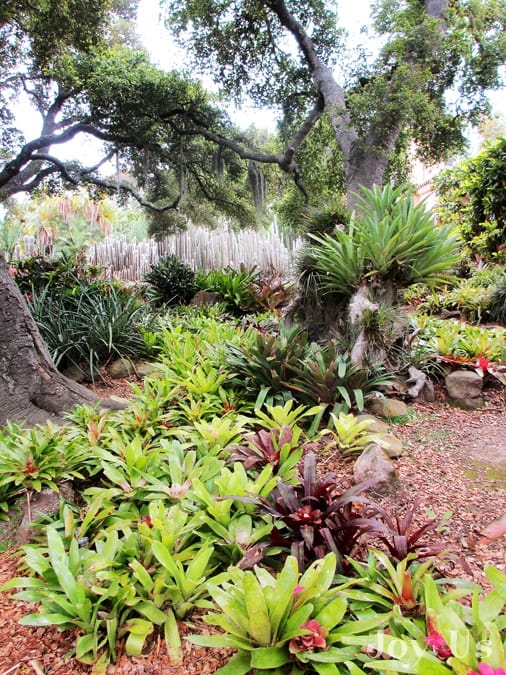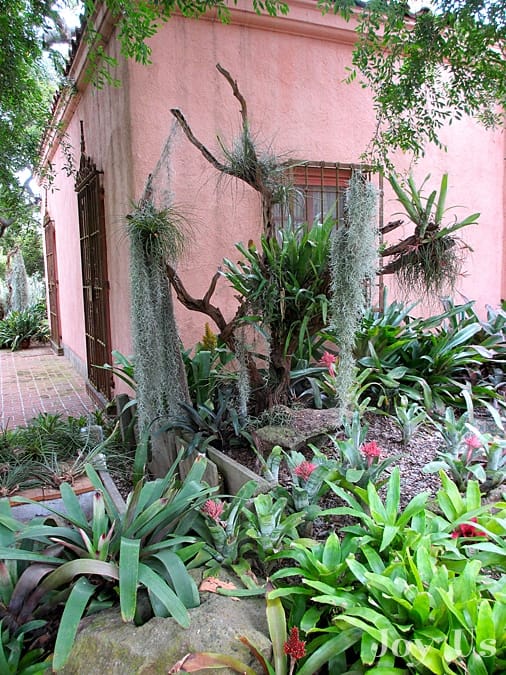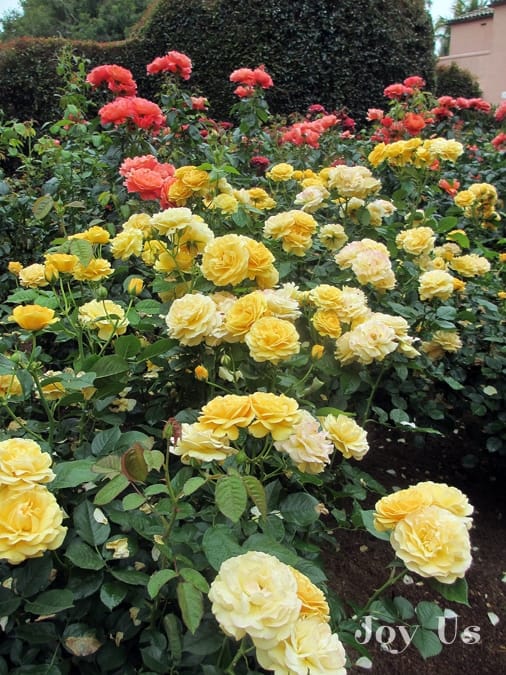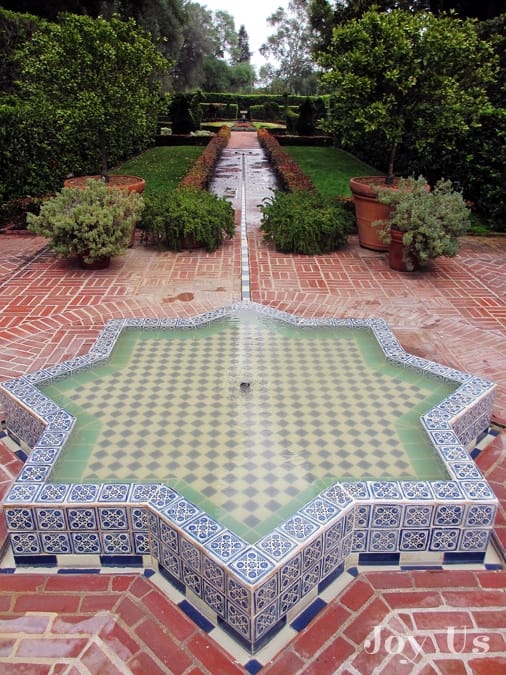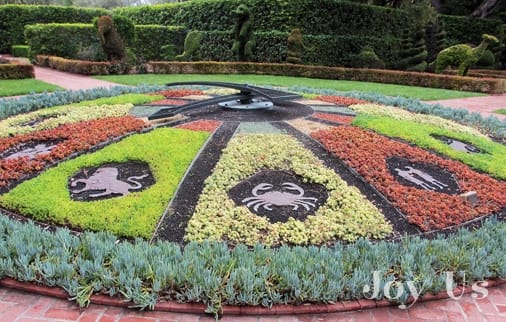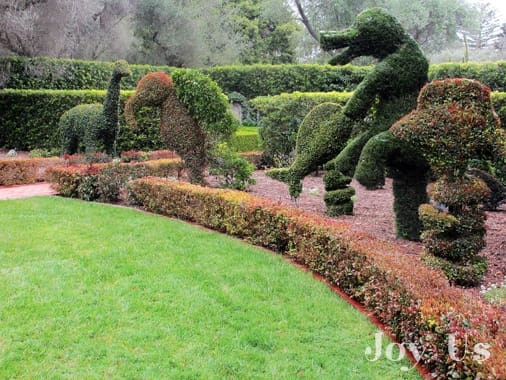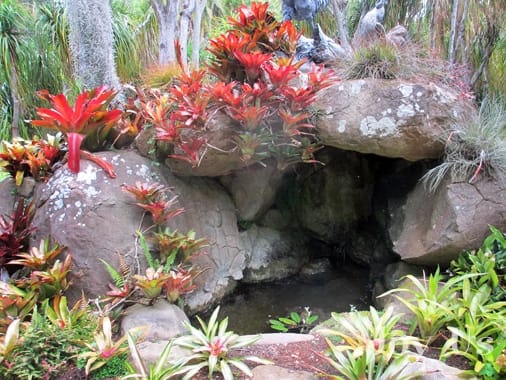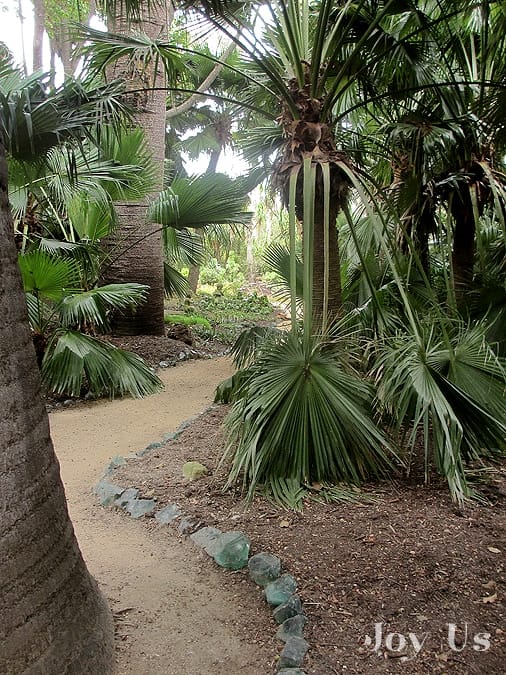 Next up and just a stone's throw down the road was beautiful Casa del Herrero where the house and garden harmoniously exist together.  The grounds of this National Historic Landmark were designed by Lockwood de Forest, Francis T. Underhill and Ralph Stevens – noted landscape architects at the time.   The house, in the style of Spanish Colonial Revival architecture, was designed by George Washington Smith with much input from the owner George Fox Steadman.  Unlike Lotusland whose focus is on plants and their repeating patterns, this garden is viewed more as an entity to the house.   It is an example of an American Country Place Garden – a large property that was an expression of affluence – it even had a greenhouse and secret rooms.  The lady of the house, Carrie Steadman, was a passionate flower arranger who won many ribbons for her gorgeous creations all made with bounty from the property.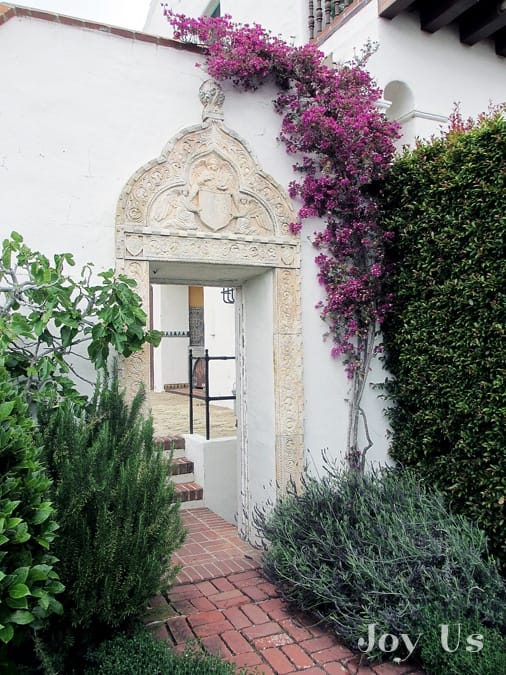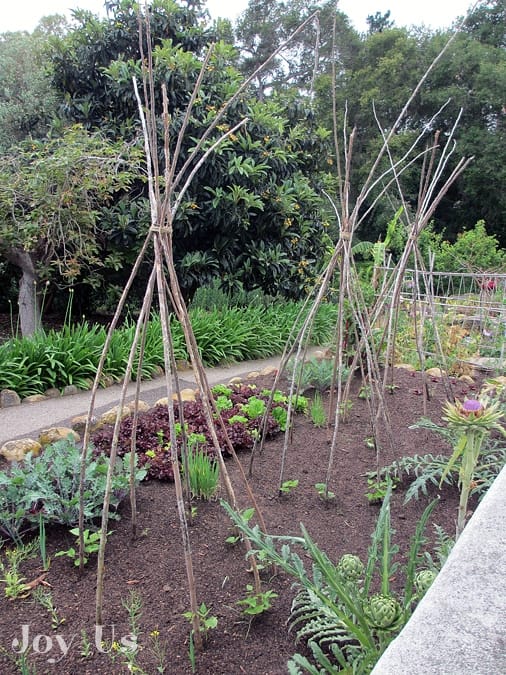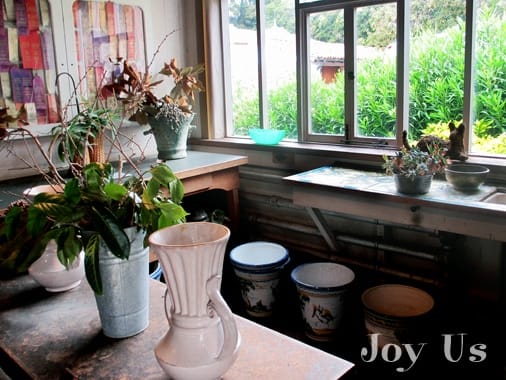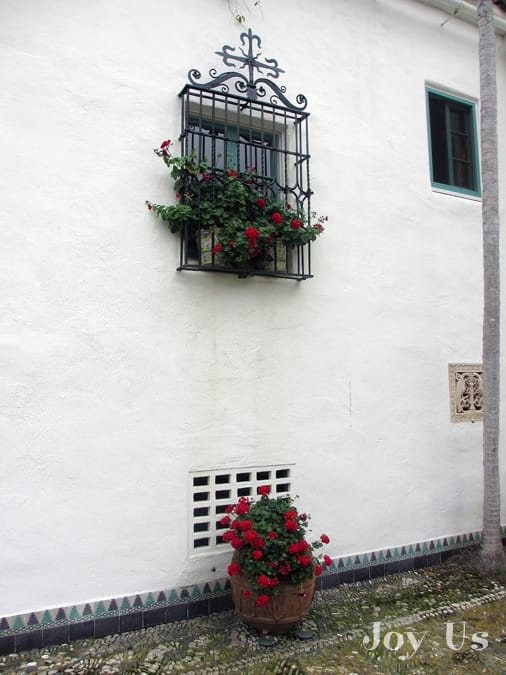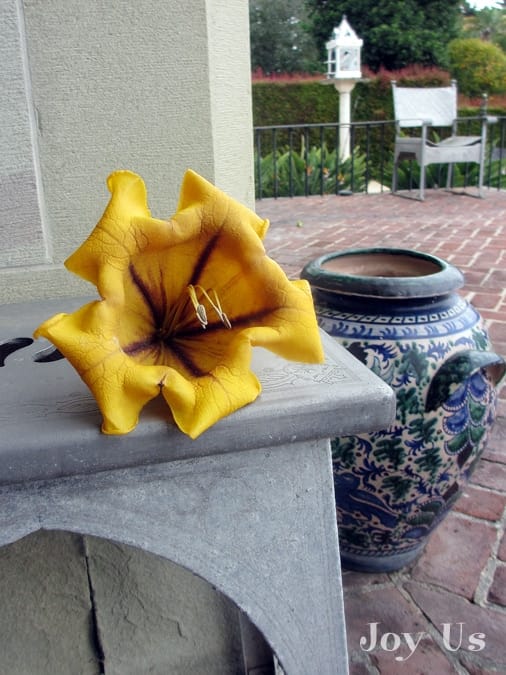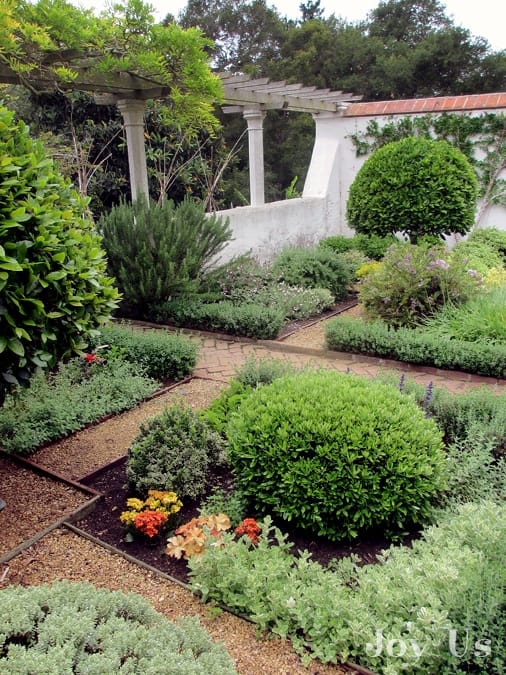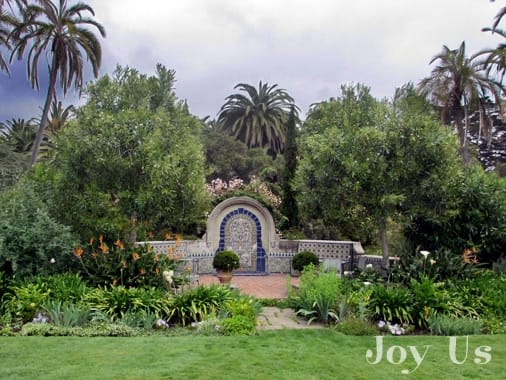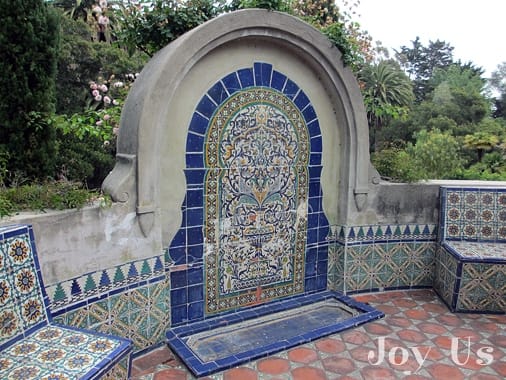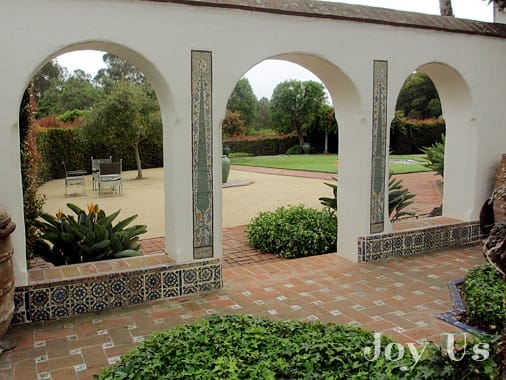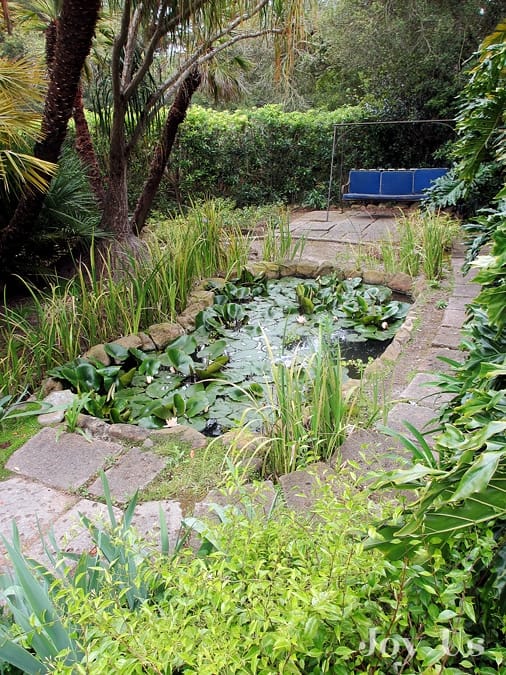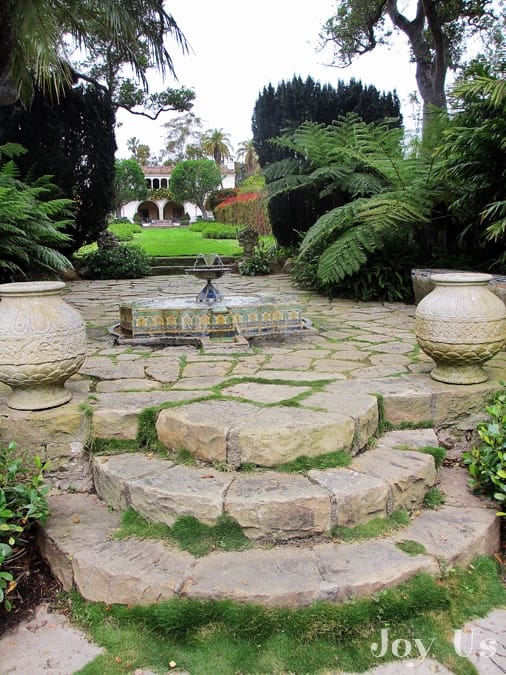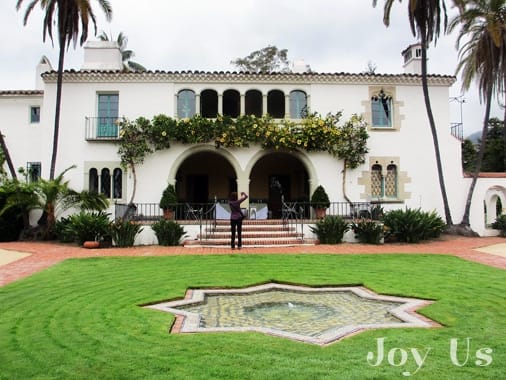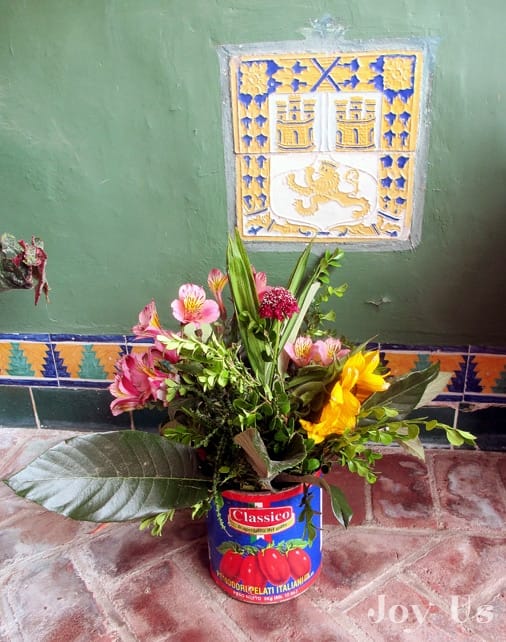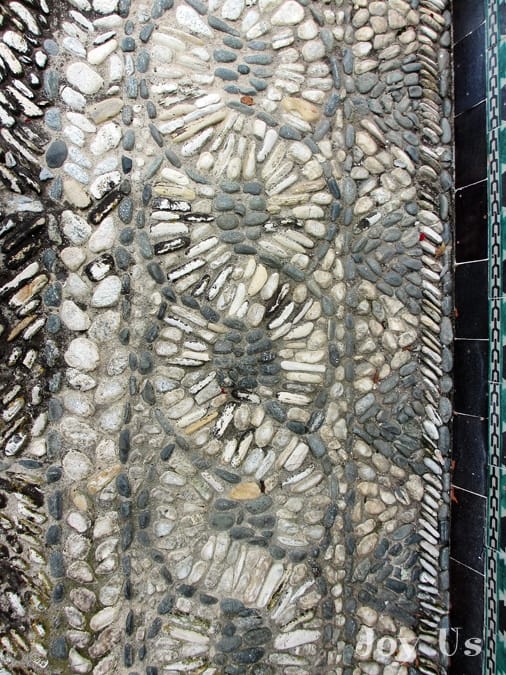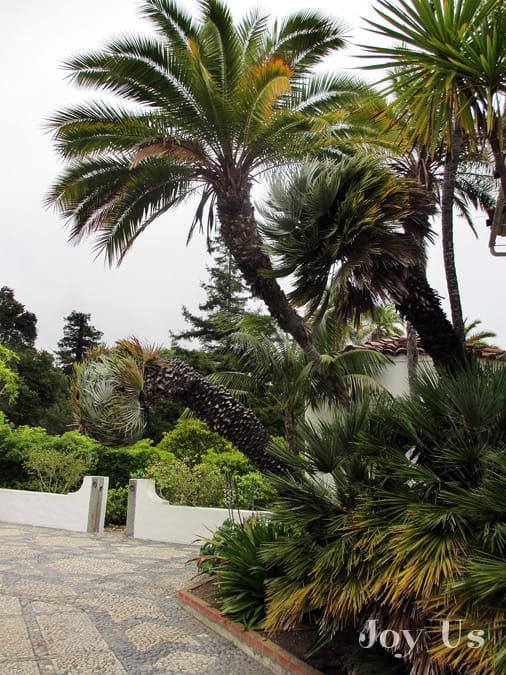 After a 15 minute winding drive through the hills and canyons, we arrived at the scenic Santa Barbara Botanic Garden.  This garden in a naturalistic setting is all about native plants, their research and conservation.  Much of the property  is terrain too rugged to navigate and is best enjoyed from afar.  Two of Garden Gluttony's most recent posts,  California Native Plant Week  and  Pacific Coast Iris,  have been on the SBBG .  You can refer to them for more info on this garden that was damaged 3 years ago in the Jesusita Fire.  This horticultural gem is experiencing re-growth and is heartedly coming back – much to the delight of we Santa Barbarians.  This is a wonderful place to spend the day as there are many trails that offer views of the Santa Ynez Mountains and even glimpses of the Pacific Ocean and Channel Islands.  Here the red light started flashing (low battery) so the need to be a shrewd photographer was on.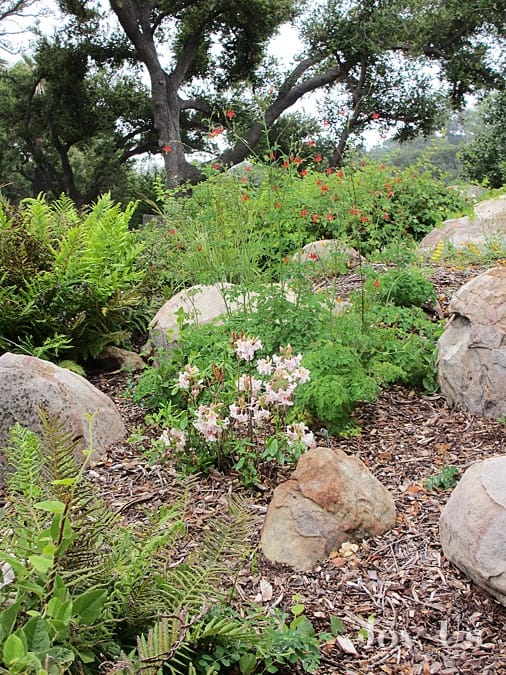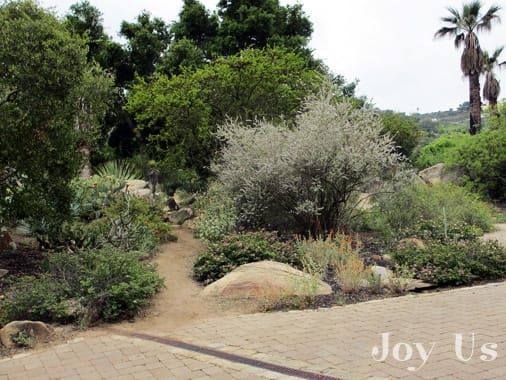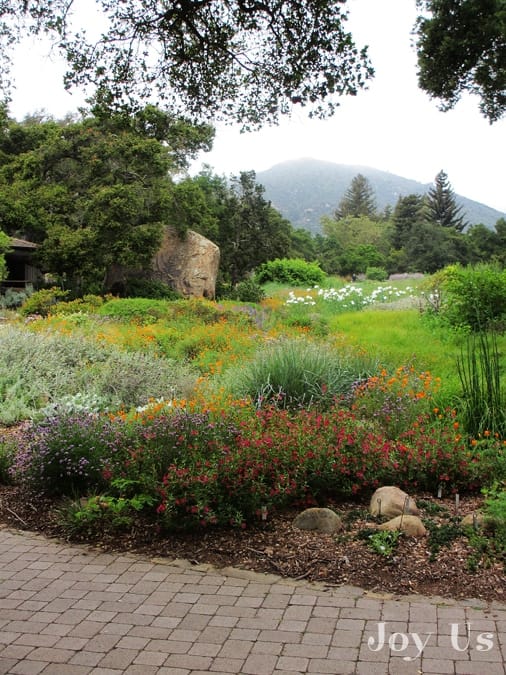 We loaded back on the bus for our final stop just a short coast down out of the canyon  – Old Mission's La Huerta .  Located adjacent to the Santa Barbara Mission , this garden is dedicated to the preservation and recreation of mission horticulture.  It is maintained by volunteers and the heritage plants that would have grown here between 1769 to 1934 have been donated.  This outdoor museum contains citrus, olives, grapes, pomegranates, herbs, grains, vegetables and more to make for a self-sustaining environment.  No fancy drip system here!   If you'd like to be part of a little "get down and dirty" one Wednesday morning,  just grab your Felcos and knee pads and head on over here to lend your services.  La huerta means the orchard and this garden is all about history.  At the end we enjoyed treats made with harvests from the garden – a yummy way to end the tour.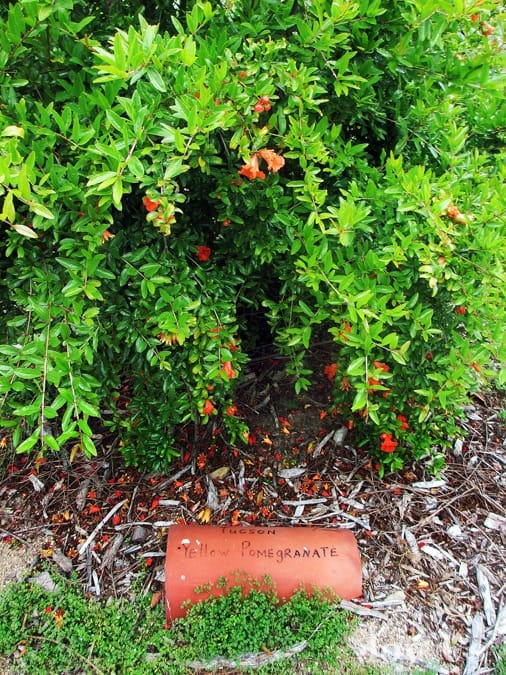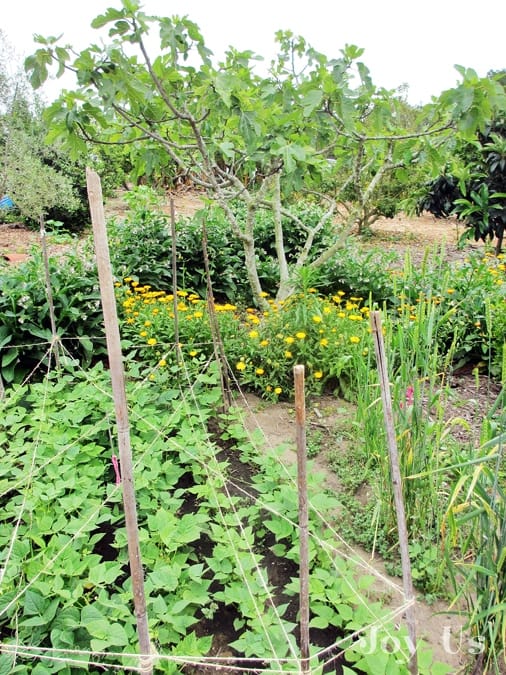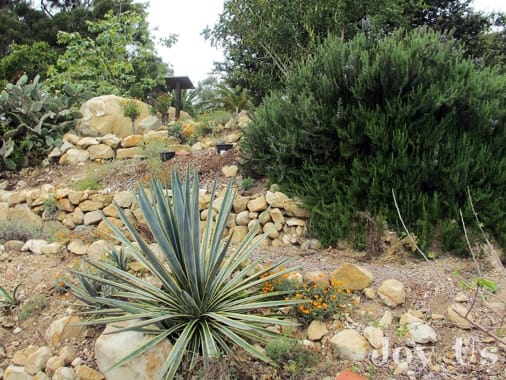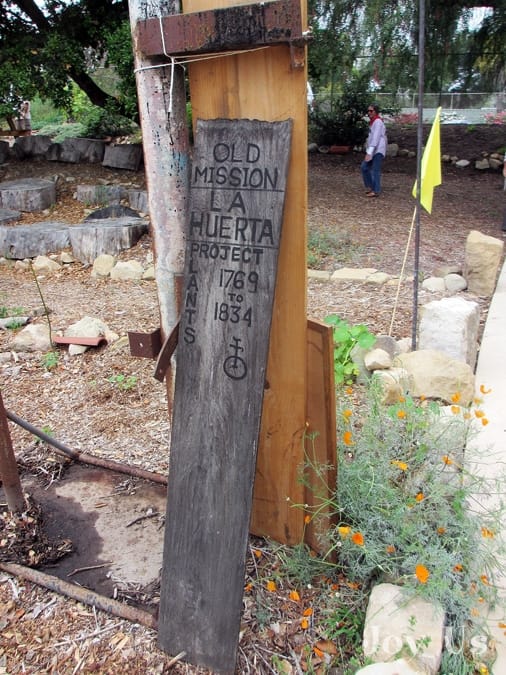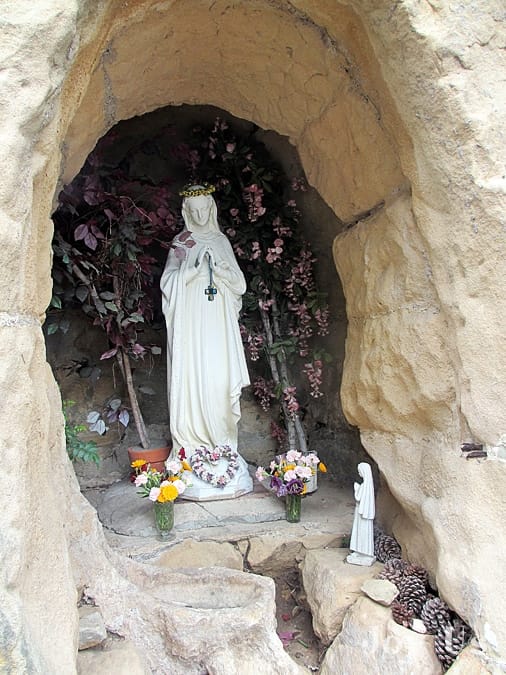 I'll leave you with this quote taken from the SB Independent  in an article by Ethan Stewart: "It's a coming together so unique and impressive (referring to the collaboration of all 8 gardens) in scale that it has caught the eye of the holiday's overarching organizing body, the American Public Gardens Association.  Next month, once the dust – or mulch, if you will – has settled on our area festivities, many of the people behind this week's celebration will give a presentation to the national organizers about how exactly they were able to put together such a comprehensive effort".
Ah … how lucky I was to be on the tour and visions of those gardens still dance in my head.  A final note to self … bring an extra battery pack along on the next garden excursion!
Let Us Inspire You. Just Sign Up For Our Free Newsletter And You'll Get:
*  Tips you can use in the garden
*   Ideas for crafting and DIY
*   Promotions on our merchandise
This post may contain affiliate links. You can read our policies here. Your cost for the products will be no higher but Joy Us garden receives a small commission. Thank you for helping us spread the word & make the world a more beautiful place!