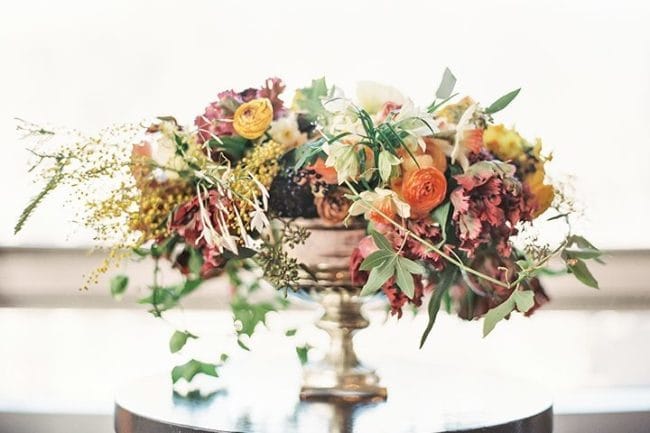 Oh you know how I love flowers, yes I do. That's the reason I wanted to share this Thanksgiving centerpiece ideas article with you. Some of my favorites for fall decorating are mentioned here – kumquats, jasmine vine, pink sedums, eryngium, marigolds, fall leaves, persimmons, magnolia pods, pomegranates, pepper berries and eucalyptus – so you'll have quite a few beautiful elements to choose from. May your Thanksgiving table be a delight for all the senses!
Thanksgiving Centerpiece Ideas: 37 Elements to Inspire Your Thanksgiving Tablescape Thanksgiving is all about gathering around the table with your closest friends and family. While the feast may be an important part of the tradition, a beautiful Thanksgiving centerpiece will certainly make the meal even more memorable.
These Thanksgiving centerpiece ideas are both stunning and creative. These centerpieces feature the most beautiful flowers of autumn, such as dahlias and chrysanthemums, paired with unique edible accents like blackberries, pomegranates and persimmons. From rustic and wild, to chic and elegant, these centerpieces are sure to inspire your Thanksgiving decor this year –no matter what your style is.
Photography by: Tory Williams for Matthew Robbins Design
Fresh and Simple
Bold and bright, this creative centerpiece is rich with orange. Ranunculuses take center stage and are accented by a creative and edible touch — kumquat branches. Delicate crocosmia buds, a relative of the gladiolus, and jasmine vines provide wispy layers of color and texture. The fresh fragrance of mint paired with the fresh citrus notes from the kumquats makes this Thanksgiving centerpiece perfect for the table.
Kumquat Branch – Kumquats are small citrus fruits that grow on trees. The small round fruits are a great way to play up the color orange in a creative way. Use the entire kumquat branch to add a rustic flair.
Ranunculuses – Ranunculus flowers are available in a wide variety of bright colors, including orange, red and purple. Known for their densely layered flowers, ranunculuses have delicate paper-like petals that can add a pop of bold color and texture to your fall centerpiece.
Mint – Fall centerpieces are the perfect opportunity to include fragrant herbs into your arrangement. Here, mint is used as foliage and adds a delicately fresh fragrance for the table.
Jasmine Vine – Jasmine vines have recently become more and more popular for their wispy vines that curve and cascade, adding a whimsical texture to any arrangement. Jasmine vines also produce delicate flowers that give off a sweet fragrance often used in perfumes. When unopened, the flower buds are tube-shaped and elongated.
Crocosmia – Crocosmia are related to the gladiolus plant. It has delicate tube-shaped flowers that grow along a central stalk. They are drought tolerant plants that can withstand the cold fairly well. Their bright orange flowers bloom for a period that can last five to eight weeks from summer to fall.
Photography by: Tory Williams | Florals by: Bedford and Company
Rustic and Wild
This rustic arrangement includes colorful dahlias and unique accents like Queen Anne's lace and star-shaped sea holly blooms. The main star of this centerpiece is the semi-cactus dahlia which is known for its elongated and pointed petals. Other flowers include stock flowers, pink sedums and spray roses. Eucalyptus 'Baby Blue' and dyed ornamental grasses make up the foliage for this unique arrangement.
Semi-Cactus Dahlia – The star of this Thanksgiving centerpiece is the dahlia. This particular type is called the semi-cactus dahlia, which is a double-flowered cultivar that displays elongated petals that appear pointed.
Stock Flower – Also known as gillyflowers, stock flowers consist of small delicate blooms that grow on a long stalk. They are popular for their wide variety of colors and give off a delicate, clove-like scent. The stock flower symbolizes lasting beauty, leading a happy life, and contentment.
Sea Holly – Sea holly is a silvery blue green flower that goes by the scientific name, Eryngium. To extend the life of these unique flowers, they are typically dried and are used in floral arrangements to add a touch of texture and whimsy.
Eucalyptus 'Baby Blue' – This varietal of eucalyptus is unique in that the rounded leaves are stacked along a central stem. The leaves are thick and they are extremely popular in flower arrangements. The dusty blue color makes them the perfect accent for any fall color palette.
Queen Anne's Lace Flower – These delicate flowers grow wild throughout the United States and are related to the carrot. Also known as Green Mist, their umbrella-like flower heads consist of many tiny and delicate flowers which are a favorite amongst bees and butterflies.
Pink Sedum – Pink sedum flowers are composed of tiny flowers, similar to the heads of the Queen Anne's lace flower. They are one of the easiest plants to grow in the garden, and are long-lasting as cut flowers.
Ornamental Grass – Ornamental grasses are typically dried and can be dyed to any color. Their long blades add height and dimension and are perfect for keeping with the harvest theme for any Thanksgiving centerpiece.
Spray Rose – Compared to garden roses, spray roses have much smaller blooms are are used as accents or filler flowers. They are available in a wide variety of colors.
Photography by: Catherine Truman | Florals by: The Farmer's Florist
Chic and Elegant
Dahlias make another appearance in this chic and elegant centerpiece. Here, dinner plate dahlias take centerstage which are known for their impressive size. Ball dahlias provide unique texture and pops of color throughout the arrangement, along with bright red-orange marigolds. Changing fall leaves provide the perfect foliage for this Thanksgiving centerpiece, and can be found in your very own backyard!
Dinner Plate Dahlia – The dinnerplate dahlia is one of the most magnificent types of dahlias due to their impressive size and layered petals. Although not an official classification on their own, different cultivars may belong to other groups.
Marigold – Marigolds are popular for their bright orange and red blooms and are one of the most popular gardening flowers. As the official October birth flower, marigolds are the perfect addition to any fall-themed centerpiece.
Ball Dahlia – In addition to the semi-cactus dahlia, this centerpiece also includes ball dahlias. These dahlias are much rounder in shape as their name entails, and are smaller in size. Their petals "revolute" or curl inwards, creating tube-like petals.
Live Oak Branch – Live oak trees are evergreens, which make them the perfect choice for fall foliage. Here, live oak branches are used which exhibit deep green leaves that are round in shape. If you're lucky, you might find a branch with acorns attached to add to your fall arrangement.
Miscellaneous Fall Leaves – Sometimes the best Thanksgiving centerpiece ideas already live in your own backyard! Here, different types of fall leaves are used. Choose branches with leaves that have changed into rich fall colors.
Photography by: Aubrie Pick for Apartment 34
Vibrant and Creative
Get creative by adding some of fall's most bountiful fruits to your Thanksgiving centerpieces. Persimmons add a bold pop of orange amongst the large forest-green magnolia leaves. This long centerpiece is anchored throughout by smaller arrangements made up of fuchsia and white chrysanthemums and globe amaranths. Magnolia seed pods add a unique finishing touch.
Chrysanthemum – Chrysanthemums are popular for their lush flowers and come in a variety of colors. Fuchsia, white, and dark purple chrysanthemums are on display in this Thanksgiving centerpiece. To recreate this look, bunch flowers in small arrangements along the length of the table.
Persimmon – Persimmons are one of the most bountiful fruits of fall. Not just for eating, this bright orange fruit takes center stage on this Thanksgiving tablescape. There are several types of persimmons that have different shapes including small and round, or wide and flat.
Globe Amaranth – Globe amaranth, also known as globe flowers, are annuals that bloom from midsummer to mid-fall. Their blooms are known for their longevity and can last all year long. Globe amaranth are drought-tolerant plants and thrive under sunny and dry climates. Their attractive bright fuchsia colored flowers are great both fresh or dried and are perfect for adding a pop of color to any fall arrangement.
Magnolia Leaves – Magnolia flowers are one of the most popular flowers in the American South. Not only are their large white flowers impressive, their dark green leathery leaves are attractive as well. Rich green on one side, and golden brown on the other, magnolia leaves add dual-toned foliage and can complement a variety of fall-inspired color palettes.
Magnolia Seed Pod – Magnolia trees produce large golden brown seed pods that are filled with bright red and shiny berry-like seeds. Use a variety of different seed pods including immature green ones for a unique touch to your Thanksgiving table decorations.

Photography and floral design by: Sweet Root Village
Dramatic and Wild
Dahlias, amaranth branches, and firethorn berries unite to create a centerpiece that is both dramatic and wild. The dusty green hydrangeas add a vintage touch, which contrasts nicely against the bright orange palette of this unique arrangement. Fragrant white tuberoses add elegance and snow on the mountain leaves add just the right amount of ornamental texture and color.
Decorative Dahlia – Decorative dahlias are different from other dahlia types in that their petals lay flat, giving them a wider and less elongated shape. There are two types of decorative dahlias: formal and informal. Formal ones have uniformly dispersed petals, and informal ones have an irregular formation and their petals can sometimes have slightly rolled tips.
Hydrangea – Hydrangeas are known for their globe-shaped flower heads that are lush with tiny flowers. There are five types of hydrangeas with the most popular being the bigleaf hydrangea. One unique feature about hydrangeas is the fact that they can change color depending on the pH of the soil they are planted in. Common colors include pink, purple, white, and light green.
Fire Thorn – Also known as Pyracantha, the fire thorn bush produces bright and colorful berries from fall through winter. Berry colors are available in red, yellow or orange. Be careful when handling fire thorn branches, as they have thorns that are hidden amongst their shiny green leaves.
Orange Amaranth – Amaranth is a drought tolerant plant that produces nutrient-rich grains. Amaranth branches are commonly used in floral arrangements due to their bright colors which remain even after being dried.
Tuberose – Tuberoses have small clusters of flowers that grow along a single stem. They are typically found in shades of yellow, pink and white and have a strong, sweet fragrance.
Snow on the Mountain – Snow on the mountain is a shrub that is known for its ornamental leaves. The thick leaves are green and surrounded by a decorative white border.
Photography by: Wedding's Art | Florals by: Flors Bahí
Stylish and Chic
There are many ways to include seasonal fruit into your Thanksgiving centerpiece. Here, multi-colored pomegranates are featured along with blackberry branches. Cream Mint protea and dark purple calla lilies make this a stylish and exotic addition to your table. Bulbed elephant head amaranth branches cascade down, producing a dramatic look and rich purple heuchera leaves provide the perfect foliage to complete the arrangement.
Pomegranate – Fall is the peak season for juicy pomegranates, so why not include them in your Thanksgiving decor? Perfect for the table, pomegranates are known for their high levels of antioxidants which aid in benefiting blood vessels and improving heart health. Split open a pomegranate as part of your centerpiece display to showcase the beautiful ruby-like seeds hidden inside.
Calla Lily – The name "calla" is derived from the Greek word for beautiful. In addition, the calla lily symbolizes gratitude, making it the perfect flower to include into your Thanksgiving decor. Although the classic calla lily is white, it is also available in a variety of other colors including yellow, pink and deep purple.
Pink Pepperberry – The pink pepperberry comes from the California Pepper Tree, which goes by the scientific name, Schinus molle. It is an evergreen tree that produces its pepperberries from fall into winter.
Cream Mink Protea – Proteas are popular for fall arrangements due to their bloom times and long lasting flowers. The Cream Mink protea blooms from fall into winter and spring, and is highly drought tolerant. It has creamy white petals that are tipped with a decorative furry border that is dark maroon in color. The Cream Mink protea will certainly make a statement in any Thanksgiving centerpiece.
Heuchera – Heucheras are one of the most popular foliage plants in gardening. They come in a variety of colors ranging from green to pink and from brown to dark purple. Their wide, fan-like leaves are boldly veined, making them an excellent filler in floral arrangements.
Elephant Head Amaranth – There are many types of amaranth, however the Elephant Head amaranth is one of the most impressive. It's seeds are bright magenta and grow along a heavily packed branch producing dense bulbs along the way. In an arrangement, these bulbs cascade down to produce a dramatic effect.
Photography by: Jen Huang | Florals by: Poppies and Posies
Lush and Eclectic
Dahlias are definitely one of fall's most popular blooms. A combination of large semi-cactus and small decorative dahlias create this centerpiece that is both lush and eclectic. The impressive and colorful dahlias are set against a rustic background of fall oak leaves. Wild blackberry branches add a playful touch and delicate garden roses complete the soft and feminine color palette.
Blackberry Branch – Not just for eating, blackberries are great for floral arrangements as well. Here, wild blackberry branches are used as a fun and edible touch. The non-uniform color of the blackberries ranges from light magenta to dark purple, which adds dimension.
Oak Leaves – These fan-like oak tree leaves are some of the first leaves to change color in the fall. Their large size make them excellent fillers. Plus, they can be found in your very own backyard!
Eucalyptus Leaves – Eucalyptus leaves are widely available and are known for their ashy blue green color. Their long leaves allow them to drape and add delicate texture to any fall centerpiece. Their colors can range from dark green to a lighter grayish tone.
There are plenty of creative ways to decorate your Thanksgiving table. Feel free to add your own creative touch with these Thanksgiving centerpiece ideas and create a memorable experience for your guests. For more inspiration, browse our Thanksgiving arrangements that are sure to bring warmth to your family table.
Sources
http://passionflorals.com | www.gardenia.net | www.brides.com | www.proteaflora.com.au | www.ftd.com/blog 1, 2, 3, 4 | www.gardeningknowhow.com 1, 2, 3 | www.smgrowers.com | www.flowersociety.org | www.plants.usda.gov | www.almanac.com | www.seabuckthorninsider.com | www.smgrowers.com | www.davesgarden.com | www.finegardening.com | http://www.pyracantha.co.uk/
You May Also Enjoy:
Autumn Decorating Ideas For A Festive Fall Season
The Best Plants That Will Make Your Home Festive For Fall
5 Porches That'll Welcome Fall To Your Home
Fall Readymade Natural Wreaths 
Thanksgiving Centerpiece Ideas With Natural Elements 

This post may contain affiliate links. You can read our policies here. Your cost for the products will be no higher but Joy Us garden receives a small commission. Thank you for helping us spread the word & make the world a more beautiful place!