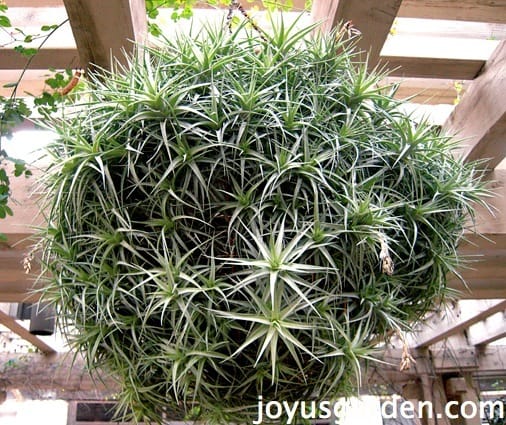 Tillandsias, part of the Bromeliad family, are fascinating plants! The ones I'm showing you are epiphytic Tillandsias which in nature grow are attached to other plants.
You might know them as Air Plants, which is their common name. They definitely have a wacky and interesting growth form which makes them prime decorating material.
Another big bonus is that they're oh so easy to maintain and well suited to our interior environments which add to their appeal.
You've probably seen them in hanging glass globes but there are so many other ways you can use them to accent your home.
We sell Air Plants on our website and will be adding more varieties in the future, so be sure to click on that link.
Resting in a geode
Accenting a candlestick holder
Hanging in a shell
Nestled in a shell
With Succulents & glass disks as a tablescape
On cork bark
A Zinfandel grape "Tillandsia tree"
Attached to a plant
Tillandsias are great for urban dwellers with no or limited outdoor space. Travel a lot? Then these plants are for you.
Just give them a mist before you go and they'll be fine when you arrive back home. Just make sure you can easily take them to the sink or dunk them in a pail for their monthly soak.
No soil required – how fabulous to have a plant you never have to worry about transplanting!
Rainforest Flora's Tillandsias hanging on Tilly Hanger
By the way, did you know that Spanish Moss is a Tillandsia? It's that same lacey stuff that drips from Oak and Cypress trees in the South. I am used to seeing it boxed and sold in the floral trade but the picture below shows it being sold live at the Southern California Spring Garden Show.
Ethereal clumps of live Spanish Moss for sale
I've had the same Tillandsias for years now which at one time graced the interior of Marshall Field's (now Macy's) in Chicago for their annual Spring Flower Show.
The theme was "Curious George" and a variety of Tillandsias was scattered throughout the jungle-themed display. At the end of the four weeks, a select few were packed in my suitcase and flown back to San Francisco with me.
I've since moved south and they now reside in the froggy pot (completely empty – no soil) pictured below which is on my covered front porch where I see them often throughout the day. Santa Barbara's temperate climate allows them to live outdoors all year long.
My personal stash
How I care for Air Plants is oh so simple. The light is bright and they receive an hour or two of the direct morning sun. I live seven blocks from the ocean so there is usually a bit of a breeze which is good because they need adequate air circulation. If there is no morning fog then I mist them once a week.
Once a month they go into a pail for overnight soaking. That's it on the watering instructions. They are very slow-growing and apparently fertilizing them will speed up the growth process a bit (not much though) and encourage a bit of flowering. They are not sold and collected for they extravagant flower displays, however!
A few of mine getting their monthly bath
They are also great to use for Christmas decorating. But that my friends is a whole other blog post. So now that you know how easy they are, why not give them a try? A word of warning: they are not cheap so you may have to build up your collection slowly. Tillandsias may just become your next decorating obsession!
Another warning: cats, like my omnipresent Oscar who jumps into any and every interior photoshoot, love their crunchy leaves!
This post may contain affiliate links. You can read our policies here. Your cost for the products will be no higher but Joy Us garden receives a small commission. Thank you for helping us spread the word & make the world a more beautiful place!