Spring has arrived and summer is not far behind!  We're happy to announce the new website for Joy Us garden just in time for that glorious season.  I want to share with you our line of stylish and sturdy garden accessories for the savvy woman gardener.  Being a professional gardener and garden designer for years prompted me to realize there is no reason why you can't look good while crawling around in the dirt!  First I'll share with you the product which started it all – the Joy Us garden LadyBug Bag.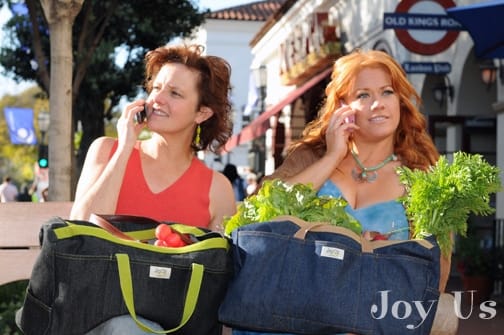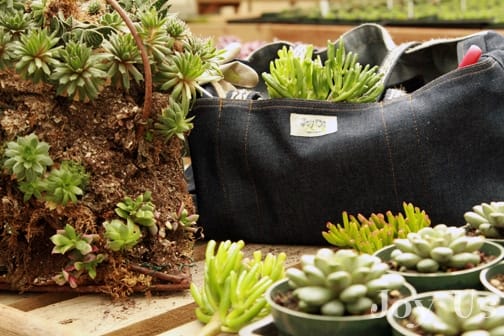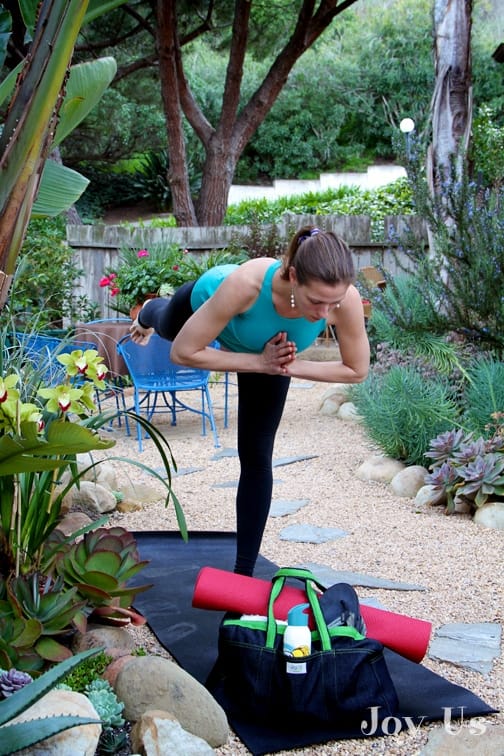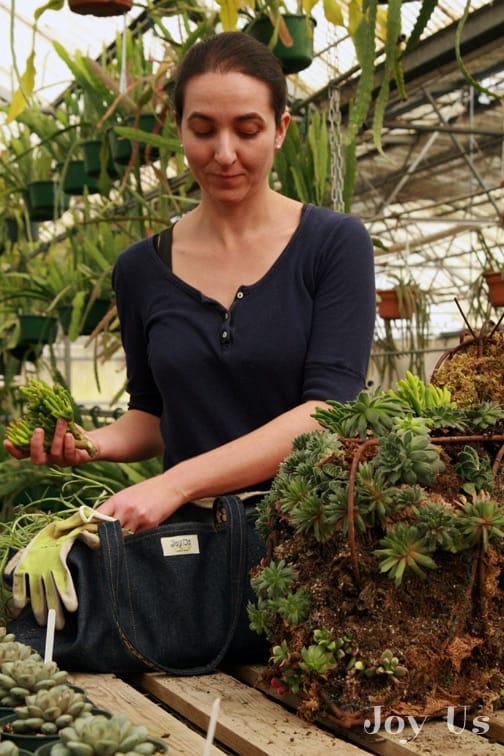 The LadyBug Bag is long and low making it easy to find whatever you are looking for. Lots of pockets inside and out provide provide plenty of room to stash. It holds so much you'll be surprised! This stylish denim bag is also great for yoga, the gym, the farmer's market, shopping, the beach, knitting supplies, books, travel, as a girly tool bag – I'm sure you'll find a way to use it!
Next came the On Your Kneez Pleez Kneepads.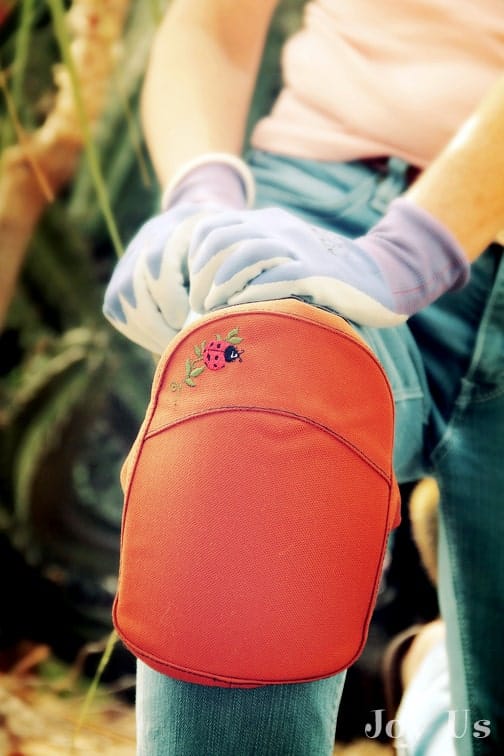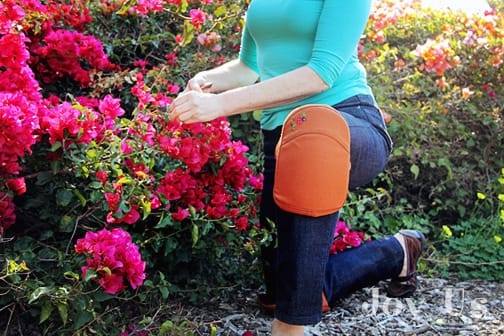 On Your Kneez Pleez Kneepads
The On Your Kneez Pleez Kneepads, great for the weekend warriors, are the gardeners' saving grace! The high-end foam insert comes from a local kayak seat manufacturer who would otherwise discard the side cuts – keeping it out of the landfill! They'll be a bit stiff at first but will conform to your knees in no time. You can also use them for cleaning and painting.
The LadyBug Tool Pouch keeps all your pruning tools close at hand.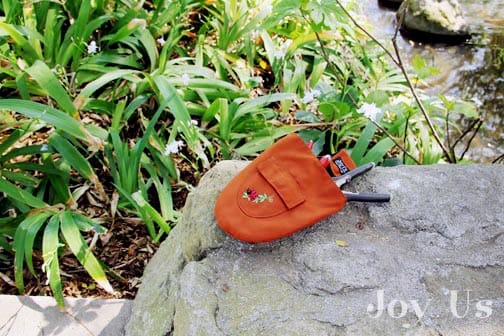 LadyBug Tool Pouch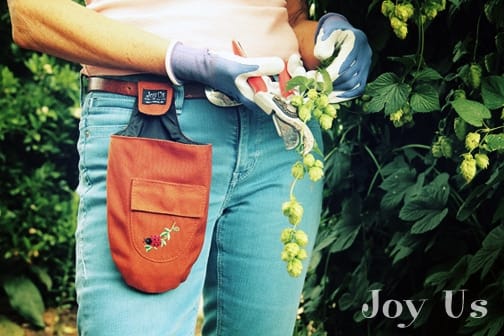 The adorable LadyBug Tool Pouch was designed to keep all my cutting implements (Felcos, Japanese nippers, floral snips, Swiss Army Knife and scissors) in one place so I didn't have to scream "Has anyone seen my Felcos?!". It also easily snaps on your belt or belt loop if you want to keep it easily in reach. I recently took a trip to gardens in San Diego County and wore it to carry my point & shoot camera, my keys and money – quite convenient as I was romping through gardens snapping pictures like a maniac! Florists would love this pouch too.
The Edna and The Vita, our apron duo, are named in honor of two favorite gardening icons.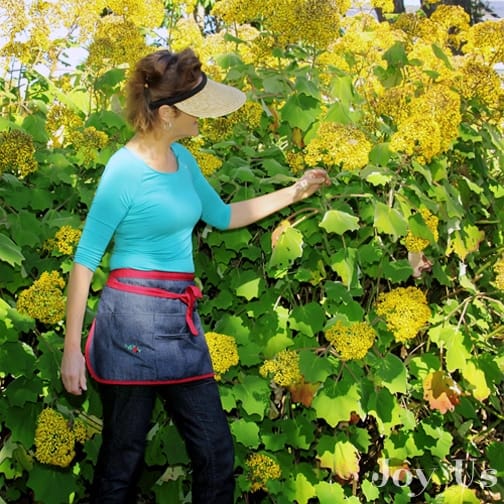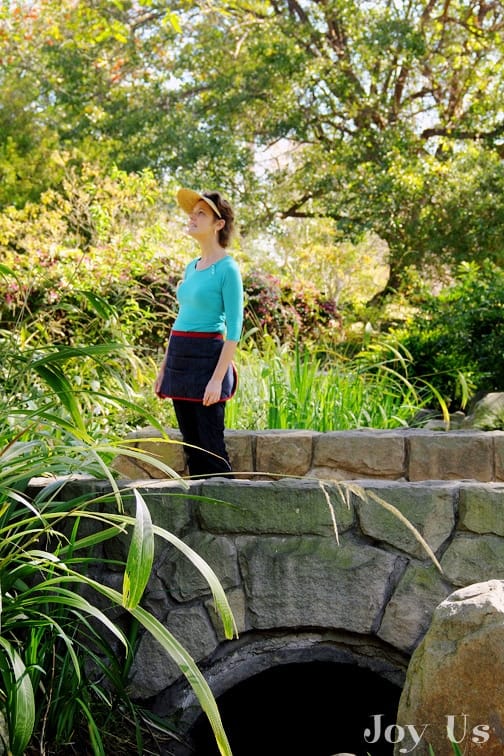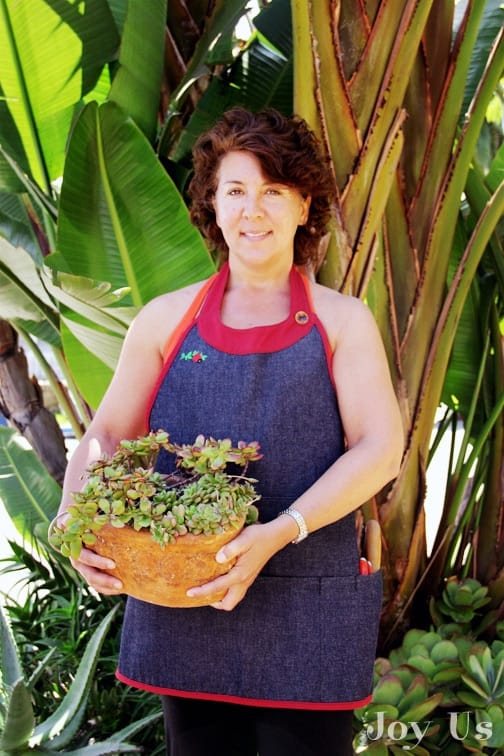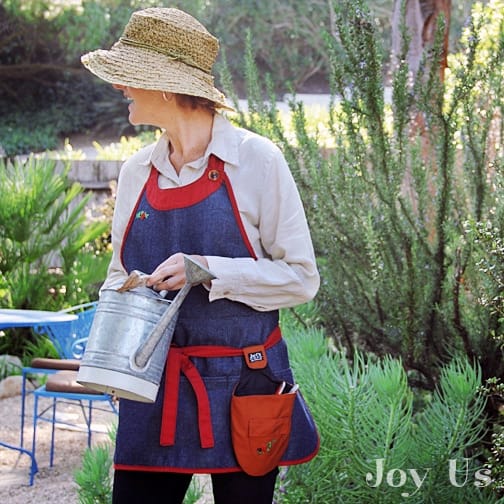 These aprons have many pockets of different sizes, straps long enough to tie in the front or back and are comfortable as can be. Adding to their appeal is the fact you can choose a waist apron or a full apron. They're great for in the kitchen and at the barbeque too!
Our products are proudly made in the USA, just a short 30 minute coastal drive to the south. Good looking, ethical and long lasting – what more does the savvy gardener need? Please visit our new website and we hope you EnJoy our products as much as as we do. Cheers to gardening!