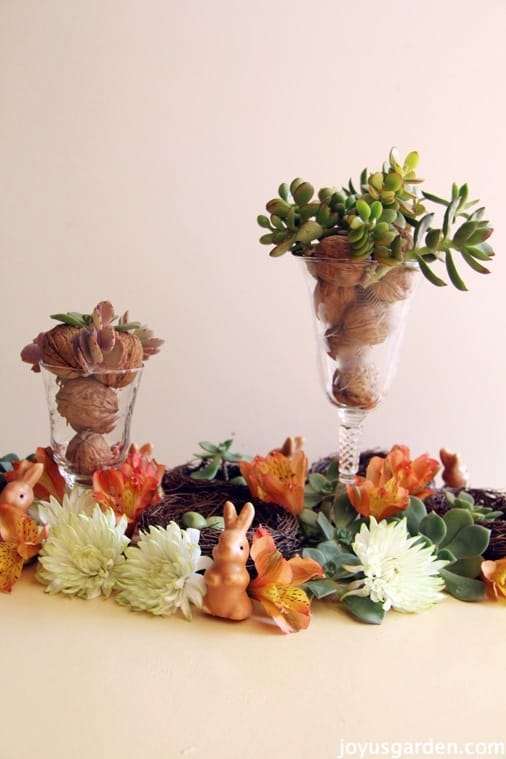 Spring is right the corner and following hot on its heels is Easter. Our Winter here in Santa Barbara has been sunny and mild but other parts of our country and the world have not had it so carefree.
I was born in New England, but remind me again, what's a snowplow?! Many of you will be jumping for joy when March 20th rolls around. Regardless of whether you celebrate Easter or not, this easy to put together tablescape will make any Spring table a lot more festive and inviting.
I started out with 3 of my Grandmother's wine glasses in 2 different heights filled with walnuts. I have a walnut "thing" going on in my design life right now.
Plus, I can eat them after this arrangement has been taken apart. Choose whatever style and color of glass suits you. I've seen some modern, jazzy cocktail glasses in eye catching colors – note to self for next time.
Fill the glasses with colored glass disks and you get a totally new look. I placed 6 little birds nests around the glasses because with the little blue robin's eggs in them, they remind me of Spring.
I pulled these out to use as possible accents and decided to go with the bunnies. I love the little eggs but they were too colorful for the more natural look I was going with.
I have a box full of succulent cuttings in my utility room. Whenever I do some snipping and clipping in my garden, in there they go. These are some I pulled out as possible candidates to use in this tablescape.
The succulent cuttings and the bunnies have happily joined in. I made this on my work table in the garage because my two kitties, Oscar and Riley, like to get in the middle of anything I do in the house. Typical!
For the finishing touch, I tucked in a few orange Alstroemeria and some yellowy-green Mums.
Both of these flowers will hold up for at least six hours out of the water if out of direct sun. This is great as a centerpiece because you can still see over and through to your dining companions on the other side.
Plus, it's not too wide so you can easily fit all your glasses and serving dishes on the table.
To really set the mood, why not carry this piece out the entire length of your table?
Oh, please be sure to check out our book Mother Nature Inspired Christmas Ornaments. I've used cuttings of succulents to adorn the ornaments I made in the book.
After the holidays were over and the ornaments were packed away, I planted those cuttings in my garden. I now have even more to design with!
This post may contain affiliate links. You can read our policies here. Your cost for the products will be no higher but Joy Us garden receives a small commission. Thank you for helping us spread the word & make the world a more beautiful place!