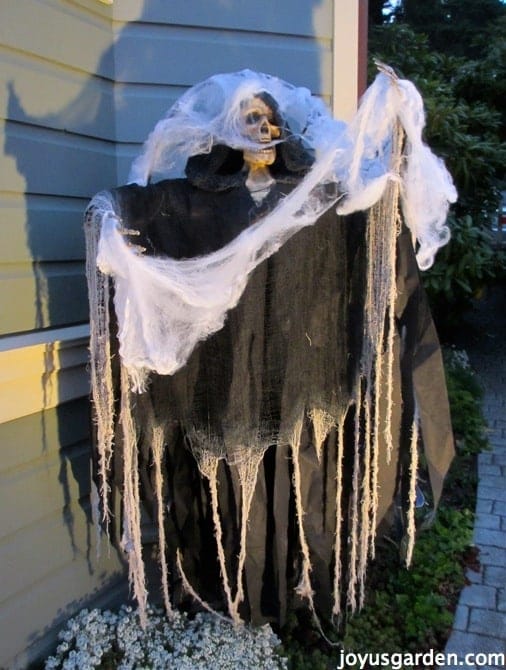 Halloween. It's that wild and crazy holiday we celebrate when it's just fine to put on gobs of outrageous makeup which takes 2 days to get off, dress like an actor or musician everyone loves to hate and scare people just for fun.  Another year has rolled around, and for me, that means another Halloween decorating blowout has taken place.  I've done this decorating job up in the San Francisco Bay area for 16 years now.  Each year a bit is added and the displays are slightly different – we all agree that this year is the best so far.
There are some Halloween decorating tips waiting for you after the first two sets of photos and a short, funny video at the very end so be sure to scroll all the way down.
The Garden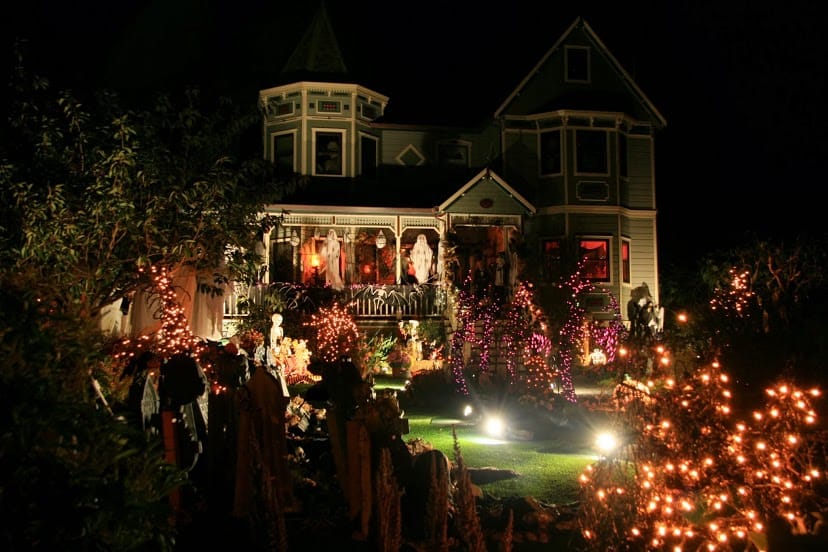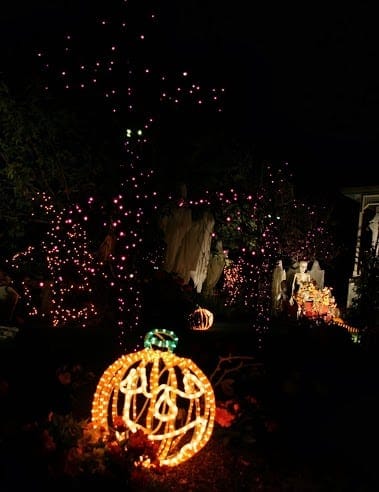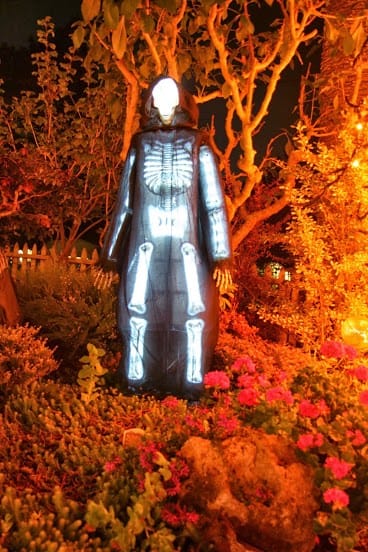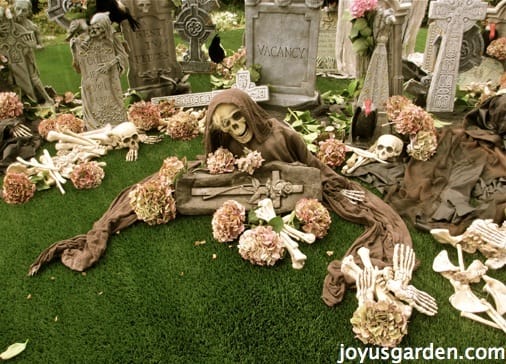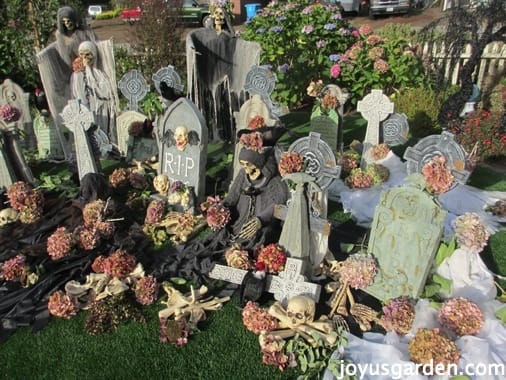 Q. What do the skeletons say before eating? A. Bone appetite!
Here are a few tips which should make your decorating endeavors a lot easier:
* Fishing line is essential to a job like this – we went through 3 rolls of it!
* Have plenty of covered wire and green wire on hand too.
* This house just got a new paint job a couple of months ago. We protected the railing by first covering it with saran wrap with soft rubber open-cell material to line drawers over that. It also helped the garland to grip on and stay in place.
* Map the electrical before you start connecting. This job has a lot plugged in which needs to be figured out in advance – there is only so much which can be plugged into an outlet.
* Put all your things electric on exterior timers – it saves you having to plug and unplug them every evening. Plus, it saves energy.
* Tatter and slit your ghosts and ghouls even more than they already are – that way they'll really flutter in the wind!
* When doing a Halloween graveyard, position some of your gravestones at an angle – it makes the graveyard look older!
* The ghoulish figures spanning the front porch are tied together with fishing line so they have movement but stay facing the street and walkway.
* Pack all your ghouls, goblins, headstones, foliages, rats, bats and other Halloween decorating accoutrement away as carefully as possible. Make sure they are completely dry before doing so. You've made an investment and want to them to look just as good next year!
The Front Porch
Have a spooktacular Halloween everyone. I'll leave you with this little poem, source unknown, to get you even more in the SPIRIT!
The time has come for the witches dance
And the spooks from far and near
Will gather and make merry
For Halloween is here
Note: The pictures with the joyusgarden.com watermark were taken by me. Randie Marlow, a professional photographer & graphic designer in the San Francisco Bay Area, took the other photos.