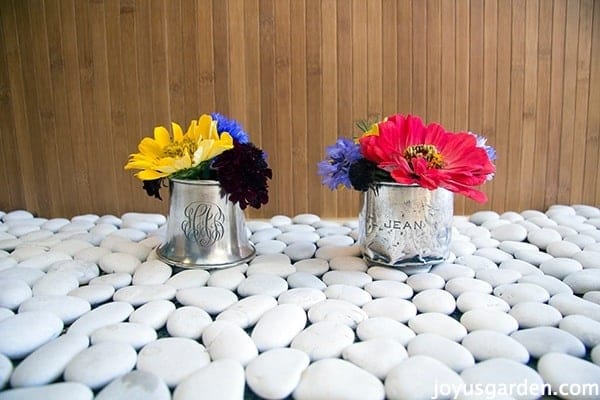 Antique sterling silver baby cups & garden flowers go together like peanut butter & jelly!
I was digging through some long unopened boxes in my shed the other day and came across five sterling silver baby cups that my mom had saved and I somehow ended up with. Goodness, in that same box were a few sets of baby shoes that I believe had belonged to she, her mother and my great grandparents. These are things I never would have saved but now I'm happy to have them. After a brief stroll down memory lane the creative wheels went into motion as to what I could do with these things.
This bit of nostalgia inspired these simple centerpieces using garden flowers.
The cups were tarnished as can be but I shined them up.
One of my mom's pretty little baby cups.
The flowers came from a nearby farmer who grows avocados, lemons, garlic and cherimoyas with everything being organic. I did one arrangement that included a sterling silver rimmed glass candy dish (which was a bridal shower gift to my mom) in the middle of the cups. For the second arrangement I used just the cups and left the candy dish out. The white pebbles which create the base for thee arrangements are actually the stones which line my shower, Fred Flintstone style.
Black scabiosa, zinnia & bachelor's buttons are a few of the flowers I used.
I had already the dried statice. The valerian has seeded on the side of my house. The rosemary & aeoniums grow in my front yard.
Here you can see the candy dish in the middle of the cups. I half filled it with pebbles & laid the statice & aeoniums on the top.
I bought three bunches of flowers, zinnias, black scabiosas and bachelor's buttons, but I only used five to ten stems of each. Smaller flowers work better in an arrangement like this by the way. If you had a long table then you could do this centerpiece in little cups (votive cups perhaps?) and carry it down the entire length. This way everyone has a little something colorful to look at when dining.
The materials I used are few:
5 baby cups
1 candy dish
3 squares of pebbles for the base
3 bunches of garden flowers from our farmers market
Statice, dried, from a previous arrangement
Rosemary, aeoniums & valerian from my garden
Pruners
Centerpiece idea #1 with the candy dish, completed in not time flat.
#2 with just the cups. As you can see, some of the cups don't lay flat on the pebbles. Part of the charm I say.
I hope these two simple centerpiece ideas have sparked a little floral inspiration for you. Perhaps you have some treasures hiding in a box or in the back of a china cabinet which you could use to hold the flowers. Fall is fast approaching so I think I'll be filling these cups with berries, branches and pods to ring in the season. I think something like this would be equally lovely on the Thanksgiving table!
Here are a few other projects using Summer flowers:
How To Make A Flower Head Wreath
A Unique Farmers Market Centerpiece
An Edible Centerpiece Accented With Driftwood, flowers, Succulents & Air Plants