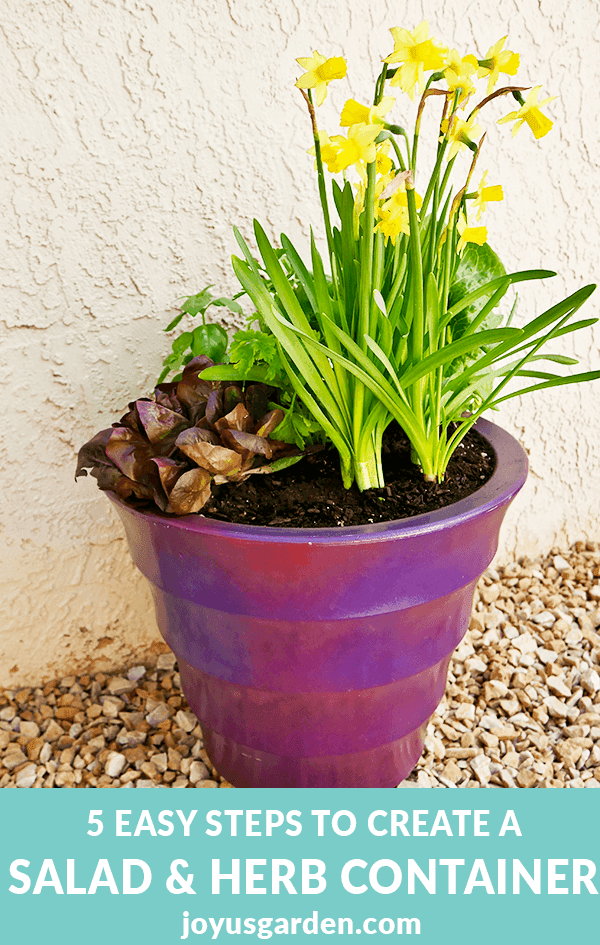 Oh Spring, you've finally arrived and not a minute too soon! It's that season when we gardeners are itching to get outside and sink our hands into the dirt. Here's a project that takes hardly any time to do yet is so rewarding. This spring salad and herb container garden is so easy to create and looks good too.
Herbs, lettuces and flowers mingle together beautifully. This is a great project for a beginning gardener because it doesn't require a lot of attention once put together. If you're new to gardening, start small – one lettuce, one herb and one flower.
Creating the spring salad & herb container garden:
Materials you'll need:
– A pot (This is fun because there are so many styles to choose!)
– Lettuces.
– Herbs.
– Trowel.
– Potting mix – Make sure it's a good quality and drains well. Organic is always my preference.
– Compost – Fertilizer is optional but not necessary with the planting you see here.
Here are the steps to creating your very own container garden:
Choose the location.
Whether it's on your balcony or right outside your kitchen door, full sun in the spring is usually best; at least 6 hours a day. Most lettuces aren't heating tolerant, so as the sun intensifies, the lettuces will need afternoon shade. I live in the Arizona desert so this salad planting gets bright light but no afternoon sun at all.
Make sure the air can circulate freely around the pot. Having it stuck in a corner isn't good.
Select the plants.
I chose baby romaine and red leaf lettuces, parsley and basil. A few other herbs suited to spring planting: cilantro, chives, dill, thyme, and chervil.
As you can see, I added in a mini-daffodil for a bright pop of spring color and to fill in the pot while the lettuces and herbs are getting going. Violas, marigolds, or calendulas would beautiful options too.
The container almost filled with organic potting soil.
Pick the container and soil mix.
None of these plants have an extensive root system and can grow tight together so a low 12" bowl or shallow rectangular planter would be fine. A taller container is fine too. Just know that the smaller or more shallow a container is, the faster the soil will dry out.
I use a rich yet light organic potting soil; which is actually soil less. Some of the ingredients are peat moss, perlite, oyster and dolomite lime and lots of beneficial microbes.
Plant.
Because the root balls were small on my plants, I filled up the container with mix to within a few inches of the top. Arrange the plants & fill in with potting soil & a few handfuls of compost. Top with 2-3" of compost.
Water well. These plants have small root systems so make sure you do this.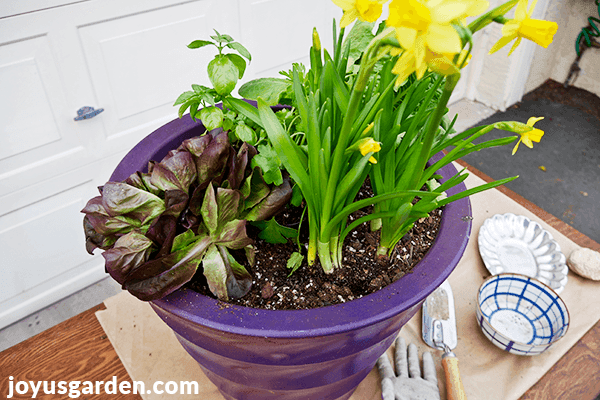 As you see in the video, the lettuces & parsley were grown hydroponically & are a bit droopy. It takes them a few days for them to adjust to life in the soil.
A few advantages of growing food in a container:
– You're assured of good drainage, which all these plants need, because you choose a mix which drains readily.
– There'll be fewer weeds to contend with.
– No dealing with and amending the bad native soil.
– You'll have to do less if any kneeling.
– You can plant a bit sooner because the soil in the container will be a bit warmer than in the ground.
– You can move the container as the conditions change with the seasons.
– Easier to water.
If you choose a beautiful container, it can become a focal point.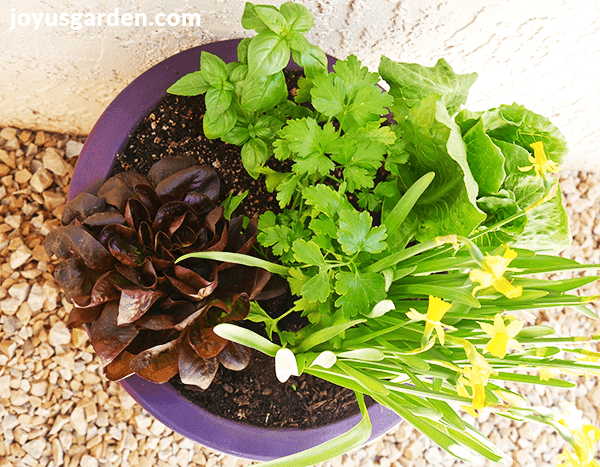 5 days later & all the plants have perked up – salad on the way.
How early you start this project depends on your growing zone and the date of your last frost. You can start small and keep it simple if you're new to the wonderful world of gardening. Watch your planting grow and reap the benefits. Enjoy!
Happy gardening,

YOU MAY ALSO ENJOY:
The Best Tips On Organic Vegetable Gardening 
Planting Aloe Vera In Containers 
This post may contain affiliate links. You can read our policies here. Your cost for the products will be no higher but Joy Us garden receives a small commission. Thank you for helping us spread the word & make the world a more beautiful place!
I'm a life-long gardener who still to this day gets giddy at the thought of a trip to one of the local nurseries. Yes, I actually studied landscape and environmental horticulture and the practical experience I have garnered through the years has served me well. Childhood memories of chicken manure "tea" still float through my olfactory senses to this day. I have always been an organic gardener and always will be. From the Earth … To the Earth. I was born and raised in rural, bucolic Litchfield County, Connecticut and now joyfully live a few blocks from the ocean in beautiful Santa Barbara, California.