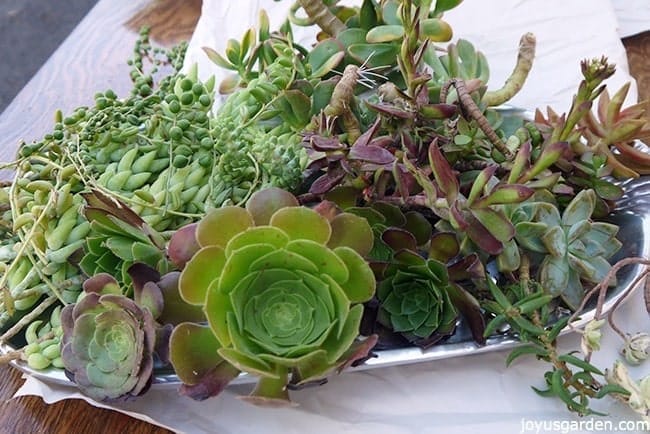 I have a funny little story to share on how I learned that rooting succulent cuttings is super simple.
When I drove 9 hours from Santa Barbara to Tucson, my car was jammed packed with plants, pots and 2 cats. I was crammed into the driver's seat with limited vision. My nerves were slightly frazzled from Oscar yapping away the whole trip.
On the other hand, I felt like I was commanding a mobile greenhouse. I am at my happiest when I'm surrounded by plants. I left most of my fleshy succulent plants behind but brought cuttings which I took the day before the move.
This is all about rooting my medley of succulent cuttings which made the journey across the deserts like a band of troopers.
Rooting succulent cuttings is quite easy.
Don't be surprised if you see roots appearing from your cuttings while they're healing over.
I found the Golden Barrel Cactus tossed out along the sidewalk in Santa Barbara with no grow pot. They are one of my favorite cacti, especially when planted in mass and glowing in the sunshine.
At that point, I already knew that I was moving to the desert. I picked it up and gave it a temporary home under my Queen Palm. It lived for 9 more months sans pot which is further proof that cacti are tough as nails. I put it in a brown paper bag the afternoon before I left so the dirt wouldn't fall off the root-ball when it got wedged in the back seat amongst the other plants.
Taking the sweet little Queen Victoria Agave out of 1 of the beds in my front garden was a last minute decision.  I'm glad it came along for the ride because I have a spot all lined up for it on my side patio. Both it and the Golden Barrel will remain in the planter until their new homes are ready.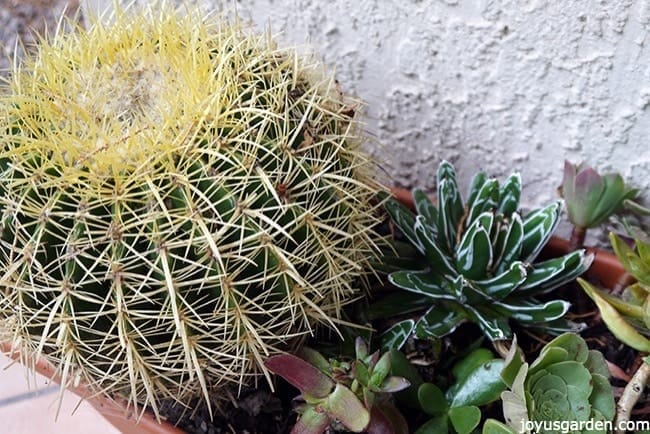 I have spots lined up for the Golden Barrel Cactus & Queen Victoria Agave.
I managed to get quite a few cuttings and a couple of plants into a  7″x 22″ planter.
The melange of succulent cuttings occupied the rest of the planter. I did loosen a few of them but this is the Arizona desert after all. They were planted in mid-June and it's now the end of August so all in all they faired well in the blazing summer heat.
Now, keeping them alive and going is another story but more on that in the next post.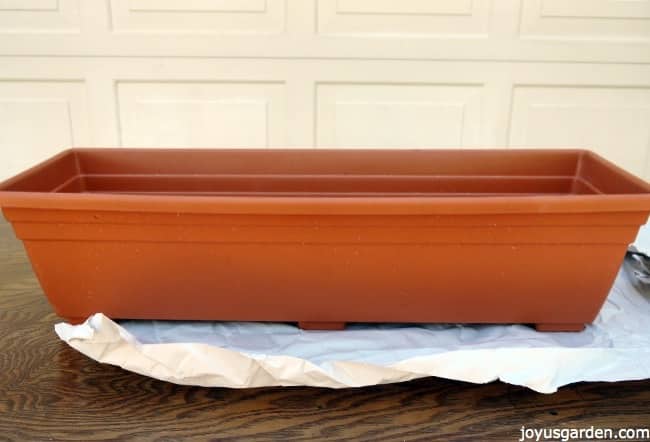 This simple plastic planter was just right for this project but I did need to drill holes in the bottom of it. As I've said many times before, succulents need excellent drainage!
I used straight cactus and succulent mix to root my cuttings because it's best not to add any amendments like compost. This is a temporary fix or as I say in the video, a plant Airbnb or hotel. You can add the good stuff like worm compost when you move the rooted cuttings into their permanent home.
Whatever medium you use for rooting, make sure it's very light so those new roots can easily emerge out.
If you're a newbie gardener, welcome to the wonderful world of cultivating greenery and flowers! The good news is that succulents are very easy to propagate. When rooting a variety of succulents there's no need to put them in separate pots. Simply put them all together in a carefree fashion. Make sure they're in a bright spot with no direct sun. Keep them lightly moist but not overwatered.The medley will be happy as can be while rooting in and it'll be much simpler for you.
Happy propagating,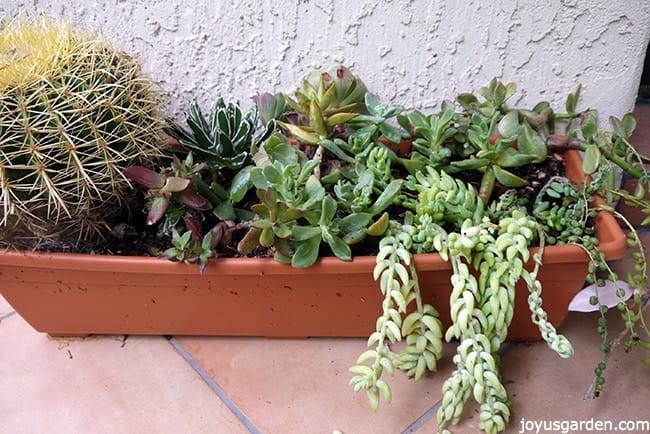 The planter has been happily residing on my side patio in bright shade. The cuttings are all rooted in & now it's time for them to be moved to their new home in a pot near my front door!