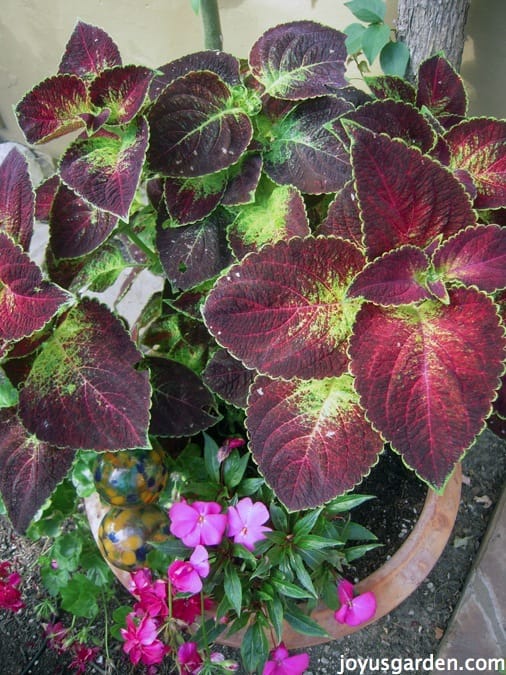 Money for nothin' and your plants for free – propagating Coleus is as easy as can be. I bought the mother plant of this pictured Coleus, "Dipped In Wine", 4 years ago come this May. I took cuttings of it last week (see the video below to see how I did it) and already just 7 days later little roots have started to appear. The cuttings I took were generous, about 10" or so, because I want the plant to have a jump up on the season. I cut the stems at an angle, stuck them in a beaker of water, put them in my utility room and that's about it. Coleus stems are square by the way. That means they are in the mint family (Lamiaceae) along with salvia, basil, lavender and many more. Good company to keep.
Did you know that Coleus, even though they are sold as annuals, are actually classified as perennials? Mine would probably live on from year to year here in Santa Barbara as it happily grows in a pot that butts up against the house (protection with a nice amount of sun) but I choose to take cuttings because it gets very rangy. We had a 4 day rainy spell in early December followed by a cold spell in early January but it lives on nonetheless. The large leaves are falling off and new growth is already appearing.
Coleus went out of favor for a bit but now they are back with a bang. They are sold for their showy foliage rather than the flowers. And boy, some wildly patterned ones have appeared on the market lately. If you want to see what I mean just click on the link at the end of this post to see the many varieties a Coleus specialist has to offer. Be sure to check out the "Under The Sea Collection" – crazy! I nip the small blue flowers off anyway because I want more energy to go into the plant itself.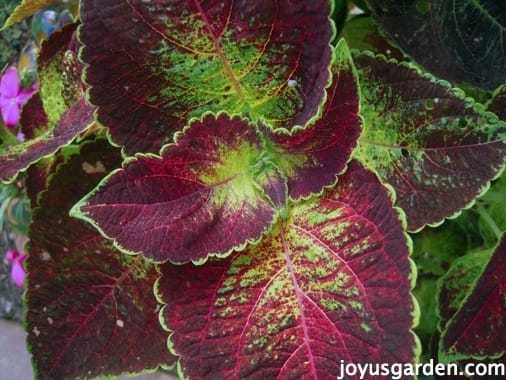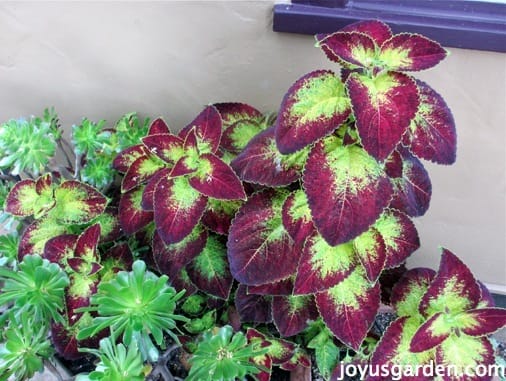 Coleus are great in containers and combine beautifully with other plants. They run the exposure gamut from shade to sun. This Coleus "Dipped In Wine" is more sun and heat tolerant than others. It gets quite a bit of sun which seems to bring out more of the burgundy color and lees of the lime green. They can be cut back, brought indoors and over wintered in the house but beware, they are subject to spider mites and all their leaves may drop off. I am going to take a few more cuttings of mine and then cut the mother plant down by a foot and see how she carries over into the coming season.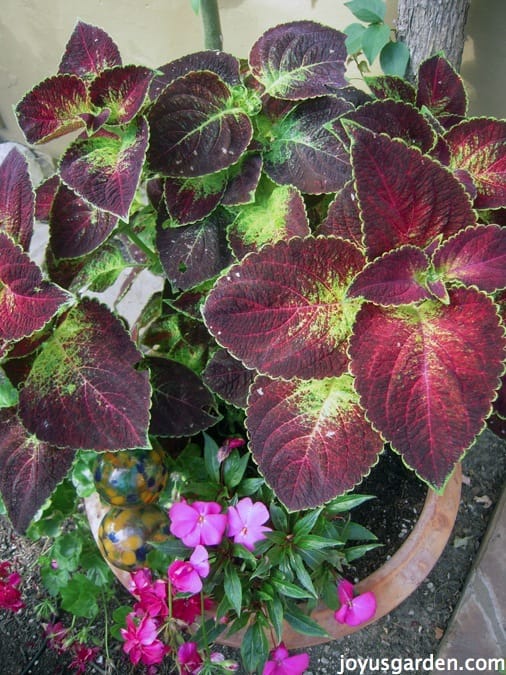 This is a stem cutting I took one week ago and little roots have already started to emerge. I will plant the cuttings back out in the garden by the end of February. That way, the plants should be very good size by June.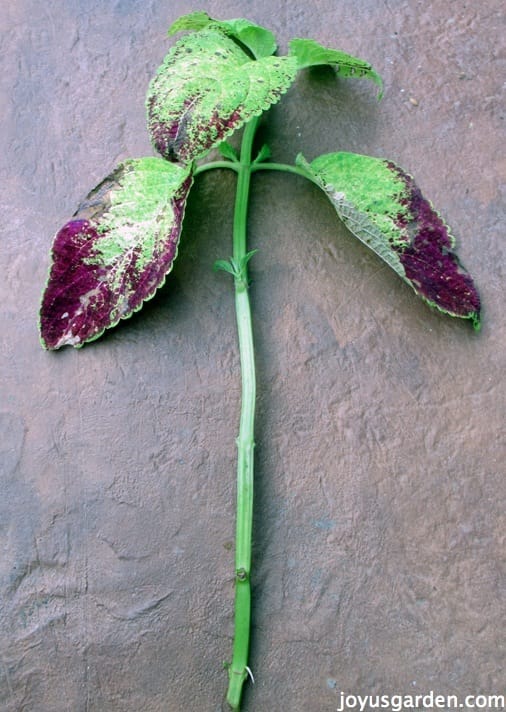 These are cuttings I took last year – I potted them up first. They were smaller so it took them longer to get going. This year, the cuttings will go directly into the garden by March 1 or earlier.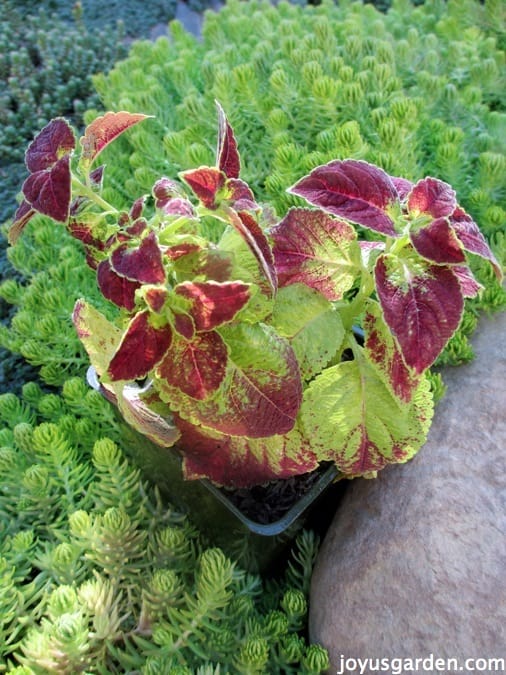 How do I keep my Coleus healthy and going strong? Glad you asked. I use a good organic potting soil or planting mix with a sprinkling of worm compost thrown in the planting hole. I covered the top with an 1″ of organic compost and water once or twice a week depending on how warm we get. Every other month I water them with a generous douse of Moo Poo Tea. That's it – easy as can be.
Here's a video for your viewing pleasure showing the above mentioned plant and how simple it is to propagate. I did call it Coleus "Kong Red" in the intro but it is actually Coleus "Dipped in Wine". Oops, I have that one too. All Coleus are propagated the same way.
I can't wait to get more – they have already appeared in our garden centers. I have an itching to pick up a few Caladiums too – I feel a riot of color coming on sans the deadheading!
To see all the wide variety of Coleus out there: Rosy Dawn Gardens
I use this on my container plants: Moo Poo Tea
Let Us Inspire You. Just Sign Up For Our Free Newsletter And You'll Get:
* Tips you can use in the garden
* Ideas for crafting and DIY
*   Promotions on our merchandise
This post may contain affiliate links. You can read our policies here. Your cost for the products will be no higher but Joy Us garden receives a small commission. Thank you for helping us spread the word & make the world a more beautiful place!
I'm a life-long gardener who still to this day gets giddy at the thought of a trip to one of the local nurseries. Yes, I actually studied landscape and environmental horticulture and the practical experience I have garnered through the years has served me well. Childhood memories of chicken manure "tea" still float through my olfactory senses to this day. I have always been an organic gardener and always will be. From the Earth … To the Earth. I was born and raised in rural, bucolic Litchfield County, Connecticut and now joyfully live a few blocks from the ocean in beautiful Santa Barbara, California.