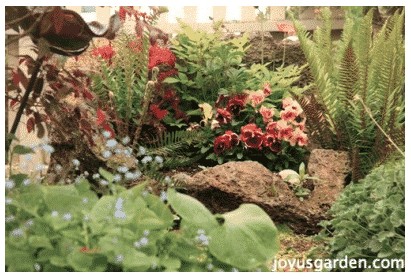 Create a rustic, naturalistic planter for your garden
I love container gardening and have quite a few pots made from different materials on my porch, on all of my patios and in the garden itself.  A container, planter or pot (call it what you wish!) placed in the garden creates interest and can be used as a focal point. This rustic, naturalistic planter that you see was actually created from 2 pieces of rock purchased from a landscape supply company up in the San Francisco Bay Area.
A few years ago, we ripped out my clients side lawn (yippee!) because she wanted more plants.  We replaced the unwanted turf with shrubs, perennials and a few roses. More pretties equals equals more to look at. Another bonus was that the watering cycle could be cut back – that equals more money in the pocket.
We headed off to find pebble for the long, winding path, a few large pieces of rock to be placed here and there, topsoil and amendment. A visit to the landscape supply company is fun because I always find some fascinating treasure every time. This trip was no different.
We found a 1 ton hunk of rock with a natural indent on the top which became a one person seat. We affectionally named it "the  butt rock". A few rough chunks of rock also caught our eye and they became 2 planters. Because both of them are shallow, I plant them with annuals or perennials that don't root too deep.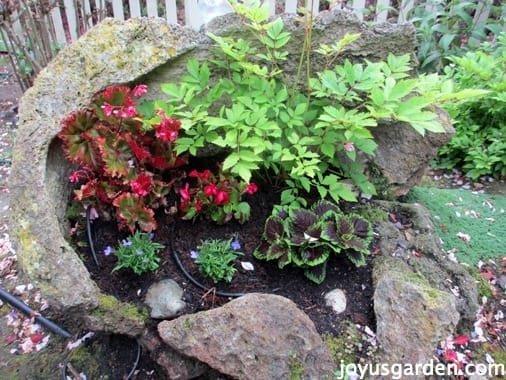 Above you get a good look at the planter itself soon after it's spring "spruce up" one year. The smaller, dark piece of rock on the lower right along with the little round rock on the lower left were placed in those spots to hold the soil in where there were big gapes. This chunk of rock was not meant to be used as a planter so simply put, we made it one.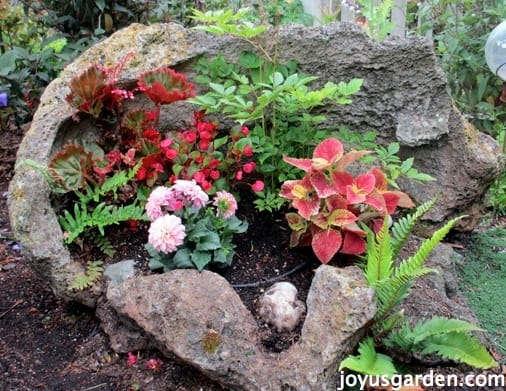 Same planter, different spring. 2 Western Swords Ferns have seeded themselves in and will be left there until they take over. Then, out they'll come and off to another part of the garden for a transplanting party. The Astillbe blooms a deep rose. Moss has grown in on the rock itself and makes it even more "au natural".
So next time you see an interesting piece of rock don't pass it by.  It could become a lovely planter for your garden. And, you certainly don't have to worry about it disintegrating!
You can see more of the rock planter creation in this video. It was at the very beginning of spring before its color rotation.
This post may contain Amazon affiliate links. You can read our policies here. Your cost for the products will be no higher but Joy Us garden receives a small commission. Thank you for helping us spread the word & make the world a more beautiful place!