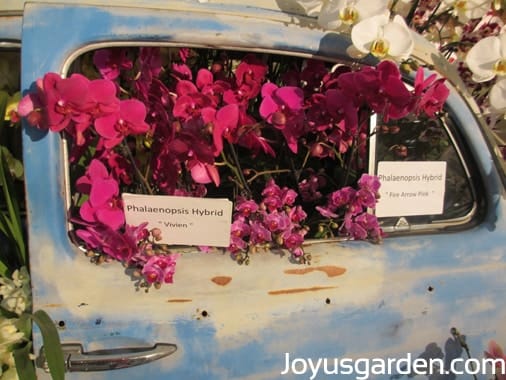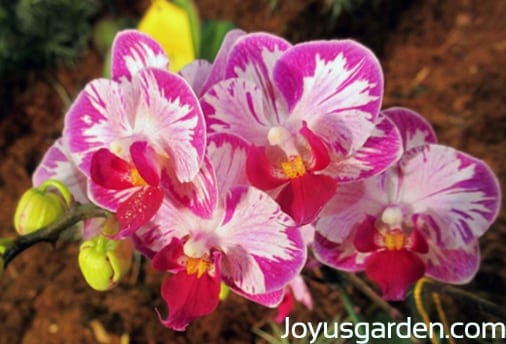 Phal. Dtps. Little Gem Stripes
I have so many photos from the Santa Barbara International Orchid Show that it's time to share more!   Here you'll see Phalaenopsis (labeled Phal. in the photos) with a few Miltoniopsis (Mltnps.) in the mix.   Phalaenopsis, which you might know as Moth Orchids, are readily available at the likes of Whole Foods, Trader Joe's and Home Depot most often seen in white, lavender and pink.  They are easy to maintain as houseplants and are happy to share your home,  unlike many Orchids which require a tropical environment.  What adds to their popularity is a long bloom time – up to 4 months depending on the number of buds.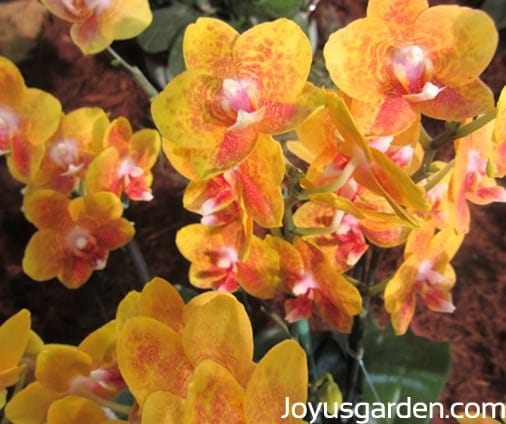 Phal. Ganlin Royal Yellow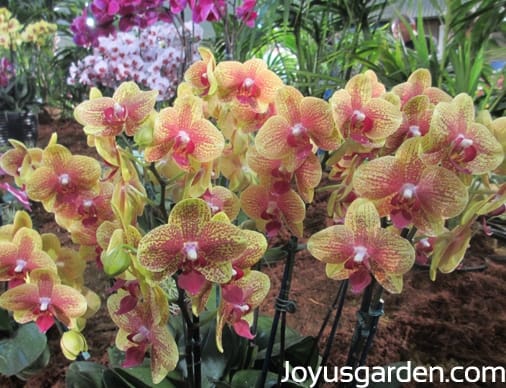 Phal. Dtsps. KV Charmer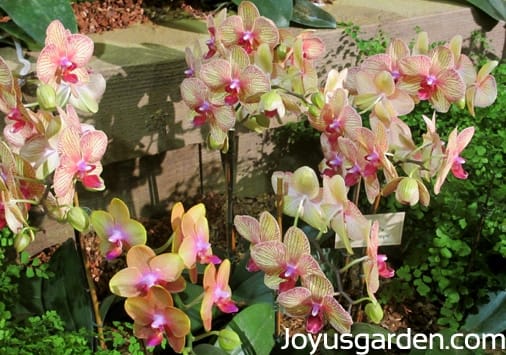 Phal. Baldan's Kaleidoscope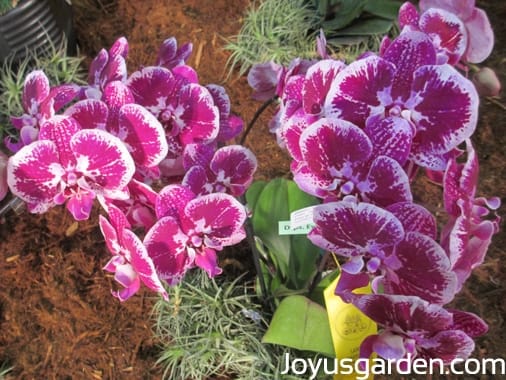 Phal. Dtps. Ever Spring Fairy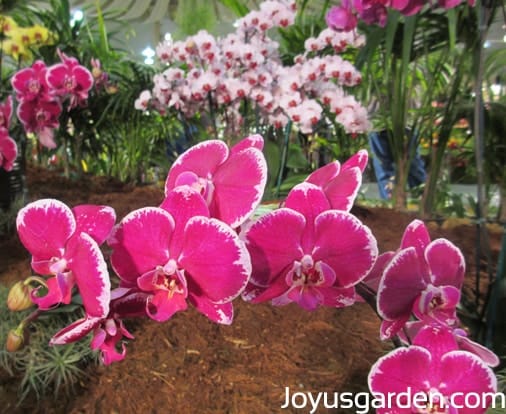 Phal. Dtps. Ganlin Diamond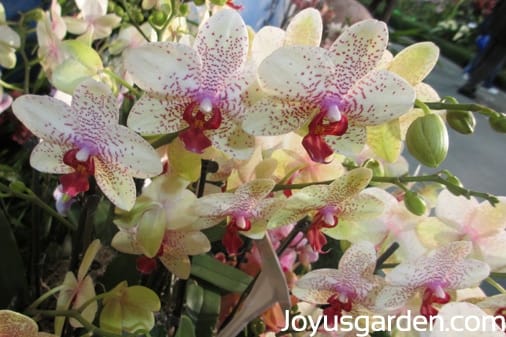 Phal. Sogo Jessica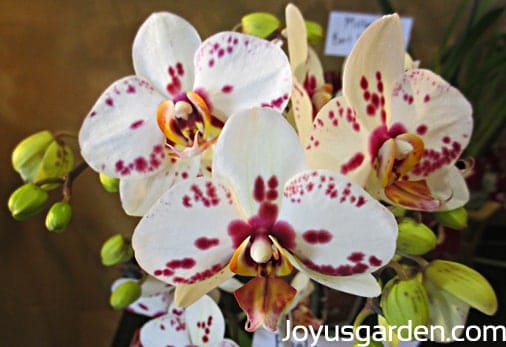 Phal. Hybrid
Here are a few things I've learned which will hopefully keep your Phals. alive and growing.  They prefer light that is bright but not too strong, like an east facing window.  Keep them evenly moist and do not let the roots (a few might  be exposed which is perfectly fine) dry out.   You may only have to water them once a week and for others, 3 times – it just depends on how warm your house is kept.    And, it's very important to let the water drain thoroughly drain out.   To encourage rebloom simply cut the stem an inch or so above the 2nd node up from the pot.  Night temperatures on the cool side will also help to bring on those desired flower spikes.  As far as as fertilizing, one that is balanced (like 12-12-12) is their preference.  If you must, it is best to repot them right after flowering.  Pay attention to the root ball  and not the overall size of the plant.   Just pot up an 1″ larger than the root ball as they don't like too much room.   You can find Orchid mixes specifically for these available at most nurseries.   Unless you have many plants, one bag will last you a while!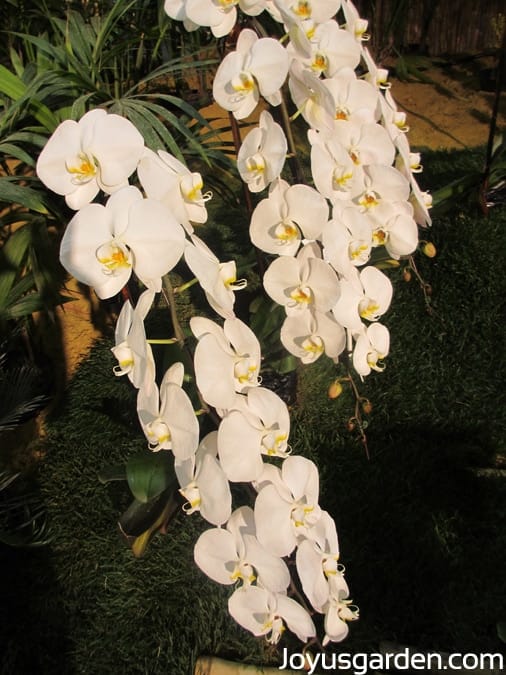 Long Phal. sprays
Beautiful arrangement with Phals. & Dens.
Ah, the beautiful Pansy Orchids with their big, cheery faces are sure to make you smile!  I've used these Orchids for flower shows and events but have never tried to grow them.  Because they are reportedly challenging to grow, I'm going to refer to the care sheets provided by the American Orchid Society in case you want details from the experts.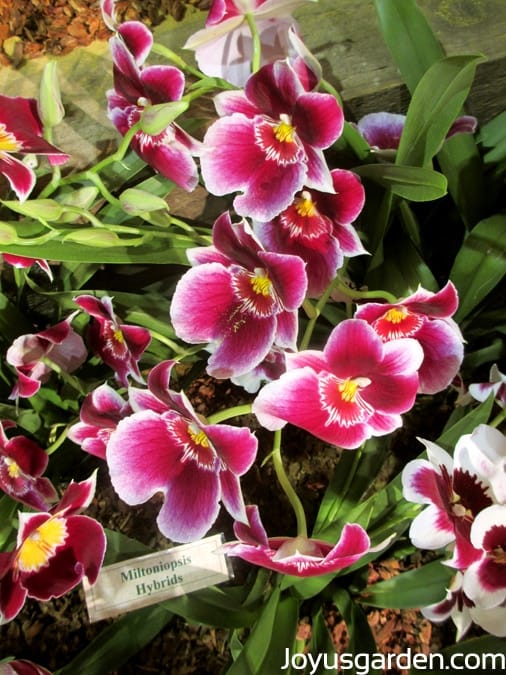 Mltnps. Hybrids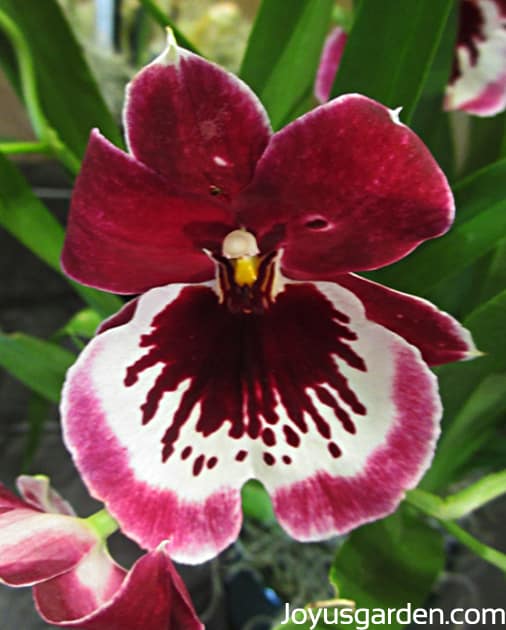 Mltnps. Pearl Ono x Hajime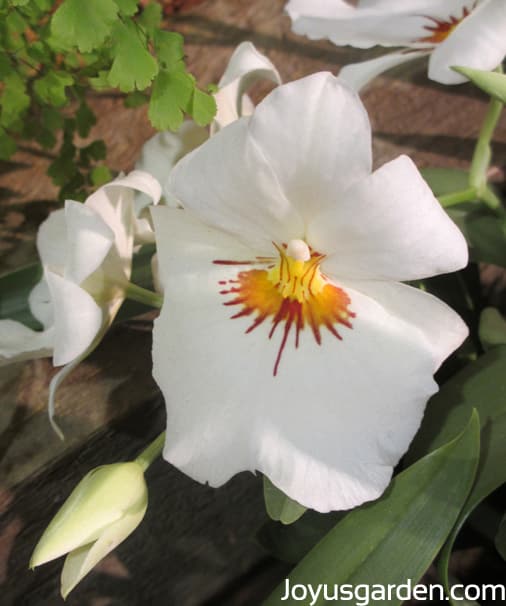 Mltnps. Hybrid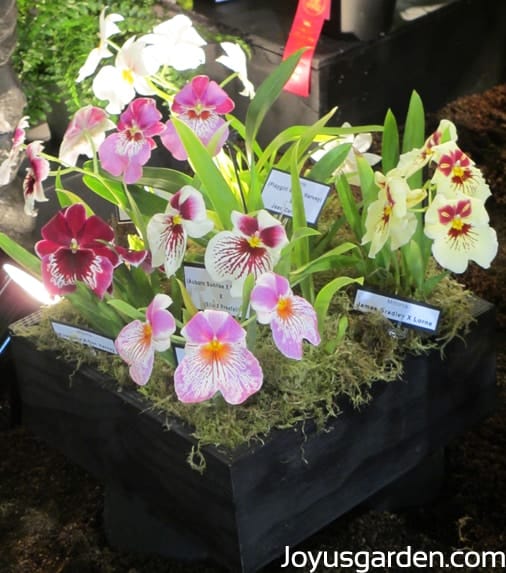 A box of Miltoniopsis'
If you haven't gotten your fill of Orchids yet then check out our previous posts on Cymbidiums and Paphiopedilums .    I'll end this post with a couple of fun photos – how many Orchids can you cram into a VW Beetle?!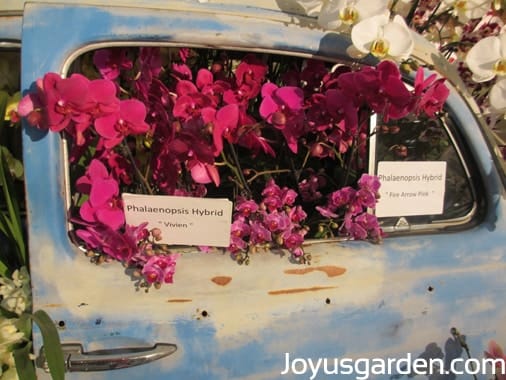 Phal. all packed in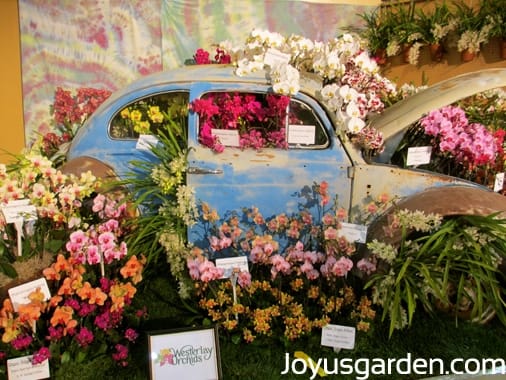 Phalaenopsis a go go! 
Let Us Inspire You. Just Sign Up For Our Free Newsletter And You'll Get:
*  Tips you can use in the garden
*   Ideas for crafting and DIY
*   Promotions on our merchandise
This post may contain affiliate links. You can read our policies here. Your cost for the products will be no higher but Joy Us garden receives a small commission. Thank you for helping us spread the word & make the world a more beautiful place!