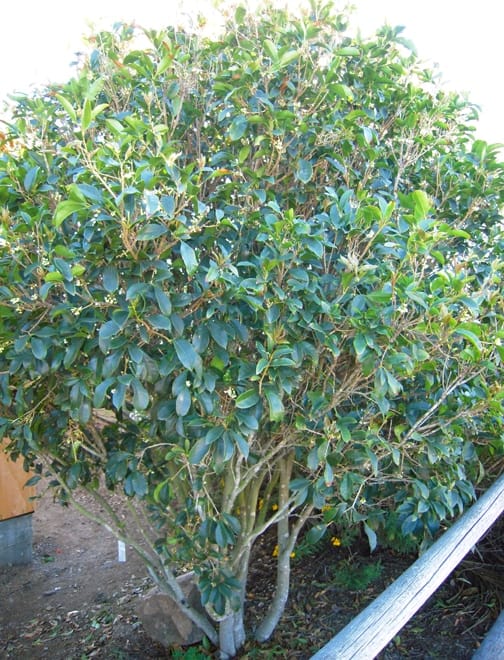 I love to prune!  When I moved into this house and saw  an Osmanthus fragrans in the front yard … my first thought was "shall I keep it?"   In my days as a professional gardener I had dealt with quite a few and was familiar with their tendency to grow into a big blob.  I did get rid of a lot of plants (the majority given away to new homes) but decided to keep the Osmanthus.  Here's how it looks today.
Its common name is Sweet Olive due to the pungent fragrance of the clusters of small white flowers – like a  mixture of citrus flowers and ripe apricots.  It is best used as a background plant unless you keep it tamed.  Most resemble the plant below – as I said … a big blob!
I pruned mine way down and really thinned it out.  I'll keep it about 7-8′ tall and 5-6′ wide with pruning twice a year.   Nice and airy … letting light into the Succulents below.  Because the water requirements for the Osmanthus are low, it's a great plant to cohabit with all those fleshy floras.
A feat of Horticultural Engineering … all you need are your favorite pruners well sharpened