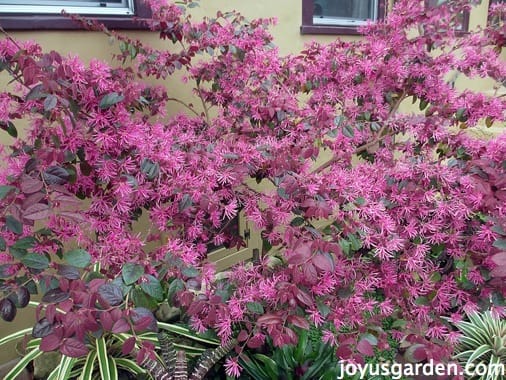 Yes, the picture you see below is my Loropetalum chinensis standard "sizzling pink" right after I bought it – a neat little lollipop with a few stray hairs.   How it's evolved since September of 2010!   I love, love  it for it's burgundy foliage and graceful form.
Loropetalums are most commonly grown and seen as a shrub, often times a shrub-blob, so I waited a year and a half  before I got it in standard (tree) form.  It was a special order so I was thrilled to finally have one.   It has taken a bit of horticultural styling to get it where it is today but my snipping is well worth the outcome.  The common name for this plant is Chinese Fringe Flower or, in the case of mine which is made evident in the photo below, Pink Fringe Flower.   You can see its recent evolution during March and April of this year in the short video we did for you also entitled "My Burgundy Loropetalum".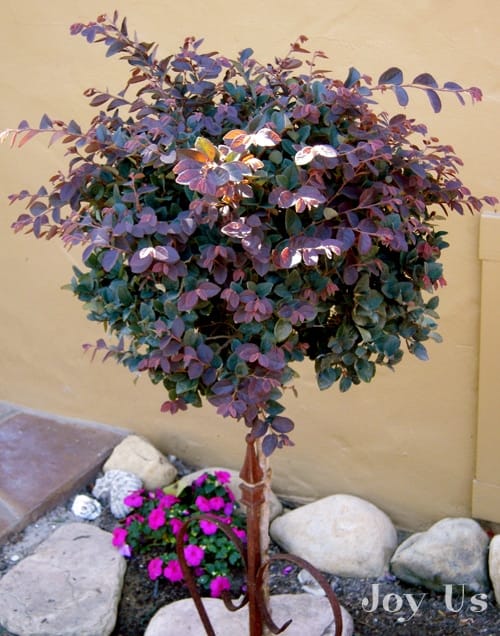 Here it is in January of 2012.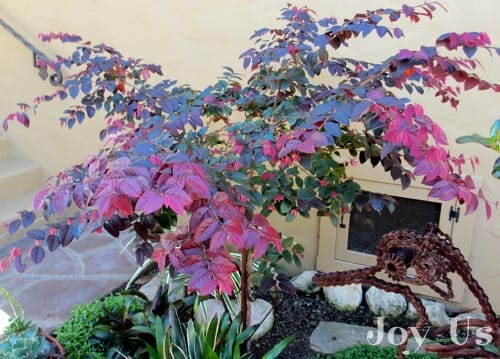 In early February of this year, I gave it a good haircut.  Because I had not kept up on the pruning, it was turning an slickly olive green.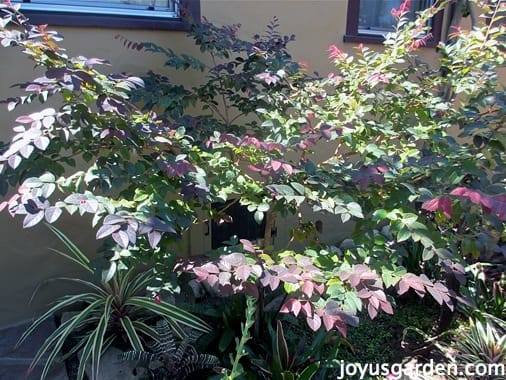 In mid-March a lot of the new growth had started to appear along with the flowers.  It only blooms for about a month and now  you can see why it is called Pink Fringe Flower.  Those ruffled blooms are like little tassels.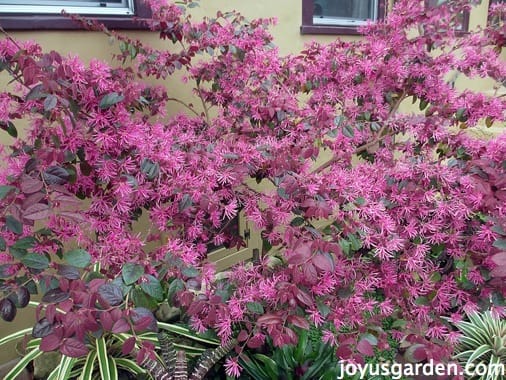 Here's that burgundy/purple color that makes me swoon.  It results from the new foliage coming out.
I took this picture a couple of days ago.  Its form is now beautiful and graceful and the color is striking.   I will pinch the tips on a monthly basis to get it to stay this way.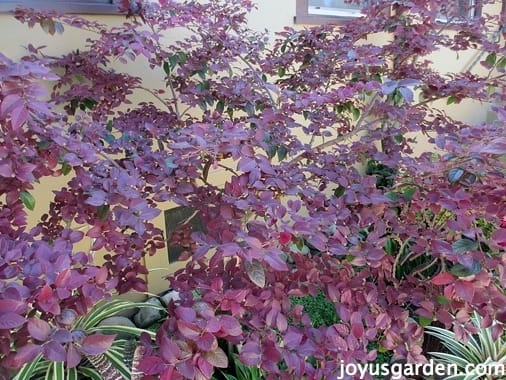 I've done a few posts and videos on this plant so you can see it in different stages of its life in the links below.   This Loropetalum grows in the garden at the bottom of the steps which lead up to my house so I see it every time I come and go.  I consider it a specimen plant and just wanted to share the power of a good pruning job.  I've seen so many hack jobs out there but if you know how a plant can be pruned, it can become a work of garden art.  Onward all you horticultural Picassos!
You might also enjoy:
Pruning My Loropetalum Standard
This post may contain Amazon affiliate links. You can read our policies here. Your cost for the products will be no higher but Joy Us garden receives a small commission. Thank you for helping us spread the word & make the world a more beautiful place!