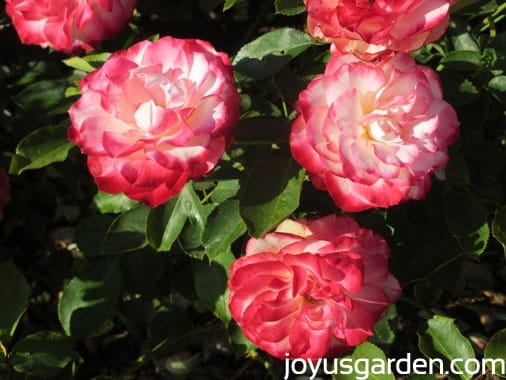 Cherry Parfait
A Grandiflora which was covered in blooms.
I'm doing yet another blog post on Roses (you can check out the previous one here ) in just a 3 month span. Geez – this got me to thinking – why are they so popular? These are a few things that immediately popped in my head: Roses are the romantic flower connected with Valentine's Day and other amorous occasions, they are given to winners like Miss America & the lucky horse that scores big in the Kentucky Derby is adorned with a blanket of them , they are associated with fragrance ("wow, he came out smelling like a rose!"), the sweet flower girl tosses Rose petals just before the blushing bride walks down the aisle, famous people have the good fortune to choose the Rose that will bear their name ( Barbara Streisand's pick was a lovely sterling silver with a heavenly fragrance but not a strong and mighty plant at all), Deadheads saw visions of them everywhere, and heck, they even get dyed and glittered for the prom queen! What makes this post different from the last one on Roses is that there are fewer photos, but at the end, there's a video for your viewing pleasure.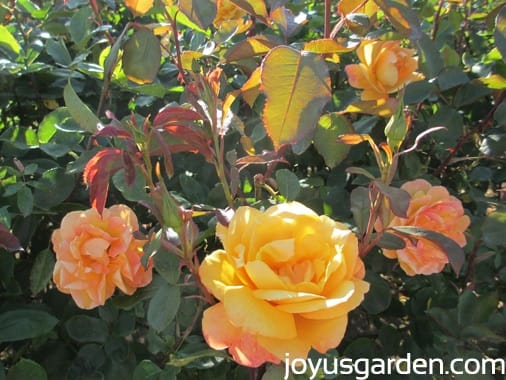 Strike It Rich
A Grandiflora with some serious height.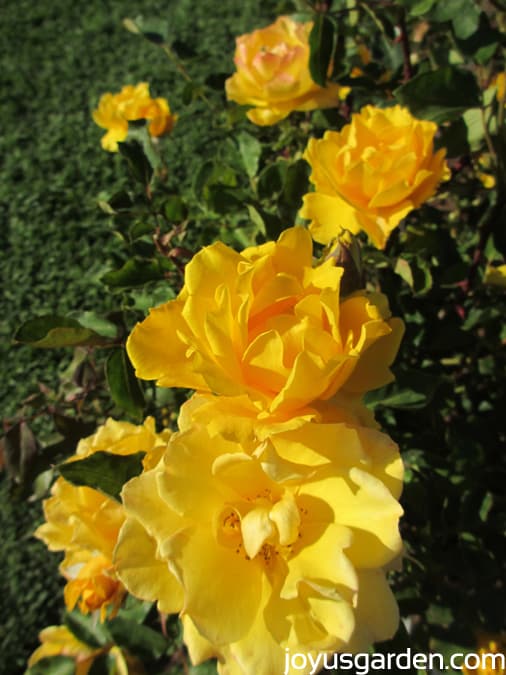 Henry Fonda
 A Hybrid Tea with intensely yellow, ruffled petals.
Walking On Sunshine
 A Floribunda which lives up to its name.
Pink Promise
A Hybrid Tea with lots of flowers & long stems for cutting
– a  portion of the sales benefit the Breast Cancer Fund.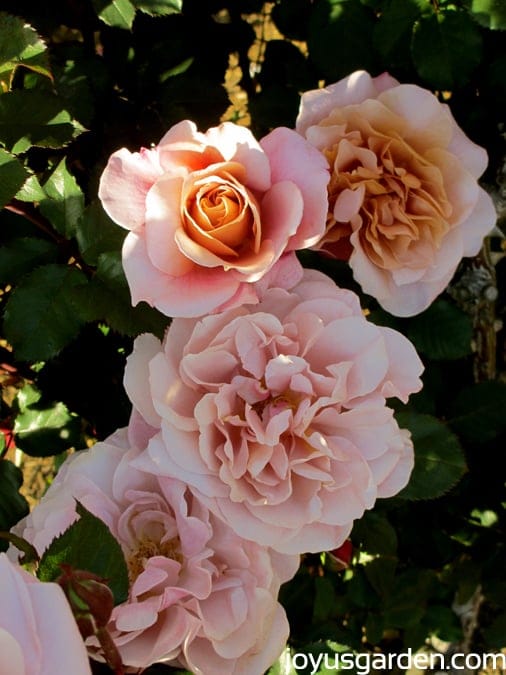 Distant Drums
 A Shrub Rose with unusual but striking flowers which are a combo of mauve,
purple & bronze.
New Roses have been introduced into the trade over recent years which are easy to care for and ever blooming. I maintained many Roses when I was a professional gardener and found that if all conditions were right, they weren't as hard to care for as rumored to be. They need sun, healthy soil, adequate water, a dose of good local compost, air circulation, a proper pruning once a year and to be picked and admired (Roses are rightfully vain!). I used to fertilize them 3 times a year with a mix of fish meal, worm compost, kelp and alfalfa meal. Haven's Brand makes an Alfalfa tea bag which you simply brew in a pail of water for a few days and then apply – liquids go to work faster.
I have no experience with Roses in cold climates. I now live in Santa Barbara where they bloom 12 months out of the year (albeit the flowers are very small in the colder months) if not given their winter pruning. I love stopping by the A.C. Postel Rose Garden  at the Santa Barbara Mission whenever I get a chance – looking at Roses makes me smile! That is why I wanted to do this video because some of the Roses are have been blooming since early March and are looking a little worn – in other words, the strongest look best. We were lucky to run into the part-time head gardener when we were shooting this video who told us the garden contains around 264 varieties and 1600 bushes. He also shared stories about the garden and the history of some of the Roses – interesting and amusing as they were, that is not the focus of this post.
Santa Barbara can be cool at night with fog drifting in and out – just what rust, black spot and powdery mildew adore. The 16 Roses you see in this video are looking good right now so you'll get an idea of which Roses are healthy, more disease resistant with rock star blooming qualities.  Our Fall tends to be sunny and warm so they still have many months of flowering to go. I'll do a check in November and let you know which ones are still hitting the high mark at that time!
Lucy shot and edited this video – we'll show the flowers of each of the 16 Roses, tell you what type it is, what year it was introduced and if it won the AARS (All-America Rose Selections) seal of approval. EnJoy!
Gertrude Stein said it best: "A rose is a rose is a rose".