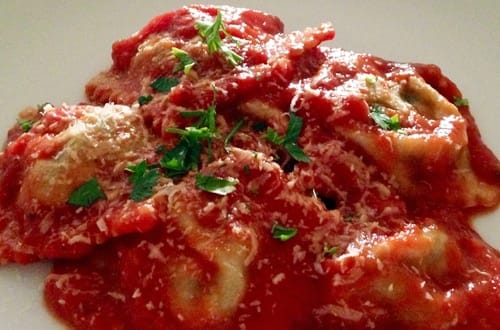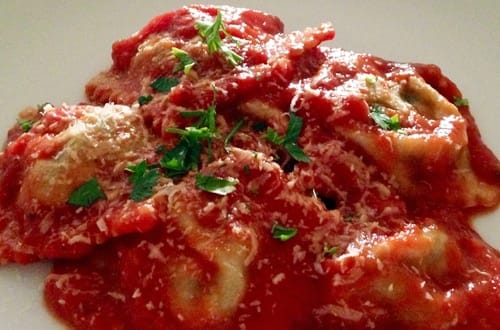 Here's another recipe from my farmers market, local food lovin' buddy Debra Lynn Hempe.
Whenever I walk through a farmers market I'm always happy and excited to see the newest seasonal offerings. It is fun to imagine the different meals I will make using vegetables harvested that morning. This Mediterranean ravioli with fresh spinach will be a family favorite all summer long (frozen works too). Ravioli is a great vehicle for fresh veggies, as it can be filled with almost anything. I use spinach, kale, mushrooms and even butternut squash.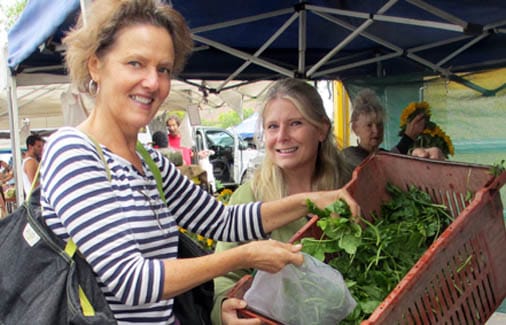 Debbi & I buying spinach at the Santa Barbara Farmers Market
Flour, water, egg, a little salt, and a little olive oil are all it takes to make your own homemade pasta. The magic is in the technique and the feel of knowing when its texture is perfect. That knowledge comes with practice, just ask any grandma. Get yourself a bag of flour and practice, even the experiments will probably still be delicious.
I have been experimenting with using different flours combinations and today I used a combination of faro, white wheat and all-purpose flour to create the dough for my 24 raviolis. I recommend you begin with all-purpose flour and create a basic dough. If you are not ready to tackle ravioli just yet you can still enjoy this recipe. You can stuff won ton wrappers with the filling and seal before dropping them into boiling water. You can also prepare a box of dry fusilli, cavatappi or rotini and add it to your filling and add you favorite tomato sauce. (Serve hot or cold)
Once you make your own ravioli you will be pleased with the seasonal and delicious fillings that are possible. It is a terrific and tasty family project.
Mediterranean Ravioli
Ingredients
1-2 Tbs. Extra Virgin Olive Oil

1/2 large yellow onion (small dice)

12-16oz. Fresh or Frozen spinach (I'd add more if using fresh)

¼ cup sun dried tomatoes (in oil) drained (minced)

1/8 cup minced black olives (minced)

2-4 Fat cloves of garlic (minced)

1-3 TBS. feta cheese

¼ Tsp. Red Pepper flakes

¼ Tsp. salt (to taste~ (there is quite a bit of salt in the cheeses)

¼-1/2 cup Parmesan grated cheese

1-2 TBS. Feta cheese

Your favorite Pasta dough ( 1-3 cups depending on how many ravioli you wish to make)

Your favorite pasta sauce (homemade freezes well)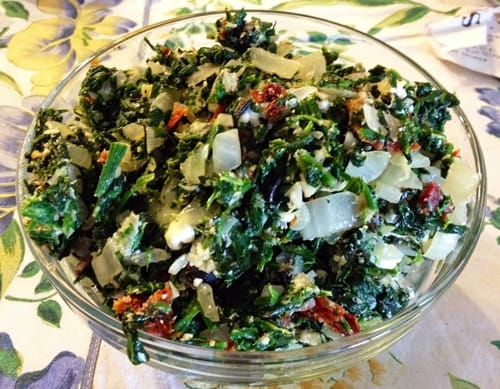 To make the filling
Add the olive oil to a large frying pan

Add the diced onion and cook till almost translucent

Add drained dried spinach and mix with onions

Add minced sundried tomatoes

Add minced olives

Add minced garlic

Add salt & red pepper flake

Incorporate all ingredients

Then~ Off the flame

Add cheeses to spinach mix and combine.

Refrigerate filling till needed

About The dough

Use your favorite pasta dough and experiment with different flours.

If you use 3 cups of flour you will

Probably be able to make

About six dozen raviolis and still have leftover filling.

The raviolis freeze well so I recommend making extra and freezing them for another meal.

If I have leftover dough I cut it and make noodles to freeze for another meal.

Always freeze homemade pasta and cook as needed.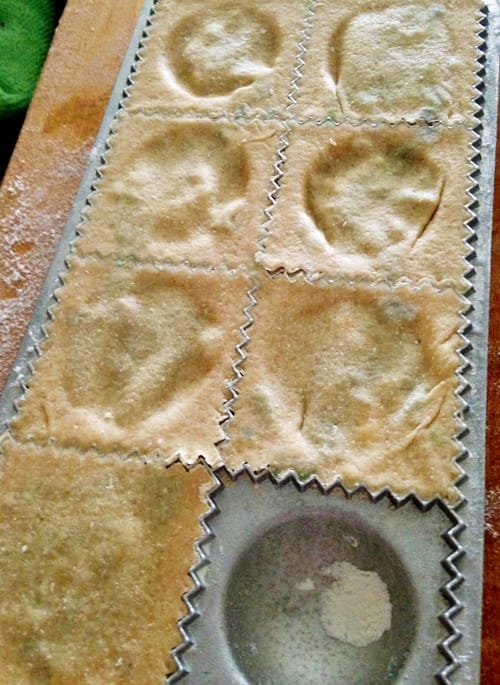 To make the ravioli
I roll out the dough and use my ravioli form.

(I used to make them free hand before I got the form.)

Place a layer of dough over the form (or on a wooden board)

Fill the depressions (never never overfill or the ravioli will burst when cooking)

Remember to brush all the ravioli edges with a little water to that the edges will adhere to one another.

Top with another sheet of dough.

Gently push out any air between the layers and seal firmly.

Cut or roll to make the individual raviolis.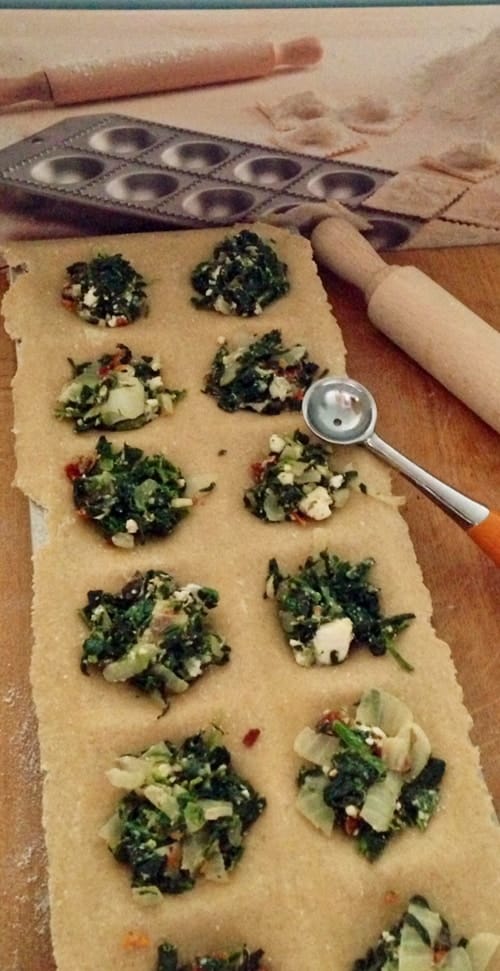 Cooking
Be aware that fresh pasta cooks much more quickly than dried.   Top with a little pasta sauce & some extra parmesan cheese.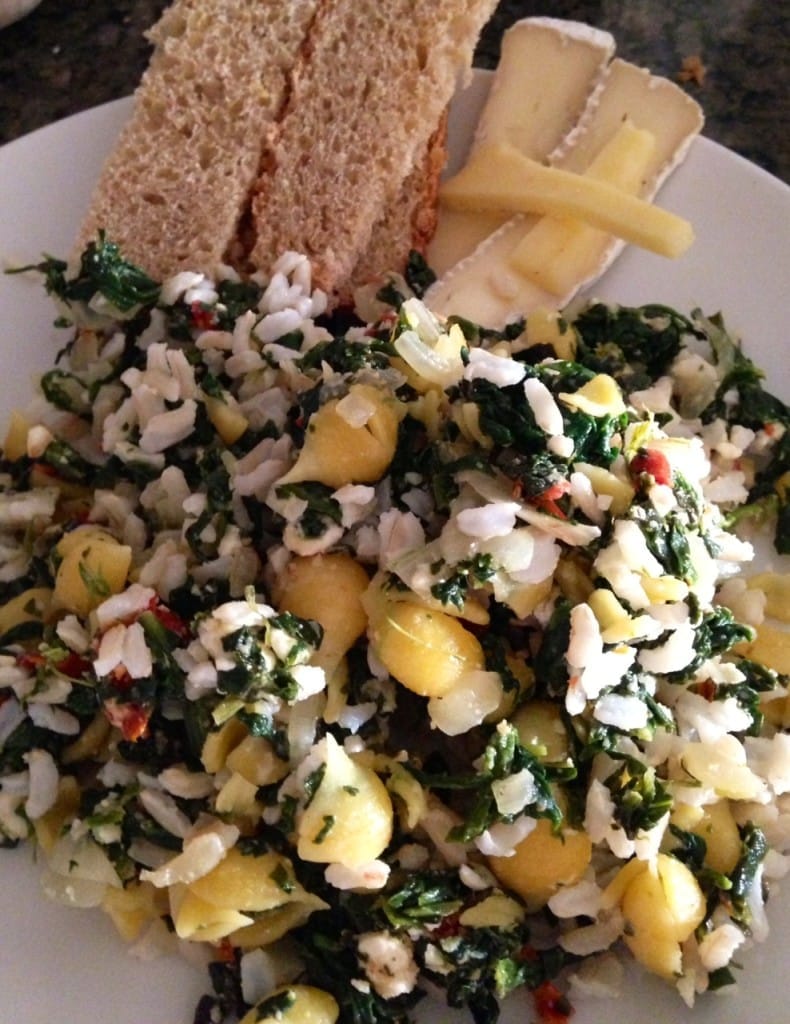 Here Debbi used the leftover filling with a bit of leftover brown rice and some quinoa shells to make a salad. 
ABOUT DEBRA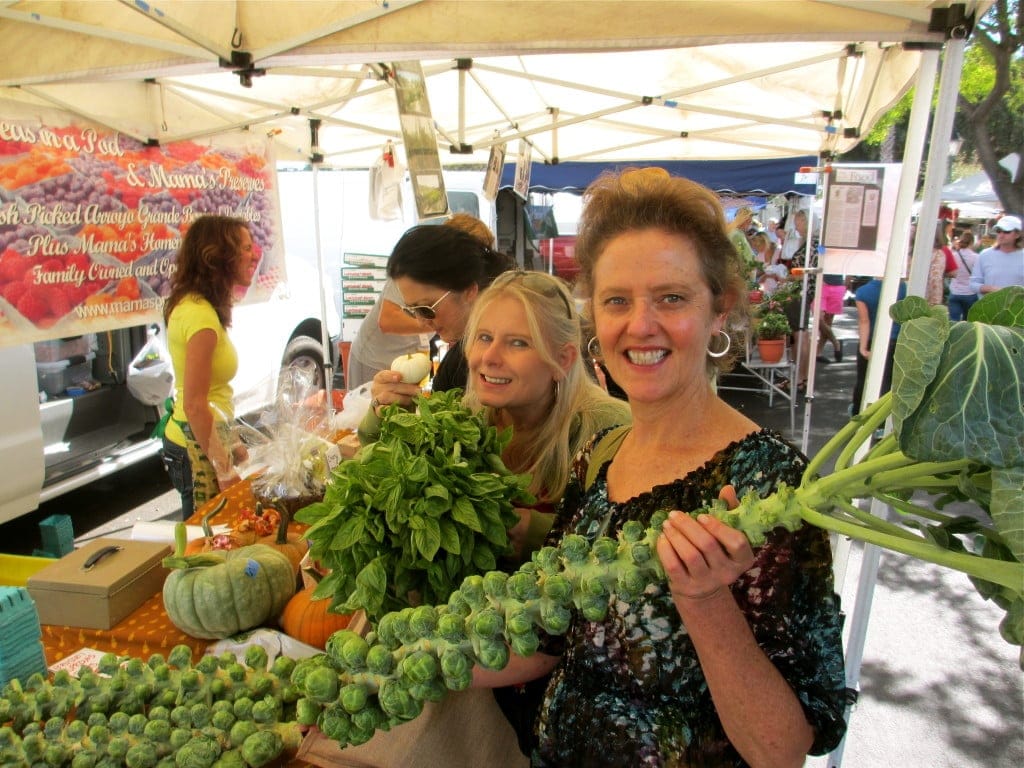 Debra Hempe and I met through the virtual gardening world on Twitter and have since become fast friends.   As it turns out, we also share a love for travel and food.  We both cook using the freshest local ingredients possible which are organic or have been grown without the use of pesticides.  Supporting the local farmers and reducing the carbon footprint and as well as waste are very important to use.   And, we are in total agreement that fresh food simply tastes better.
Debbi creates beautiful and yummy food which she posts on her Facebook page and every time I see the pictures, I drool.   I asked her if she would share some recipes with us and was thrilled when she said yes.  I plan on making every recipe which she'll  share monthly and hope you will too.
Let Us Inspire You. Just Sign Up For Our Free Newsletter And You'll Get:
*  Tips you can use in the garden
*   Ideas for crafting and DIY
*   Promotions on our merchandise