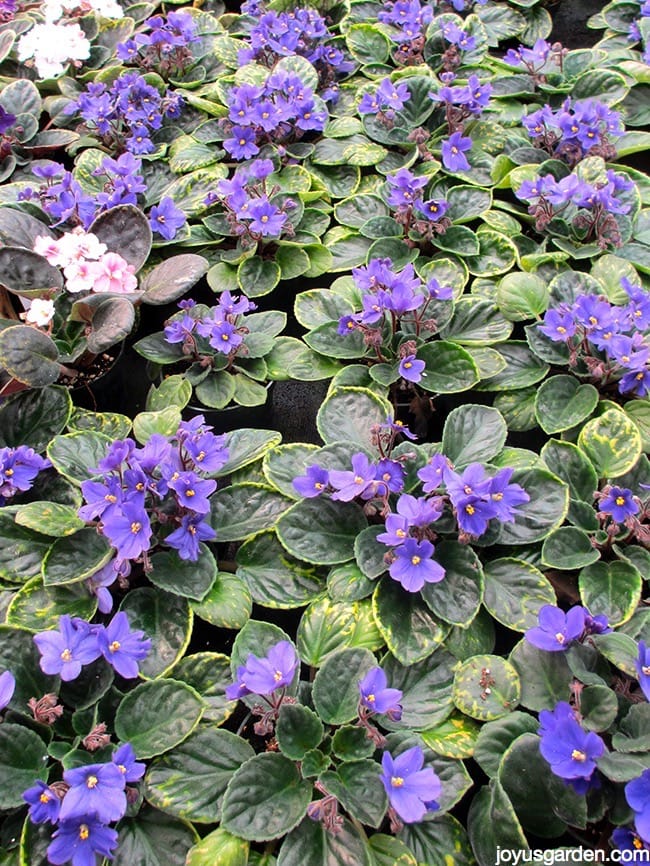 Whenever I mention African Violets, I always get the response "oh, they were my grandmother's favorite flower or my mother loves them".  My grandmother grew them with great success in a bright window in her Connecticut home atop a tray of pebbles with water in it.   I however, have only grown a few of them so this app on African Violets interests me and I thought you might find it useful.   Note: this is a guest post & was written by Annie White.
Some Of Our General Houseplant Guides For Your Reference: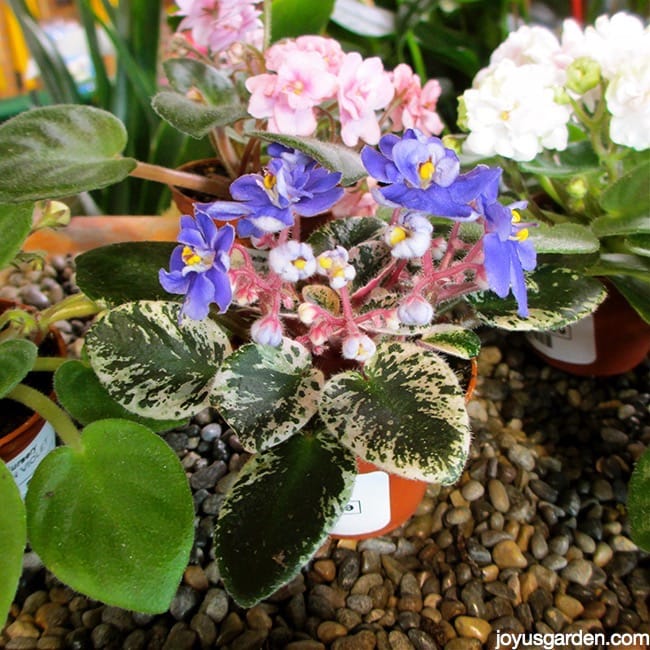 Also known as Saintpaulias, African Violets are beautiful perennial flowering plants that are native to Tanzania and the southeastern part of Kenya in eastern tropical Africa. Many gardeners have them as outdoor plants but they're typically kept indoors. Several species of African violets are classed as threatened and even endangered plants.
Their native habitats are fog forests, which can be referred to as mossy or cloud forests, and they are characterized by frequent low-level cloud cover at the canopy level. All the moisture makes the environment an ideal place for growing plants, though unfortunately many of these forests are affected by the climate change and being cleared for agricultural purposes.
It's sad to hear that these gorgeous, tiny blossoms are having a hard time surviving in their natural habitats, so we must do our part in tending to our African violets.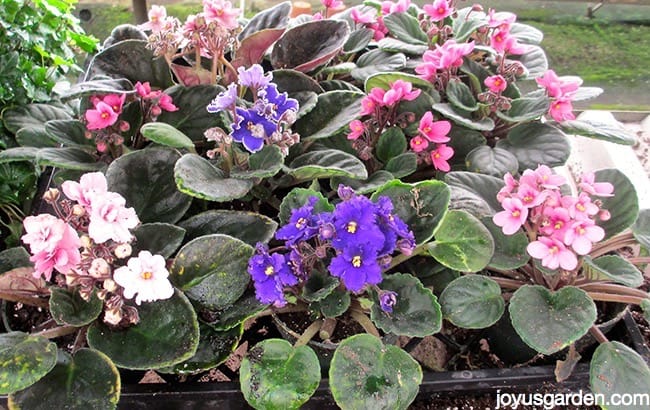 Taking care of African violets can seem intimidating for some since they require a rather specific type of care compared to other plants. The African Violet Society of America (AVSA) say that they are actually quite versatile and can adapt to every kind of environment, making it easier for indoor gardeners to grow them in their households.
Some things to keep in mind when caring for African Violets:
– The flowers are a little temperamental when it comes to water since due to them needing the soil to stay moist and never soggy.
– The water needs to be at room temperature and placed in an area away from vents, fans or doors that receive moderate to bright indirect sunlight.
If you're still a bit hesitant about growing or caring for African violets, it's best to do your research before you make any commitments. One way to learn more about all the different varieties of these elegant flowers is by checking out gardening apps. After all, mobile is the most prominent trend that is driving internet penetration at present, confirmed by the operating arm of Spin Genie Slots, so make sure to make use of your smartphone or tablet to educate yourself on African Violets.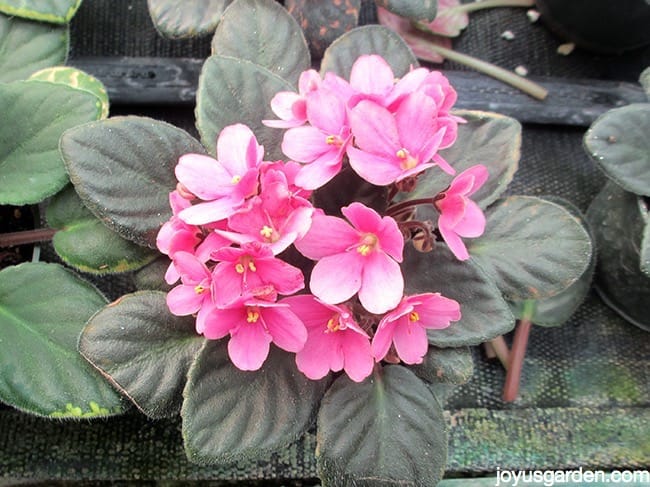 Although there are numerous gardening apps in the market, very few cater to this specific genus. Luckily, the AVSA have decided to share their love for the flower by launching an Android app, so that enthusiasts and anyone else interested in becoming a proud owner can discover all there is to know about the different species. Using the First Class Android Edition database, users can search for the various violet types and add them to their wish list or personal inventory if they've already purchased it. They can also display a report of their wish list to keep track of what they'd like to add to their indoor or outdoor garden.
Because of the type of database the app uses, First Class for Android does require an initial payment as well as subscription renewals after the first year, but in the end it might all be worth it when your friends and family find themselves envious over your collection of African Violets.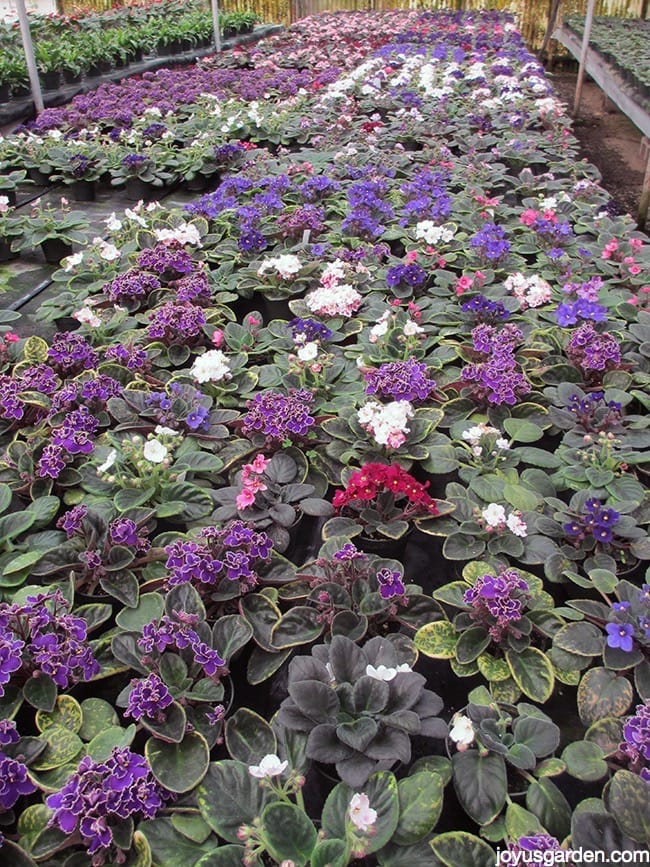 YOU MAY ALSO ENJOY:
15 Stunning Types Of Sunflowers
Organic Flower Gardening: Good Things To Know
How To Successfully Plant Perennials
Roses We Love for Container Gardening
Plants With Fabulous Foliage To Add Interest To Your Garden
Add A Pop Of Pizazz To Your Garden With Chartreuse Foliage Plants
This post may contain affiliate links. You can read our policies here. Your cost for the products will be no higher but Joy Us garden receives a small commission. Thank you for helping us spread the word & make the world a more beautiful place!