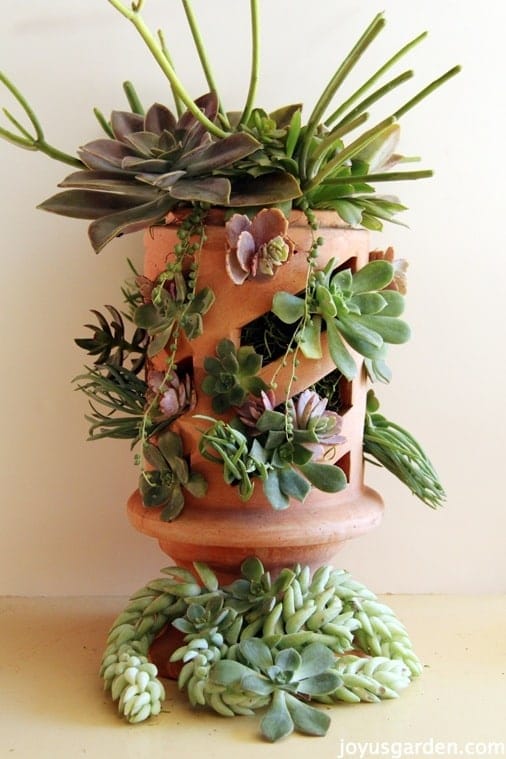 Good grief … what to title this.  That was the dilemma so I went with this one.  It seems like I always have some succulent project going on. The terra cotta piece that you see below is actually meant to be hold a candle.  The finished arrangement just sounded funny being called "a succulent lantern".  It just doesn't look much like a lantern when filled with moss and decorated with succulents.  
I would use this as a table decoration or on a buffet table as it's a bit tall to use as a centerpiece on the average dining room table.  I've since taken this one apart but it should last for at least a month indoors if it had good bright light and was spritzed every couple of weeks, maybe longer. Watch the video below and you'll see how easy it is to make.
All the succulents used for this piece were cuttings I snipped from my garden.  I have an endless supply.  I bought the alstromeria that adorns the finished piece at our farmers market.  And heads up to all you future brides – this would be great for diy table decorations if you're having an outdoor wedding.  It's so sturdy that you wouldn't have to worry about it blowing over if any wind came up.  Just make sure the cuttings are all secured in with either hot glue or E6000.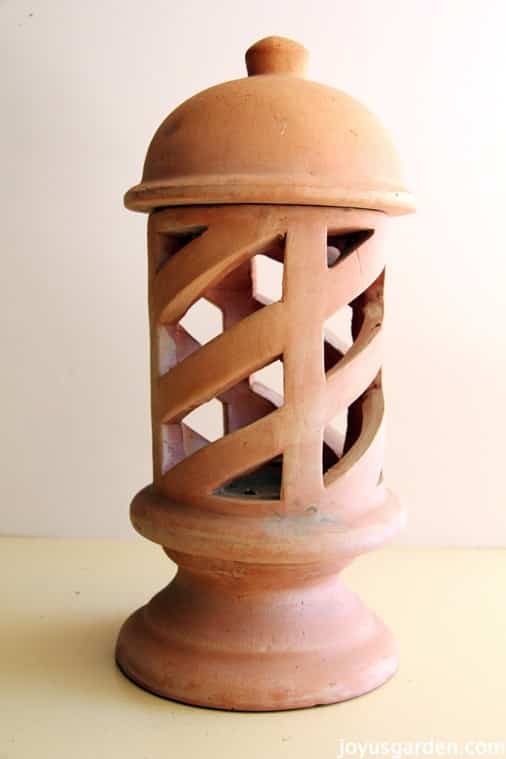 This terra cotta lantern was meant to hold a candle.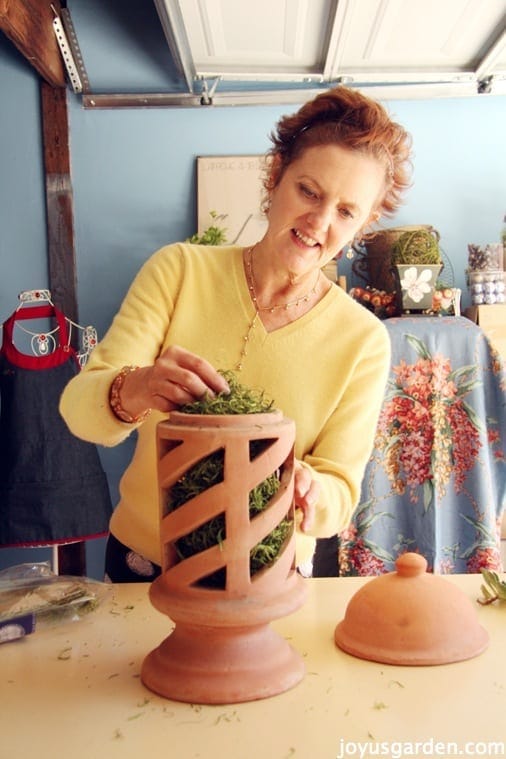 Here I am filling the center with preserved Spanish moss.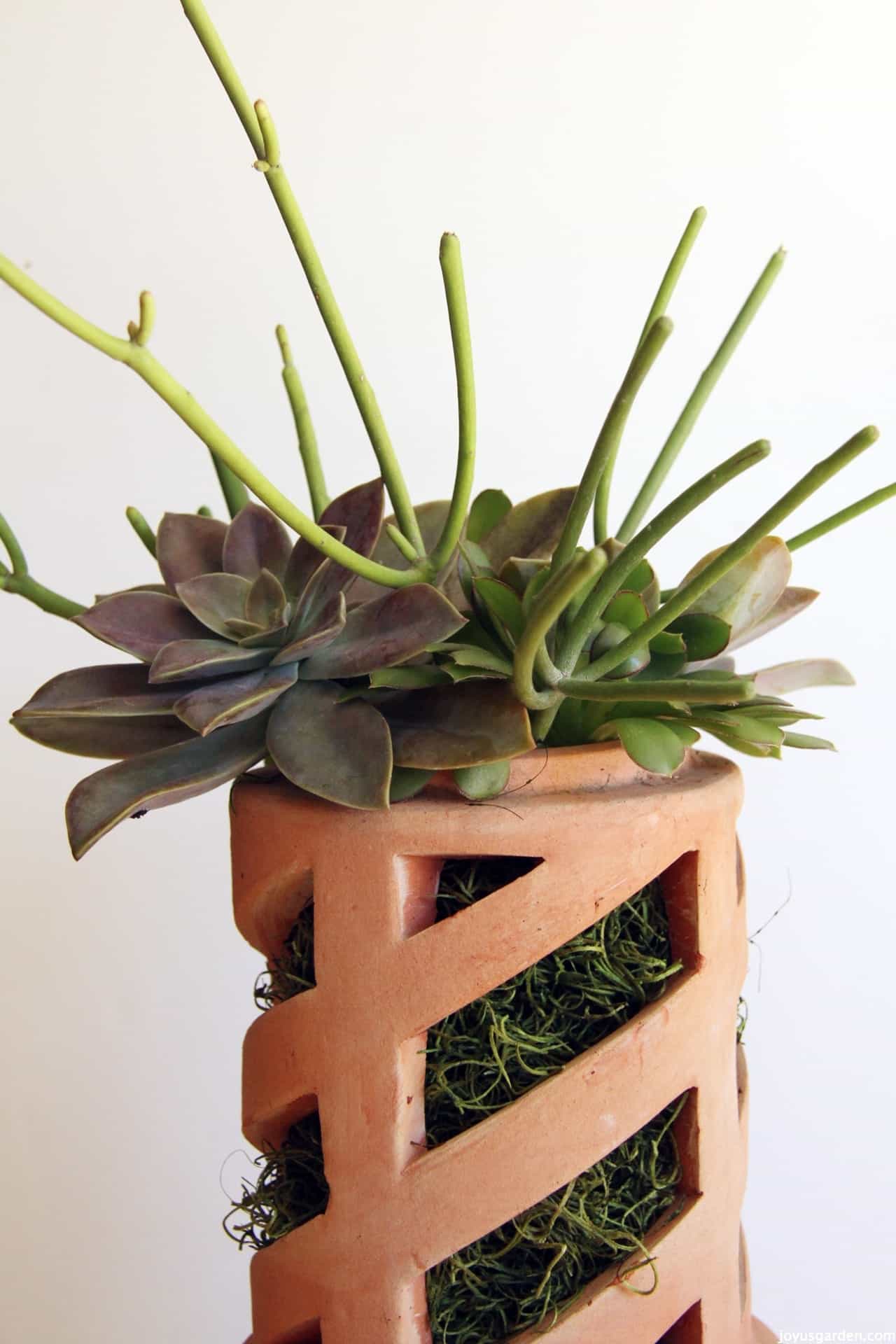 I did the top first using graptoverias, aeoniums, crassulas & a few pencil cacti snippings.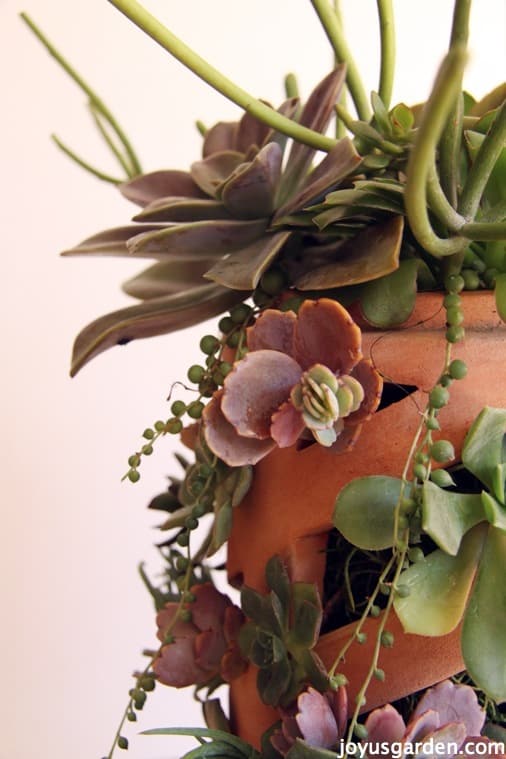 Then came the sides. I didn't glue anything in because this was done as a temporary piece.  I used aeoniums, senecios, kalanchoes & crassulas.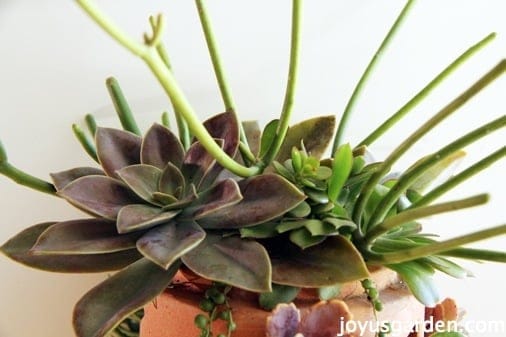 I added a few aeoniums & burro's tail sedums at the base to carry the design all the way down.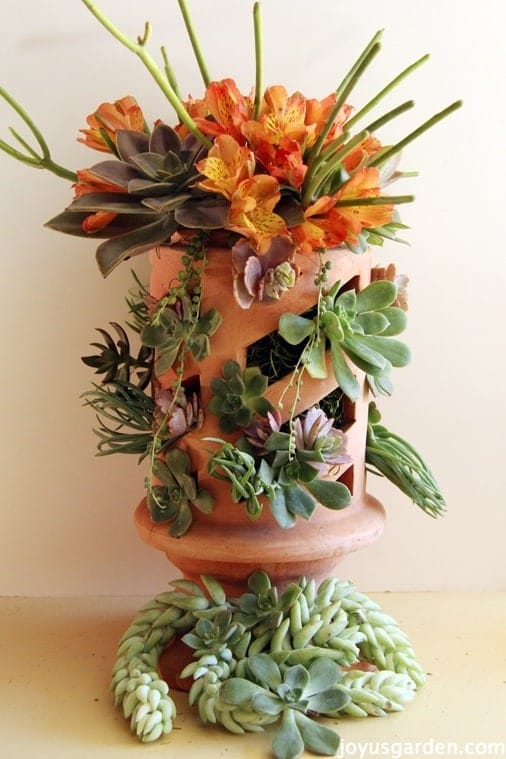 If you're having a party then simply add a few flowers in & viola … a table show piece with a little pop!
Be sure to check back often in the next few weeks because I'll be posting quite a few more fun and easy succulent design projects.  I'm speaking at the San Francisco Flower & Garden Show in a couple of weeks and all of them will be heading north as part of my demonstration.  Let me know which one you like the best!
You can watch me make this piece at my craft table:
Oh, please be sure to check out our book Mother Nature Inspired Christmas Ornaments. I've used cuttings of succulents to adorn the ornaments I made in the book. After the holidays were over and the ornaments were packed away, I planted those cuttings in my garden.  I now have even more to design with!
This post may contain affiliate links. You can read our policies here. Your cost for the products will be no higher but Joy Us garden receives a small commission. Thank you for helping us spread the word & make the world a more beautiful place!