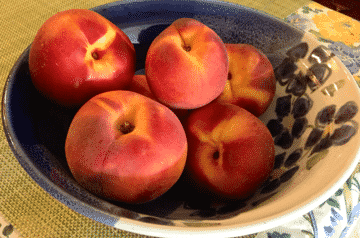 A Recipe By Debra Lynn Hempe
As early as late spring  when our local farmers markets are brimming with  intoxicating colors and smells I begin to  daydream about summer peaches. Eventually it happens, the first peach sighting of the season. Summer is here and I am ready to celebrate the  flavors that I have been missing since Autumn. The peaches here in California seem to thrive on our warm days and cool nights,  producing some of the sweetest,juiciest and most aromatic fruit I have ever tasted.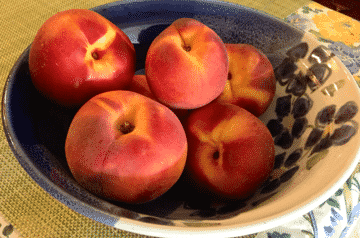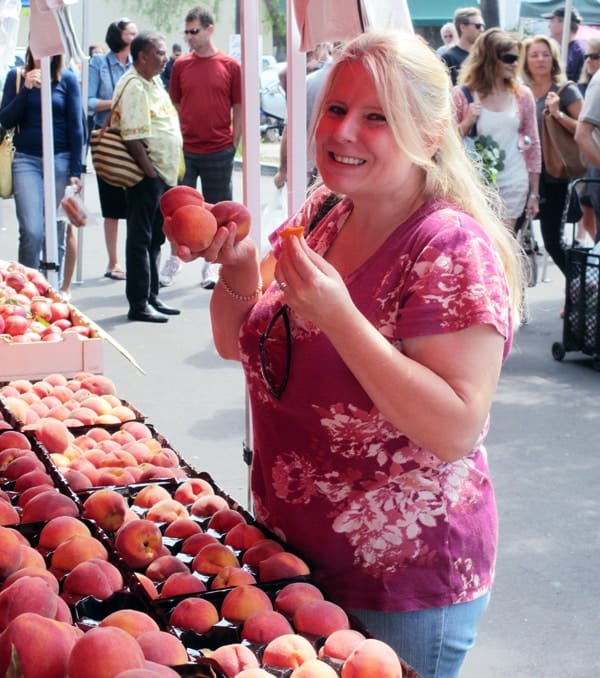 Debbi buying peaches at the Santa Barbara Farmers Market
Peaches are extremely versatile so I'm always thinking of unique ways to incorporate them into our meals. Although sweet delights  showcase peaches beautifully I also try to incorporate them into my savory dishes whenever possible. I often use them in salsas and toppings for chicken and fish but, today I have worked my peaches into a hearty yet light and refreshing summer salad!
2 -3 Cups Tuscan Kale finely  chopped into small pieces

(you can use a food processor on pulse but be very careful not to over process)

1 cup cooked cooled quinoa (I like the tri-color quinoa, use your favorite)

1 -2 large juicy ripe summer tomatoes

1-2 Large juicy ripe supper peaches
Vinaigrette
juice of 1 lemon 3-4 tablespoons

3/4 teaspoon dijon mustard

1 minced shallot

1 teaspoon lemon zest

1 teaspoon honey

6 tablespoons of extra virgin olive oil

(I found 1/4 cup to little and 1/2 cup too much)

salt &pepper to taste

Note: I sometimes grate half a teaspoon of fresh ginger into the vinaigrette for this recipe ( it really complements the  peaches)
To make the vinaigrette combine everything but the oil then slowly drizzle in the oil as you whisk vigorously to emulsify.
Preparing the salad
In a large bowl combine the chopped Kale and the cooked cooled quinoa

add the chilled vinaigrette and toss to combine

cover it and refrigerate it

prior to serving add the tomatoes and the peaches and toss again.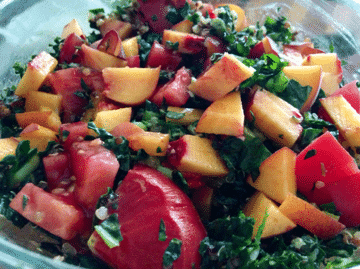 This salad does very well if mixed with the dressing early. It absorbs into the quinoa and mellows the kale. Add the tomato and the ripe peach a few minutes before serving and toss well.
Keep cold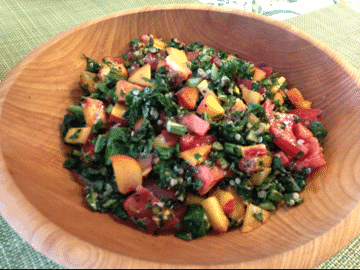 Note: quinoa is generally 2 parts liquid to one part dry quinoa. You can use water or broth but I find water works best for this recipe.
It takes about 20 minutes of simmering for quinoa to cook. Allow time to allow it to cool properly.
ABOUT DEBRA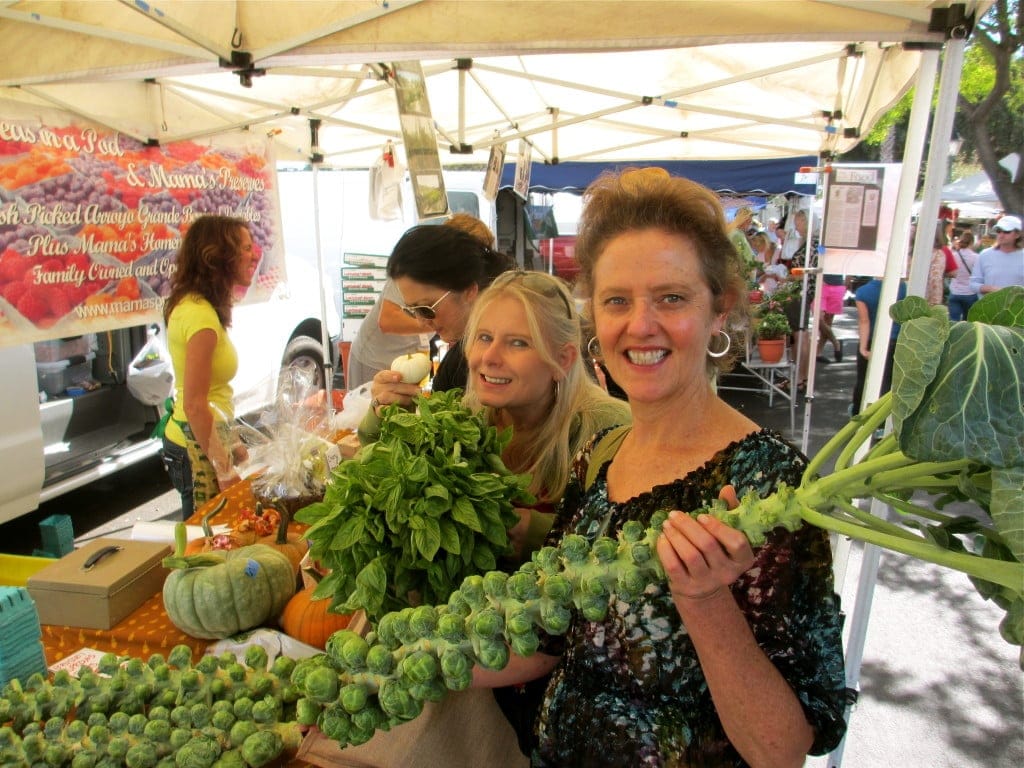 Debra Hempe and I met through the virtual gardening world on Twitter and have since become fast friends.   As it turns out, we also share a love for travel and food.  We both cook using the freshest local ingredients possible which are organic or have been grown without the use of pesticides.  Supporting the local farmers and reducing the carbon footprint and as well as waste are very important to use.   And, we are in total agreement that fresh food simply tastes better.
Debbi creates beautiful and yummy food which she posts on her Facebook page and every time I see the pictures, I drool.   I asked her if she would share some recipes with us and was thrilled when she said yes.  I plan on making every recipe which she'll  share monthly and hope you will too.
Let Us Inspire You. Just Sign Up For Our Free Newsletter And You'll Get:
*  Tips you can use in the garden
*   Ideas for crafting and DIY
*   Promotions on our merchandise