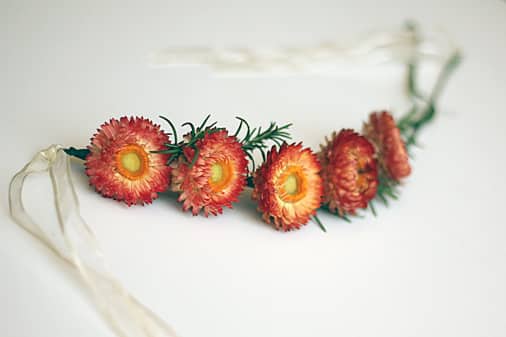 This is the season for weddings, showers, picnics and enjoying the great outdoors.  I used to work in the plant and event division for a large florist in San Francisco and have picked up a lot of floral techniques through osmosis and execution.  These floral headdress' are favorites of flower girls everywhere and are easy to make.  A word of warning: it does take a bit of patience, time and practice.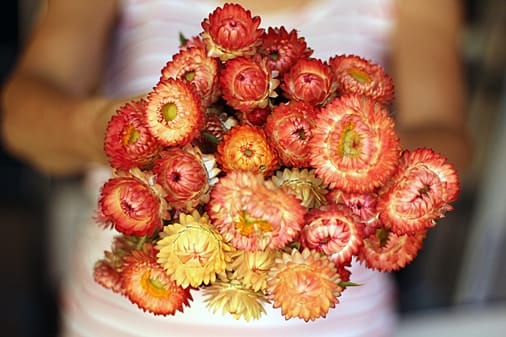 The one I'm going to show you in this post, outlined step by step, is adorned with strawflowers which can be made in advance.   This eases the stress of last minute prep before a wedding.   Or any other event for that matter – these are fun to wear just to celebrate our long summer days.  There are 2 videos at the end if you prefer to watch the how to.   And that's where I've listed the materials used and where you can find them.
Materials Needed

 
 

>Scissors.

 

>Wire cutters.

 

>Stem wrap tape (sometimes called floral tape) – it comes in many other colors than green by the way.

 

>Floral design wire – green wire or covered.  The green wire comes in paddle form also.  Both covered & green wires are sold in 18″ lengths.

 

>Ribbon for tying or adorning.  Speaking of adorning, I once used paper butterflies & silk flowers in a head wreath – the little girl loved it. 

 

>All the above materials can be found at Michael's or online by googling "floral supplies".

 

>And of course, flowers &/or foliage.

 
This is how you make the band for the wreath.   Put 2 pieces of wire (I use 24 gauge here) together & wrap them securely with floral stem tape.  Attach 2 pieces of ribbon at each end   – this method works well if you don't know the diameter of the head it's going on or how the hair is going to be styled.  If you want to make a full wreath, then use 3-5 pieces of wire & make sure they overlap.  Covered wire works great too.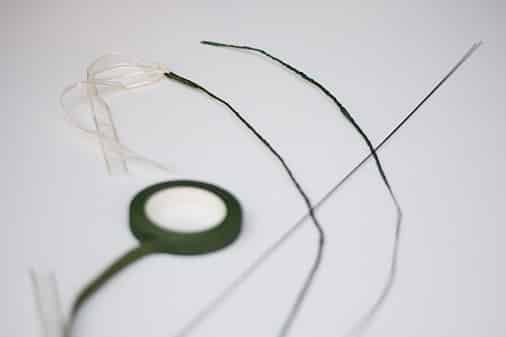 Cut the stem of the flower to 1-2″.  Stick the wire through the stem.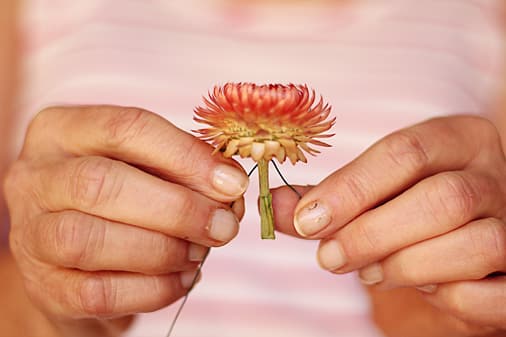 Twist the wire around the stem to strengthen it.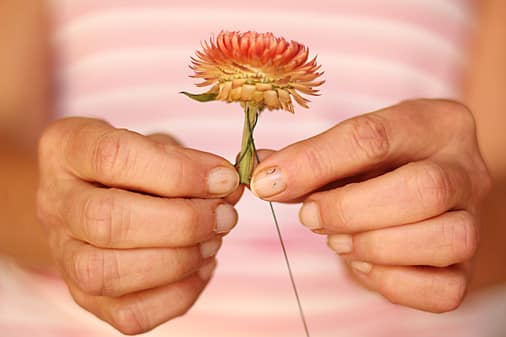 I added a sprig of rosemary in to each because I love the smell.  You can add more foliage in if desired or leave it out.
Start at the very top, circling the tape around the base of the stem a couple of times, & then wrap the stem tightly pulling the tape at a slight angle.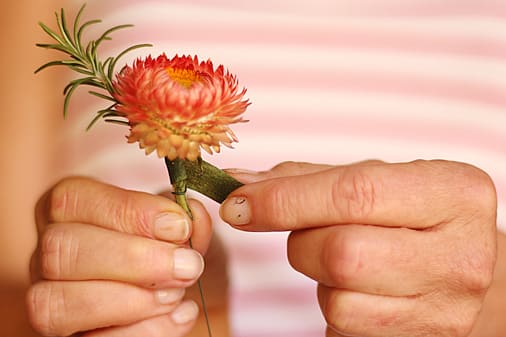 You can choose to not wire the stems to save time but be warned – it will not be as strong & the flowers could fall out.  Not what you want to happen mid ceremony!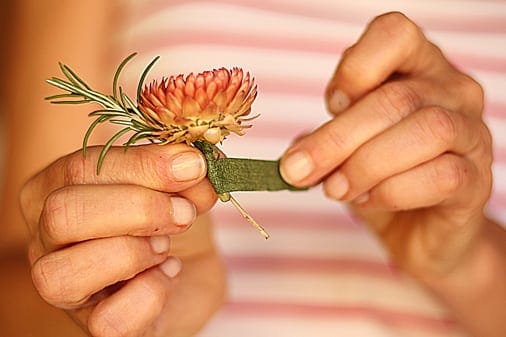 I start at one end & work that way all to the other end.   I've seen it done where the bundles are attached at both ends & worked so they meet in the middle.  Your choice.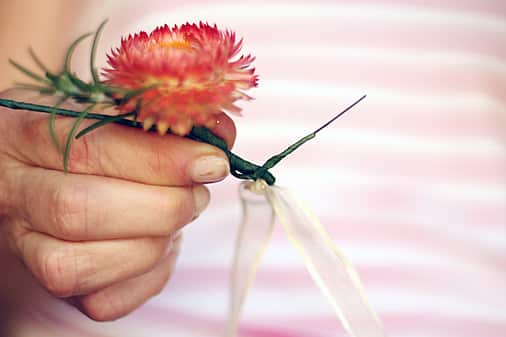 Now wrap the tape (I sometimes cut it in half down the middle) around the bundle to secure it to the band.  I also wrap that piece of the wire at the end of the bundle around the band for extra securing.  I cut a generous length of tape for this so I don't work with a lot of short pieces – this part is awkward to do & it seems to make it easier.  I have small hands which makes this part easier.  And, be sure to pull & wrap the tape firmly or your bundles will fall off the band.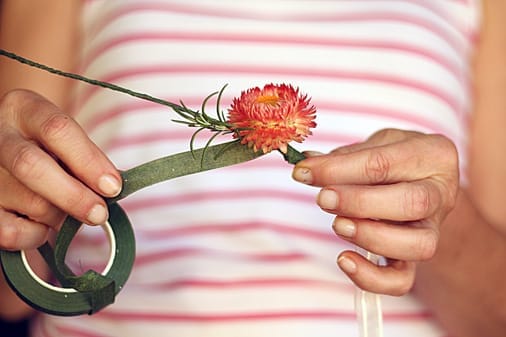 Here it is all done.  It will twist & turn a bit but once it's on the head, it conforms & stays right in place.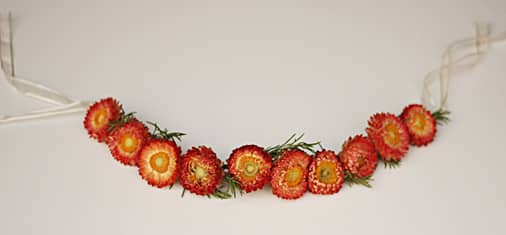 Lucy, who shot the 1st video & took all the pics above, models the finished masterpiece.  A vision of summer loveliness – Haight Ashbury here she comes!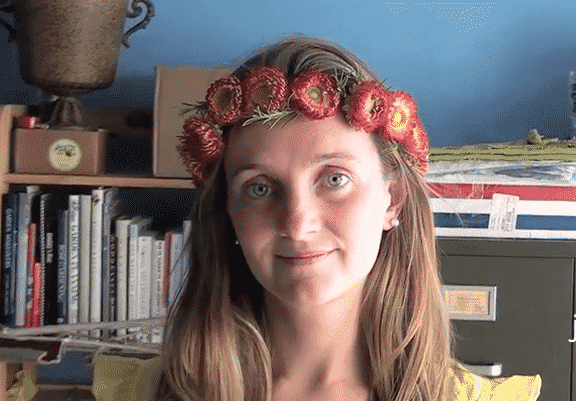 Flowers are abundant now so it's time to create one of your own.  Make it as full as you want – I've seen a headdress made with peonies.  Just remember, if it's for a little girl, keep it on the lighter side – you don't want her walking down the aisle like the Leaning Tower Of Pisa!
How To Make A Flower Head Wreath
How to Make a Wreath of Flowers for a Flower Girl's Head
This post may contain affiliate links. You can read our policies here. Your cost for the products will be no higher but Joy Us garden receives a small commission. Thank you for helping us spread the word & make the world a more beautiful place!
I'm a life-long gardener who still to this day gets giddy at the thought of a trip to one of the local nurseries. Yes, I actually studied landscape and environmental horticulture and the practical experience I have garnered through the years has served me well. Childhood memories of chicken manure "tea" still float through my olfactory senses to this day. I have always been an organic gardener and always will be. From the Earth … To the Earth. I was born and raised in rural, bucolic Litchfield County, Connecticut and now joyfully live a few blocks from the ocean in beautiful Santa Barbara, California.